Sunday January 19th… Dear Diary. The main purpose of this ongoing blog will be to track United States extreme or record temperatures related to climate change. Any reports I see of ETs will be listed below the main topic of the day. I'll refer to extreme or record temperatures as ETs (not extraterrestrials).😉
The Biggest Perils Facing The World In 2019 (A Forecast That Verified)
Dear Diary. As a weather prognosticator for thirty one years at The Weather Channel I was often tasked with verifying my forecasts so that I could learn from my mistakes, garnering more knowledge with each passing year. It was often good to point out my successes to make sure my bosses knew that I was doing a good job so that I would not be kicked to the curb. The public and planners, too, need to know that some forecasts and forecasters are better than others to get good guidance.
I ran across this forecast from early 2019 for that year, which definitely hit its target in most areas. The worst global disasters in 2019 were those of the natural type killing many people and animals. More California fires, the European heat wave, and of course, the year ending heat wave and fires in Australia definitely come to mind. Let's go back in time to January 2019 to see what was forecast to be the greatest hazard risks of that year via Desdemona Despair:
https://desdemonadespair.net/2020/01/these-are-the-biggest-risks-facing-our-world-in-2019-of-all-risks-it-is-in-relation-to-the-environment-that-the-world-is-most-clearly-sleepwalking-into-catastrophe.html
These are the biggest risks facing our world in 2019 – "Of all risks, it is in relation to the environment that the world is most clearly sleepwalking into catastrophe"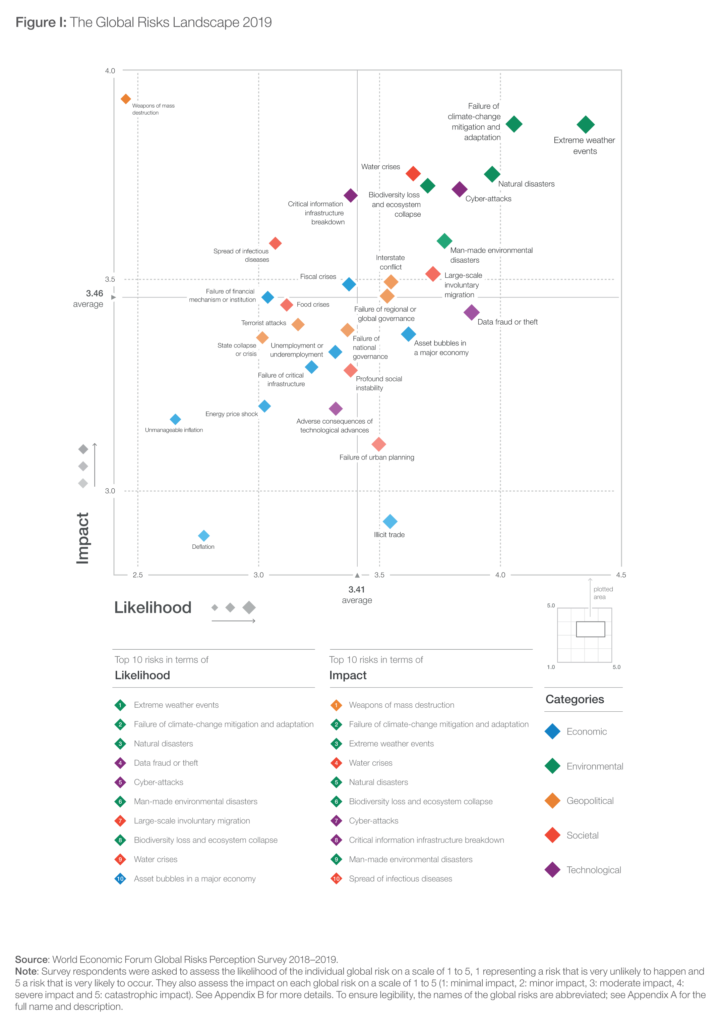 The Global Risks Report's top 10 risks for 2019, ranked by likelihood and impact, shed light on significant trends that may shape global development over the next 10 years. Graphic: World Economic Forum
By Joe Myers and Kate Whiting
16 January 2019
(WEF) – What keeps you up at night?
For leaders surveyed for the latest edition of the World Economic Forum's Global Risks Report, environmental threats dominate the list for the third year in row – both in terms of impact and likelihood.
"Of all risks, it is in relation to the environment that the world is most clearly sleepwalking into catastrophe," the report warns.
What are the biggest risks?
The report offers a unique perspective on the threats facing our world, by looking at not only those risks that are most likely, but also those that would have the biggest impact.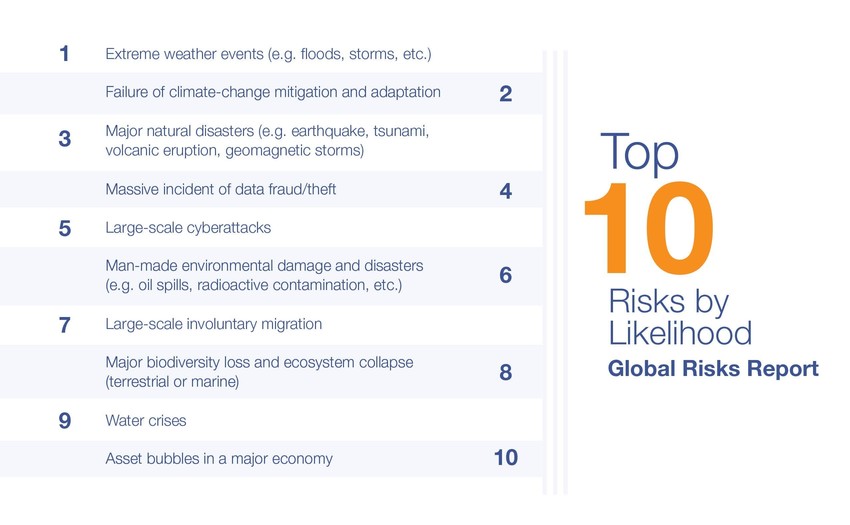 Top Ten global risks by likelihood, 2019. Graphic: World Economic Forum
Although the lists are distinct, there are some common themes that connect the two. As the tables above (most likely risks) and below (those with the greatest impact) show, environmental concerns accounted for three of the top five risks by likelihood and four by impact.
After 2018 saw unprecedented heatwaves, storms, and floods across the globe, extreme weather events top the list of most likely risks and come third for impact.
Our inadequate response to deal with the threats posed by climate change and reduce greenhouse gas emissions – 'Failure of climate-change mitigation and adaptation' – is in second place on both lists, reflecting respondents' increasing concerns about environmental policy failure.
The report says: "The results of climate inaction are becoming increasingly clear. The accelerating pace of biodiversity loss is a particular concern."
A World Wildlife Fund report from last year highlighted the extent of the challenge we face – with loses in vertebrate species averaging 60 percent between 1970 and 2014.
Risks posed by our increased reliance on technology, as well as risks to the global economy, and societal and geopolitical risks are also big concerns in terms of likelihood and impact.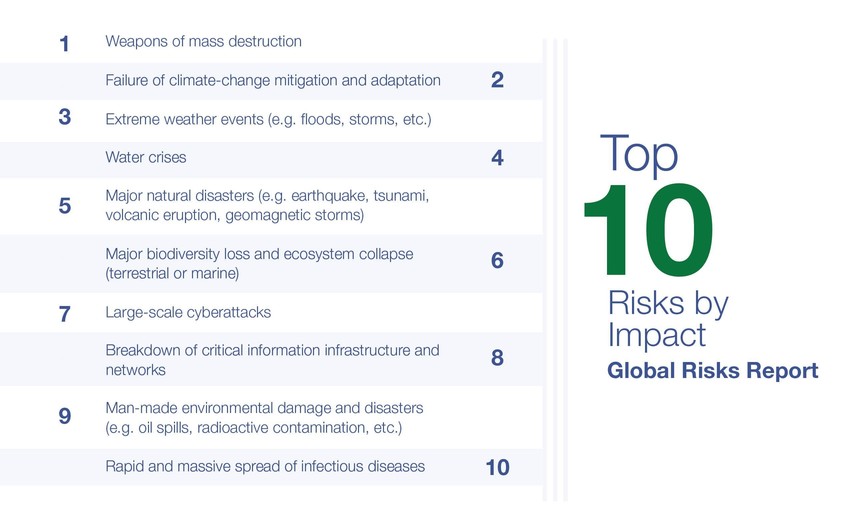 Top Ten global risks by impact, 2019. Graphic: World Economic Forum
Cyber-attacks feature in both top 10s, at number five for likelihood and seven for impact, while data fraud is at number four for likelihood, reflecting an overall trend as technology shapes the risk landscape.
Last year saw numerous data breaches, with millions – if not billions – of people's data affected, as well as continued cyber-attacks on both public and private institutions and businesses.
The vast majority of respondents (82 percent) expected the risk of cyber-attacks leading to theft of money and data to increase in 2019, with 80 percent believing they would disrupt operations. The survey says this "reflects how new instabilities are being caused by the deepening integration of digital technologies into every aspect of life".
In terms of Societal Risk, water crises, defined as "a significant decline in the available quality and quantity of fresh water, resulting in harmful effects on human health and/or economic activity" are a concern that features on both lists – at number four for impact and nine for likelihood.
The report warns of the macroeconomic risks we face as we head into 2019.
The majority of respondents expect increasing risks this year, related to "economic confrontations between major powers" (91 percent) and "erosion of multilateral trading rules and agreements" (88 percent).
Financial market volatility and slowing global growth through 2018 are highlighted by the authors – and indeed by the latest International Monetary Fund forecasts.
As a result, the risk of an asset bubble in a major economy is 10th most likely.
How are they connected?
These risks don't exist in isolation, though. They're interconnected and each has the potential to affect the others – as the following chart from the report explores.
Consider for example biodiversity loss in the human food chain. This affects health and socioeconomic development, with implications for areas from productivity to regional security.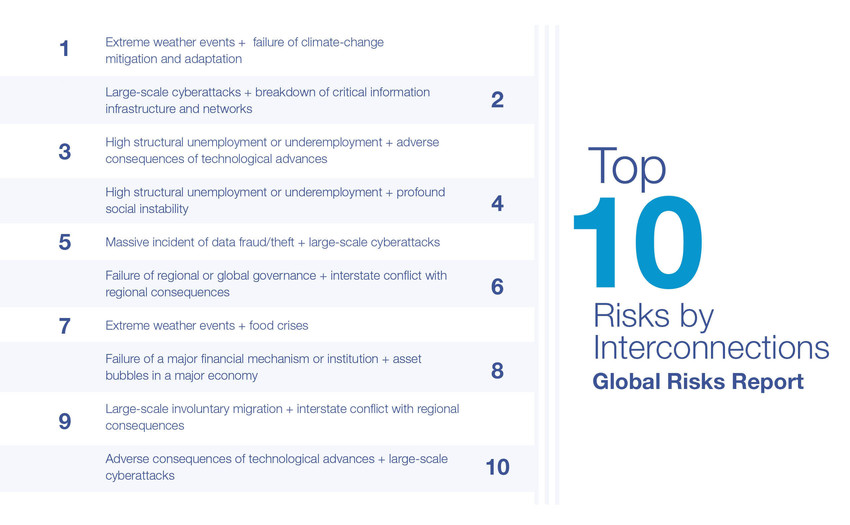 Top Ten global risks by interconnections, 2019. Graphic: World Economic Forum
What's the methodology?
The report's findings are based on the annual Global Risks Perception Survey, which asks the Forum's network of business, government, civil society and thought leaders to gauge the risks facing our world.
The survey has four parts, which are outlined as follows:
The world in 2019. Respondents were asked whether the risks associated with 42 issues would increase or decrease this year relative to last year.
The global risks' landscape. For 30 global risks, respondents were asked about their likelihood in the next 10 years and its potential impact.
Interconnections between pairs of global risks. Respondents were asked to select three to six of the most strongly interconnected global risks.
Connections between risks and underlying trends. Respondents had to first identify up to three trends that will shape the global agenda in the next decade. They then had to pick three risks that are most strongly driven by these trends.
These answers then inform the Global Risks Landscape, Interconnections Map, and Trends map.
The Global Risks Report 2019 is released ahead of the World Economic Forum's Annual Meeting in Davos. As well as identifying potential dangers facing the world in the coming year, the report urges governments and organizations to address the impact of specific threats and make preparations to contain potential fallout should they occur.
These are the biggest risks facing our world in 2019
The above article indicated that extreme weather events would be #1, failure of climate mitigation and adaption #2, and major natural disasters, such as volcanic eruptions and earthquakes, would be #3 for 2019. Bingo on all three counts. Australia and Europe saw misery from extreme weather events. Those two continents suffered more since not enough climate adaption and mitigation occurred before summer heat waves and fires occurred. Thankfully wars in 2019 did not kill as many people as earthquakes:
https://www.ranker.com/list/worst-earthquakes-2019/sammy-leary
As mentioned too, these ten different threats interacted during 2019 and will continue to do so in 2020. At the beginning of 2020 we had the eruption of Taal in the Philippines displacing a million people. As mentioned a few days ago on this blog, this eruption might have a silver lining, temporarily cooling down our warm world. Here is a scary thought for 2020. What if cyber attacks and social media manipulation help to reelect Trump, sending our climate into a deeper, warmer tailspin? Yes, these threats do overlap each other.
I don't see any change to these listed threats for 2020. Extreme weather events like Hurricane Dorian will be a big threat, if not #1 again, due to climate change. As we roll through the 2020s planners will be putting more emphasis on climate adaption and mitigation. Will North America be hit substantially in 2020? I would think so, and we will address any threats here on this blog.
Here is that climate and weather news section from Sunday:
(As usual, this will be a fluid post in which more information gets added during the day as it crosses my radar, crediting all who have put it on-line. Items will be archived on this site for posterity. In most instances click on the pictures of each tweet to see each article.)
(If you like these posts and my work please contribute via the PayPal widget, which has recently been added to this site. Thanks in advance for any support.)
Guy Walton "The Climate Guy"