Thursday January 30th… Dear Diary. The main purpose of this ongoing post will be to track United States extreme or record temperatures related to climate change. Any reports I see of ETs will be listed below the main topic of the day. I'll refer to extreme or record temperatures as ETs (not extraterrestrials)😉
Main Topic: A Vicious Cycle Of Burning… Australian Bushfires To Contribute To Big Rise In CO2 Levels In 2020
Dear Diary: We just can't win or catch a break these days. Even if global CO2 emissions stabilize in 2020, it's becoming apparent that fires due to global warming will release vast amounts of additional CO2 into the atmosphere, which will contribute to more heat, probably setting off more conflagrations somewhere on the planet later this year. Are we now in a vicious cycle beyond our control? I'm not ready to give in, but the news I am presenting today leaves me wondering, and perhaps you too.
Here is a CO2 forecast from Britain's Met Office for 2020 via Desdemona Despair:
https://desdemonadespair.net/2020/01/australia-bushfires-contribute-to-big-rise-in-global-co₂-levels-in-2020.html
Australia bushfires contribute to big rise in global CO₂ levels in 2020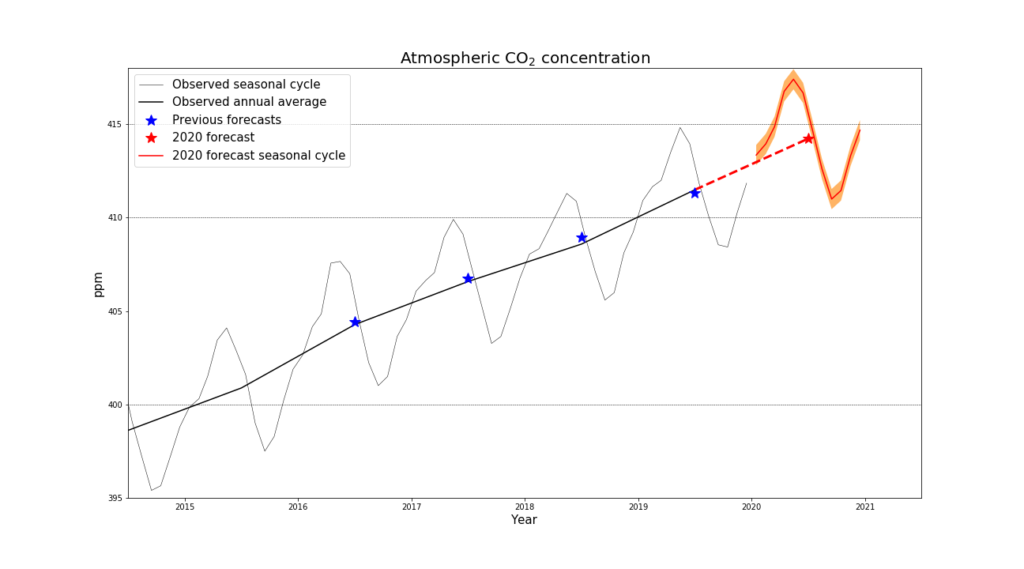 Atmospheric CO2 concentrations, 2014-2019 and projected through 2020. Forecast (red) CO2 concentrations at the Mauna Loa observatory, with previous forecasts (blue) are compared to observations (black). The forecast uncertainty range (orange) based on the SST forecast is ± 2 standard deviations. Graphic: Met Office
By Grahame Madge
24 January 2020
(Met Office) – A forecast of the atmospheric concentration of carbon-dioxide shows that 2020 will witness one of the largest annual rises in concentration since measurements began at Mauna Loa, in Hawaii, 1958.
During the year the atmospheric concentration of CO₂ is expected to peak above 417 parts per million in May, while the average for the year is forecast to be 414.2 ± 0.6ppm. This annual average represents a 2.74 ± 0.57 ppm rise on the average for 2019. While human-caused emissions cause the CO₂ rise in concentration, impacts of weather patterns on global ecosystems are predicted to increase the rise by 10% this year. Emissions from the recent Australian bushfires contribute up to one-fifth of this increase.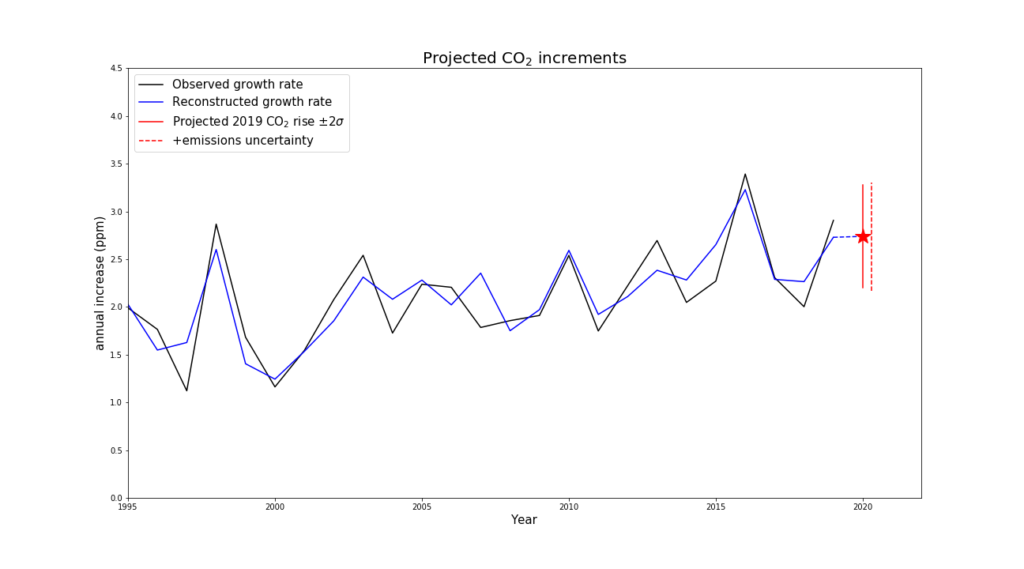 Annual increments (growth rate) in CO2 concentration, 1995-2019 and projected through 2020. Measurements from the Mauna Loa observatory from observations (black), our statistical reconstructions and past forecasts (blue) and 2020 forecast (red). The forecast uncertainty range based on the SST forecast (solid red line) is ± 2 standard deviations. Uncertainty in the 2019 emissions increases the total uncertainty slightly (dashed red line). Graphic: Met Office
Professor Richard Betts MBE, of the Met Office Hadley Centre and University of Exeter, said: "Although the series of annual levels of CO₂ have always seen a year-on-year increase since 1958, driven by fossil fuel burning and deforestation, the rate of rise isn't perfectly even because there are fluctuations in the response of ecosystem carbon sinks, especially tropical forests. Overall these are expected to be weaker than normal for a second year running."
Weather patterns linked to year-by-year swings in Pacific Ocean temperatures are known to affect the uptake of carbon-dioxide by land ecosystems. In years with a warmer tropical Pacific, many regions become warmer and drier, which limits the ability of plants to grow and absorb CO₂ and increases the risk of wildfires which release further emissions. Along with other weather patterns and human-induced climate change, this has contributed to the recent hot, dry weather in Australia, which played a key role in the severity of the bushfires.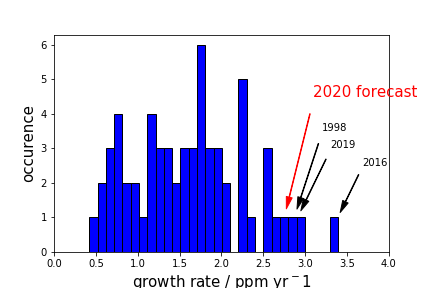 Frequency distribution of annual CO2 rise (growth rate) for each year in the Mauna Loa record. Larger excursions (rightward on the x-axis) occur more rarely, and 2020 is expected to be in the top four years for CO2 increase. Graphic: Met Office
Professor Betts added: "The success of our previous forecasts has shown that the year-to-year variability in the rate of rise of CO₂ in the atmosphere is affected more by the strength of ecosystem carbon sinks and sources than year-to-year changes in human-induced emissions. Nevertheless, the anthropogenic emissions are still the overall driver of the long-term rise in concentrations."
The CO₂ concentrations at Mauna Loa are measured by the Scripps Institution for Oceanography at UC San Diego and the National Oceanographic and Atmospheric Administration (NOAA). Fire emissions are monitored by the Global Fire Emissions Database (GFED).
The 2020 CO₂ forecast is available here.
Australian bushfires help push forecast 2020 CO₂ rise
We will keep further tabs on CO2 emissions on this site as we move through 2020.
Please consider donating through the Paypal widget on this site. I need everyone's support to continue my work, especially that of processing NCEI record count data for scientific research.
Here is some more weather and climate news from Thursday:
(As usual, this will be a fluid post in which more information gets added during the day as it crosses my radar, crediting all who have put it on-line. Items will be archived on this site for posterity.)
(If you like these posts and my work please contribute via the PayPal widget, which has recently been added to this site. Thanks in advance for any support.)
Guy Walton "The Climate Guy"