Sunday March 8th… Dear Diary. The main purpose of this ongoing blog will be to track United States extreme or record temperatures related to climate change. Any reports I see of ETs will be listed below the main topic of the day. I'll refer to extreme or record temperatures as ETs (not extraterrestrials).😉
Main Topic: Spring Topic: Spring 2020 Arrives Earlier Than Ever Recorded In The U.S. South + Climate Central Spring Trends
Dear Diary. In my home town of Atlanta we had a very mild winter, and it appears that an early spring is a slam dunk. Officially the lowest reading at Hartsfield-Jackson International Airport over the winter was only 23°F on January 11th, and the thermometer only fell to or below freezing eleven times since December 1st. This is a far cry from the chilly winters I was used to growing up in which temperatures fell into the teens and single digits many times over the course of winters during the 1970s and 1980s. To our south the winter was so mild near the Gulf Coast that trees and shrubs have very early spring foliage that is much more typical of mid April rather than early March. Here is more from the Guardian via Desdemona Despair: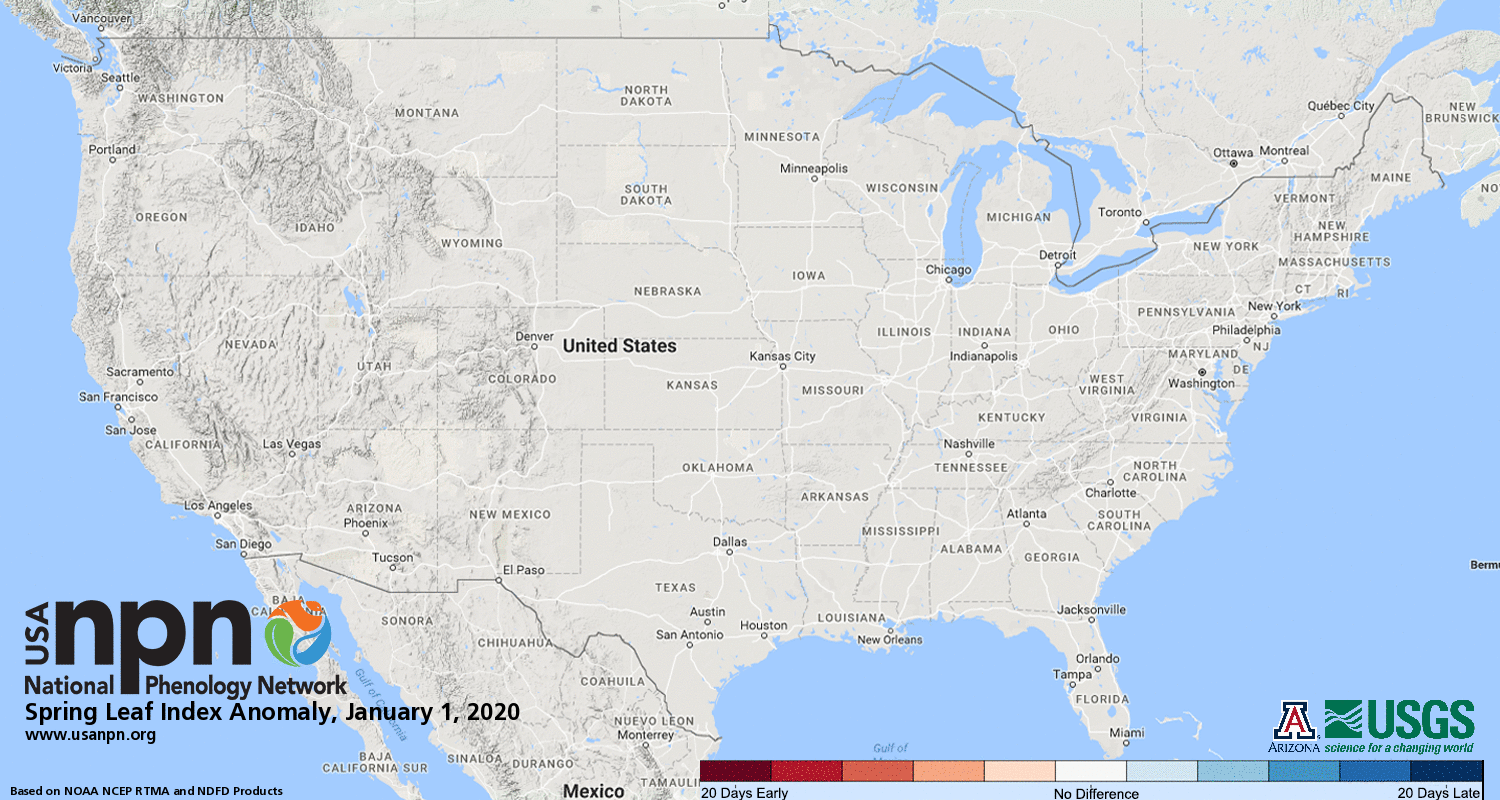 By Cassidy Randall
6 March 2020
(The Guardian) – Across the south-eastern US, trees are unfurling their clouds of leaves after winter. Yet this picturesque and usually welcome development is this year cause for consternation.
New data from the USA National Phenology Network (USA-NPN) shows that in parts of North Carolina, South Carolina and northern Florida, spring has arrived more than three weeks earlier than average, and earlier than at any point in the last 39 years it has been tracked.
The south-eastern US has historically experienced a large amount of variability in the onset of spring, so it is hard to say the climate crisis is directly responsible. Yet this year's premature spring is part of a trend of rising temperatures and early leaf emergence that scientists have observed in recent years.
Phenologists – who study seasonal phenomena in the natural world – calculate the start of spring based on observations of "leaf-outs" (the appearance of tiny leaves on trees), blooms for species active in early spring (such as lilac and honeysuckle) and weather events and temperature conditions. The Extended Spring Indices have been used as an indicator of climate change by the US Environmental Protection Agency and the National Climate Assessment.
A 2016 study by the National Park Service found that of the 276 parks studied, three-quarters are experiencing the impacts of an early onset of spring, and half of the parks are experiencing an "extreme" early onset, as compared to historical averages. This 2020 early spring is currently affecting such beloved parks as Congaree in South Carolina and parts of Great Smoky Mountains on the border of Tennessee and North Carolina. [more]
Spring arrives earlier than ever recorded in southern US – adding to climate trend
Status of Spring 2020
3 March 2020 (NPN) – Spring leaf out continues to spread up the middle of the country, three weeks earlier than a long-term average (1981-2010) in some locations. Washington, DC and New York City are 24 days early. Philadelphia, PA is 16 days early and Little Rock, AR is 9 days early. 
Spring leaf out has also arrived in parts of the West. Spring leaf out is on time to 2 days late in San Diego, LA, and San Francisco, CA and 10 days early in Portland, OR and Seattle, WA. Parts of northern Texas and Oklahoma are on time to one week late.
Spring bloom has also arrived in several Southeast and Southwest states. Spring bloom is between 1 day and 3 weeks early. 
Check back on this page throughout the spring for updates on when spring arrived and whether spring was early or late for your location.
Download static maps of Spring Leaf Out and Spring Bloom.  
Download the maps in KML/KMZ and other formats via our Geoserver Request Builder Tool.
Frequency of early and late spring leaf out in the continental United States, 19 February 2020. Graphic: National Phenology Network
How Often Do We See a Spring This Early or Late?
In places where spring has sprung, how typical is this year's spring? Darker colors represent springs that are unusually early or late in the long-term record. Gray indicates an average spring.
In parts of the Southeast, this year's spring is the earliest in the 39-year record (dark green). [more]
Here are more spring trends from Climate Central:
https://medialibrary.climatecentral.org/resources/spring-coming-earlier-2020
Spring Coming Earlier (2020)
Mar 4, 2020
Our warming climate is causing spring to arrive earlier across most of the U.S. This is throwing off the timing of important natural events like migration and reproduction, as well as prolonging pest and allergy seasons.
Market Versions Available
Generate full multimedia package for your market Market Go
KEY CONCEPTS | READY-TO-USE GRAPHICS | EXPERTS TO INTERVIEW
RESOURCES FOR LOCAL REPORTING | METHODOLOGY | KML FILES

KEY CONCEPTS
Our warming climate is causing spring to arrive earlier across much of the U.S. Our analysis finds that spring 'leaf out' is happening earlier in 76% (181) of the 239 cities analyzed, compared to 1981. The most dramatic changes are in Flagstaff, Ariz. (18 days earlier), followed by Colorado Springs, Colo. (17 days) and Reno, Nev. (17 days).
Earlier springs create a mismatching in availability of food (and other resources) with important natural events such as migration, hibernation and reproduction.
It might seem appealing to shake off the winter cold sooner, but earlier springs can have negative consequences such as longer allergy seasons, more persistent pests (like mosquitoes), and risks to fruit production.
Download Files for Google Earth (KML)
READY-TO-USE GRAPHICS
Spring Coming Earlier: Number of Days (Local Call Out)
Find Images for Your Local Market Here (JPG & PNG)
Spring Coming Earlier:
Number of Days
(National)
Find All Versions of Image Here (JPG & PNG)
Whether you follow the astronomical or meteorological definition, we look to our calendar to tell us the season. By contrast, changes that we see in nature and associate with spring—daffodils emerging, birds chirping—come about through environmental cues such as warmer temperatures, more sunlight and snowmelt. 
Last week we looked at how spring trends have been changing due to climate change—with many areas experiencing increasing average temperatures, more spring days above normal, and earlier dates of last freeze. This week we explore the impact of these changes on the natural world. We find that the timing of natural phenomena, also known as phenology, has shifted. As a result, spring is coming earlier across much of the United States.
'Leaf out' is a common marker that scientists use to keep track of spring phenology—it's the time that leaves emerge on early spring plants (namely, honeysuckle and lilac). According to our analysis, 76% (181) of the 239 cities analyzed are seeing their average annual first leaf come earlier since 1981. Flagstaff, Ariz. registered the most dramatic change, with the first leaf coming 18 days earlier, followed by Colorado Springs, Colo. (17 days) and Reno, Nev. (17 days).
Earlier springs can cause a mismatch in the availability of food and other resources for animals during critical stages in their life cycle. In complex ecosystems where many species rely on each other, the impacts can be cascading. A recent study found that rising temperatures were associated with earlier spring migration in birds, potentially throwing them out of sync with the peak abundance of insects they eat or the blooming of flowers they pollinate. Early spring warming can also make plants more vulnerable to damage by subsequent frosts that are still normal for a given area. Known as a "false spring," this phenomenon resulted in $1 billion of losses in fruit crops across the Southeast United States in 2017. Phenology is one of the oldest kinds of environmental science, and it could be more important than ever for monitoring how the natural world is responding to a changing climate.
Earlier springs have implications for us, too. Check out our previous releases:
POTENTIAL LOCAL STORY ANGLES
When is spring blooming near you? 
Check out the "springcasting" tools at USA National Phenology Network, an organization of citizen scientists, government agencies, non-profit groups and others, who monitor seasonal changes in the natural world. USA-NPN tracks the onset of spring across the country and has historical, real-time, and forecasted phenology maps. These are important tools for forecasting invasive species and pests, allergy outbreaks, and informing agricultural calendars. 
Tools for reporting on phenology in your local area:
Citizen or volunteer scientists are essential for tracking the seasonal changes in plants and animals, and USA-NPN's Nature's Notebook website provides all the tools necessary for locals to start recording their observations. 
The pollen is coming! Here's how to track it near you:
Nearly 25 million people in the U.S are estimated to have asthma, and research suggests that climate change might already be contributing to longer pollen seasons and increased pollen concentrations. You can search for local pollen counts and sign up for pollen level alerts through the American Academy of Allergy, Asthma, and Immunology. And check out Climate Central's Media Library for local data and graphics on changing allergy seasons and other pollen resources.
EXPERTS TO INTERVIEW
LOCAL INTERVIEW IDEAS
Find the certified phenology leaders near you who report local observations to USA-NPN's Nature's Notebook monitoring program. Public gardens around the country are staffed by experts and many maintain active plant records systems; find public gardens near you through the American Association of Public Gardens. And the Garden Club of America has 201 local clubs throughout the country.
The SciLine service, 500 Women Scientists or the press offices of local universities may be able to connect you with local scientists or climatologists who have expertise on changing climate patterns in your area. The American Association of State Climatologists is a professional scientific organization composed of all 50 state climatologists. 
You can find local allergists and immunologists through the American Academy of Allergy, Asthma & and Immunology. 
NATIONAL INTERVIEW SUGGESTIONS
Theresa M. Crimmins, PhD
Director, USA National Phenology Network and Nature's Notebook, National Coordinating Office, University of Arizona
Email: theresa@usanpn.org
Phone: (520) 621-8523
Dist. Prof. Mark D. Schwartz, PhD
Climatologist and phenoclimatologist, Department of Geography, University of Wisconsin-Milwaukee
Co-founder of the USA National Phenology Network
Email: mds@uwm.edu
Phone: (414) 229-3740 or 4866
American Academy of Allergy, Asthma, & Immunology
Contact AAAAI's media office to arrange interviews with national allergy experts and for experts available for interviews in Spanish
media@aaaai.org
(414) 272-6071
METHODOLOGY
Annual first leaf Spring Index data (1981-2019) for the Contiguous United States was obtained from the USA National Phenology Network. Trends were calculated using linear regression analysis and results were rounded to the nearest whole number.
…………………………………………………………………………..
As stated over the last few days on this blog the signs of global warming are everywhere. Australia just came off its hottest summer on record. Europe had its warmest winter on record, with the U.S. coming in at 6th warmest. Let's all heed nature's signals before it's too late to fix our climate. Our children will thank us.
Please consider donating through the Paypal widget on this site. I need everyone's support to continue my work, especially that of processing NCEI record count data for scientific research.
Here is some more weather and climate news from Sunday:
(As usual, this will be a fluid post in which more information gets added during the day as it crosses my radar, crediting all who have  put it on-line. Items will be archived on this site for posterity.)
(If you like these posts and my work please contribute via the PayPal widget, which has recently been added to this site. Thanks in advance for any support.)
Guy Walton- "The Climate Guy"