Monday March 9th… Dear Diary. The main purpose of this ongoing blog will be to track United States extreme or record temperatures related to climate change. Any reports I see of ETs will be listed below the main topic of the day. I'll refer to extreme or record temperatures as ETs (not extraterrestrials).😉
Main Tropic: Transportation Habits… California Finds That Uber and Lift Pollute More Than Driving
Dear Diary: Think about this. A parked vehicle with its engine turned off does not pollute. An idling vehicle waiting for passengers does. So, it comes as no surprise to me that a taxi service such as Uber of Lyft pollutes more than relying on one's own automobile. Obviously mass transportation pollutes less, though. However, drive pooling, whether it be from Uber, Lyft or taxi services pollutes less than using your vehicle for a single passenger.
Unfortunately drivers of Uber and Lyft services circle areas waiting to get customer requests, not only wasting more fuel but causing more carbon pollution. Lyft, Uber, and traditional taxies also tend to idle more. So, should we feel much less guilt for owning an ICE, or internal combustion engine vehicle? Hardly, but ownership apparently causes less pollution. Here is more from the Los Angeles Times via Desdemona Despair:
Taking an Uber or Lyft pollutes more than driving, California finds – "For a one-mile trip, on average there's another 0.7 miles of driving around to deliver that trip"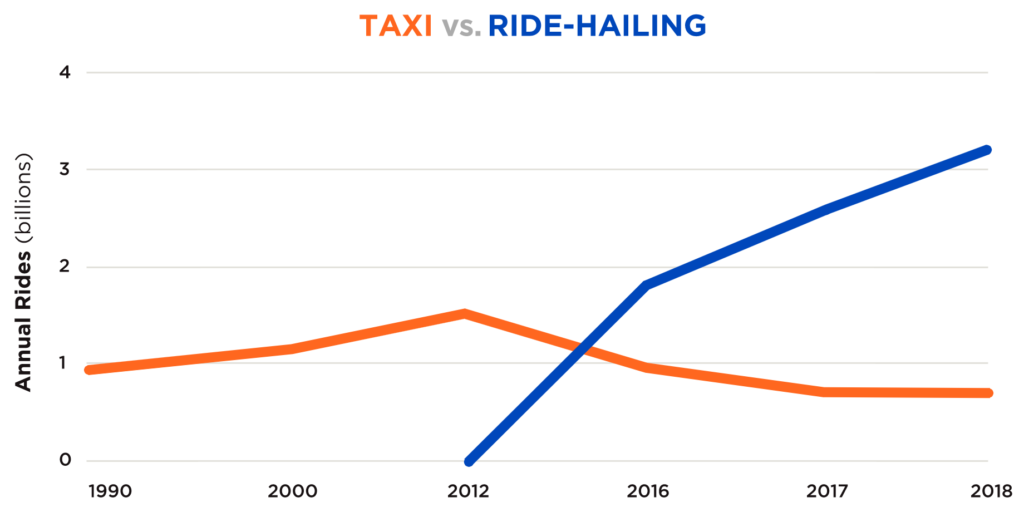 Annual number of rides delivered by taxi and ride-hailing services, 1990-2018. Graphic: UCS
By Tony Barboza
7 March 2020
(Los Angeles Times) – Behind the tap-of-your-phone convenience of hailing an Uber or Lyft lies an inconvenient truth: Such rides generate more carbon emissions than simply driving yourself.
The increased pollution comes primarily from "deadheading," that is, drivers traveling to pick up a passenger or cruising the streets while waiting for a ride request. Deadheading accounts for about 40% of the miles logged by Uber and Lyft vehicles in California, according to recent analysis by state air quality regulators.
"That means that for a one-mile trip, on average there's about another 0.7 miles of driving around to deliver that trip," said Don Anair, clean vehicles program research director for the Union of Concerned Scientists, an environmental group that recently released its own report backing up some of the state's findings. "People don't see that. They only see the vehicle pull up and they take their trip."

Greenhouse gas emissions from different forms of transportation. Non-pooled ride hailing, like with Uber and Lyft, emit 70 percent pollution than the average trip that it replaces. Data: UCS. Graphic: Los Angeles Times
But the status quo may not hold for long. The California Air Resources Board is now developing the world's first regulations to reduce the climate impacts of ride hailing. The rules, expected by year's end, seek to rein in traffic and pollution from an industry that has quickly risen to overtake taxis, in large part by avoiding regulation to begin with.
There are more than 600,000 ride-hail vehicles in California, and they emit about 50% more greenhouse gas emissions per passenger mile traveled than an average car statewide, according to an analysis released by air quality officials in December.
The Union of Concerned Scientists study, however, concluded that ride hailing is even worse for the climate than air quality officials found. That's because riders aren't only taking Uber or Lyft instead of their own private vehicles, they're taking them when they otherwise would have used lower-carbon options such as public transit, biking or walking.
When you factor in displacement of cleaner transportation, a typical ride-hail trip is about 70 percent more polluting than the average trip it replaces, the group's analysis found. [more]
Taking an Uber or Lyft pollutes more than driving, California finds. Next stop: Regulations
---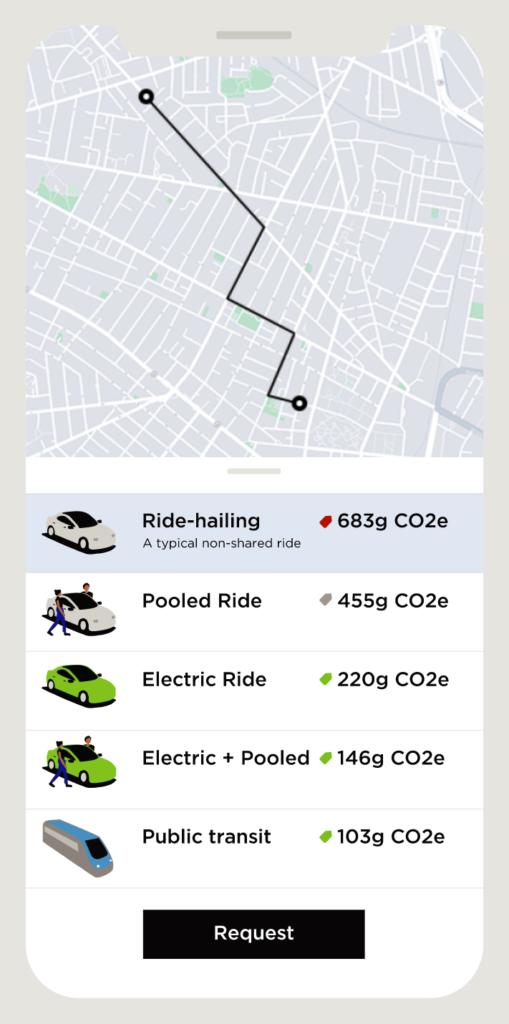 Ride-Hailing is a Problem for the Climate. Here's Why.
25 February 2020 (UCS) – What if we could live our lives without being tethered to owning a car?
In 2020, getting around without the hassles and expenses of individual car ownership is becoming more plausible. For those who do own cars, there are many reasons to leave your car at home and use either public transportation, a ride-hailing service such as Uber or Lyft, or a combination of both. Maybe you're traveling for work and don't want to drive to the airport or deal with parking expenses. On that same business trip, maybe the ease and economy of cutting out a car rental are appealing. Maybe you don't want to deal with traffic, parking, or navigating around an unknown place. Maybe you're concerned about the environmental impacts of car emissions and want to lessen your carbon footprint.
Whatever the reason, leaving your car at home—or not owning one in the first place—can offer a lot of benefits. But according to a groundbreaking UCS analysis, it also comes with a cost. […]
Ride-hailing trips are not just taking the place of car trips—they're also displacing other lower-carbon modes of transportation like walking, biking, and transit. When these are accounted for, the average ride-hailing trip produces an estimated 69 percent more emissions than the trips it replaces.
That's right: while these services represent a major shift in the way we get around and offer real convenience for consumers, our analysis of the data shows that ride-hailing companies are increasing climate pollution. [more]
Ride-Hailing is a Problem for the Climate. Here's Why.
……………………………………………………………………………………………………
The simple solution if you want to own a vehicle or become an Uber or Lyft driver is to purchase an all electric. This is still costly, however. Also, once an all electric vehicle is purchased, please drive it for more than a decade since the energy involved in making any device really adds up. I'll be posting more tips on how we can aid to keep our environment healthy during the course of this year.
Please consider donating through the Paypal widget on this site. I need everyone's support to continue my work, especially that of processing NCEI record count data for scientific research.
Here is some more weather and climate news from Monday:
(As usual, this will be a fluid post in which more information gets added during the day as it crosses my radar, crediting all who have put it on-line. Items will be archived on this site for posterity.)
Here is another "ET:"