Friday March 13th… Dear Diary. The main purpose of this ongoing blog will be to track United States extreme or record temperatures related to climate change. Any reports I see of ETs will be listed below the main topic of the day. I'll refer to extreme or record temperatures as ETs (not extraterrestrials).😉
Main Topic: As Coronavirus Rages The Climate Crisis Gets More Dire
Dear Diary: Worldwide emphasis obviously is on the coronavirus problem now with hardly a mention of the climate crisis coming from broadcast news in the last week. Major print or text outlets are proverbially walking and chewing gum at the same time, though. The following are three great reports made in the last few days on the climate crisis and why we cannot glance our collective eyes away from what I'm sure will be a much longer term problem than COVID-19. All are worth a good read (For embedded vides just click the links to see the full articles.):
https://www.nbcnews.com/science/science-news/time-fast-running-out-world-meteorological-organization-warns-climate-efforts-n1154701
'Time is fast running out': World Meteorological Organization warns climate efforts are falling short
"Climate change is the defining challenge of our time," United Nations Secretary-General Antonio Guterres said in a statement.
People cool off in the Unisphere fountain at Flushing Meadow Corona Park in Queens, New York, on July 21, 2019.Johannes Eisele / AFP – Getty ImagesMarch 10, 2020, 4:31 PM EDT By Denise Chow
The world is significantly falling short when it comes to efforts to curb climate change, according to a new report released Tuesday by the World Meteorological Organization.
The intergovernmental organization's assessment evaluated a range of so-called global climate indicators in 2019, including land temperatures, ocean temperatures, greenhouse gas emissions, sea-level rise and melting ice. The report finds that most of these indicators are increasing, which means the planet is veering way off track in trying to control the pace of global warming.
"Climate change is the defining challenge of our time," United Nations Secretary-General Antonio Guterres said in a statement. "Time is fast running out for us to avert the worst impacts of climate disruption and protect our societies from the inevitable impacts to come."
And there were plenty of disruptions and impacts last year. The report, which linked events such as heat waves, flooding and extreme weather to climate change, highlighted how these disruptions have affected human health and security.
Two severe heat waves in Europe last summer, for example, led to 1,462 deaths in the affected regions, according to the report. The study also estimated that 22 million people were displaced by flooding and other extreme weather events in 2019, up from 17.2 million in 2018.
The report also confirmed that 2019 was the second warmest year on record. Global average temperatures last year were 1.1 degrees Celsius above pre-industrial levels. Last year fell shy of the record held by 2016, but the report noted that 2015 to 2019 are the five warmest years in recorded history. And since the 1980s, each subsequent decade has been warmer than any preceding decade since 1850.
Meltwater forms a lake on an iceberg in the Ilulissat Icefjord on Aug. 4, 2019 near Ilulissat, Greenland.Sean Gallup / Getty Images
The meteorological organization highlighted that emissions of heat-trapping greenhouse gases continued to rise last year, with early projections based on the first three quarters of 2019 indicating that global carbon dioxide emissions likely increased by 0.6 percent.
"Given that greenhouse gas levels continue to increase, the warming will continue," WMO Secretary-General Petteri Taalas, said in a statement. "A recent decadal forecast indicates that a new annual global temperature record is likely in the next five years. It is a matter of time."
The report outlined the impacts of human-caused warming on the world's oceans, which play a crucial role in the planet's carbon cycle by storing carbon and absorbing heat. According to the meteorological organization, oceans absorb about 90 percent of the heat trapped in the atmosphere from increasing greenhouse gas emissions. Last year, the report found, oceans hit their warmest level in recorded history.
Warmer land and ocean temperatures also drive the melting of sea ice and glaciers, which can speed sea level rise around the globe. Both Antarctica and the Arctic recorded low sea ice extents in 2019, and sea levels continue to rise at an accelerated pace, according to the report.
"This is exposing coastal areas and islands to a greater risk of flooding and the submersion of low-lying areas," Taalas said in the statement.
The trends highlighted in the report indicate that the world is failing to meet the goal set out by the Paris Agreement, which aims to keep global warming below 2 degrees Celsius (3.6 degrees Fahrenheit) by the end of the century.
"We are currently way off track to meeting either the 1.5 degrees C or 2 degrees C targets that the Paris Agreement calls for," Guterres said in the statement. "This report outlines the latest science and illustrates the urgency for far-reaching climate action."
Denise Chow is a reporter for NBC News Science focused on the environment and space.
https://www.cnn.com/2020/03/10/weather/climate-report-wmo-2019-wxc/index.html
The climate crisis is disrupting life for millions, a report finds
By Hannah Levy and Brandon Miller, CNN
Updated 5:47 PM ET, Tue March 10, 2020

(CNN)After declining for most of the last decade, hunger is once again on the rise around the world, and climate change is a primary cause. Over 820 million people suffered from hunger in 2018, the greatest number since 2010 according to findings from a new World Meteorological Organization report released today.
The wide-ranging State of the Climate report outlines the latest science and includes data from a variety of disciplines in order to evaluate the current and future impacts of climate change on everything from heath and global economies to food insecurity and refugee displacements.
Climate variability is one of the key contributors to this increase in global disruptions due to food insecurity, displacement, and deaths from disasters.
Food supplies in some of the most vulnerable regions in the world are being directly affected by impacts such as crop failures and locust swarms.
Exceptional drought followed by extremely heavy rainfall markedly decreased the seasonal crop yield in the Horn of Africa during 2019. These irregular weather and climate patterns also contributed to the worst desert locust invasion in 25 years, which further threatened the crop supply in the region.
As a result, by the end of 2019, over 22 million people in the Horn of Africa alone were estimated to be severely food insecure.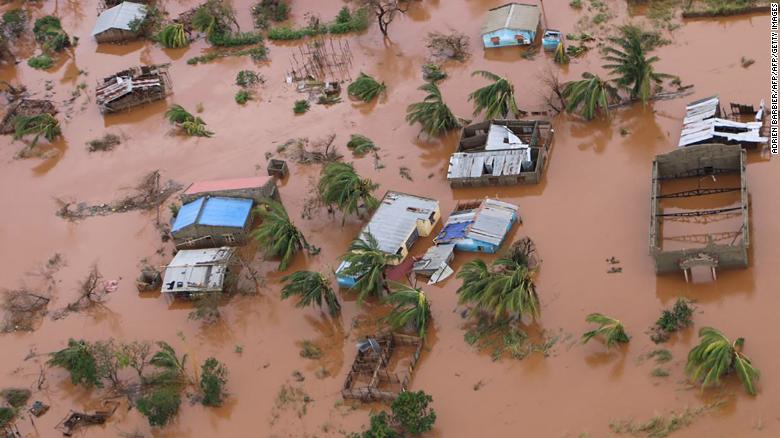 A picture shows houses in a flooded area of Buzi, central Mozambique, on March 20, 2019, after the passage of cyclone Idai.
Extreme weather spans the globe
High-impact weather events in 2019 were largely to blame for up to 22 million estimated displacements of people due to disasters, up more than 25% over 2018. Floods and storms contributed the most, including Tropical Cyclone Idai in Mozambique and Hurricane Dorian in the Bahamas — each of which dropped unprecedented amounts of rainfall and displaced tens of thousands of residents.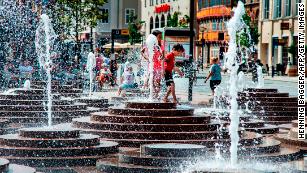 Europe's heat wave is shattering temperature records and cities are struggling to cope
During two separate summer European heatwaves, all-time record temperatures were notched in several countries across Europe and at least 1,462 deaths were recorded.
But the impacts on human health extend beyond just hunger and heat-related illness.
The dengue virus, a mosquito-borne illness, has seen its global incidence grow dramatically in recent decades and now threatens about half of the world's population, the report finds.
Australia experienced record warm temperatures and extreme drought, creating the perfect storm for the wildfires that burned over 7 million hectares (17 million acres) in New South Wales and Victoria alone. The fire activity wasn't just confined to Australia, though, Siberia and South America's Amazon rain forests saw massive wildfires as well.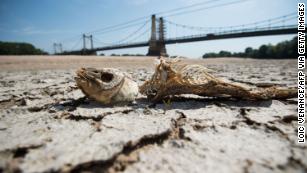 It's official: 2019 was the second-hottest year on record
Symptoms of the climate crisis
The extremes don't stop there, as the global thermostat continues to rise, along with many of the other tell-tale symptoms of global warming.
The global-average temperature was 1.1 degree Celsius (2 degrees Fahrenheit) above the pre-industrial era, topping off 2010-2019 as the warmest decade on record.
The findings of this report are not surprising, as the WMO released another report in January stating that 2019 was the second-warmest year on record. Only 2016 was warmer, due to a strong El Nino event that heated the globe naturally.
In 2019, the global mean sea level reached its highest value on record, due to the melting ice sheets in Greenland and Antarctica as well as continuing heating of the ocean, which the report notes once again reached it's highest levels of heat in the upper 2 kilometers (1.2 miles) of ocean depth.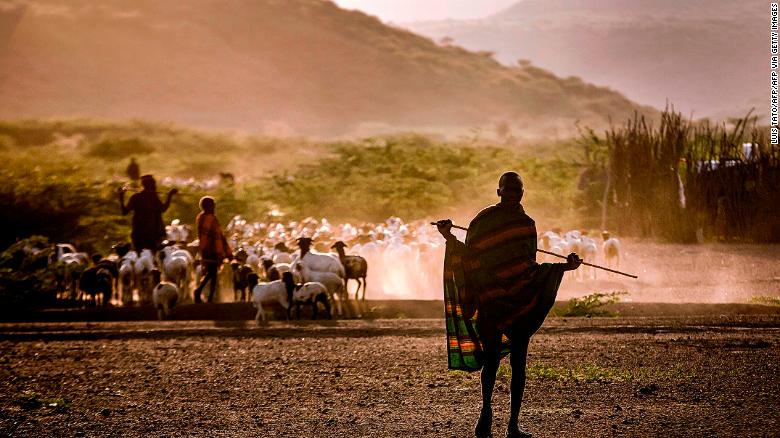 Kenya is on the frontline of climate change. Regular searing temperatures are leaving the Turkana people in the north-west suffering recurring and prolonged droughts.
"Given that greenhouse gas levels continue to increase, the warming will continue. A recent decadal forecast indicates that a new annual global temperature record is likely in the next five years. It is a matter of time," said WMO Secretary-General Petteri Taalas.
Climate change is making these extremes more common, This latest report serves as a valuable mile-marker of the climate crisis. Without climate action, populations around the globe can expect to see continued disruptions to their everyday lives.
"This report is a catalogue of weather in 2019 made more extreme by climate change, and the human misery that went with it," according to Brian Hoskins, chair of the Grantham Institute for Climate Change at Imperial College in London and not associated with the WMO State of the Climate.
"It points to a threat that is greater to our species than any known virus — we must not be diverted from the urgency of tackling it by reducing our greenhouse gas emissions to zero as soon as possible."
https://insideclimatenews.org/news/10032020/coronavirus-climate-change-economy-emissions
Coronavirus 'Really Not the Way You Want To Decrease Emissions'
Cheap oil, lower investment in renewables and a post-virus rebound will likely offset the emissions drop, but there are climate lessons in the response to the virus.
By Dan Gearino Mar 11, 2020
As the global economy shudders in reaction to the coronavirus, lessons are emerging about what that response can—and cannot—tell us about fighting climate change.
Economists and policy analysts say they are most concerned about how the current financial disruption could harm the efforts of countries, international organizations and companies to reduce emissions. They think any drop in emissions tied to the virus will be short-lived, while the continuing drop in oil prices could encourage more consumption and hurt demand for low- or no-carbon products like electric vehicles.
At the same time, the response to COVID-19 is demonstrating that in the face of a large and imminent threat, it is possible to get people to change their behavior—something climate change activists have been trying to do for decades. Some of those changes—an increase in telecommuting, for example—have climate benefits that could last beyond the current crisis.
"The plus side is, if there's a sense of social cooperation that emerges from this in response to a threat, that could be a very good sign for communities and leaders to come together," said Michael Lazarus, U.S. director at the Stockholm Environment Institute.
And yet, emissions concerns are by necessity secondary to managing an escalating public health crisis whose immediacy is in contrast to the way the public often views the march of climate change.
A Model for Long-Term Change?
The closest thing to a positive development from the coronavirus crisis may be how governments have mobilized to get people to change their behavior, such as encouraging the use of hand sanitizer and the avoidance of public events, among many other steps big and small. This is in contrast to the difficulty that environmental advocates have long had in getting people to make changes to consume fewer resources.
Some of the changes in response to coronavirus could have enduring climate benefits. One example is how many employers are now encouraging people to work from home, which cuts emissions from driving to work. As employees and workers get used to this, they are more likely to want to do it more.
"I'd be surprised if there weren't at least some instances where this marks a sea change," said David Comerford, a behavioral economist at Stirling University in Scotland.
He is especially optimistic that some good will come from what climate advocates are learning about how the public responds to crisis and what messages work in communicating urgency.
But as is also true with climate change, people with low incomes are the most likely to suffer while the affluent have an easier time dealing with the threat, in this case the virus, said Gernot Wagner, a climate economist at New York University.
"It's not going to be me dying, it's going to be the already-poor, already-vulnerable, elderly sick people who will die," he said.
Lazarus also sees potential for harm if societies see the virus as "foreign" and respond by trying to build social and economic barriers, as opposed to coming together.
Temporary Economic Declines, Long-Term Challenges
One of the greatest hazards for climate policy related to the coronavirus is that governments, international organizations and companies may have fewer resources and less time to focus on other thorny problems.
Fatih Birol, executive director of the International Energy Agency, made this point while talking this week about his office's new forecast that the world will see the first full-year decline in oil production in more than a decade, a drop that reflects the decrease in demand as coronavirus keeps people from traveling or even going to work.
"The impact of the coronavirus on oil markets may be temporary," he said on Twitter. "But the longer-term challenges facing producer countries are not going to go away, especially those heavily dependent on oil and gas revenues."
In those countries, "sustained low prices could make it almost impossible to fund essential areas such as education, health care and public sector employment," he said.
The IEA report warned that energy companies are likely to struggle to finance projects, which could have a big effect on renewable energy, since solar, wind and other renewable technologies make up an increasing share of such companies' plans.
Other industries also are apt to run into difficulties paying for their part in the transition to clean energy. For example, the economic disruption caused by the outbreak has probably complicated the airline industry's plan to establish mandatory carbon offsets by 2027. Planes emptied by the virus have left airlines with little revenue to invest in projects aimed at reducing carbon elsewhere to make up for their flights' emissions.
The industry is now focused on mere survival. The International Air Transport Association projects that the global revenue losses for passenger airlines could reach up to $113 billion this year, with over $21 billion of that hitting U.S. airlines.
"The turn of events as a result of COVID-19 is almost without precedent," said Alexandre de Juniac, the trade group's CEO and director general, in a statement. "In little over two months, the industry's prospects in much of the world have taken a dramatic turn for the worse. It is unclear how the virus will develop, but … this is a crisis."
For more continue reading here:
https://insideclimatenews.org/news/10032020/coronavirus-climate-change-economy-emissions
Now, here are some of today's articles on the coronavirus:
Here are some more ET's from Friday:
Please consider donating through the Paypal widget on this site. I need everyone's support to continue my work, especially that of processing NCEI record count data for scientific research.
Here is some more weather and climate news from Friday:
(As usual, this will be a fluid post in which more information gets added during the day as it crosses my radar, crediting all who have put it on-line. Items will be archived on this site for posterity.)
(If you like these posts and my work please contribute via the PayPal widget, which has recently been added to this site. Thanks in advance for any support.)
Guy Walton "The Climate Guy"