Thursday April 30th… Dear Diary. The main purpose of this ongoing blog will be to track United States extreme or record temperatures related to climate change. Any reports I see of ETs will be listed below the main topic of the day. I'll refer to extreme or record temperatures as ETs (not extraterrestrials).😉
Return of The Dipole…U.S. Ramifications Going Into May
Dear Diary. It's been an awful April in terms of sickness and death produced by COVID-19. I'm praying that May will be better as societies and economies across the world attempt to open back up, hopefully not too soon, exacerbating the pandemic. As I write this there is hope from one drug, remdesivir, that may prove to be an anti-viral weapon against COVID-19 but not a vaccine. On this day, by the way, 75 years ago another much worse, more tremendous crisis was coming to an end in Europe when Hitler committed suicide. So, at the end of another April we might begin seeing some light at the end of yet another long, dark proverbial tunnel. Wish that I could write a similar sentence concerning our climate.
Well, back to the main point of this blog, pointing out climate change influenced weather that could lead to extreme heat with less instances of extreme cold across the planet. Looking at my meteorological tea leave models I see a break from any extreme heat for most of the U.S. coming after the first week of May. Of course, residents of the Midwest and Northeast haven't seen much if any spring warmth yet, and probably will be complaining about lingering winter chill going well into May because of, you guessed it, the return of the "dipole."
Going out as far as reliable models go, which I would contend is around 240 hours, we see on these Penn State ensembles the typical dipole, which is a strong warm ridge along the West Coast spiking northward to Alaska with a large trapped cold pocket centered around Hudson Bay:
I've noted in my near 40 year career that once a dipole pattern, or ridge in the West and long wave trough in the East, gets established in May, usually the United States has a relatively mild summer, which in light of the climate crisis would be great news. Note that there are four long wave troughs in the Northern Hemisphere depicted by the blue colors on the above chart. A four wave pattern is very stable and once established does not break down easily going into the warm months.
All of this would be great to see except if you are a storm chaser. Since May is a big month for spring tornadic activity, cooler than average air masses moving through the Plains would cut down on twisters, limiting damage. For a country reeling from COVID-19 we need all the help we can get, and perhaps we may temporarily see this from the weather gods.
For residents of California and the Southwest, though, near record heat won't abate anytime soon due to the potential dipole. Also, this heat probably will lead to another bad fire season due to a burgeoning drought in California, so this upcoming weather pattern won't be good news for everyone.
Here is the latest NWS 6-10 day temperature outlook: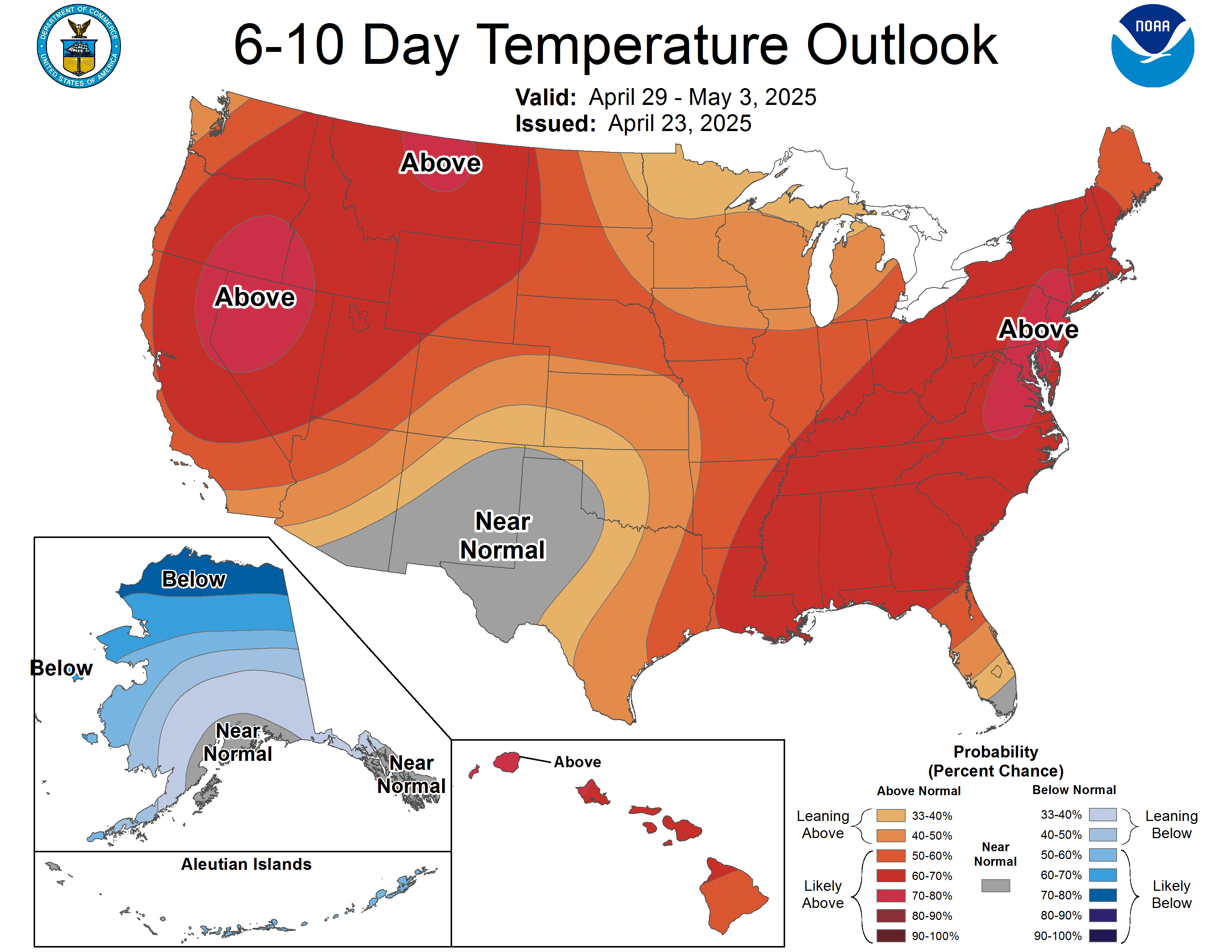 This is a very typical temperature anomaly regime in association with the dipole. Whether or not this pattern persists into late May remains to be seen. I'll be looking at fresh cups full of tea leaves to impart any gleaned knowledge from time to time for you, my readers, as we move through next month.
Now here are some of today's articles and notes on the horrid COVID-19 pandemic. (As usual, the most noteworthy items will be listed first.):
Here is more climate and weather news from Thursday:
(As usual, this will be a fluid post in which more information gets added during the day as it crosses my radar, crediting all who have put it on-line. Items will be archived on this site for posterity. In most instances click on the pictures of each tweet to see each article. The most noteworthy items will be listed first.)
Another "ET" from the Desert Southwest:
(If you like these posts and my work please contribute via the PayPal widget, which has recently been added to this site. Thanks in advance for any support.)
Guy Walton "The Climate Guy"