Sunday May 31st… Dear Diary. The main purpose of this ongoing blog will be to track United States extreme or record temperatures related to climate change. Any reports I see of ETs will be listed below each days climate, weather and environmental news section. I'll refer to extreme or record temperatures as ETs (not extraterrestrials).😉
Main Topic: A New Gulf of Mexico Threat From Tropical Storm Amanda + U.S. Early June Heat Wave Outlook
Dear Diary. As of this Sunday met models are becoming much more clear on what will take place weather wise from Central America northward through the Gulf of Mexico into the United States. The good news is that a mega heat dome that had been forecast across the eastern U.S. is less likely to occur for the first two weeks of June. The bad news is that a tropical storm, or a hurricane, is likely to develop (or redevelop) in the western or central Gulf of Mexico from what is now Tropical Storm Amanda as it moves northward through Central America:
Amanda has develop from a Central American Gyre. For much fire in that please read Bob Henson's fine article linked here:
I disagree with the above NHC forecast. Once cyclone energy moves north into the Gulf it should continue to move northward and not dissipate or remain near the southern shore of the Bay of Campeche. This morning's GFS and Canadian models are in agreement, moving a tropical cyclone towards either Texas or Louisiana: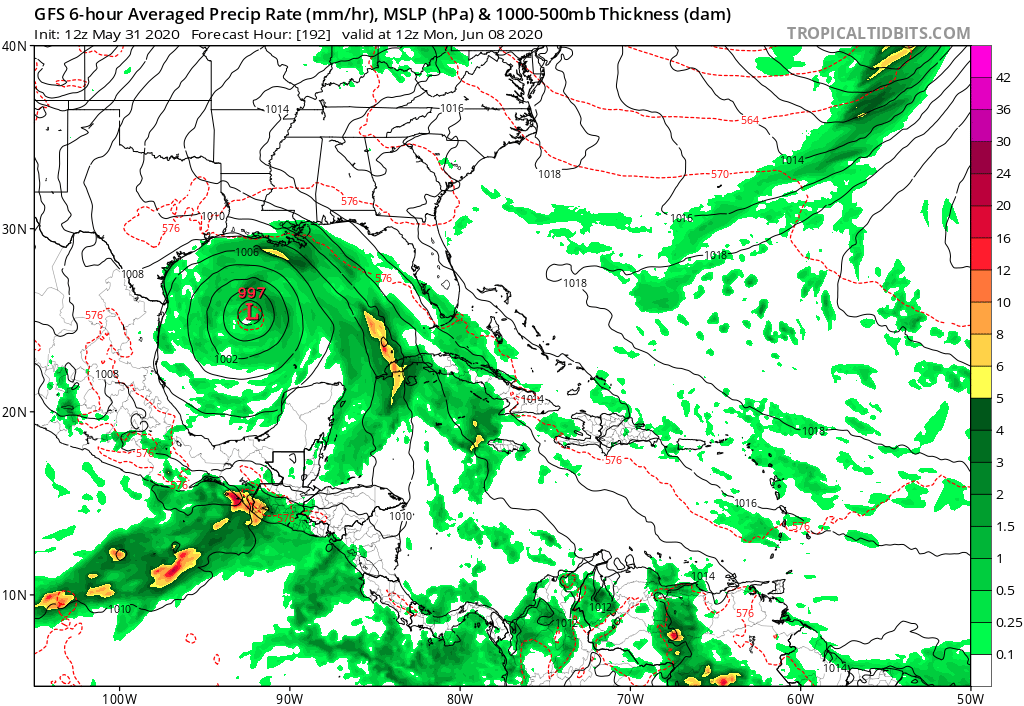 This process maybe painfully slow, though, taking as much as another week for a cyclone to crawl northward into the Gulf. This also leads me to believe that once an area of low pressure develops in the open waters of the Gulf, it will have plenty of time to strengthen into a big threat. Too, the Gulf waters are now a powder keg of anomalous warmth, which leads me to be worried here.
Of course, any developed system could also move south of Brownsville, Texas into Mexico. It's too early to tell.
In the meantime flooding will be life threatening in southeastern Mexico, Guatamal, Honduras and Belize.
So, what about the heat dome? It looks like this tries to strengthen on Tuesday over the central United States, but various weather systems puncture the thing later in the week:
At least, dangerous heat won't be too much of a problem across a widespread area of the United States through the first week of June. During the course of today I'll be adding more news and notes on this volatile tropical situation:
Here is more climate and weather news from Sunday:
(As usual, this will be a fluid post in which more information gets added during the day as it crosses my radar, crediting all who have put it on-line. Items will be archived on this site for posterity. In most instances click on the pictures of each tweet to see each article. The most noteworthy items will be listed first.)
Now here are some of today's articles and notes on the horrid COVID-19 pandemic:
(As usual, the most noteworthy items will be listed first.)
(If you like these posts and my work please contribute via the PayPal widget, which has recently been added to this site. Thanks in advance for any support.)
Guy Walton "The Climate Guy"