Tuesday July 28th… Dear Diary. The main purpose of this ongoing blog will be to track United States extreme or record temperatures related to climate change. Any reports I see of ETs will be listed below the main topic of the day. I'll refer to extreme or record temperatures as ETs (not extraterrestrials).😉
Main Topic: Meat Production…Why It's Bad For The Amazon
Dear Diary. I've stated often on this blog that the number two priority behind limiting carbon pollution by switching to renewables is saving the Amazon. This responsibility falls squarely on the shoulders of the Brazilian government and, unfortunately at this time in history, authoritarian President Bolsonaro, who is letting business and industry rape the Amazon. One such industry that causes the clearing of land in the Amazon is beef production. Brazillians consume beef in great quantities since culturally meat has been the main dish for meals in their country among people who can afford it. This tradition is aiding to denude Brazil of one of the most important natural resources on this Earth. It will be many decades, I fear, before most Brazilians switch to new fake meat, which is becoming more popular in the United States and elsewhere, that can be a tool to help protect the environment worldwide.
It also goes nearly without writing that much of Brazilian beef is shipped worldwide and is a very profitable commodity. Much like from petroleum production around the planet, it is going to be very tough to get a course correction in order to avoid a catastrophic worldwide environmental shipwreck because the roots of meat enterprises are dug into Brazilian society very deeply.
For much more on this topic is a new article by the Guardian:
https://www.theguardian.com/environment/2020/jul/27/revealed-new-evidence-links-brazil-meat-giant-jbs-to-amazon-deforestation
Revealed: new evidence links Brazil meat giant JBS to Amazon deforestation
Photographs by employee appear to show company trucks being used to transport cattle from allegedly prohibited cattle farm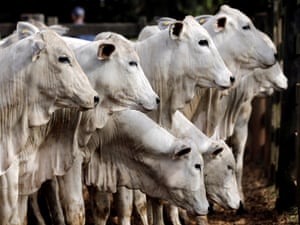 New evidence appears to connect JBS, the world's biggest meat company, to cattle supplied from a farm in the Brazilian Amazon which is under sanction for illegal deforestation.
This is the fifth time in a year that allegations have surfaced connecting the company to Amazon farmers linked with illegal deforestation.
Brazilian beef companies have repeatedly claimed that the biggest challenge to keeping deforestation out of their supply chains is the "indirect suppliers" – farms where cattle are birthed, or which sell to farms where cattle are fattened, which then sell on to other farms or to slaughterhouses. JBS and other major beef firms Minerva and Marfrig all say that although they closely monitor their direct suppliers – the farms that supply slaughterhouses directly – they cannot be sure that there is no deforestation further up the supply chain because they cannot monitor indirect suppliers.
But a joint investigation by Réporter Brasil, the Bureau of Investigative Journalism and the Guardian has uncovered photographs taken by a JBS truck driver last summer which appear to show him transporting cattle from a farm with land under embargo after a deforestation fine, to a "clean" farm which then sold cattle on to JBS. These appear to indicate that JBS is in contact with at least one indirect supplier who has been sanctioned for deforestation.
Whilst JBS has disputed the allegations, the evidence raises serious questions about JBS's review of its own complex supply chain, at a time when the Brazilian government is being taken to task by international investors over rising deforestation and fires.
The company has already been alleged to have been buying cattle from indirect suppliers linked to environmental offences, deforestation and other crimes in the Amazon four times in just over a year in investigations by the Guardian, the Bureau of Investigative Journalism and Réporter Brasil, and Greenpeace and Amnesty International.
This time, the apparent link between an indirect supplier and JBS was inadvertently revealed by one of its own employees. In July last year, a truck driver took photographs of himself in his JBS uniform, and of his JBS truck, by a sign marked "Fazenda Estrela do Aripuanã – 15km" at the southern end of the Amazon rainforest. Fazenda Estrela do Aripuanã is a farm near the town of Aripuanã, in the north-west of Mato Grosso state, operated by Ronaldo Venceslau Rodrigues da Cunha. His company, according to its website, currently breeds and fattens 102,000 cattle across 16 sites spanning some 72,000 hectares of pasture.
Da Cunha was fined R2.2m (£340,000) in 2012 for deforestation of rainforest on land at Aripuanã. Records published by Brazil's environment agency Ibama show 1,455 hectares of land placed under an official embargo – which prohibits cattle grazing – as a result of the deforestation. Embargoes are imposed for environmental violations and serve both as a punishment and protective measure to allow land to recover.
The investigation also found that the Aripuanã farm was ravaged by multiple forest fires between 2018 and 2019 by cross-referencing datasets with maps showing the farm's boundaries. Da Cunha was asked to comment but did not respond.
According to the truck driver's Facebook posts at the time, he and other drivers were collecting cattle for JBS from the Aripuanã farm and trucking them to a second farm run by Da Cunha, Fazenda Estrela do Sangue, just 300km south.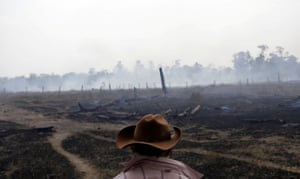 The Amazon saw an unprecedented number of fires in 2019. Photograph: Ricardo Moraes/Reuters
The Sangue farm has not been subject to embargoes so on paper would be seen as a "clean" supplier under JBS's sourcing protocols.
Although the driver's Facebook posts detail just one journey between the two farms, cattle are regularly transported from the Aripuanã farm to Sangue.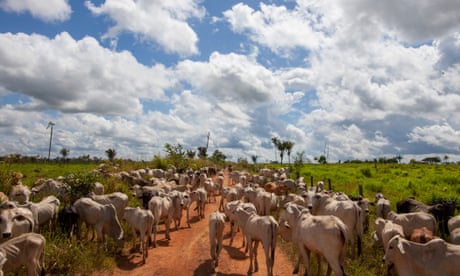 Read more
Cattle movement records show that from June 2018 to August 2019, at least 7,000 animals were dispatched from the first farm to the second. Separate records reveal Sangue farm sent some 7,000 cattle to JBS abattoirs in Juína and Juara in Mato Grosso between November 2018 and November 2019.
Further posts by the driver appear to show him trucking cattle between different farms, rather than from farms to an abattoir. These routes between multiple farms as well as abattoirs have been described as "three-legged journeys" by JBS executives in interviews, and appear to be standard operating procedure for the company.
Although government data appears to show the farm identified in the travel documents and by the driver is under embargo, JBS disputes this. When the Guardian asked for clarification of the complex land registrations for Estrela do Aripuanã, and the specifics of the cattle collections, JBS stated: "Our system cross references the best available information based on the CAR [rural land registration] map of the property, along with its geographic coordinates, against Ibama [national environmental agency] data. In this particular instance, the collection farm was not shown to be within any embargoed area. We constantly review how our system protocols interact with most up-to-date data available and are determined to enforce our strict company policies as have been identified to you."
They added: "JBS is working closely with national and local government departments to develop solutions and system improvements around supply chain traceability and best agricultural practice to eradicate deforestation. The interests of all stakeholders are aligned on this topic."
The company has been working for some time on improving its monitoring systems, and has just brought a new system into use.
"As you know the 'theoretical index' of livestock productivity was implemented on 1 July 2020 and is expected to make a significant impact in the reduction of cattle laundering. With new tools such as this, and the active development of other initiatives we are collaborating on with our stakeholders, we are working towards a completely transparent supply chain."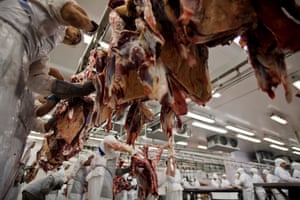 JBS said its "theoretical index" has "already identified cases which are under investigation". It is also working on a "green" version of cattle movement records with Brazil's agriculture ministry that would show the environmental status of supplying farms. These would be automatically cross-referenced with lists of embargoed farms. Last year the company said it had been discussing this plan with the ministry since 2014.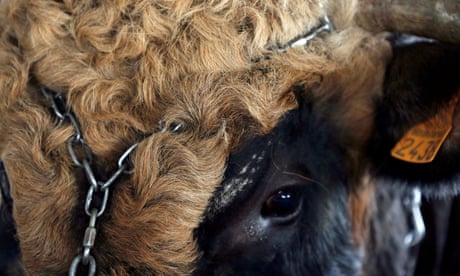 Read more
"JBS's direct suppliers would be able to verify in a very simple and cost-free way the environmental status of the company's indirect suppliers," it said. "Tracing of the whole meat supply chain, although a complex task, could be achieved in the medium term."
Exports of Brazilian beef by the country's three meat giants – JBS, Minerva and Marfrig – have risen significantly over the last three years, and are found in British and European supermarkets.
"All over Europe there is a cattle tracing system so that people know where calves are born and they can be traced through their lives," said British MP Angus MacNeil. "Brazil needs to clean up its act with regards to cattle traceability or surely nations will have to act in the face of such potential flagrant violations."
99 days to save the Earth …
… because that is when the US withdraws from the Paris climate accord, on 4 November. Five years ago nearly 200 countries committed to a collective global response to tackle the climate crisis. But when Donald Trump took office he announced that the US would leave the Paris agreement. On the one issue that demands a worldwide response to help safeguard the Earth for future generations, the US has chosen to walk away. The president is playing politics with the climate crisis – the most defining issue of our time.
The stakes could scarcely be higher and with your help we can put this issue at the center of our 2020 election coverage. The election will be a referendum on the future of democracy, racial justice, the supreme court and so much more. But hovering over all of these is whether the US will play its role in helping take collective responsibility for the future of the planet.
The period since the Paris agreement was signed has seen the five hottest years on record. If carbon emissions continue substantial climate change is unavoidable. The most impacted communities will also be the most vulnerable. Instead of helping lead this discussion the White House prefers to roll back environmental protections to placate the fossil fuel industry.
High-quality journalism that is grounded in science will be critical for raising awareness of these dangers and driving change. You've read more than 5 articles in the last nine months. Because we believe every one of us deserves equal access to fact-based news and analysis, we've decided to keep Guardian journalism free for all readers, regardless of where they live or what they can afford to pay. This is made possible thanks to the support we receive from readers across America in all 50 states. If you can, support the Guardian from as little as $1 – and it only takes a minute. Thank you. Support the Guardian Remind me in September
Amazon deforestation is another factor to consider if one wants to turn to vegetarianism in order to help save our climate. The less demand for beef the less stress there will be on the Amazon and other rainforests around the planet that are essential for converting atmospheric CO2 into oxygen and stored carbon. Of course, any dent on demand will only occur if we see people becoming vegetarians in mass. Also, don't forget that there are many other reasons, such as mining and furniture production, for the Amazon's destruction.
Sigh. I seriously doubt that stresses on the Amazon will decrease enough to avoid worldwide catastrophe.
Here are some "ET's" from early this week:
Here is more climate and weather news from Tuesday:
(As usual, this will be a fluid post in which more information gets added during the day as it crosses my radar, crediting all who have put it on-line. Items will be archived on this site for posterity. In most instances click on the pictures of each tweet to see each article. The most noteworthy items will be listed first.)
Now here are some of today's articles and notes on the horrid COVID-19 pandemic:
(If you like these posts and my work please contribute via the PayPal widget, which has recently been added to this site. Thanks in advance for any support.)
Guy Walton… "The Climate Guy"