The main purpose of this ongoing blog will be to track United States extreme or record temperatures related to climate change. Any reports I see of ETs will be listed below the main topic of the day. I'll refer to extreme or record temperatures as ETs (not extraterrestrials).😉
Main Topic: Update On Australian Heatwave "Koala"
Dear Diary. A couple of days ago I let my readers know of an impending heat wave for Australia, exacerbated by a stronger greenhouse effect brought about from carbon pollution:
Extreme Temperature Diary- Wednesday November 25th, 2020/ Main Topic: Australia Braces For A Historic Early Summer Heatwave – Guy On Climate
Earlier this year we began naming and ranking heat waves so that the press and public would better recognize the danger involved with such events, much like has happened in association with communication efforts for hurricanes going back through the mid 20th century. My associate, Maximiliano Herrera, has suggested that we do so for this late spring/early summer heat wave, giving it the name "Koala." In my judgement, using a rough scale from one to five, with a ranking of three and above being a "major" heatwave, Koala as of this Saturday is a three. Any system that is ranked three and above gets a name. Also unfortunately, any heatwave that attains a four status has already been a killer. For more nomenclature criteria see:
Koala commenced on Friday and will be with us at least through this coming Tuesday. Here are some updates from Maximiliano Herrera:
It's time to look at the 500 millibar heat dome pattern over Australia this weekend. First, let's offer a snapshot from Friday:
This heat dome is more typical for mid summer, not late spring (or late November). Notice how the darker red anomaly was over Southeast Australia.
By Sunday the reddest anomaly shifts towards south-central Australia. The area covered by 588+ decameter heights is impressive:
We do have even more bad news. By late next week the heat dome will only grow stronger, exceeding 591+ decameters over the heart of the continent:
Here is the latest report from the Sydney Morning Herald:
https://www.smh.com.au/national/nsw/sydney-swelters-as-heatwave-descends-across-nsw-20201128-p56iqs.html
Parts of Sydney tip 40 degrees as heatwave descends across NSW.
A heatwave has descended on NSW, breaking records and sending temperatures in parts of Sydney soaring over 40 degrees. The hot winds that swept across the city on Saturday are not expected to offer much reprieve until Sunday afternoon.
Beachgoers looking to cool off over the weekend were warned to observe social distancing along the coastline, while councils and surf lifesavers monitored crowding at some of Sydney's most popular beaches. On Saturday, crowds remained manageable and no beaches were closed.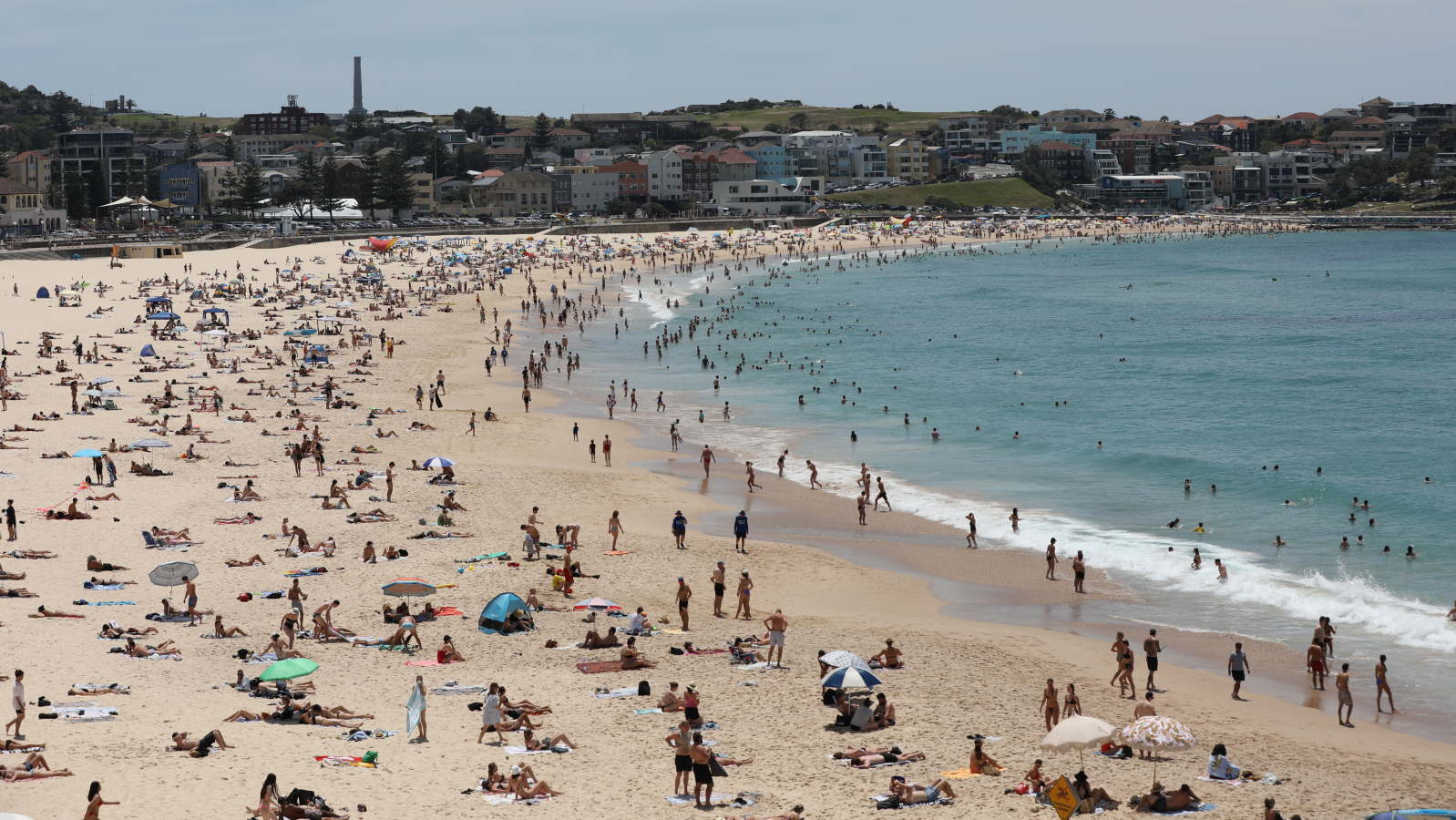 Beachgoers during a heatwave at Bondi Beach.CREDIT:DOMINIC LORRIMER
While the water was open to swimmers, the car park at Bondi Beach was closed before 10am as temperatures approached 30C in the eastern suburbs. Parts of Sydney's west had already hit 35C by 10am, including Olympic Park; Richmond reached 34.4C.
The temperature at Sydney's Observatory Hill peaked at 40.8C just after 3pm, exceeding by four degrees the forecast of 36C for Saturday. In Penrith, it had climbed to over 40 degrees by midday and peaked at 41.5. The hottest temperature recorded in the city was at the airport, where the mercury momentarily hit 43 just after 4pm – skirting close to the November record of 43.4C.
Elsewhere in the state, the temperature records fell as the heat rose. Stations at Broken Hill airport, Albury airport, Griffith airport and Narrandera airport all broke their November records as temperatures well over 40 were recorded.
With the sweltering temperatures only forecast to drop to the mid-20s overnight on Saturday, records could also be broken for the highest minimum November temperatures. The highest minimum temperature for Sydney sits at 24.8C, which was recorded in 1905.
With the weather bureau raising its Sunday forecast for Observatory Hill from 39C to 40C on Saturday afternoon, the city looks likely to sweat through two 40-degree days in a row in November for only the second time in 162 years of records.
A strong southerly change is set to eventually provide a reprieve from the heat as it pushes through Sydney between 3pm and 5pm on Sunday afternoon, bringing temperatures down into the 20s. There is potential for thunderstorms and gusty winds reaching 60km/h at the coast.
A spokesman for Surf Life Saving NSW said patrols were on high alert as crowds flocked to the beaches for the first heatwave weekend of the season.
Sydneysiders flocked to the beach to escape the heat. CREDIT:DOMINIC LORRIMER
While it's tempting during a heatwave to take to the waves in the early morning and evening, he urged beachgoers to stick to patrolled beaches and check the Beach Safe app before leaving home to see which beaches are open.
Beach ambassadors have been tasked with monitoring social distancing across Waverley Council beaches and people have been told to stay 1.5 metres or a towel-length apart unless they are from the same household.
"This is going to be an especially challenging summer," Waverley lifeguard services manager Matt du Plessis said.
The heatwave was also causing concern for firefighters as strong winds and searing temperatures resulted in very high to severe fire danger in much of NSW. A total fire ban was in place for the Lower Central West Plains, Eastern Riverina, Southern Riverina and Northern Riverina on Saturday.
On Sunday, the fire bans will shift east and north as very high to severe fire danger conditions reach the Far North Coast, North Coast, Greater Hunter, Greater Sydney, North Western, Illawarra/Shoalhaven, Central Ranges, New England and Northern Slopes.
Farmers harvesting grain across the state have been warned to monitor conditions due to concerns over grass fires, which could spread rapidly under strong winds and dry conditions.
"If something sparks it could take off," says Helen Kirkup from the Bureau of Meteorology.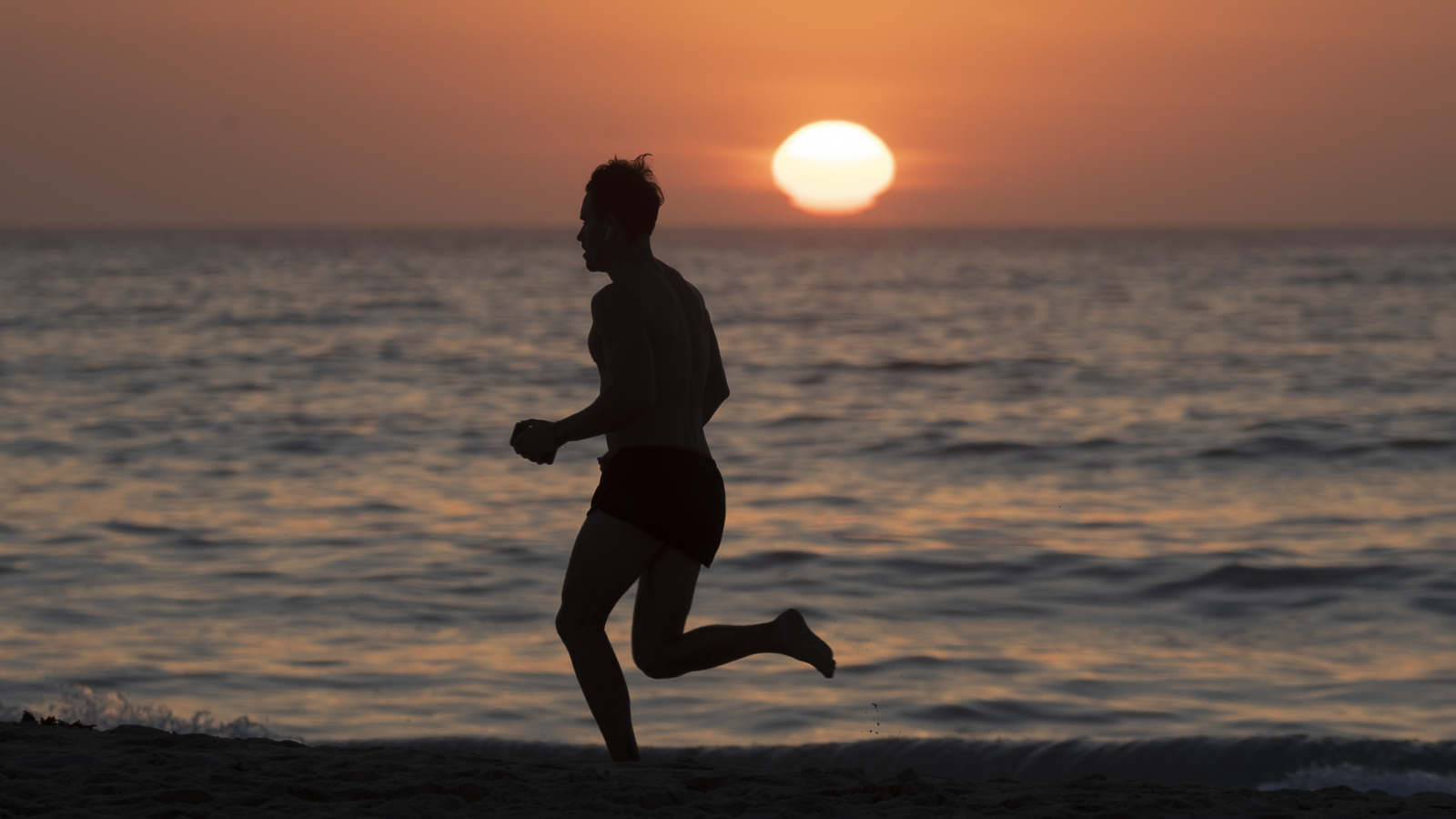 The sun rises at Bondi Beach ahead of a hot day on Saturday.CREDIT: GETTY IMAGES
The NSW Riverina and Lower Western Plains had already reached sweltering temperatures by mid-morning on Saturday – Hay airport hit 40C after 10am, while Deniliquin also pushed past 40C.
Several grass fires were burning in the state's south, including one that threatened homes in Griffith that police allege was deliberately lit. Emergency services evacuated a number of residents as a precaution.
A 38-year-old man will face court in Wagga Wagga on Sunday charged with deliberately lighting the blaze, which police said came within 10 metres of homes before it was extinguished.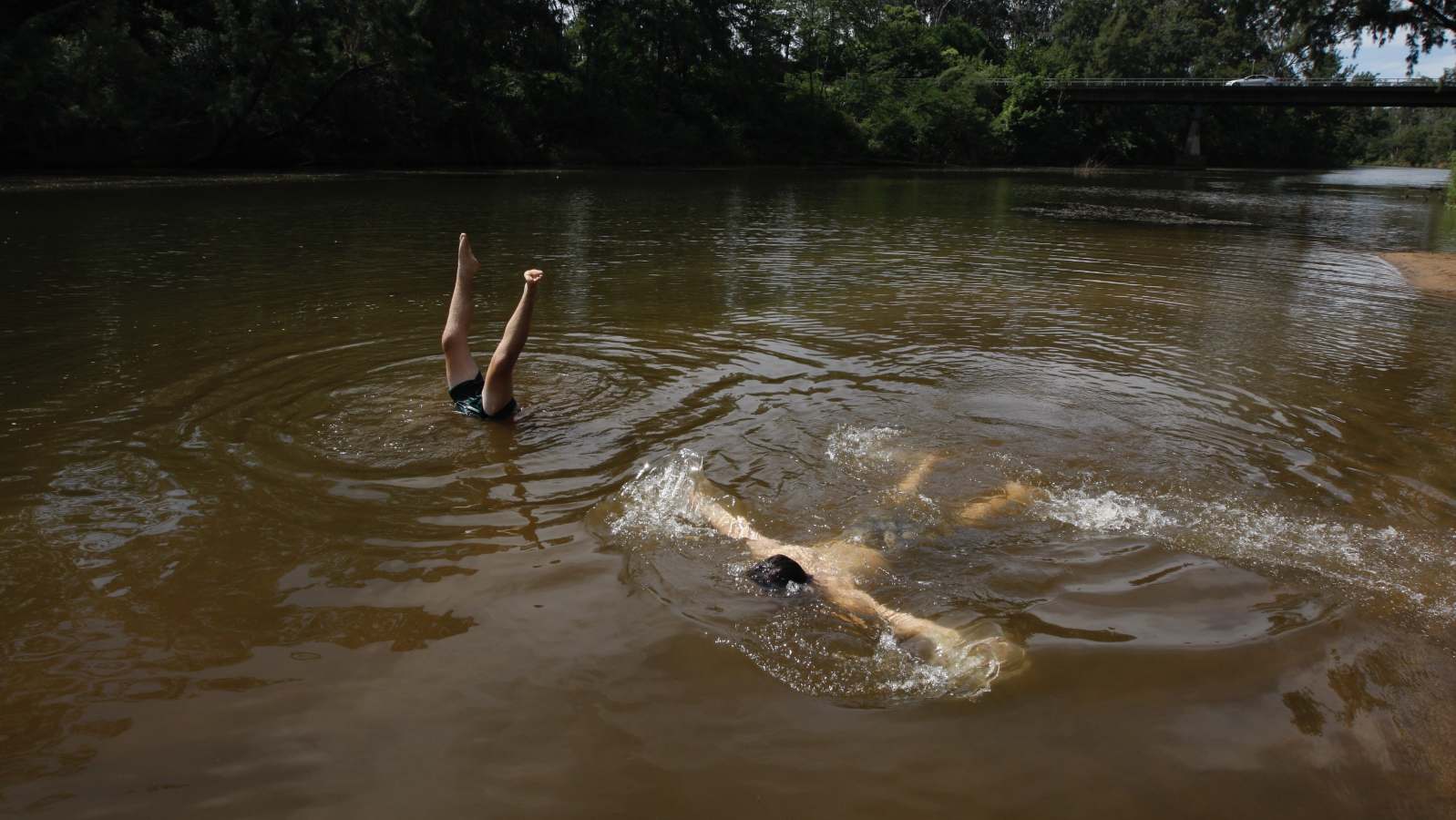 Wallacia locals Brayden and Lucas seek respite from today's weather on the Nepean River at Fowler Reserve near Blaxland's Crossing. CREDIT:DEAN SEWELL
Here are more notes from the Australian Weather Bureau:
Here is more climate and weather news from Saturday:
(As usual, this will be a fluid post in which more information gets added during the day as it crosses my radar, crediting all who have put it on-line. Items will be archived on this site for posterity. In most instances click on the pictures of each tweet to see each article. The most noteworthy items will be listed first.)
Now here are some of today's articles and notes on the horrid COVID-19 pandemic:
(If you like these posts and my work please contribute via the PayPal widget, which has recently been added to this site. Thanks in advance for any support.)
Guy Walton "The Climate Guy"