Sunday December 27th… Dear Diary. The main purpose of this ongoing blog will be to track United States extreme or record temperatures related to climate change. Any reports I see of ETs will be listed below the main topic of the day. I'll refer to extreme or record temperatures as ETs (not extraterrestrials).😉
Main Topic: Why Fireplaces Should Be Left In The Dustbin Of History
Dear Diary. This time of year around the holidays there can be nothing more nostalgic or romantic than a roaring indoor fireplace. Remember the song about chestnuts roasting on an open fire? Those lyrics are from the "Christmas Song" written in 1945. Those celebrating an "old fashioned" Christmas wish for A) Many friends and family to celebrate the occasion, of course B) plenty of snow to make it white and C) a cozy, warm indoor fireplace decorated with stockings for kids. Throughout history not only were fireplaces decorative but essential for warmth, especially in dwellings across northern Europe and Asia prior to the Industrial Revolution. But, is the "luxury" these days of having and operating a fireplace really that good and healthy in the early 21st century?
As a child I was fortunate enough to experience several winters in which I spent time in front of a fireplace, stoking the things with kindling wood. I did enjoy looking at fires and feeling the warmth from fireplaces. Unfortunately though, I was an asthmatic kid with many allergies. The smoke from fireplaces left me coughing and made me short of breath at times. The burning of wood inside a home does lead to indoor pollution, some of which can be carcinogenic we now know. Lately though, wood-burning stoves have become popular to heat homes. Do these cut down on pollution enough to warrant their purchase and installation? Here is more from the Guardian:
https://www.theguardian.com/environment/2020/dec/18/wood-burners-triple-harmful-indoor-air-pollution-study-finds
Wood burners triple harmful indoor air pollution, study finds
Exclusive: Burners should be sold with health warnings, say scientists who found tiny particles flooding into rooms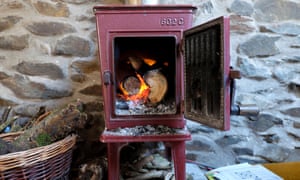 Wood burners triple the level of harmful pollution particles inside homes and should be sold with a health warning, says scientists, who also advise that they should not be used around elderly people or children.
The tiny particles flood into the room when the burner doors are opened for refuelling, a study found. Furthermore, people who load in wood twice or more in an evening are exposed to pollution spikes two to four times higher than those who refuel once or not at all.
The particles can pass through the lungs and into the body and have been linked to a wide range of health damage, particularly in younger and older people.
The research was conducted in 19 homes in Sheffield over the course of a month at the start of 2020. The wood burners used were all models certified by the government as "smoke exempt appliances", meaning they produce less smoke. But this and the new EcoDesign standard, due to become compulsory by 2022, only assess outdoor pollution.
The government is phasing out the sale of wet wood, which produces more smoke, but the people in the study used only dry, seasoned wood. Wood and coal burning in homes is estimated to cause almost 40% of outdoor tiny particle pollution, but the new research is among the first to analyse indoor pollution in real-life settings. Almost 16% of people in the south-east of England use wood fuel, and 18% in Northern Ireland, according to 2016 government data, and about 175,000 wood burners are sold annually.
"Our findings are a cause for concern," said Rohit Chakraborty, of the University of Sheffield, who led the study. "It is recommended that people living with those particularly susceptible to air pollution, such as children, the elderly or vulnerable, avoid using wood-burning stoves. If people want to use them, we recommend minimising the time the stove is open during lighting or refuelling."
Wood burners cause less indoor pollution than open fires. "But every time you open the door, you reduce the stove to an open fire and particulate matter floods into the home," he said. The peaks take an hour or two to dissipate. "But by the time it comes down, someone opens the door again to refuel and you get spike after spike," Chakraborty said. Some burners have filters, but these only reduce the pollution being vented outside.
Some people without central heating rely on wood burners for heat, and Chakraborty did not call for a ban. "We should leave it to people to decide, but they should at least know what's going on, and, of course, don't use it if you don't need to."
The study, published in the journal Atmosphere, analysed data collected every few minutes from pollution monitors in people's homes and in total assessed 260 uses of wood burners. The results showed the burners were usually lit for about four hours at a time, and during this period the level of harmful particles in homes was three times higher than when stoves were not being used.
During those four hours, average particle levels rose to between 27 and 195 micrograms per cubic metre of air. The World Health Organization limit is 25μg/m3 over 24 hours. "Epidemiologists are increasingly recognising that exposure to high intensities of [small particles] over much shorter periods of time – hours rather than days – is linked to a range of health issues," the researchers wrote.
They concluded: "It is recommended that new residential stoves be accompanied by a health warning at the point of sale in order to indicate the health risks posed to users." Government approval schemes should also assess indoor pollution, the scientists said.
Higher outdoor air pollution and cooking fumes were ruled out as causes of the indoor peaks. The particles are the most harmful pollutants in wood smoke, but it also contains carcinogenic chemicals including benzene and formaldehyde.
"Instead of being seen as a harmless appliance, wood-burning stoves should be recognised as having the potential for harm," said James Heydon, of the University of Nottingham, who was part of the study team. "Most of our participants were unaware of this and more needs to be done to raise awareness of the risks."
Three of the households in the study stopped using their burners after seeing the results and another 12 took action such as refuelling faster or less often, or ensuring the wood was really dry.
"There is no reason to believe that particulate matter from wood-burning stoves is less toxic than that from other sources, such as combustion of fossil fuels," said Prof Jonathan Grigg, of Queen Mary University of London, who led a recent report on the health effects of indoor air pollution on children for the Royal College of Physicians and Royal College of Paediatrics and Child Health.
"This study confirms that indoor wood burners contribute significantly to indoor air pollution," he said. "It also suggests that even government-certified solid fuel stoves impair local outdoor air quality. It is therefore difficult to justify their use in any urban area."
A Defra spokeswoman said: "Air pollution has reduced significantly in recent years, with emissions of fine particulate matter falling 9% in the last decade. But we know there is more to do, and domestic burning is a major contributor."
She said the forthcoming environment bill would make it easier for local authorities to enforce existing restrictions within smoke control areas. Ministers are not planning a ban on wood burners.
Since you're here …
… we have a small favour to ask. Millions are flocking to the Guardian for open, independent, quality news every day. Readers in all 50 states and in 180 countries around the world now support us financially.
As we prepare for what promises to be a pivotal year for America, we're asking you to consider a year-end gift to help fund our journalism.
Donald Trump's presidency is ending, but America's systemic challenges remain. From broken healthcare to corrosive racial inequality, from rapacious corporations to a climate crisis, the need for fact-based reporting that highlights injustice and offers solutions is as great as ever.
We believe everyone deserves access to information that's grounded in science and truth, and analysis rooted in authority and integrity. That's why we made a different choice: to keep our reporting open for all readers, regardless of where they live or what they can afford to pay. Powerful journalism drives change; this is some of the high-impact reporting that Guardian readers funded in 2020.
In these perilous times, an independent, global news organisation like the Guardian is essential. We have no shareholders or billionaire owner, meaning our journalism is free from commercial and political influence.
If there were ever a time to join us, it is now. Your funding powers our journalism. We're asking readers to help us raise $1.25m to support our reporting in the new year. Every contribution, however big or small, will help us reach our goal. Make a gift now from as little as $1. Thank you. Support the Guardian
Not mentioned in the article is the fact that the burning of wood does release more carbon into the air. Also, the energy it takes to process that wood to make it ready for use in stoves or fireplaces adds carbon to an atmosphere that is way too full of the stuff to stabilize our climate.
Trees are a great carbon sync. When they die much of the carbon that they have taken from the atmosphere gets stored underground. Now that we have good technology to electrically heat our homes there is no need for indoor polluting fireplaces. So, please nostalgically look at fireplaces on old Christmas cards and the like. There is no need anymore to harm your family or society from those chestnuts roasting on an open fire.
Speaking of trees:
Here is one big "ET" from Sunday:
Here is more climate and weather news from Sunday:
(As usual, this will be a fluid post in which more information gets added during the day as it crosses my radar, crediting all who have put it on-line. Items will be archived on this site for posterity. In most instances click on the pictures of each tweet to see each article.)
Now here are some of today's articles and notes on the horrid COVID-19 pandemic:
(If you like these posts and my work please contribute via the PayPal widget, which has recently been added to this site. Thanks in advance for any support.)
Guy Walton- "The Climate Guy"