The main purpose of this ongoing blog will be to track planetary extreme or record temperatures related to climate change. Any reports I see of ETs will be listed below the main topic of the day. I'll refer to extreme or record temperatures as ETs (not extraterrestrials).😉
Main Topic: A Split In The Climate World…Debating Future Tech Vs. Scaling Up Renewables
Dear Diary. Over the weekend I saw that Dr. Michael Mann sharply disagreed with John Kerry and Bill Gates on moving forward to tackle the climate crisis. Here is what I'm seeing on Twitter this morning:
This is the type of debate we should be having since its very obvious that we are in a climate crisis. Any debate about whether or not current greenhouse theory holds wastes precious time and is very passé.
So, will future tech save our collective butts by sucking a majority of excess carbon out of the atmosphere? Perhaps, but I agree with Dr. Mann here. The best way for limiting damage is to invest in proven renewable technology, transitioning to an all electric energy infrastructure ASAP while retiring fossil fuel power generation plants and vehicles that rely on petroleum.
For today's main subject here are two articles indicating gat a rift has developed between experts. I'm sure that this is a friendly gentleman's quarrel, so hopefully this debate will be resolved soon between America's Climate Czar and our lead climate scientist:
https://www.theguardian.com/environment/2021/may/16/half-of-emissions-cuts-will-come-from-future-tech-says-john-kerry?CMP=twt_a-environment_b-gdneco
Half of emissions cuts will come from future tech, says John Kerry
US climate envoy says people will not have to give up quality of life to achieve some of net zero goals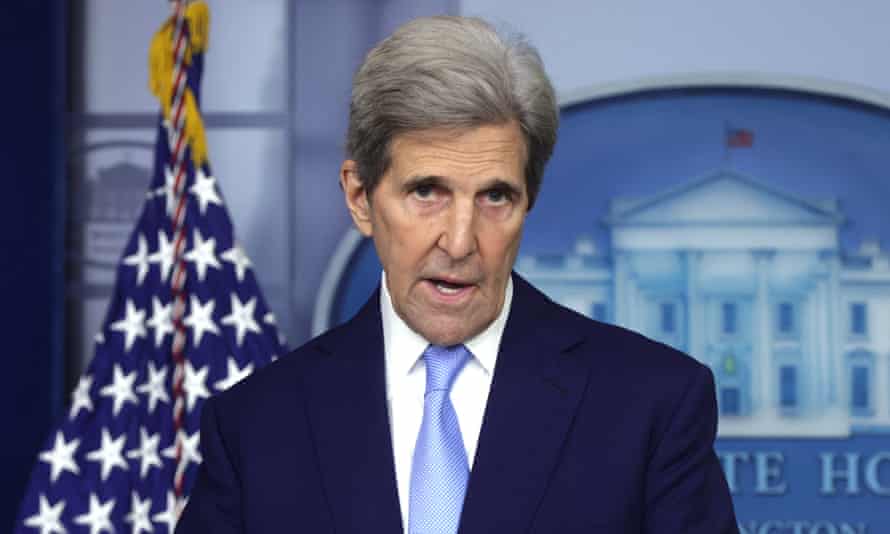 John Kerry is visiting London next week to meet government representatives before Cop26 in November. Photograph: Alex Wong/Getty Images Jessica Murray Sun 16 May 2021 07.01 EDT
The US climate envoy, John Kerry, has said 50% of the carbon reductions needed to get to net zero will come from technologies that have not yet been invented, and said people "don't have to give up a quality of life" in order to cut emissions.
He said Americans would "not necessarily" have to eat less meat, because of research being done into the way cattle are herded and fed in order to reduce methane emissions.
"You don't have to give up a quality of life to achieve some of the things that we know we have to achieve. That's the brilliance of some of the things that we know how to do," he told BBC One's Andrew Marr show. "I am told by scientists that 50% of the reductions we have to make to get to net zero are going to come from technologies that we don't yet have. That's just a reality.
"And people who are realistic about this understand that's part of the challenge. So we have to get there sooner rather than later."
Kerry is visiting London next week to meet government representatives before the UN climate change conference Cop26 due to be held in Glasgow in November.
On Saturday Kerry met Pope Francis in Rome, and he described him as "one of the great voices of reason and compelling moral authority on the subject of the climate crisis".
"I think that his voice will be a very important voice leading up to and through the Glasgow conference, which I believe he intends to attend," Kerry told Vatican News. "We need everybody in this fight. All the leaders of the world need to come together and every country needs to do its part."
When asked by Marr if the US would support an end to all coal-fired power stations if called for by the UK at Cop26, Kerry said Joe Biden had set a goal of making the US power sector carbon-free by 2035 but he could not speak for the president on specific proposals.
"What's the phase-out schedule? Is it reasonable? Is everybody working in the same direction? Those are questions I'm sure President Biden will want answered, but he is leading this charge to move America on to renewable, alternative energy," Kerry said.
The US is the second largest producer of greenhouse gas emissions after China, and has one of the highest per capita CO2 emission rates.
"We're determined to turn that around," Kerry said. "We are going to be moving very rapidly to a new economy, building out a new grid, moving towards alternative renewable energy, and pushing the curve on the discovery of new technologies. There are a lot of possibilities out there."
Abd the Rebuttal:
https://www.techopian.com/mann-kerry-gates-marr-climate-change/
Mann: John Kerry is wrong about the need for future tech to combat climate change
The US climate envoy John Kerry says we need new technologies that haven't been invented yet to combat climate change, but climate change scientist Michael Man says that not only is Kelly wrong, but he is dangerously wrong.
Then again, John Kerry has to speak to an audience that doesn't get it. Kerry, US climate change envoy and former US Secretary of State, has been a strong believer in climate change for quite a while.  He played a starring role in the Leonardo DiCaprio documentary Before the Flood, for example.  He once introduced DiCaprio saying: "Who better to talk about the dangers of climate change than a man who has witnessed first-hand what happens when an iceberg breaks off?" Haha.
But actually, in the fight against climate change, Kerry does appear to be one of the good guys.
But in one vital respect, he is wrong, or so says renowned climate change scientist Michael Mann, author of The New Climate War.
He is wrong, says Mann, because Kerry puts too much emphasis on technologies that haven't been invented yet. The implication is that we need moonshots, like the technologies we invented during the NASA space programme of the 1960s. When President Kennedy committed America to landing a man on the moon that decade, the technology to do so hadn't at that point been invented.
But while Mann is broadly positive about the Biden administration's efforts to fight climate change, is that one respect he disagrees: in an interview on BBC, he said: "The idea we have to rely on future tech to decarbonise our economy plays to this notion we can just kick the can down the road; that we can continue to emit carbon now because we will have the technology we can deploy a decade from now or two decades." (47 minutes in.)
Kelly says that 50 per cent of the technologies we need to fight climate change haven't been invented yet; Mann says the technologies already exist; but they need scaling up.
One can nitpick. Mann is sort of right, existing technologies can be employed to fight climate change, but those existing technologies need to advance.  As we invest in renewables and energy storage solutions, we will see advances; the technology will progress, and as this happens, there will be multiple breakthroughs.
But that wasn't what Kerry meant — he talked about nuclear power, ideas advanced by Bill Gates, which could involve geoengineering (trying to manipulate the climate artificially) and carbon sequestration technologies.
Instead, what we need is more investment into what we already have, namely renewables. Mann fears that the more we invest into these moonshot type technologies, the less money is available to invest in technologies that we already know can work.
Then again, in an interview with Andrew Marr on BBC1 with Kerry, this writer was squirming with embarrassment. The embarrassment factor was not related to Kerry but the Marr questioning. He seemed more interested in catching Kerry out in creating controversy than getting to the truth.
This is not meant to be a criticism of the BBC, more a criticism of the current consensus in which the BBC, like most media, gets swept up.
The renewables revolution is possibly the best news our species has had in a long time. Not only can renewables save us from climate change because of the speed they are falling in price, but they can also make us better off.
And Marr seemed oblivious to this, instead asking Kerry cheap questions about US usage of coal, seemingly unaware that market forces are disrupting coal.
To defeat climate change, we don't need to take a deep breath and accept we are all going to have to be poorer and change our diets. It is not about making hard choices, ditching efficient fossil fuels favouring more expensive clean alternatives. Instead, it is about nudging the markets, with government spending applied to accelerate that which is happening anyway, by focusing our resources on technologies that are changing the world, but trying to make them develop even faster.
But in one respect, many climate change advocates miss another example of disruptive technology that can mirror the success that renewables can bring.
Just as renewables can be applied to help defeat climate change and create super-cheap energy, making everyone bar oil companies better-off, other technologies can achieve this in another area.
Renewables can lead to cheaper energy; other technologies can lead to cheaper and cleaner food.
Gene editing technologies can create more efficient crops that don't need antibiotics.
Ultimately, however, stem cell technology can be applied to create cultured or clean meat.  Reports suggest  that lab-grown meat could reach parity with traditional meat by 2030, which means, of course, it will be much cheaper in 2040.
But, as Michael Mann says, the fossil fuel industry has lobbied hard to try to support climate change denial, and then it seeks to delay the technologies that can defeat it. Similarly, cultured meat can transform meat production, a significant contributor to climate change, creating cheaper food. But those with interests in preserving traditional farming — a lobby that is an order of magnitude more powerful than the oil industry — won't like it. (You can see why traditional farming communities will resist; you can even have sympathy. But these are different times; climate change must be defeated, an age of abundance beckons. It does mean change, however, and change can make people uncomfortable.
Here is more climate and weather news from Monday:
(As usual, this will be a fluid post in which more information gets added during the day as it crosses my radar, crediting all who have put it on-line. Items will be archived on this site for posterity. In most instances click on the pictures of each tweet to see each article. The most noteworthy items will be listed first.)
Now here are some of today's articles and notes on the horrid COVID-19 pandemic:
(If you like these posts and my work please contribute via the PayPal widget, which has recently been added to this site. Thanks in advance for any support.)
Guy Walton "The Climate Guy"