The main purpose of this ongoing blog will be to track planetary extreme or record temperatures related to climate change. Any reports I see of ETs will be listed below the main topic of the day. I'll refer to extreme or record temperatures as ETs (not extraterrestrials).😉
Main Topic: India's Worst Cyclone To Hit Its West Coast Compounds Covid-19 Woes
Dear Diary. Year after year since the last record El Niño aided to spike record temperatures in 2016 it seems like every tropical season across the Northern Hemisphere gets worse. Last year we saw a record number of organized strong systems in the Atlantic. This year with a bang a cyclone emerges out of the Arabian Sea as the strongest such system to slam into India's west coast in history. For today's main topic let's delve into some specifics in association with Cyclone Tauktae.
First, here is a new article from Desdemona Despair: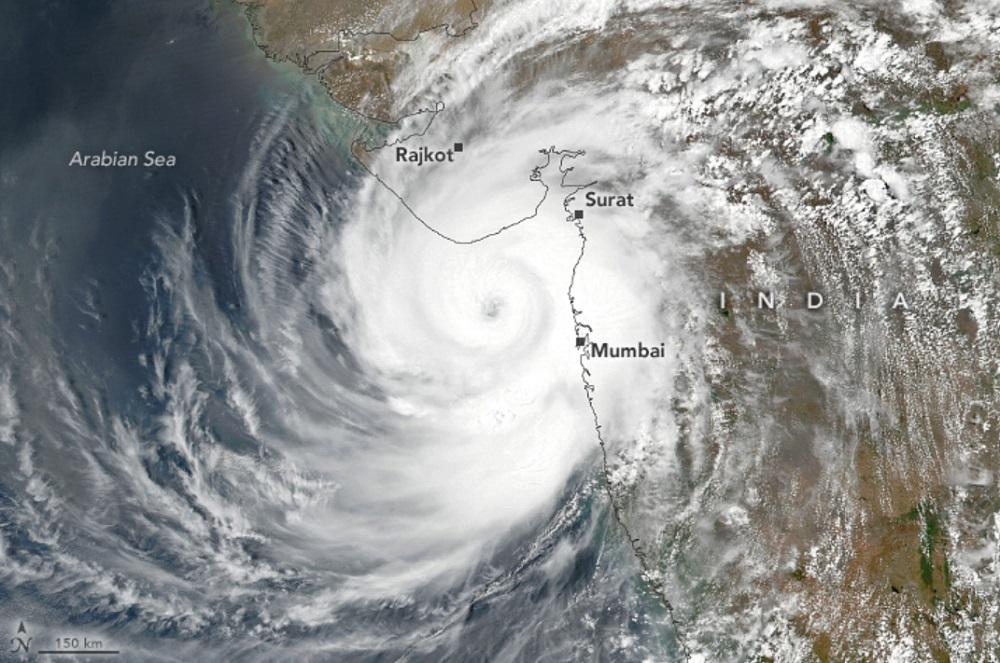 Satellite view of Cyclone Tauktae several hours before making landfall in India on 17 May 2021. The image was captured by NASA / NOAA / Suomi NPP satellite. Photo: Suomi NPP-VIIRS / NASA / NOAA
By Jessie Yeung and Esha Mitra
18 May 2021
NEW DELHI (CNN) – India was slammed on Monday by the strongest storm on record to reach its west coast, hampering authorities' response to the Covid-19 crisis in some of the country's hardest-hit regions.
Tropical Cyclone Tauktae, a storm with wind speeds equivalent to a high-end Category 3 hurricane that formed in the Arabian Sea, made landfall Monday night local time in Gujarat. It strengthened slightly as it hit the western state with maximum sustained winds of 205 kilometers per hour (125 mph), according to the United States' Joint Typhoon Warning Center.
By Tuesday morning, it had weakened from an "extremely severe cyclonic storm" to a "severe cyclonic storm," according to the Indian Meteorological Department (IMD).
Photos and videos show highways turned into rivers by the heavy rain, and trees and power lines toppled by ferocious winds. The cyclone has killed at least 26 people across the coastal states of Gujarat, Kerala, Karnataka, Goa, and Maharashtra, according to state authorities.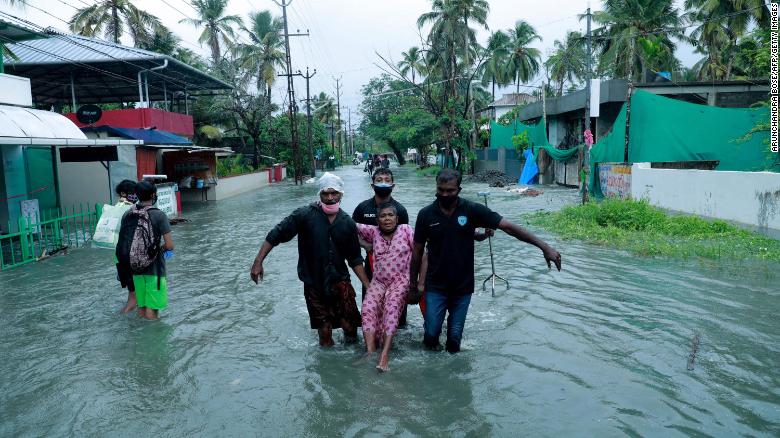 Police and rescue personnel evacuate a local resident through a street flooded by Cyclone Tauktae in a coastal area in Kochi, India on 14 May 2021. Photo: Arunchandra Bose / AFP / Getty Images
The deaths were due to drowning at sea, house collapses, lightning strikes and other accidents linked to the severe weather, according to states' disaster management authorities.
This comes as India reels from its second wave of coronavirus, which has infected millions and killed tens of thousands since it began in mid-March. Though daily case figures began declining over the past week, Covid-related deaths continue to break record highs and the crisis is far from over — especially in rural areas with fewer resources and medical supplies.
Covid patients were among the hundreds of thousands evacuated from low-lying areas this week as the region braced for the cyclone's arrival. In Mumbai, 580 patients from makeshift care centers were moved to various hospitals on Friday and Saturday, according to the city's municipal corporation.
It's not the first time India has dealt with natural disasters during the pandemic — last year, the country faced cyclones in late May and early June that also prompted mass evacuations.
Back then, however, India's cases were still relatively low, at fewer than 10,000 a day, and the country was emerging from a stringent lockdown.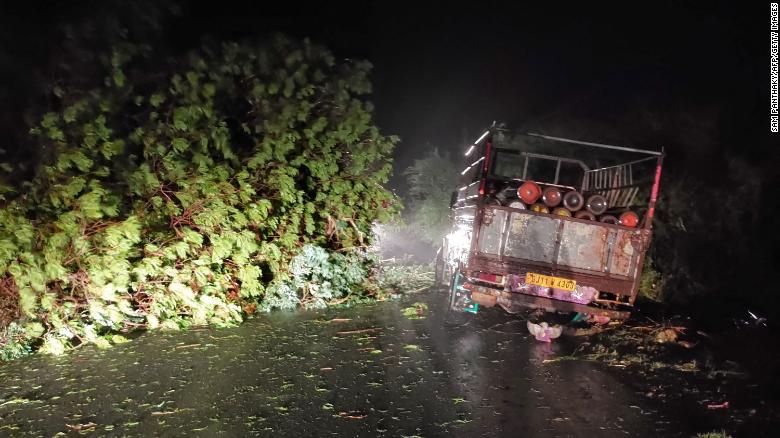 A truck loaded with oxygen cylinders is blocked by trees felled by Cyclone Tauktae, near Mahuva in Gujarat state, India, on 17 May 2021. Photo: Sam Panthaky / AFP / Getty Images
This time, India is the global epicenter of the pandemic. Its health care system has collapsed and patients are still dying from shortages of oxygen and other supplies. The government is more fragile and under greater scrutiny than before, as it struggles to contain the outbreak while facing heavy criticism both at home and overseas.
And the cyclone could be just the harbinger of more disaster to come, as India's months-long monsoon season approaches. […]
"This cyclone is a terrible double blow for millions of people in India whose families have been struck down by record Covid infections and deaths," said Udaya Regmi, South Asia head of the International Federation of Red Cross and Red Crescent Societies, in a statement on Monday.
"Many families are barely staying afloat," he added. [more]
India lashed by strongest cyclone to ever hit west coast as it reels from Covid disaster
Next, here is more from my go to guy on all things tropical, Dr. Jeff Masters:
Tropical Cyclone Tauktae is fifth-strongest cyclone on record in the Arabian Sea
The storm is expected to produce dangerous storm surge, flash flooding, and river flooding in northwestern India.
by JEFF MASTERS, PH.D. MAY 17, 2021
Visible satellite image of Cyclone Tauktae from the VIIRS instrument on the NOAA-20 satellite on Monday afternoon, May 17, 2021. (Image credit: NASA Earth Observatory)
Extremely dangerous Tropical Cyclone Tauktae made landfall in western India's Gujarat coast on the Arabian Sea around 1:30 p.m. EDT (1730 UTC), May 17. In its last advisory just after landfall, at 18 UTC, the Joint Typhoon Warning Center (JTWC) rated Tauktae a major category 3 storm with 125 mph winds (1-minute average). At 9 UTC, the India Department (IMD), the official agency responsible for issuing tropical cyclone forecasts in the Indian Ocean, rated Tauktae an "extremely severe cyclonic storm" with peak winds of 115 mph (three-minute average), and a central pressure of 950 mb.
Satellite imagery (see Tweet by Scott Bachmeier) showed that Tauktae's structure had changed markedly just before landfall, with the eye growing more distinct and the thunderstorms in the eyewall growing more intense, with colder cloud tops.
As of 11 a.m. EDT May 17, ANI reported that Tauktae had killed six and injured nine in India. A barge owned by the state-run Oil and Natural Gas Corporation (ONGC), moored to an oil drilling platform in the Heera oil fields (110 miles west-northwest of Mumbai), capsized on Monday, after breaking its mooring. Satellite imagery suggests that the eye of Tauktae passed directly over the site. Working in "challenging conditions", two ships have saved 88 of the 273 people on board the barge; recovery efforts continue. The cyclone likely brought severe wind damage where the eyewall winds hit, a portion of the coast not heavy populated by India's standards. The largest city in the region, Diu (population 52,000), recorded a wind gust of 83 mph (133 kph) in the weaker western eyewall of Tauktae at 12:30 EDT (9:30 p.m. local time). The winds were strong enough to bring down a cell phone tower in the nearby city of Una, Chintan Gandhi reported in a Tweet:
Perhaps the biggest threat from Tauktae is its storm surge, a threat that will continue for many hours past landfall. The Gulf of Khambhat, to the east of Tauktae's landfall location, is a funnel-shaped bay, ideal for concentrating storm surge water. IMD predicted that the storm surge could reach four meters (13 feet) at the head of the bay. Heavy rains causing flashing flooding and river flooding will also be a major concern all across northwestern India through Tuesday. Evacuation and recovery efforts for Tauktae's impact are sure to complicate India's ongoing severe COVID-19 pandemic in the region.
Figure 1. The top 10 strongest tropical cyclones observed in the Arabian Sea (the portion of the North Indian Ocean between India's west coast and the Middle East). Tauktae was the fifth-strongest Arabian Sea cyclone on record.
Tauktae the fifth-strongest Arabian Sea cyclone on record
Tropical Cyclone Tauktae reached peak intensity as a category 4 storm with 140 mph winds at 0 UTC, May 17, according to the JTWC. The fifth-strongest tropical cyclone on record in the Northern Indian Ocean's Arabian Sea, Tauktae is one of only six category 4+ cyclones on record in the Arabian Sea. IMD put Tauktae's peak intensity (occurring at 0 UTC, May 17), at 120 mph winds (three-minute average), with a central pressure of 950 mb. Accurate satellite goes back to 1998 for the Indian Ocean.
The JTWC does not assign landfall intensities, but if one considers the six-hourly advisory before landfall (or at landfall), Tauktae is tied as the strongest landfalling Arabian Sea cyclone on record: the top five, according to the JTWC (available at the NOAA Historical Hurricane Tracks database):
1. 125 mph, May 20, 1999, Cyclone 02A/ARB 01, Gujarat State, India
1. 125 mph, May 17, 2021, Cyclone Tauktae, Gujarat State, India
3. 120 mph, June 3, 2010, Cyclone Phet, Oman
3. 120 mph, June 9, 1998, Cyclone 03A/ARB 02, Gujarat State, India
5. 105 mph, June 6, 2007, Cyclone Gonu, Oman
Figure 2. Tracks of all tropical cyclones that have reached at least category 3 strength (1-minute sustained winds of 115 mph or greater) in the Arabian Sea. Only six cyclones have attained category 4 strength (including Tauktae). The only category 5 storm on record was Tropical Cyclone Gonu in 2007. (Image credit: NOAA Historical Hurricane Tracks database)
Tauktae spares major metro area of Mumbai
On Monday, Tauktae passed only 85 miles (140 km) west-southwest of Mumbai, India, the seventh-most populated city in the world (metro area population 20 million). A direct hit clearly could have been catastrophic. According to a 2019 study led by Dr. Adam Sobel, "Tropical Cyclone Hazard to Mumbai in the Recent Historical Climate," a category 3 or stronger cyclone passing within 150 km of the city is estimated to be a 1-in-500-year event (a 0.2% chance of occurring in any particular year). That research did not address how climate change may be impacting these odds, but noted that "the hazard to the city is likely to be increasing because of sea-level rise as well as changes in storm climatology."
Cyclones affecting Mumbai are very rare, as prevailing steering currents tend to drive storms northward and westward rather than eastward onto India's west coast. Mumbai has had only one landfall by a storm at tropical storm strength on record, an unnamed 1940 system (though Adam Sobel has documented a possible hurricane-strength Bombay cyclone in 1948, which killed at least 12 people). (An 1882 Bombay cyclone reputed to have killed 100,000 people in the city was a hoax.)
Tauktae brought winds gusting as high as 71 mph (114 kph) to Mumbai at 2 p.m. local time Monday. Heavy rains also affected the city, with the Mumbai Mesonet showing two stations receiving over 200 mm of rain in less than 24 hours. The 308.5 mm (12.15") that fell at the Ram Mandir location as of 5 p.m. EDT, May 17, set a new 24-hour precipitation record for May. The previous May record 24-hour precipitation for the city (since 1981) was 190.8 mm (7.51"), set on May 19, 2000.
Figure 3. Winds of Cyclone Tauktae from synthetic aperture radar (SAR) at 1:03 UTC, May 17, 2021. Winds as high as 81 knots (93 mph) were measured. (Image credit: NOAA STAR – Center for Satellite Applications and Research)
Climate change is increasing threat of powerful Arabian Sea tropical cyclones
The North Indian Ocean has two tropical cyclone seasons – one centered in May, before the onset of the monsoon, and one centered in October/November, after the monsoon has waned. During the June-September peak of the monsoon, tropical cyclones are uncommon because of interference from the monsoon circulation. Since the introduction of reliable satellite data in 1998 over the Indian Ocean, no category 4 or stronger cyclones were observed until 2010. Since then, six such storms have formed (including Tauktae).
This unprecedented shift in tropical cyclone activity led to a 2017 modeling study by Murakami et al. which concluded that human-caused climate change had increased the probability of powerful tropical cyclones over the Arabian Sea during the post-monsoon period (October/November), and that this risk would increase further in the future – with potentially damaging consequences to the nations bordering the Arabian Sea. In a 2018 review paper ("Tropical Cyclones and Climate Change Assessment: Part I. Detection and Attribution"), all 11 hurricane scientist authors concluded that the balance of evidence suggests that there was a detectable increase in post-monsoon extremely severe cyclonic storms in the Arabian Sea during the 1998 – 2015 period; 8 of 11 authors concluded that human-caused climate change contributed to the increase.
Tauktae formed during the pre-monsoon season (May), so these conclusions do not directly apply to the storm. However, 10 of 11 authors of the 2018 review paper concluded that the balance of evidence suggests that there is a detectable increase in the worldwide average intensity of global hurricanes since the early 1980s. Eight of the 11 authors concluded that human-caused climate change contributed to that increase.
A heads-up: The 12Z May 17 run of the GFS model and the 0Z May 17 run of the European model predicted that the North Indian Ocean's Bay of Bengal would experience a hurricane-strength cyclone in the week of May 23-29.
Also see: Why are there so many Atlantic named storms? Five possible explanations
Thanks go to Bob Henson for contributing to this post, and thanks also go to Nimitt Jhaveri for helpful information on Tauktae's impacts in Mumbai.
Website visitors can comment on "Eye on the Storm" posts. Please read our Comments Policy prior to posting. Comments are generally open for 30 days from date posted. Twitter: @DrJeffMasters and @bhensonweather TAGGED:
JEFF MASTERS, PH.D.
Jeff worked as a hurricane scientist with the NOAA Hurricane Hunters from 1986-1990. After a near-fatal flight into category 5 Hurricane Hugo, he left the Hurricane Hunters to pursue a safer passion -… More by Jeff Masters, Ph.D.
Here is more climate and weather news from Tuesday:
(As usual, this will be a fluid post in which more information gets added during the day as it crosses my radar, crediting all who have put it on-line. Items will be archived on this site for posterity. In most instances click on the pictures of each tweet to see each article. The most noteworthy items will be listed first.)
Now here are some of today's articles and notes on the horrid COVID-19 pandemic:
(If you like these posts and my work please contribute via the PayPal widget, which has recently been added to this site. Thanks in advance for any support.)
Guy Walton "The Climate Guy"