The main purpose of this ongoing blog will be to track planetary extreme or record temperatures related to climate change. Any reports I see of ETs will be listed below the main topic of the day. I'll refer to extreme or record temperatures as ETs (not extraterrestrials).😉
Main Topic: Watching Heat Wave Epsilon Day Three
Dear Diary. It appears that we will be dealing with a prolonged heat wave for the United States going into August, so this week I am starting a new format for this blog. Each day I will start with the latest model guidance and any good media writeups for Heatwave Epsilon. Next I'll post any of those "ET's" set by Epsilon. Since it will be many days before any other climate crisis related item becomes our main topic, I'm going to select one tweet that has, in my opinion, the most pressing news of the day and ask you to click on a link instead of me regurgitating the item, reprinting the article on a daily ETD post. I hope, dear reader, that this will be helpful.
So, to start out on this Sunday, our burgeoning heat wave will be approaching my CAT2 level by the end of the day. National Weather Service advisories are posted in the mid-South area. Also, the threat of excess heat has increased enough such that watches are posted once more for Montana. Once more, excessive heat will be a threat for the Pacific Northwest: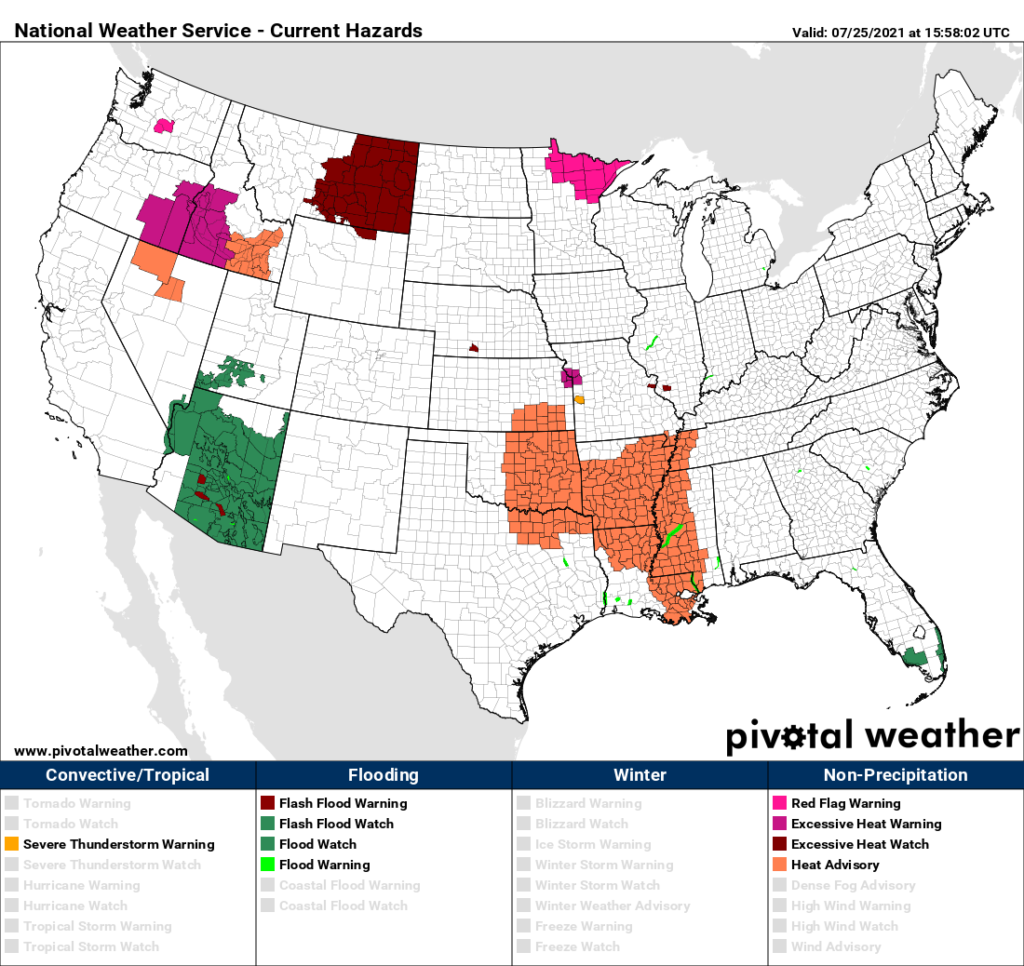 I don't like what I've been seeing on models the last couple of days. The hope of a significant long wave trough stretching from the Great Lakes into the Southeast that could produce widespread heat relief appears to be diminishing. Instead, the consensus is for a large heat dome, with a center approaching 600 decameters, to build over the western High Plains by Tuesday then slowly ooze Southeast towards the lower Mississippi Valley by next Saturday, although heights should diminish a few decameters by that time: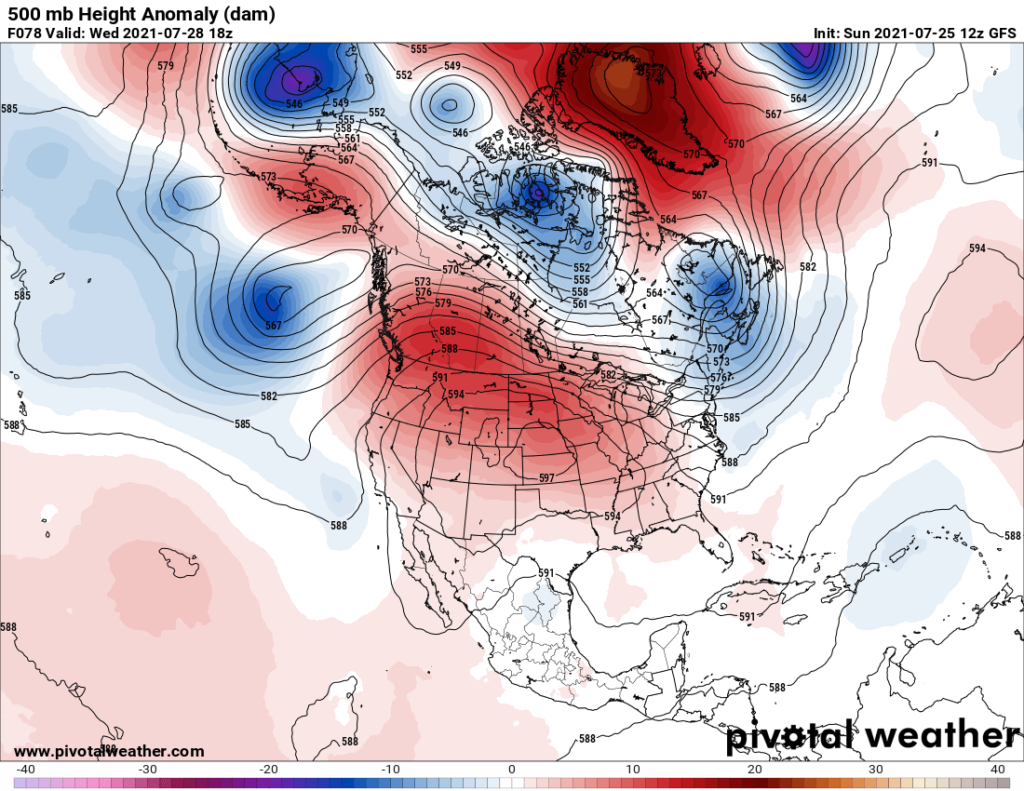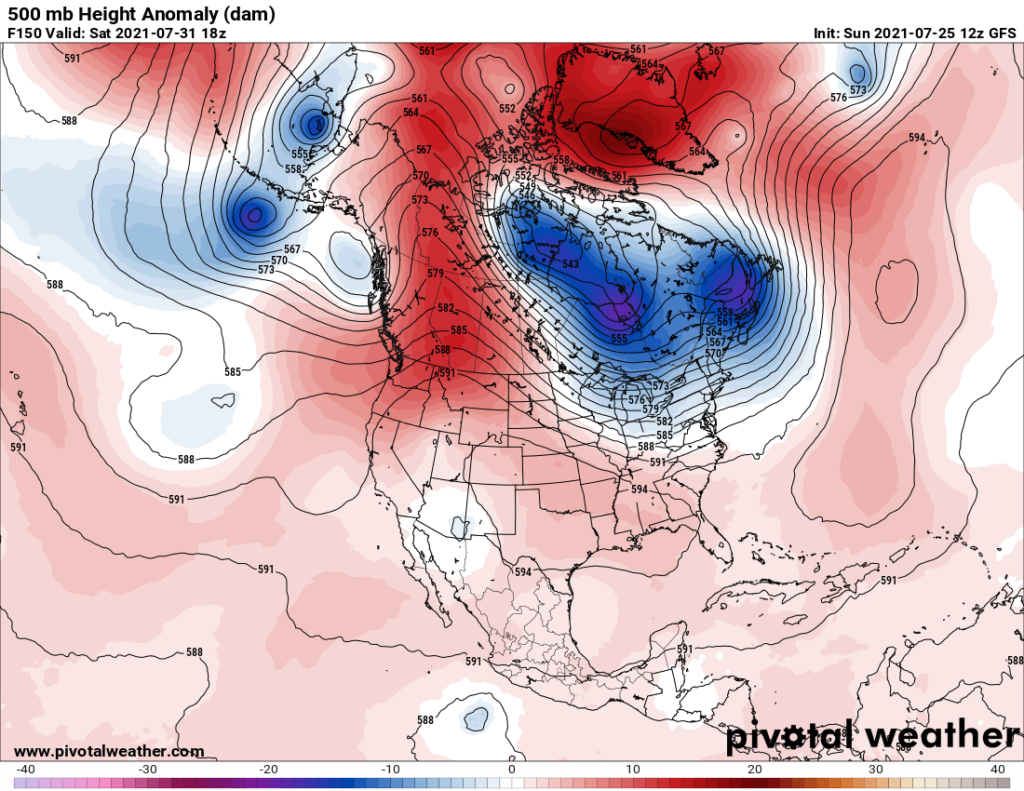 This synoptic pattern means that the Plains, portions of the Northwest, and South will be stuck in extreme heat for many days. At least the Northeast will have relatively cool conditions under an upper level trough. Also, the ridge will not be strong enough to totally suppress thunderstorm development in the Southeast.
And yes, we will need to watch for mesoscale convective complexes, or clusters of severe thunderstorms, that tend develop and move southeast along fronts coming out of the Upper Midwest, steered by forecast northwest flow. Last year we had a super strong derecho get generated in such a pattern, and a similar situation should be in place by the middle of this week:
We could be looking at this dreadful temperature regime by next weekend:
We'll see if Atlanta makes it to 101°F after spending most of the summer not much higher than 90°F.
Sunday afternoon update:
Here are some "ET's" reported on Saturday and Sunday:
Here is today's featured climate crisis related item:
Here is more climate and weather news from Sunday:
(As usual, this will be a fluid post in which more information gets added during the day as it crosses my radar, crediting all who have put it on-line. Items will be archived on this site for posterity. In most instances click on the pictures of each tweet to see each article. The most noteworthy items will be listed first.)
Now here are some of today's articles and notes on the horrid COVID-19 pandemic:
(If you like these posts and my work please contribute via the PayPal widget, which has recently been added to this site. Thanks in advance for any support.)
Guy Walton "The Climate Guy"