The main purpose of this ongoing blog will be to track planetary extreme or record temperatures related to climate change. Any reports I see of ETs will be listed below the main topic of the day. I'll refer to extreme or record temperatures as ETs (not extraterrestrials).😉
Main Topic: Watching Heat Wave Epsilon Day Four…System May Dissipate In Early August
Dear Diary. I have some good news to report today in association with longer range meteorological models. The heat dome in association with burgeoning heat wave Epsilon may break down in early August far sooner than prior guidance I saw before that of Sunday.
Before getting into that I'm quite certain that we should "officially" have a CAT3 named heatwave called Epsilon by this afternoon. I put the word officially in quotes because, to my knowledge, I'm the only meteorologist who arbitrarily has started to categorize and name heatwaves for better public consumption. It's up to the meteorological community to determine if such a system is useful. The area of National Weather Service heat advisories has expanded significantly over that of Sunday: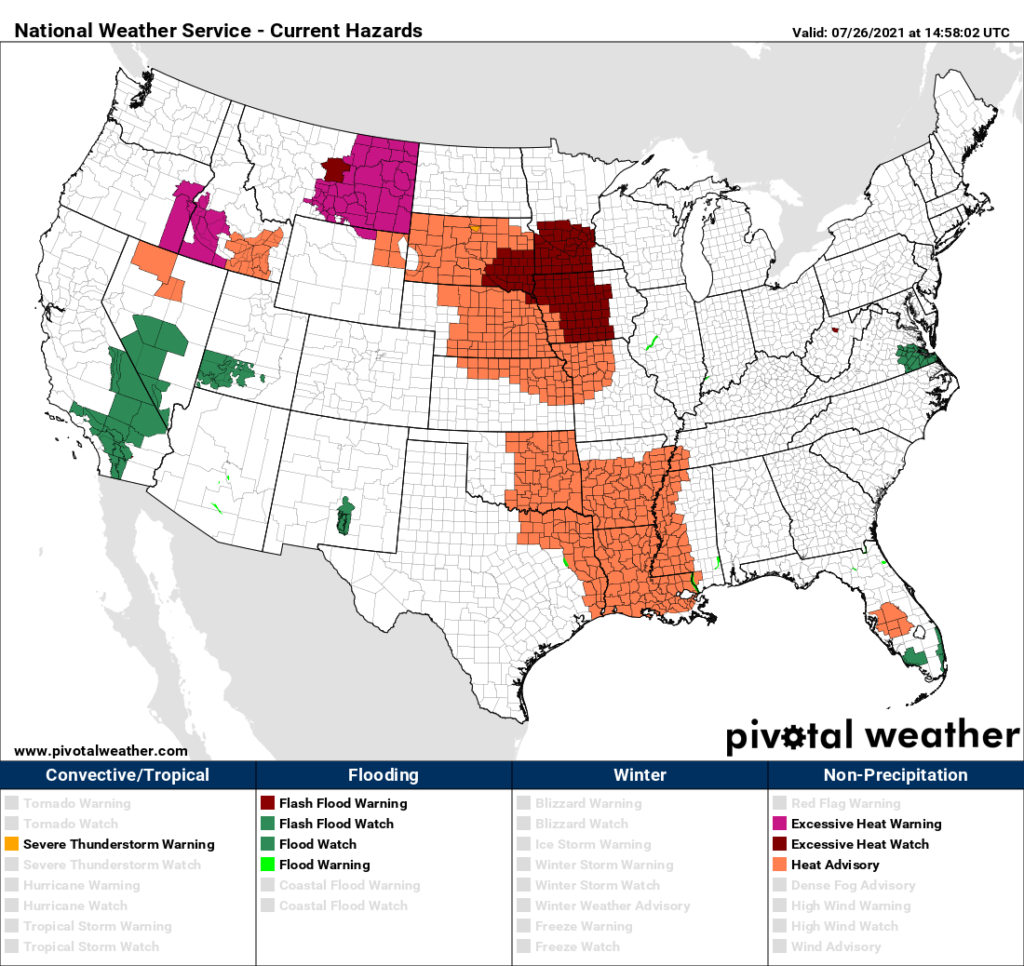 It looks like the hottest day for the northern Plains should be Wednesday where models forecast widespread 100's:
The hottest day for the Southeast should be either Thursday or Friday of this week: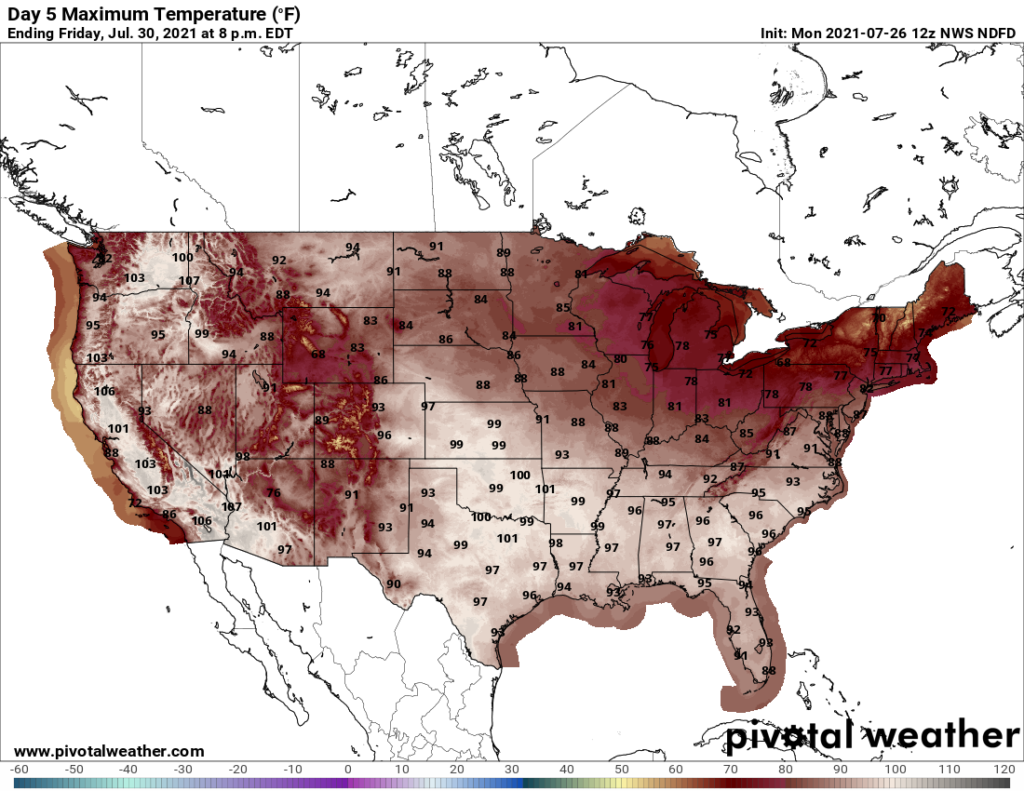 Climatologically, the last week of July into the first week of August is the hottest time if the year, so I'm not that impressed with the max temperature values on the above two charts. Should our big ridge diminish and collapse shortly after August 1st, I could that Epsilon will attain my "historic" CAT4 status.
Met models have flip-flopped once more, now forecasting a strong trough in the East by August 1st: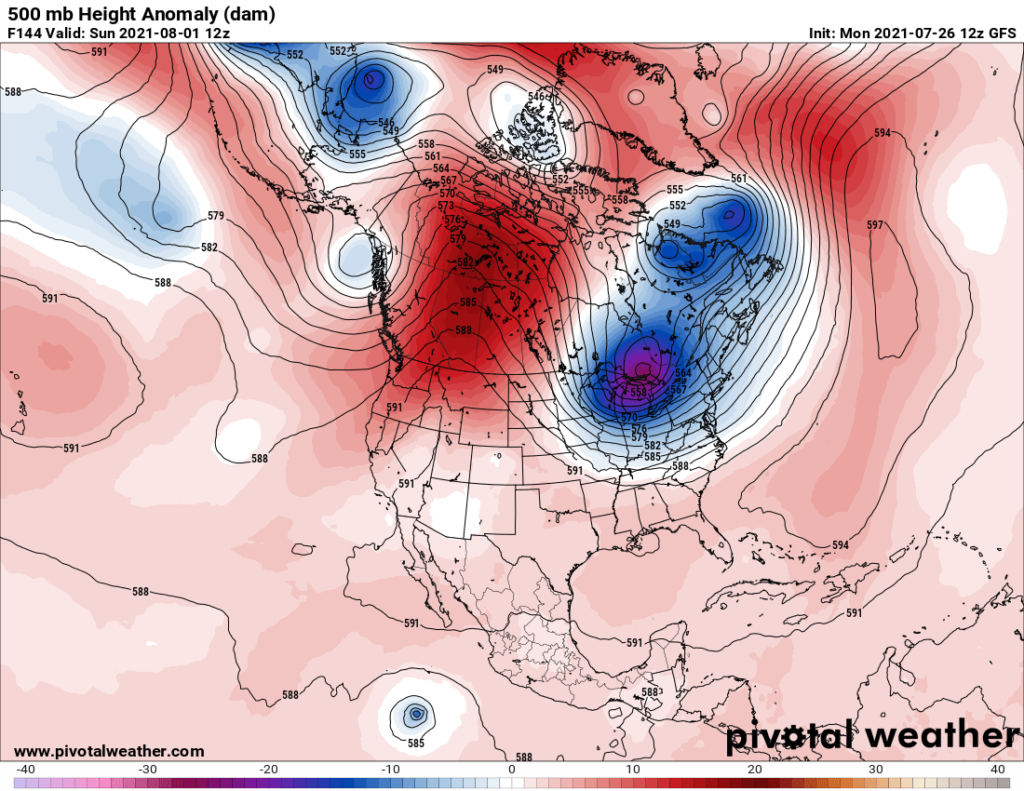 Such a weather pattern would put an end to our heat wave east of the Rockies everywhere except from the southern Plains and Texas eastward through the Gulf Coast area. Here is the surface pattern in association with the above panel:
By Sunday a cold front has already scoured hot air out of the Midwest and is in the process of moving southward through the central Plains and Mid-South.
Also:
Of course, we have a very hot week to get through before any cooling relief transpires. We probably will see some surprises before the weekend, so keep reading this blog for those.
Here are some "ET's" reported on Monday:
Here is today's featured climate crisis related item:
Here is more climate and weather news from Monday:
(As usual, this will be a fluid post in which more information gets added during the day as it crosses my radar, crediting all who have put it on-line. Items will be archived on this site for posterity. In most instances click on the pictures of each tweet to see each article. The most noteworthy items will be listed first.)
Now here are some of today's articles and notes on the horrid COVID-19 pandemic:
(If you like these posts and my work please contribute via the PayPal widget, which has recently been added to this site. Thanks in advance for any support.)
Guy Walton "The Climate Guy"