The main purpose of this ongoing blog will be to track planetary extreme or record temperatures related to climate change. Any reports I see of ETs will be listed below the main topic of the day. I'll refer to extreme or record temperatures as ETs (not extraterrestrials).😉
Watching Heat Wave Epsilon Day Eight…Extreme Heat To Continue In The South Through The Weekend But Will End On Monday
Dear Diary. I have mostly good news today concerning our current Heatwave Epsilon. First, it appears that model guidance was a bit too high with temperatures across the South, so the system is not as deadly as originally forecast:
Second, the end of Epsilon is in sight since a front is forecast to plow deep into the South on Monday with the collapse of our heat dome:
For those reasons today will be the last day for Epsilon to take front and center as our main topic on this blog. Yeah!
Now the bad news. There remains enough National Weather Service heat advisories to keep Epsilon as a dangerous CAT3 today. Also dangerous conditions have reared their ugly head in the Pacific Northwest: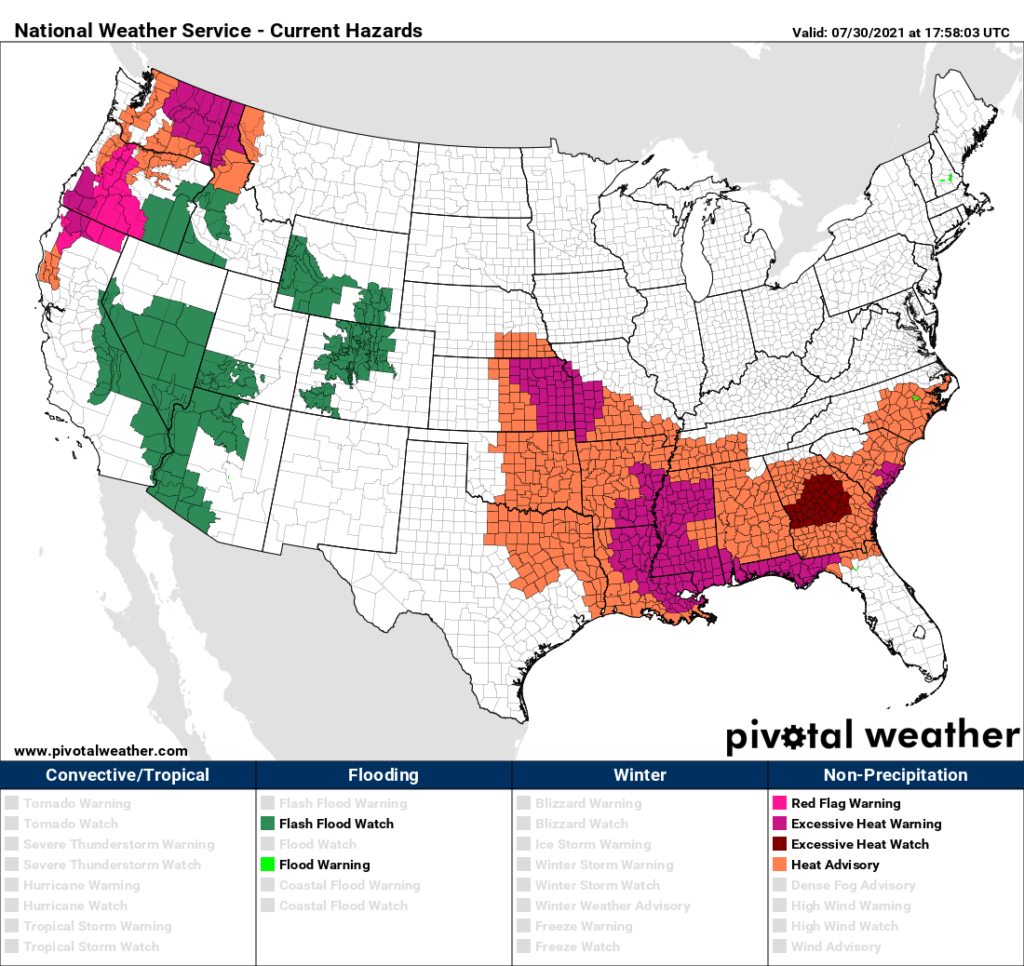 An excessive heat watch is in effect for my home state of Georgia,
Here are temperature maxes generated by met models for the last three days that we anticipate Epsilon will be with us: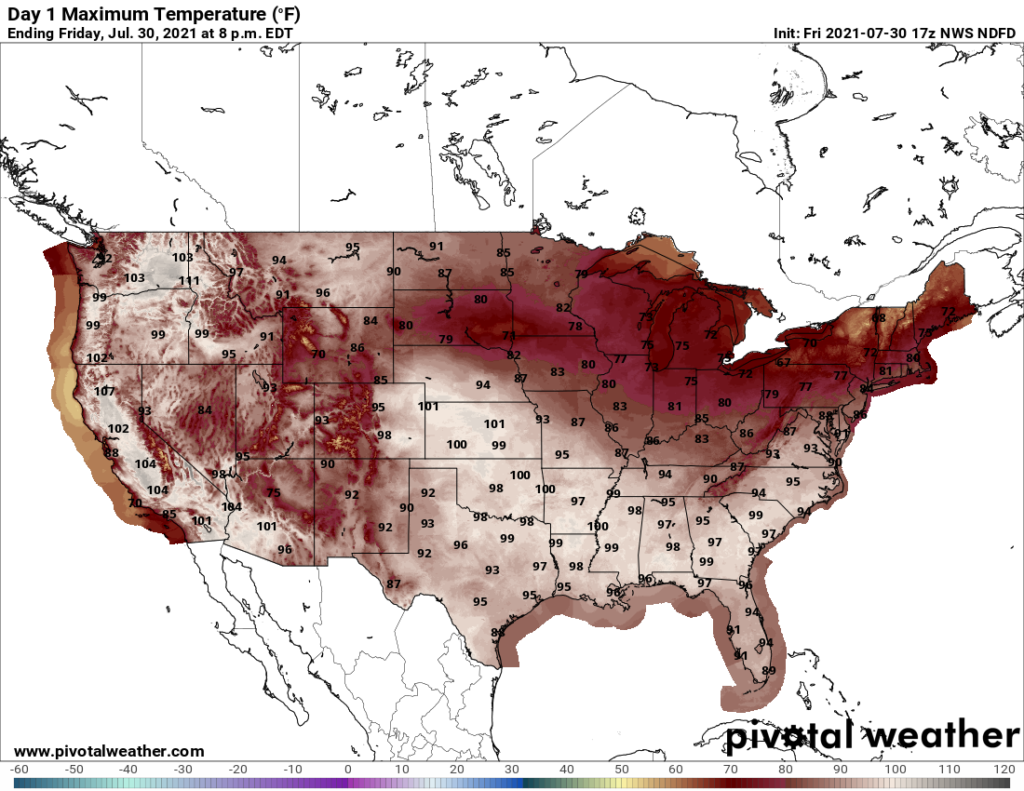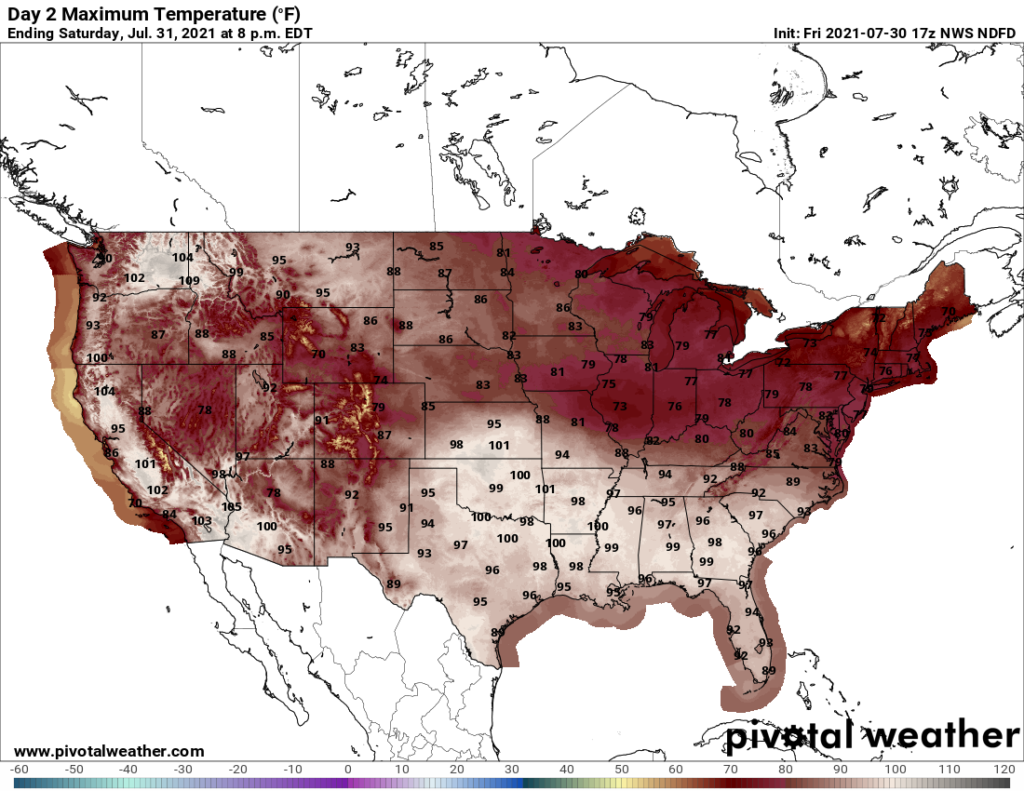 Looking at the above three charts, temperature maxes will only be about 2-6 degrees above average, so only a few more daily records should be set. Still, with heat index values well above 100°F, when we also combine high humidity, residents will need to take extra precautions. On average we have see at least one such week as this one each summer across the South and Plains, so what we have experienced from Epsilon over the past seven days is not truly historic.
Here is today's featured climate crisis related item:
Further notes on Epsilon:
Here are some "ET's" reported from Friday:
Here is more climate and weather news from Friday:
(As usual, this will be a fluid post in which more information gets added during the day as it crosses my radar, crediting all who have put it on-line. Items will be archived on this site for posterity. In most instances click on the pictures of each tweet to see each article. The most noteworthy items will be listed first.)
Now here are some of today's articles and notes on the horrid COVID-19 pandemic:
(If you like these posts and my work please contribute via the PayPal widget, which has recently been added to this site. Thanks in advance for any support.)
Guy Walton "The Climate Guy"