The main purpose of this ongoing blog will be to track planetary extreme, or record temperatures related to climate change. Any reports I see of ETs will be listed below the main topic of the day. I'll refer to extreme or record temperatures as ETs (not extraterrestrials).😉
Main Topic: Wary Eye On Cop27
Dear Diary. Last year in Glasgow, Scotland at COP26, agreements on greenhouse gas pollution were hammered out that partially solved our climate problem, but the key word here is "partially." The conference could not be hailed as a breakthrough, with all participating nations agreeing to limit emissions enough to meet physical requirements for net zero targets.
Just today we see that there are new bold plans for COP27 to be held in Cairo, Egypt this fall from a working group involving special envoy John Kerry. Time is running out to prevent global average temperatures from rising above +1.5°C, and I'm not seeing any significant leveling of the rise of CO2 gas concentrations as measured from Mauna Loa, Hawaii. It's all well and good to make plans for stronger commitments that can turn into clear action, though.
Here is an ABC article relaying some initial bold plans:
https://abcnews.go.com/International/wireStory/us-egypt-launch-group-prepare-cop27-climate-summit-83022669
US, Egypt launch group to prepare for COP27 climate summit
The United States and Egypt have launched a joint working group to prepare for the next United Nations climate change summit in Egypt in November
By SAMY MAGDY Associated Press February 21, 2022, 9:28 AM• 4 min read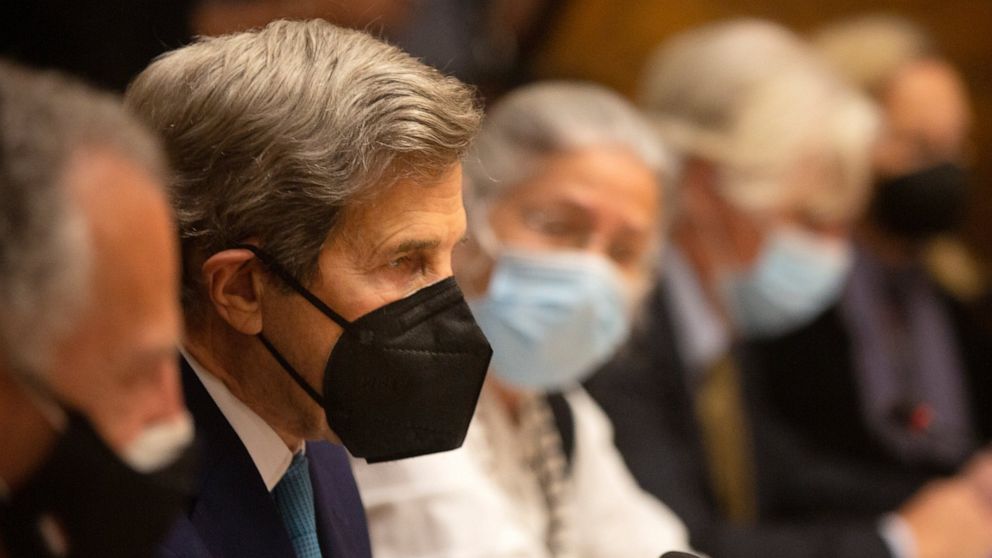 CAIRO — The United States and Egypt launched a joint group Monday to prepare for the U.N. climate change summit in Egypt this year, as a U.S. envoy called for a sharp slash in carbon dioxide emissions by 2030.
John Kerry, President Biden's special envoy for climate, said the working group is focused on the U.N.'s COP27 conference in the Red Sea resort of Sharm el-Sheikh in November. He said Egypt, which is chairing the summit, has already begun its preparations and set ambitious goals.
Kerry said other world tensions, including the ongoing Ukraine crisis, "will not change the reality of what is happening every day with respect to our climate," and called the issue an "international threat for all of us."
He said the climate issue is not about politics.
"There is no ideology in this. This is not anything to do with some of the issues" of concern for the U.S. administration, Kerry said at a news conference in the capital of Cairo with Egyptian Foreign Minister Sameh Shukry. Neither official took questions from reporters.
Kerry, who also met with Egyptian President Abdel Fattah el-Sissi, was referring to conflicts in the Middle East and likely Egypt's human rights record, which has drawn criticism from the U.S. and other Western governments.
Shukry said they discussed priorities and goals of the Egyptian-chaired COP27, including making funds available to developing counties to implement the Paris 2015 agreement on climate change. He did not further elaborate.
The former U.S. senator and secretary of state, who landed in Cairo on Sunday, spoke at the American University in Cairo on the future of international climate action in the leadup to COP27.
He called for concerted efforts to cut carbon dioxide emissions by a minimum of 45% by 2030, to be able to reach a pollution-neutral planet by mid-century.
"The test ahead of us is not just a political and diplomatic challenge to tame mother nature — it is a test pitting human nature against itself," he said.
In the news briefing, Kerry said they aim to implement all promises made in last year's U.N. climate summit in Glasgow, Scotland. In the 2021 summit, almost 200 nations accepted a compromise deal, which outside experts said showed progress, but not success.
That deal didn't achieve any of the three U.N. goals: Pledges that would cut world carbon dioxide emissions by about half, $100 billion in yearly climate aid from rich countries to poor ones, with half that money going to help the developing world adapt to the harms of a warming world.
"Our goal this year, in addition to fulfilling all promises made in Glasgow, is to include more countries to the 1.5 degree-efforts," he said.
Keeping global warming from going beyond 1.5 degrees Celsius (2.7 Fahrenheit) was the most ambitious goal in the 2015 Paris accord. The planet has already warmed 1.1 degrees Celsius (2 degrees Fahrenheit) compared to preindustrial times.
Also on Monday, the Council of Europe warned in a statement that a lack of at-scale funding for "resilient and just energy transitions" in developing countries is an obstacle for green and sustainable development.
The European Union urged rich countries to meet the collective commitment to mobilize $100 billion per year in 2022 as financial aid to poor countries, according to the statement.
Kerry also said the U.S. was working with Egypt on its own transition to a clean energy future.
In June, Kerry announced an increase in U.S. funding to help Egypt convert to solar energy and move away from fossil fuels, a major source of energy in the country of over 100 million people.
In recent years, el-Sissi's government has taken steps to convert to renewables, seizing the advantage of the country's optimal solar and wind conditions for energy harvesting.
But the government has faced criticism from environmental activists for razing green spaces and cutting down tens of thousands of trees for infrastructure projects, especially in Cairo where a gigantic cloud of air pollution often hovers.
Here are some "ET" and some extreme precipitation reports from Sunday:
Here is more climate and weather news from Monday:
(As usual, this will be a fluid post in which more information gets added during the day as it crosses my radar, crediting all who have put it on-line. Items will be archived on this site for posterity. In most instances click on the pictures of each tweet to see each article. The most noteworthy items will be listed first.)
Now here are some of today's articles and notes on the horrid COVID-19 pandemic:
(If you like these posts and my work please contribute via the PayPal widget, which has recently been added to this site. Thanks in advance for any support.)
Guy Walton "The Climate Guy"