The main purpose of this ongoing blog will be to track planetary extreme, or record temperatures related to climate change. Any reports I see of ETs will be listed below the main topic of the day. I'll refer to extreme or record temperatures as ETs (not extraterrestrials).😉
Main Topic: Update on New U.S. Heatwave Bashe
Dear Diary. Across the United States we are celebrating Independence Day, accept in Highland Park, Illinois where yet another senseless shooting has taken place due to our very lax gun laws:
https://www.nbcnews.com/news/us-news/gunfire-erupts-area-fourth-july-parade-route-highland-park-illinois-sh-rcna36565
It's usually as proverbially hot as a firecracker this time of the year, but another U S. problem, climate change, is ratcheting up typical heat. For about a week we have known that a new heatwave would commence across the central U.S. The bad news is indeed we do have another dangerous CAT3 heatwave named Bashe, another fire breathing dragon name.
The good news, though, is that the heat dome in association with Bashe won't quite be as strong or historic as models had previously forecast.
I've witnessed a tendency on all models for heights to be over forecast from about four days out onward in association with these big summer ridges, which modelers will need to work on.
A few days ago, forecasters were speculating that we might see a record 603 decanter ridge set up over the Rockies:
On the 12Z MON 7/4 deterministic models, heights will get barely above 597 decameters in the center of the ridge on the 9th, a phenomenon that typically occurs in July:
Nevertheless, a prolonged, dangerous heatwave will be occurring across a wide swath of the United States, but how hot?
Already heat advisories are in place across a large section of the nation's mid-section: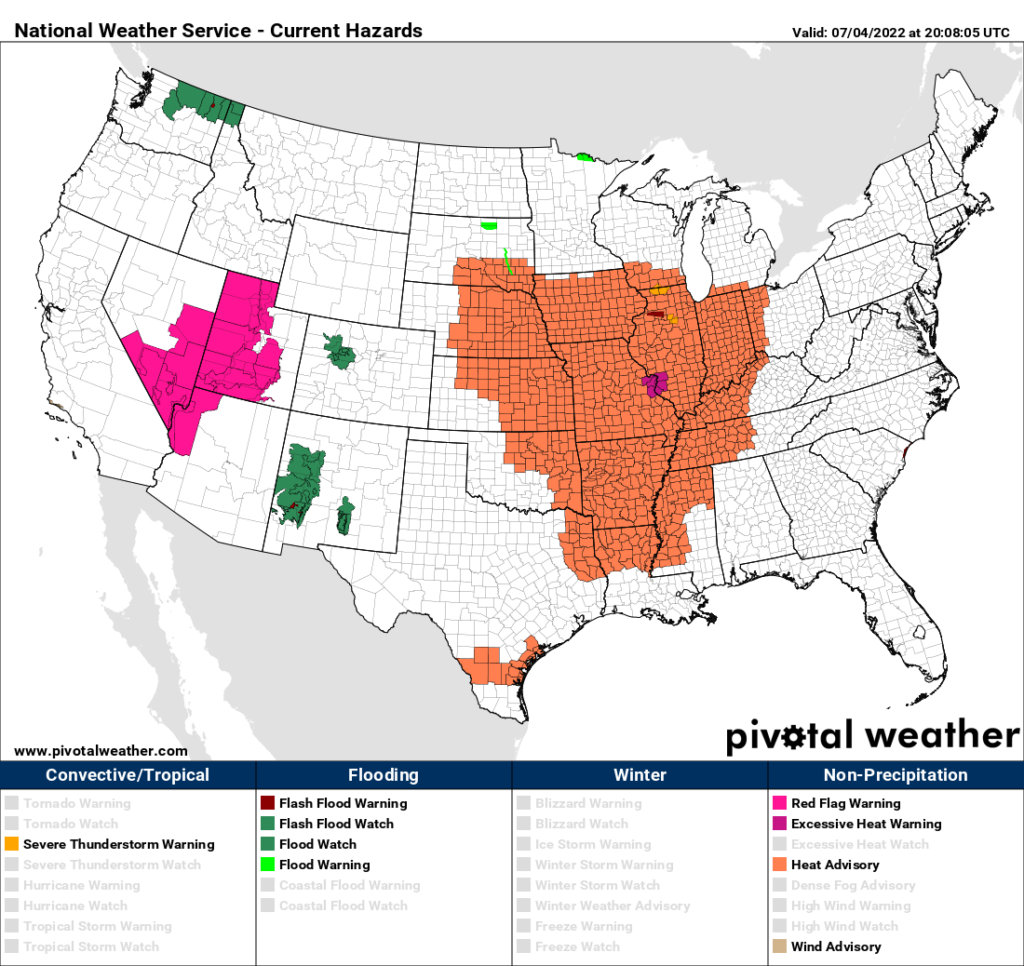 What we have on the 4th is a low end CAT3 heatwave that is rapidly gaining strength.
Certainly, the 6-10 day period for the middle of the month will be quite toasty: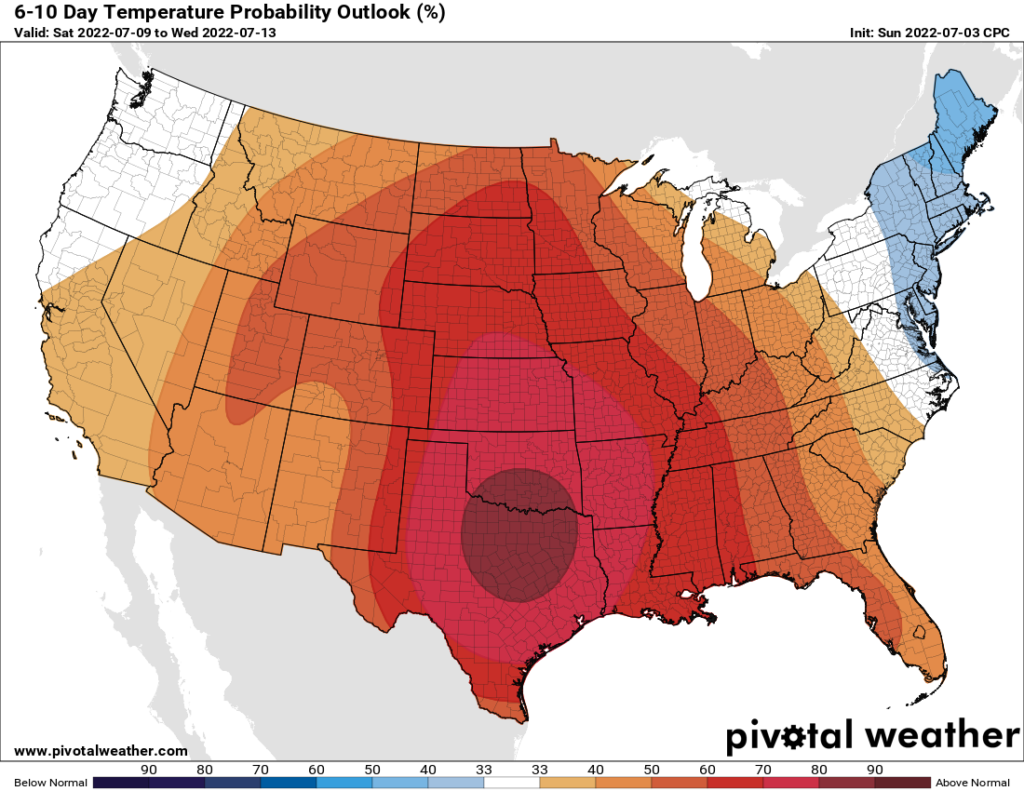 Looking at this week, temperatures will be dangerously hot, but I don't think that many records will be set, at least not yet:
Looking at the three above charts in the Plains, relatively new stations with short periods of records should be setting temperature records, though. Also, look for drought conditions to intensify in the Plaibs because of this heat, unfortunately:
I'll have more updates on Bashe as we move through July 2022 on my Twitter handle @climateguyw and here on this blog.
Here are some "ET's" reported from around the planet the last couple of days, their consequences, and some extreme temperature outlooks:
Here is some June 2022 climatology:
Here is more climate and weather news from Monday:
(As usual, this will be a fluid post in which more information gets added during the day as it crosses my radar, crediting all who have put it on-line. Items will be archived on this site for posterity. In most instances click on the pictures of each tweet to see each article. The most noteworthy items will be listed first.)
(If you like these posts and my work please contribute via this site's PayPal widget. Thanks in advance for any support.)
Guy Walton "The Climate Guy"