The main purpose of this ongoing blog will be to track planetary extreme, or record temperatures related to climate change. Any reports I see of ETs will be listed below the main topic of the day. I'll refer to extreme or record temperatures as ETs (not extraterrestrials).😉
Main Topic: Europe's Long Hot Summer Just Got Worse…Enter "Heatwave Thorn"
Dear Diary. My alarm bells over what has been happening weather wise across Europe this summer really have been ringing. The 500 millibar pattern over Britain and France valid for Wednesday of this week just increases my concern: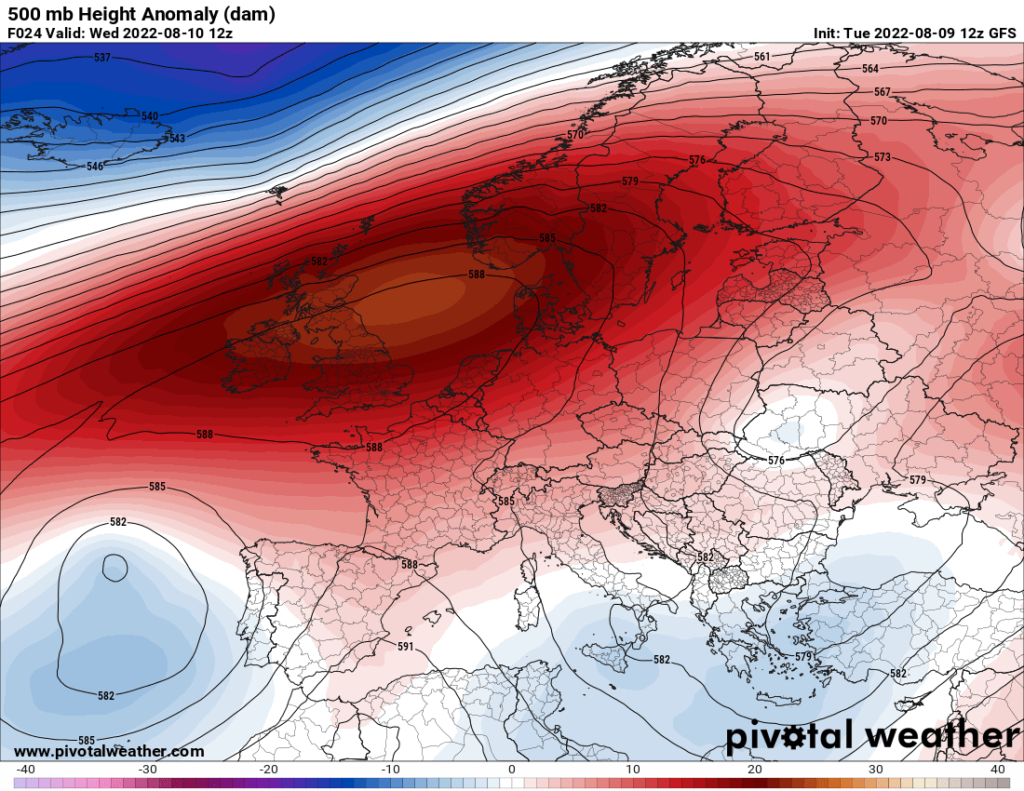 A 588+ decameter heat dome, as depicted in the above Pivotal Weather chart, is something that one might see over my corner of the world, the balmy southeastern United States, not the typically mild British Isles.
So, the United Kingdom is bracing for another heatwave. Let's call this one "Thorn," which will reach my dangerous CAT3 ranking, if not exceed that mark. Thorn is from Old English: Thorn brush. Thorn is a dragon from the series Dragonvale World.
Looking at the extent and strength of this latest heat dome, it's no wonder that we see these forecasts and advisories:
An extreme drought is the consequence of all of these heat episodes that have occurred across Europe during 2022. It's also no wonder that we are seeing articles such as these linked here:
So, most of us who have retained our sanity must acknowledge that climate has changed across Europe. The key to this change involves the Azore high or ridge. For much more on that, read my post from last week:
Of course, I'll be reporting "ET's" from Europe as they come across my radar later this week.
Here are some "ET's" recorded from around the planet the last couple of days, their consequences, and some extreme temperature outlooks:
Here is more July 2022 climatology:
Here is more climate and weather news from Tuesday:
(As usual, this will be a fluid post in which more information gets added during the day as it crosses my radar, crediting all who have put it on-line. Items will be archived on this site for posterity. In most instances click on the pictures of each tweet to see each article. The most noteworthy items will be listed first.)
(If you like these posts and my work, please contribute via this site's PayPal widget. Thanks in advance for any support.)
Guy Walton "The Climate Guy"