The main purpose of this ongoing blog will be to track planetary extreme, or record temperatures related to climate change. Any reports I see of ETs will be listed below the main topic of the day. I'll refer to extreme or record temperatures as ETs (not extraterrestrials).😉
Main Topic: Asia's Long Brutally Hot Summer
Dear Diary. Unfortunately, areas of the planet that recently have been deemed to be most susceptible to become uninhabitable from ramped up climate change are in the Middle East and in southern Asia. This makes sense because these regions have had extreme heat issues ever since mankind settled across the region tens of thousands of years ago. So, practically every year for the rest of this century we will look to the Middle East and Asia to see how people are faring as they face increasing heat. It will also pay to get good measurements out of these areas to judge how temperature trends are going.
For today's main topic let's revisit and focus on south Asia, which I haven't done since a historic heatwave happened across India earlier this warm Northern Hemisphere season. At 500 millibars this morning we note a strong heat dome stretching from Iraq through Iran and Pakistan into China:
India has a cool low overhead, which is in association with its monsoon weather.
Unfortunately, the heat dome won't change much through the end of this week but does look like it will weaken slightly: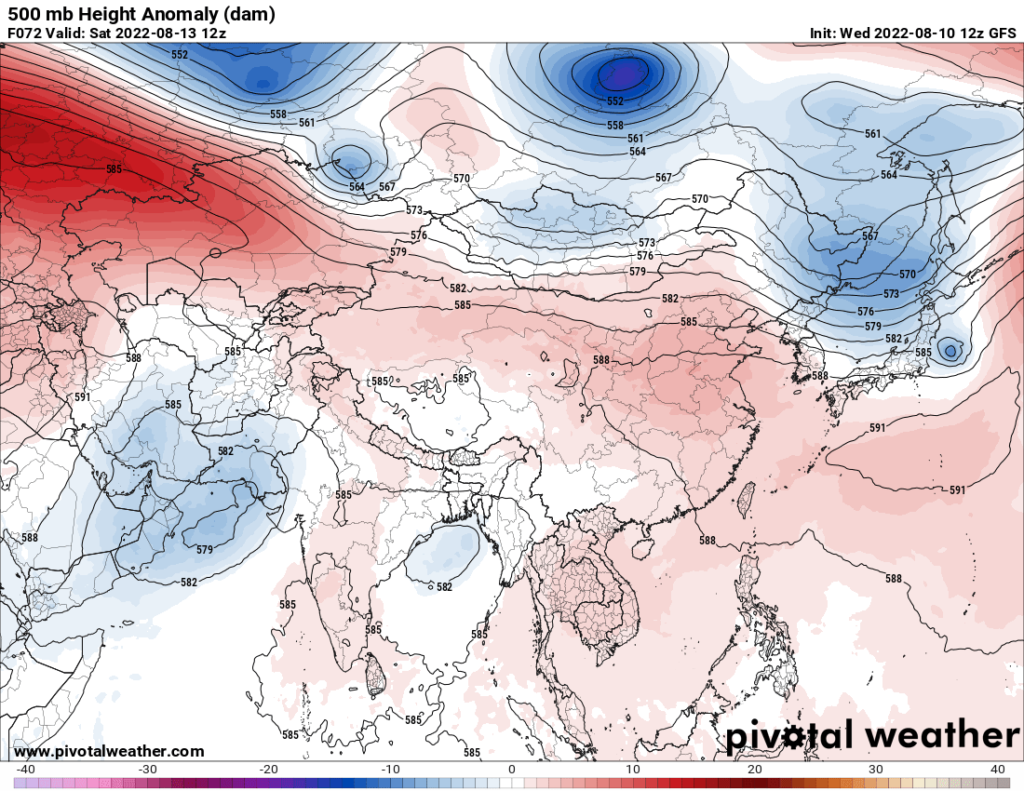 Looking at the latest Climate Reanalyzer chart, we side a wide area of positive anomalies across the same zone from Iraq through China:
Here are three recent reports from south Asia. Let's start with Iraq:
9th August 2022 in Healthcare, Iraq Industry & Trade News
Effective measures are needed to ensure adequate Occupational Safety and Health for workers during extreme heat in Iraq
With temperatures in Iraq soaring up to 50 degrees Celsius [122 degrees Fahrenheit] in recent weeks, the ILO in Iraq is calling on its tripartite partners – the government, employers' and workers' organizations – to ensure that appropriate measures are taken to mitigate some of the risks associated with working under extreme heat and ensure that workers are provided with adequate care at their workplace.
The extreme heat is increasing concerns in relation to the Occupational Safety and Health (OSH) conditions of workers, especially those employed in construction and agriculture – a sector which is already considered as one of the most hazardous in the world.
According to the recent Labour Force Survey, one in four workers in Iraq is employed either in construction or agriculture – an extremely significant number.
The ILO released a report in 2019 which stated that the "rise in global temperatures caused by climate change will make the phenomenon of "heat stress" more common," adding that "the higher heat levels caused by climate change threaten progress towards decent work by leading to a deterioration of working conditions and undermining the security, health and well-being of workers."
Workers in some parts of the country have been given time off due to the heat. Yet, for workers who cannot afford to miss a day of work, such as those in informal, temporary, seasonal or day labour, measures must be taken to ensure their protection.
On the practical level, this could include ensuring workers are provided with appropriate clothing, access to drinking water and shaded areas; and are encouraged to work during cooler hours with appropriate break times.
It also includes ensuring that legislation related to OSH are being enforced through labour inspections – especially in sectors which face most risks.
Iraq has ratified a number of ILO Conventions which focus on the needs to ensure protection for workers in different sectors, and most recently through the ratification of the Safety and Health in Agriculture Convention, 2001 (No. 184), which re-affirms the country's commitment to decent work and International Labour Standards.
The ILO is committed to supporting its partners in the development of Occupational Safety and Health and Labour Inspection polices and systems, that will contribute to modernizing those systems and improving conditions for workers and their employers, in line with International Labour Standards.
While these efforts are not specific to heat stress at work, they will nonetheless contribute to ensuring a more and better working environment for all workers in Iraq.
The safety and health of workers is the responsibility of everyone. We all have a role to play – even if small – to ensure that working conditions are decent and safe and that our environment is protected from further degradation."
(Source: UN)
https://www.republicworld.com/world-news/middle-east/iran-records-hottest-day-in-2022-mercury-soars-past-53c-in-ahvaz-articleshow.html
Last Updated: 6th August, 2022 20:40 IST
Iran Records Hottest Day In 2022; Mercury Soars Past 53°C In Ahvaz
Iran, on Friday, registered this year's hottest temperature at over 53°C, making it the hottest day recorded in August in the country's history.
Written By
Image: AP/Representative
As the world continues to witness extreme weather changes due to climate change, ranging from freezing winters to record high temperatures, Iran on Friday registered this year's hottest temperature at 53°C, making it the hottest August day in the country's history and one of the highest ever in the world. The scorching conditions were recorded in the city of Ahvaz in Iran's southwest on Thursday, according to a French meteorologist.
The highest ever temperature recorded on this planet is 134F (56.6°C) in Death Valley, California in 1913. The scorching temperature has set a new high for June in Asia. Etienne Kapikian, a meteorologist from Meteo France, said that the recording of 53.7C had surpassed Iran's previous record high temperature of 53°C.
Notably, this comes at a time a large part of the world, including Europe, is experiencing extreme weather conditions. This year, Europe saw the mercury break all records. For hundreds of millions of people in Europe, unbearably hot weather has been driving the reality of climate change home over the last month. Temperatures in the UK hit 40°C for the first time in recorded history, while France, Portugal, Spain, Greece, and Croatia have been battling wildfires for days or even weeks. Experts have said that the UK's recent record temperatures were made 10 times more likely by climate change. It's a straightforward connection to make during a heatwave, as per climate experts.
On the heat index, which considers humidity too, Iran's temperature was even higher at 142F (61.1°C), according to USA Today. However, on Friday, temperatures in the region fell below 47°C, and are expected to rise above 50°C in the coming week. The record temperature was noted just data after research wanted that almost a third of the world's population is exposed to deadly heat for 20 or more days per year.
Earlier in July, Dr Nikos Christidis, climate attribution scientist at the Met Office said, "We hoped we wouldn't get to this situation but for the first time ever we are forecasting greater than 40°C in the UK", as per Euro News. He made the comments while announcing the UK's first ever Red warning for exceptional heat.
"The chances of seeing 40°C days in the UK could be as much as ten times more likely in the current climate than under a natural climate unaffected by human influence", he further added.
(Image: AP)
https://www.thatsmags.com/china/post/34831/china-heatwave-breaks-records
China Heatwave Breaks Records… and It's Getting Hotter Still
By Malavika Suresh, August 5, 2022
July saw some of the hottest temperatures in China's history. In fact, it was the second-hottest July since 1961.
In the past few weeks, record temperatures have been reported by more than 71 national weather stations, while the daily maximum recorded by 245 national weather stations across China exceeded historical July highs.
Several cities in provinces such as Hebei and Yunnan experienced temperatures above 44 degrees Celsius.
According to weather.com.cn, many provinces – including Zhejiang, Sichuan, Yunnan and Guizhou – faced their hottest July on record.
The national average temperature for July was 23.2 degrees Celsius, 1 degree higher than the long-term July average.
In Shanghai, more than 20 days in July exceeded 35 degrees Celsius, as reported by the Xujiahui Station, known as the "No.1 meteorological observatory in the Far East."
The hottest day in the city came on July 13, when the mercury hit 40.9 degrees Celsius, marking it as the hottest on record since 1873.
READ MORE: Shanghai Records Hottest Day Since 1873
Zhejiang and Shanghai have seen a rise in electricity consumption, while heat strokes have become a common occurrence for residents in Zhejiang, Jiangsu and Sichuan, among other provinces, says the China Meteorological Administration.
Analysts predict that the heat wave will continue through August, with cities such as Hangzhou, Hefei and Chongqing set to experience record high temperatures.
Wang Weiyue, analyst at weather.com.cn, says that the country can expect hot and humid weather from the North and record high temperatures in the South this month, warning that "the heat will likely be worse than July."
READ MORE: Explainer: Sanfu the Hottest Days of the Year
Here are some recent record reports from Maximiliano Herrera from the region:
Of course, I'll be plugging in more stats from Max daily on this blog from Asia. I'll be keeping an eye out for more articles in association with South Asia's incessant heat.
Here are some other "ET's" recorded from around the planet the last couple of days, their consequences, and some extreme temperature outlooks:
Here is more July 2022 climatology:
Here is more climate and weather news from Wednesday:
(As usual, this will be a fluid post in which more information gets added during the day as it crosses my radar, crediting all who have put it on-line. Items will be archived on this site for posterity. In most instances click on the pictures of each tweet to see each article. The most noteworthy items will be listed first.)
(If you like these posts and my work, please contribute via this site's PayPal widget. Thanks in advance for any support.)
Guy Walton "The Climate Guy"