The main purpose of this ongoing blog will be to track planetary extreme, or record temperatures related to climate change. Any reports I see of recently reported ETs will be listed below the main topic of the day. I'll refer to extreme or record temperatures as ETs (not extraterrestrials).😉
Main Topic: Update on U.S. Cold Wave Beta
Dear Diary. Brrrr! While most of Europe are seeing a late summer that seems to be never ending, the United States is already in full winter mode weather wise.
Today's main topic will be a check on what I spied in the weather tea leaves last week:
Extreme Temperature Diary- Wednesday November 9th, 2022/ Main Topic: Cold Wave Beta is Poised to Chill the U.S. – Guy On Climate
Across the Northern Hemisphere we currently see a wavy jet stream with plenty of anomalous warm pockets above or near the Arctic Circle: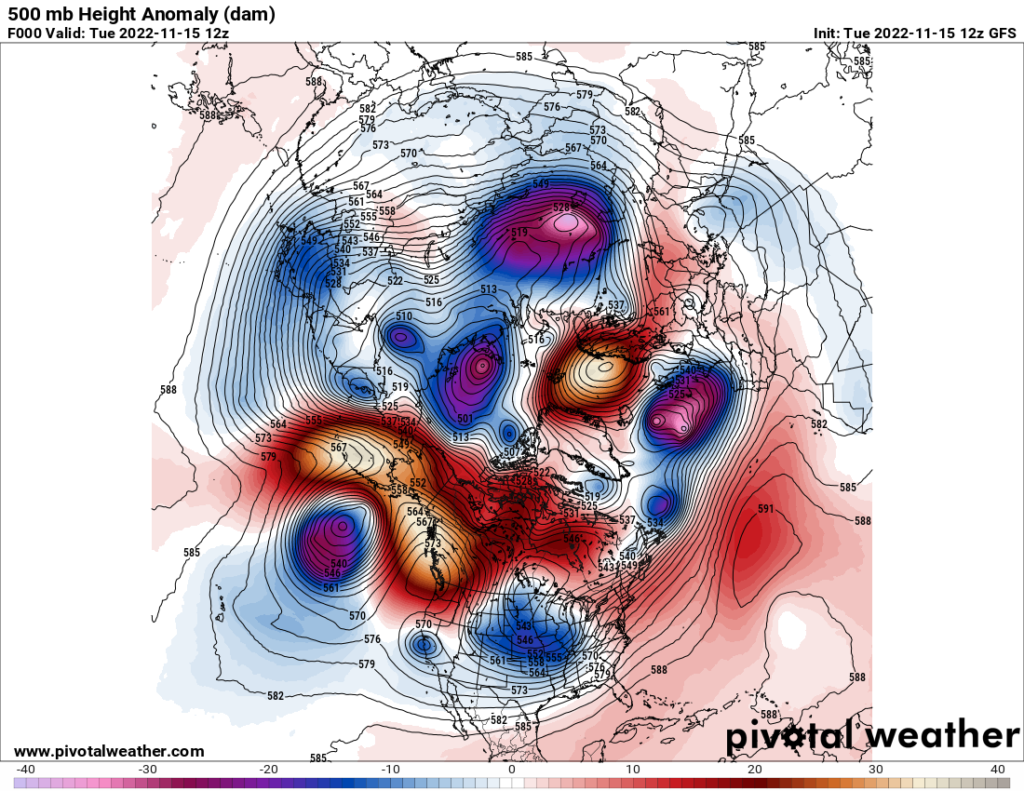 A warm pocket has been over Europe for the bulk of this fall, which will finally break down this week. A very warm pocket will build over Alaska forcing extremely cold air by November standards southward over the U.S. later this week: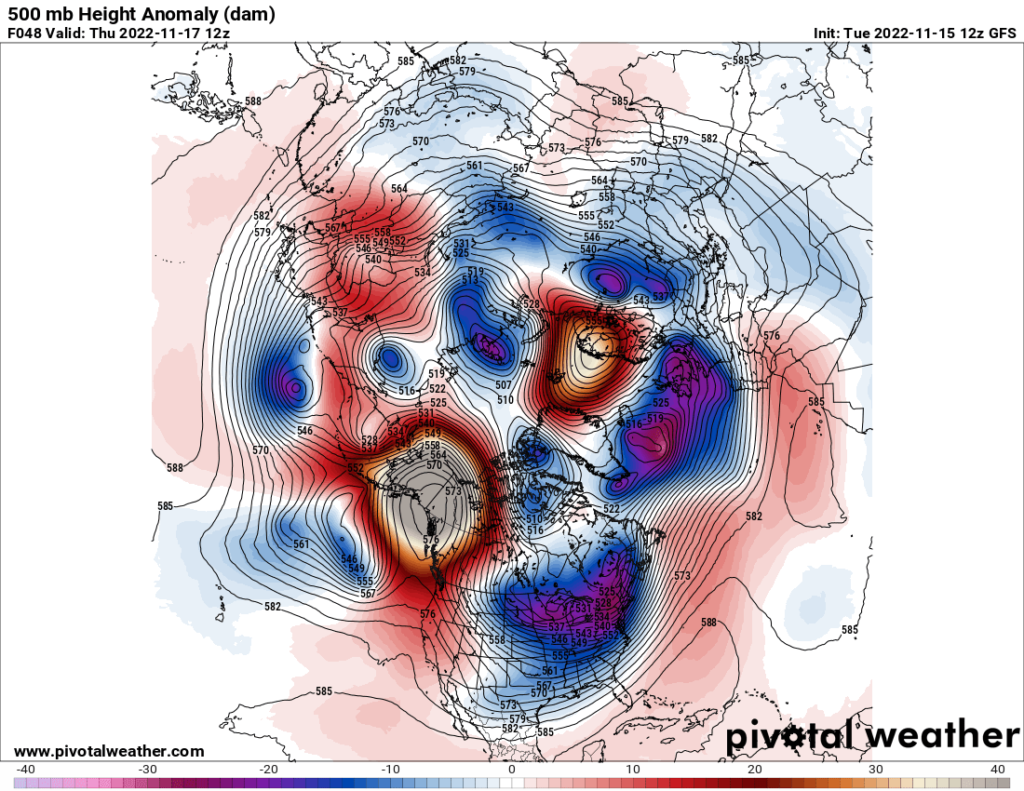 In the above Pivotal Weather chart, note the big warm pockets over Alaska and Scandanavia. These will be forcing cold pockets south over the United States, Europe, and Asia. I do contend that these cold weather patterns are being driven by a climate change induced weakened wavy jet stream. That's a little hard for many people to get their head around.
Using my criteria, it appears that Cold Wave Beta will get to my borderline CAT2/3 ranking. Cold Wave Alpha was a nuisance CAT1 that we saw in October. Should we see a CAT3 that would mean that Beta would become historic, setting hundreds if not thousands of cold records. CAT4's and CAT5's are catastrophically deadly producing widespread temperatures near or below 0°F with deadly wind chills well below 0°F. Beta will be cold but typical for a January day: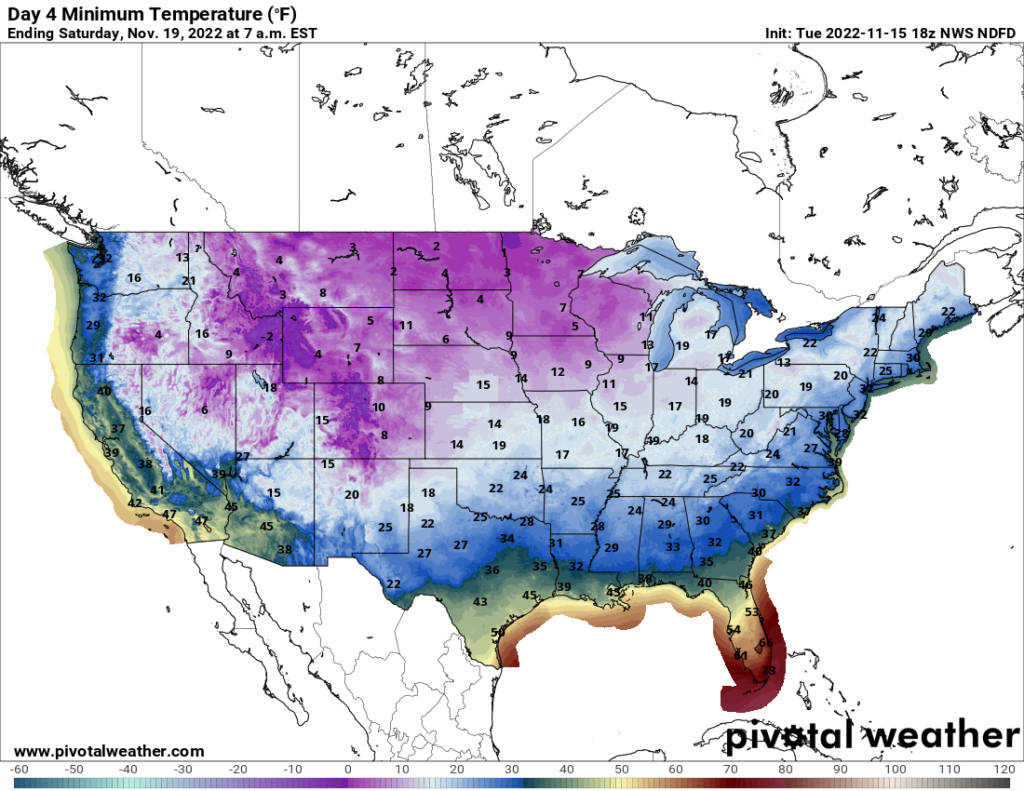 My friend Matthew Cappucci has written another excellent article for the Washington Post describing effects from Cold Wave Beta, which will last through about Thanksgiving before some widespread moderation in temperatures takes place:
An early-season snowstorm is blanketing the Midwest to Northeast – The Washington Post
It's not winter yet, but storms could dump snow from Chicago to Buffalo
Areas near Buffalo could see 'multiple feet' from lake-effect snows late this week
November 15, 2022 at 11:24 a.m. EST
Forecast snow through Friday from the National Weather Service. (WeatherBell)
Winter solstice won't arrive for another 36 days, but a cold and snowy pattern more typical of midwinter has become entrenched in the central and northeastern United States. A multiphase snow event is delivering a swath of snowfall blanketing St. Louis, Minneapolis, Des Moines and Chicago, and it could set the stage for a whopper winter-weather storm eyeing the eastern Great Lakes, including Buffalo, later this week.
The snow is coming in a three-part act, the prologue of which the atmosphere performed on Monday across the south-central United States. A narrow swath of heavy snow plastered Oklahoma with up to 7.3 inches in the town of Elk City, about 100 miles west of Oklahoma City. Now that same system is heading northeast.
Blast of cold swallowing Lower 48, with early-season snow for some
The wintry blitz is wrapped up within a blast of frigid air spilling south and east out of Canada, with quickly plummeting temperatures bringing a sudden seasonal reversal. Chicago hit 76 degrees on Thursday, only to peak at 36 on Saturday afternoon. Now, it's under a winter-weather advisory.
Temperatures in Boston fell more than 30 degrees, from 76 on Friday to 44 on Sunday, and even Washington — where 10 of the first 12 days of the month climbed into the 70s — will struggle to escape the 40s. Snow is set to fall in the mountains west of these East Coast hubs.
Meanwhile, the National Weather Service in Buffalo is warning of the possibility of a "crippling" snowstorm for areas downwind of Lake Erie and Lake Ontario, from Thursday into the weekend.
The same storm system that brought snow to Oklahoma will bring additional accumulation to the Midwest and Great Lakes before shifting its energy to a new low gathering near the Carolina coastline. (NOAA/NWS)
On Monday morning, a storm system formed along a cold front in Oklahoma and Kansas. The system, energized by a high-altitude disturbance kicking east out of the Texas Panhandle, swirled chilly air into the Sooner State. That stacked the deck in favor of snow as moisture rode north along the front, resulting in a narrow, albeit intense, band of heavy snow.
That same system headed east, with snow on Tuesday from southern Illinois all the way through Wisconsin and into southern Manitoba and Ontario.
Meanwhile, moisture collecting on the front along the Gulf of Mexico coastline in Louisiana will blossom into its own new storm system, which will ride up the East Coast. The East Coast system will deliver "wraparound" snows on its cool air backside come Wednesday and Thursday. Then frosty westerly winds in its wake will blow lengthwise along Lakes Erie and Ontario, causing very heavy snows to their east.
Act I: Oklahoma snowstorm
Leading up to Monday's snow in Oklahoma, forecasters at the National Weather Service in Norman had warned of a "high risk of disappointment." There were a number of off-ramps that could have led to a "busted" forecast — and the razor-thin edge of the heaviest snow made communicating impacts even more difficult.
Despite the hurdles, a localized corridor of half a foot or more of snow materialized, impacting areas west of the Oklahoma City metro area. The jackpot was in Elk City, but Cheyenne in western Oklahoma saw 5.3 inches, and Sayre, Hinton, Geary and Clinton got four.
That proved Clinton's earliest 4-inch snow on record, eclipsing the 4 inches that came down on Nov. 20, 1988.
Act II: Snow in the Midwest, Appalachians and Northeast
A high-resolution model of snow working through the Midwest and Northeast. (WeatherBell)
The snow has wound down in Oklahoma and on the Plains, but flakes are falling steadily in the Midwest. A broad 1 to 3 inches was expected in an area — the eastern two-thirds of Iowa, parts of Missouri and northern Illinois — blanketed by winter weather advisories through midday Tuesday. Downtown Chicago was encompassed in the current advisory, but the Windy City will see the bulk of its inch or two come down on Tuesday night on the storm's backside.
Through Tuesday morning, about an inch had fallen just west of Chicago and around St. Louis, about 2 inches in Des Moines and 2 to 3 inches around Minneapolis.
As Tuesday wears on, wintry precipitation is forecast to spread over the Appalachians and interior northeast as the storm — currently headed toward the Ohio Valley — shifts its energy toward a new storm system forming along the East Coast.
Cold air is banking up in the mountains and will allow freezing rain to fall even in the mountains of western South Carolina on Tuesday, with the main hazard becoming snow in the high terrain of West Virginia and Virginia. Cumberland, Md., on Interstate 68, a key passage through the Appalachians, could be looking at 1 to 3 inches through Tuesday night; the bulk of any accumulation in the interior Mid-Atlantic will be relegated to locations above 1,000 feet and especially above 2,500 feet.
The snows will become more widespread north of the Mason-Dixon line, with a general 1 to 4 inches in northern Pennsylvania, most of New York state, the Berkshires in western Massachusetts and parts of Vermont and New Hampshire through Wednesday night. Lesser totals are expected in the hills northwest of Hartford, Conn. Three to five inches may fall Wednesday and Wednesday night in western Maine, with a half foot or more possible in Aroostook, Penobscot, Piscataquis and Somerset counties. That's where a winter storm watch is in effect.
Act III: A major lake-effect snow dump
The impending setup for prolific lake-effect snows. Notice the direction of the winds (lines) blowing lengthwise along Lakes Erie and Ontario, along with the pocket of high-altitude cold air parked nearby. (WeatherBell)
By Thursday, the low-pressure system bringing snow to the interior Northeast will truck into the Canadian Maritimes, swinging its trailing cold front east and allowing cold air to spread toward the coast. At the same time, a dip in the jet stream, within which will be nestled a bone-chilling Canadian air mass at high altitudes, will become stuck over the Great Lakes.
That means cold, westerly to west-southwesterly flow a mile or two above the ground. That should entail cold wind blowing lengthwise down Lakes Erie and Ontario, which have water temperatures still in the 50s. The stark contrast should allow for robust lake-effect snow plumes to become established, with totals of several feet possible downwind. Snowfall rates of 1 to 3 inches per hour, whiteout conditions, thundersnow and blizzard conditions will be possible within the heaviest bands, which may only be a few miles wide. Unsurprisingly, if a given locations remains stuck in one of said bands for long enough, the totals could become extreme in short order.
The key time frame to watch would be Thursday through early Sunday.
"Total snow accumulations in this long duration event of MULTIPLE feet will be possible in the most persistent lake snows," wrote the National Weather Service in Buffalo.
By Matthew Cappucci Matthew Cappucci is a meteorologist for Capital Weather Gang. He earned a B.A. in atmospheric sciences from Harvard University in 2019 and has contributed to The Washington Post since he was 18. He is an avid storm chaser and adventurer, and covers all types of weather, climate science, and astronomy. Twitter
Here are some "ET's" recorded from around the planet the last couple of days, their consequences, and some extreme temperature outlooks:
Here is some more October 2022 climatology:
Here is more climate and weather news from Tuesday:
(As usual, this will be a fluid post in which more information gets added during the day as it crosses my radar, crediting all who have put it on-line. Items will be archived on this site for posterity. In most instances click on the pictures of each tweet to see each article. The most noteworthy items will be listed first.)
If you like these posts and my work please contribute via the PayPal widget, which has recently been added to this site. Thanks in advance for any support.)
Guy Walton… "The Climate Guy"