The main purpose of this ongoing blog will be to track planetary extreme, or record temperatures related to climate change. Any reports I see of recently reported ETs will be listed below the main topic of the day. I'll refer to extreme or record temperatures as ETs (not extraterrestrials).😉
Main Topic: Cold Wave Beta is Poised to Chill the U.S.
Dear Diary. First, a note about yesterday's essential election. Thank you, everyone who took the time to vote, no matter how you voted. Democracy won last night with most of Trump's picked "election denying" 2020 candidates loosing. The big red wave that most pundits predicted fizzled, but there probably were just enough House seats to flip such that Republicans will get control of that body….but just barely and not by the 20-30 seats I predicted would fall. The Senate, as well, is still up for grabs as votes continue to be counted, but more than likely Democrats will barely retain that body:
Now, onward and upward to address meteorology and climate change. The good news coming up from now through the next few weeks across the United States is that the climate is not broken enough such that colder than average weather is a thing of the past. The bad news is that this means that a life-threatening cold wave is possible with all meteorological guidance pointing to one that will occur this November.
We already had a "minor" cold wave in October across the Midwest that set a few hundred record low minimums. Midwesterners are used to chill, so CAT1 Cold Wave Alpha was not life threatening. Cold Wave Beta probably won't kill many people in November, but some unfortunate people will die if left exposed to the elements. The homeless come to mind here.
The first shot of cold air will move into the U.S. in the wake of our first Northern Plains blizzard of the year tomorrow. This system is part of the same winter storm that produced fantastic and very welcome heavy snow to the parched Sierra and California on Tuesday:
And yes, Hurricane Nicole will be swirling through Florida at the same time.
By Saturday most of the Midwest and northern and central Plains will be shivering in December-like conditions: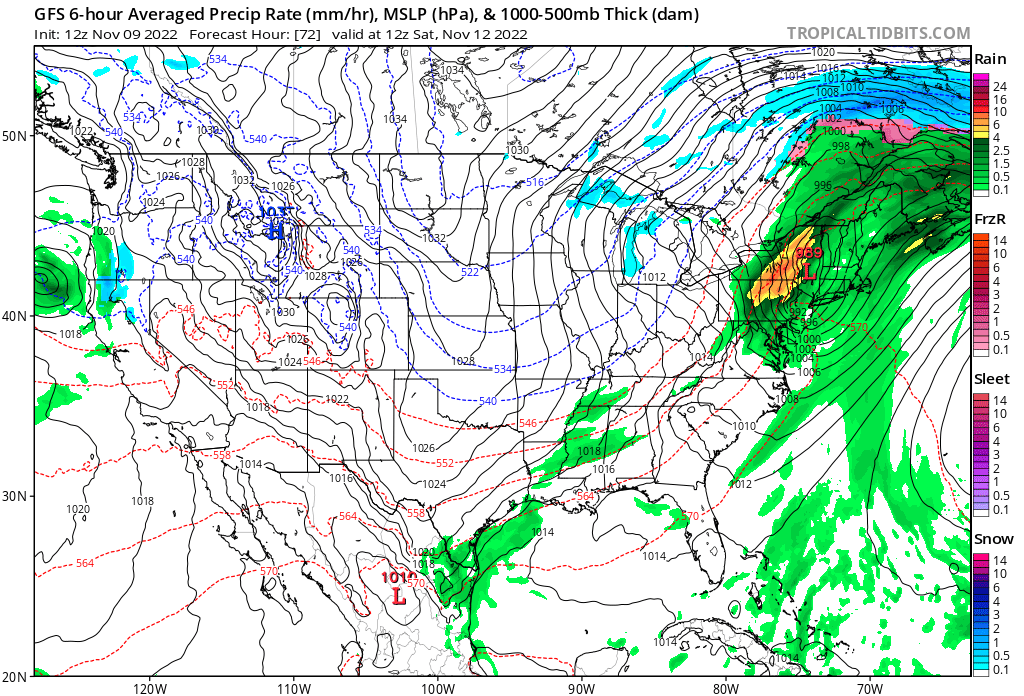 By next Monday the first cold shot will be chilling the Northeast and much of the South. Another more substantial cold shot will begin to move through the Rockies and northern Plains:
After the 14th we should see the following anomalies:
Brrrr! I expect at least about 2,000 record cold reports to come from Cold Wave Beta. If you would like to read my criteria for naming and ranking cold waves, here is that link:
I'm going to estimate that Cold Wave Beta will be a borderline CAT2/3. Whether or not it continues into December is too far out to tell from reliable meteorological models. Of course, I'll be reporting any record cold reports if they cross my radar on this blog.
Here are some "ET's" recorded from around the planet the last couple of days, their consequences, and some extreme temperature outlooks:
Here is some new October 2022 climatology:
Here is more climate and weather news from Wednesday:
(As usual, this will be a fluid post in which more information gets added during the day as it crosses my radar, crediting all who have put it on-line. Items will be archived on this site for posterity. In most instances click on the pictures of each tweet to see each article. The most noteworthy items will be listed first.)
More on Nicole:
Other Items:
If you like these posts and my work please contribute via the PayPal widget, which has recently been added to this site. Thanks in advance for any support.)
Guy Walton… "The Climate Guy"