The main purpose of this ongoing blog will be to track planetary extreme, or record temperatures related to climate change. Any reports I see of ETs will be listed below the main topic of the day. I'll refer to extreme or record temperatures as ETs (not extraterrestrials).😉
Main Topic: Record Warmth Slated for Much of the United States and Europe Going into the New Year
Dear Diary. Just a few days ago over Christmas many experienced one of the coldest times in eastern U.S. history. Due to extreme lake effect snow, the city of Buffalo took the brunt of the cold wave, experiencing dozens of unfortunate deaths. Fast forward only one week to New Years, and we see weather and climate change whiplash. On this New Year's Eve temperatures are very mild indeed across much of the United States:
New Year's Day is forecast to be even warmer across much of the South:
And across Europe a record warm airmass will remain in place:
Since the start of this century, time after time we see that when there is a historic cold outbreak, cold times rarely last more than about a month, as opposed to a decade like the 1970s when a cold regime would last all winter long. In this case, what I dubbed Cold Outbreak Elliot only lasted a few days. Indeed, climate change is producing weather whiplash that is making life miserable for many.
So, what might we expect going into January 2023? Most likely more warmth:
Today's European model indicates more of the same going into the second week of January. GFS ensembles also indicate that higher than average 500 millibar heights will be prevalent over much of the CONUS: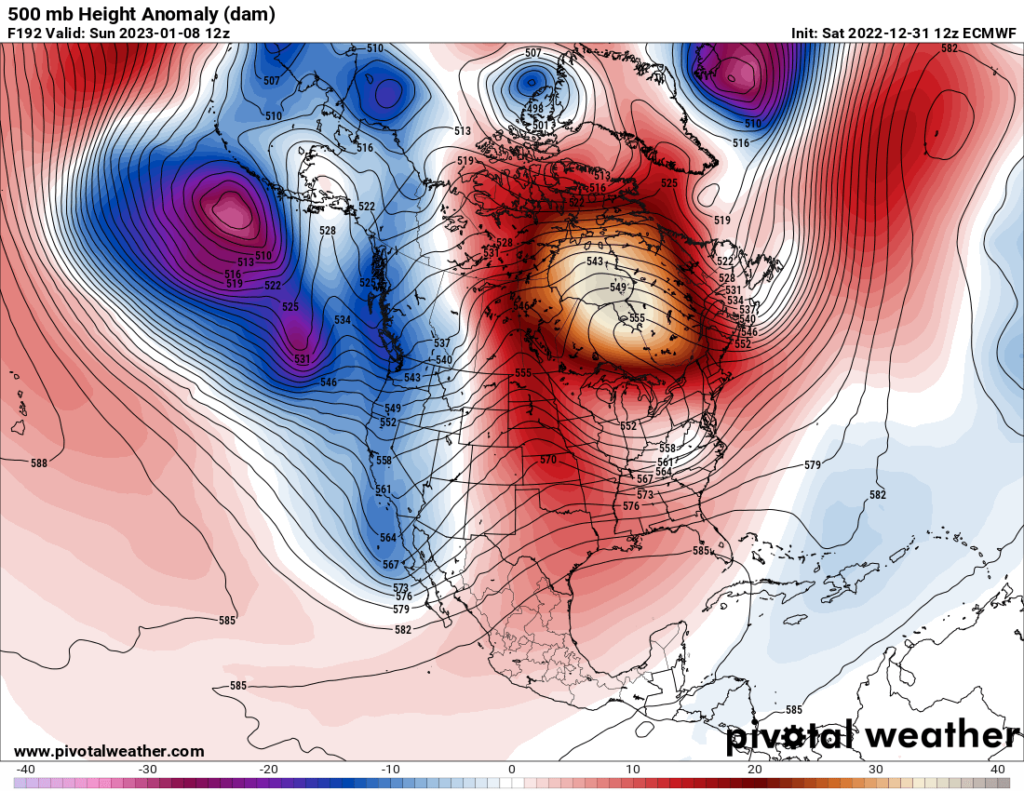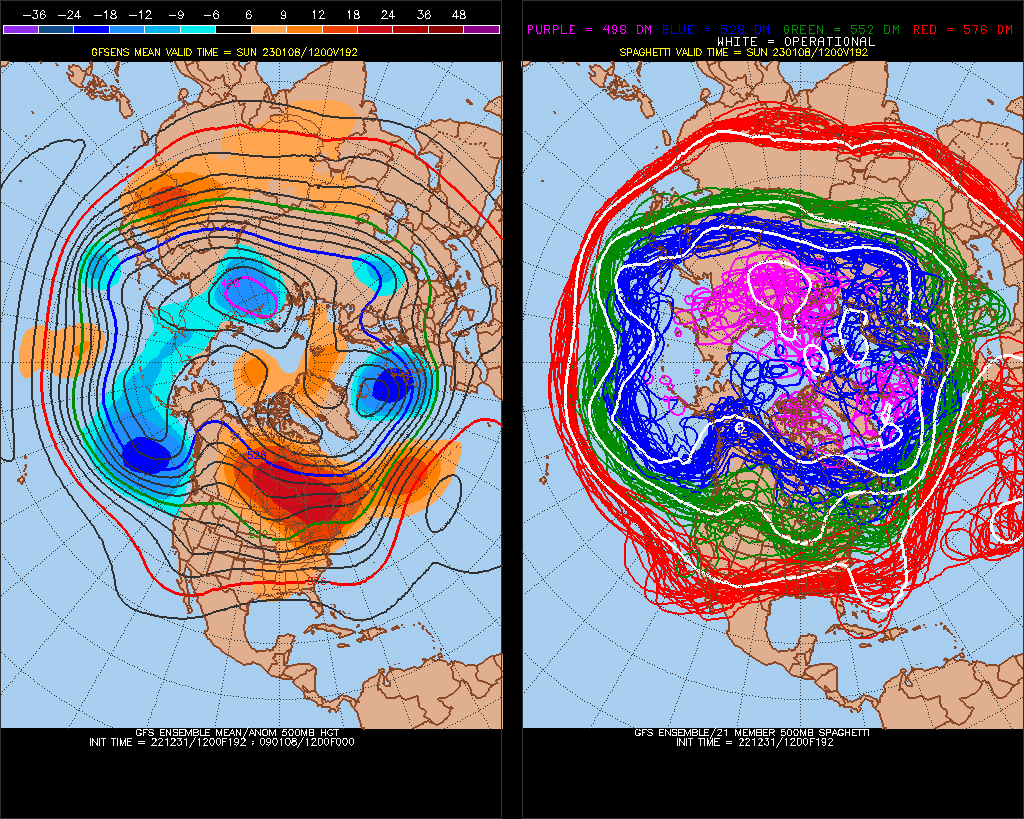 In two real senses, this weather pattern is a blessing for the United States, which is enjoying a break from typical winter chill. The jet stream will dig far enough south to keep much of the West wet where precipitation is desperately needed to break a very long-term drought. Warm weather across the South in January usually does bring the threat of unwanted severe weather, though.
We should see a slew of warm record reports from this weather pattern, and I'll be reporting these on future posts. In the space below we see that European warmth is much more impressive on New Year's Eve than from its American counterpart.
Here are some "ET's" recorded from around the planet the last couple of days, their consequences, and some extreme temperature outlooks, as well as some extreme precipitation reports:
Here is some new 2022 climatology:
Here is more climate and weather news from Saturday:
(As usual, this will be a fluid post in which more information gets added during the day as it crosses my radar, crediting all who have put it on-line. Items will be archived on this site for posterity. In most instances click on the pictures of each tweet to see each article. The most noteworthy items will be listed first.)
If you like these posts and my work please contribute via the PayPal widget, which has recently been added to this site. Thanks in advance for any support.)
Guy Walton… "The Climate Guy"