The main purpose of this ongoing blog will be to track planetary extreme, or record temperatures related to climate change. Any reports I see of ETs will be listed below the main topic of the day. I'll refer to extreme or record temperatures as ETs (not extraterrestrials).😉
Main Topic: Taking Stock of Many Eyepopping Records Set Across the United States This Week
Dear Diary. By all means the spate of record warmth across the Southeast and record chill in the western portion of the U.S. isn't over and may not be for several days, but let's take stock of what happened on the most "extreme" day of this event, which was yesterday on Thursday. I was amazed at what a 594+ decameter ridge centered over Florida could do during late February, and those keeping tabs on our increasingly broken climate should be too. I contend that both record warmth and record chill from this week can be tied to a weaker, wavier polar vortex, which is apparent in Spades over the Northern Hemisphere as of this Friday: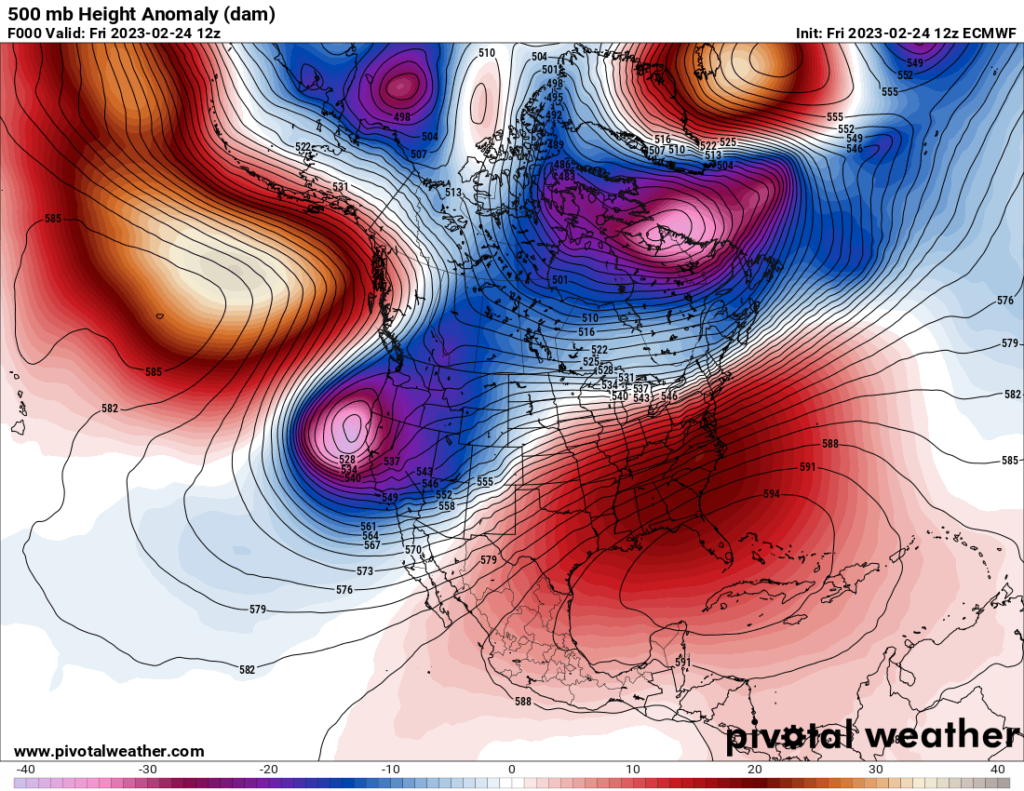 Heights in association with the heat dome are beginning to come down, allowing a cold front to end extreme February warmth across Tennessee northeast into the middle Atlantic area, but midafternoon readings across the Southeast on this Friday were still near record values:
Also, frigid temperatures from the Pacific Northwest onto the northern Plains were near record values this morning where some records were reported. I'll have some of these warm and cold record reports posted in their usual place below the following Washington Post article, which sums up how extreme yesterday was in comparison with typical February weather:
Hundreds of Eastern warm records and Western cold records set this week – The Washington Post
Hundreds of Eastern warm records and Western cold records set this week
February 24, 2023
Record high temperatures in the Southeast and Mid-Atlantic on Wednesday and Thursday. (Ian Livingston/The Washington Post)
Hundreds of warm and cold records have fallen this week as a volatile weather pattern overtook the Lower 48.
The Eastern United States is finishing up what has been a wintertime heat wave for the ages. In addition to the slew of daily records for warm highs and warm lows — temperatures more like late spring than February — a number of monthly and wintertime warmth values were also exceeded.
In the West, there have been comparatively few all-time cold marks reached, but still a whole lot of cold high-temperature and daily low-temperature records, nonetheless.
Eastern heat
Sometimes it feels hyperbolic to say there are too many records to count, but in this case it's quite true when it comes to the wacky winter warmth in the East.
Climate expert Maximiliano Herrera called it the "harshest winter heat wave in history" for the region.
These are some of the monthly — or monthly and seasonal — records established:
Thursday afternoon temperatures in the East on Thursday. (weatherbell.com)
In Texas, a daily record of 98 degrees in McAllen wasn't even the highest temperature of the heat wave. It reached 102 degrees in Falcon Lake. That's one of the hottest temperatures on record in the Lower 48 so early in the year and the hottest reading for the country so far in 2023.
Among hundreds of daily records for warm minimum temperatures, several locations also set monthly or seasonal records for that metric. For instance, in addition to its all-time monthly high, Atlanta picked up its warmest February low.
Cold records
While the number and intensity of warmth records have outpaced the record cold in the West, there was still plenty of serious cold to deal with.
Lyman, in the southwest reaches of Wyoming, dipped to minus-35 for the coldest reading of the outbreak. It bookended a gradient from high to low of 137 degrees across the contiguous United States on Thursday.
Low temperatures Thursday morning. (National Weather Service)
Much of the coldest weather of the event was centered in and around the High Plains and northern Rockies, but the West Coast also saw some unusual morning chill.
Many more record low maximums were set, especially on the West Coast, where a cold storm system has been taunting the region. More cold records are expected here through the weekend. Below, some from Thursday.
As the center of a very chilly storm system passes over Southern California through the weekend, blizzard warnings are in effect for the Southern California mountains, where up to 7 or 8 feet of snow is expected along with wind chills below zero. To the north, cold air is feeding in from places like Seattle and recently snowy Portland, and readings are likely to flirt with record lows in the mid-20s to upper teens Friday night.
Some of the low maximum records Thursday in Southern California, via NWS San Diego. (National Weather Service)
Persistent pattern
Most long-term climate locations near and east of the Appalachians are in the midst of a top-five warmest winter on record. Outside some brief and frigid exceptions, warmth has parked in the East this winter as storminess and cold favor the West.
This general pattern should continue for at least another week or two. There's less certainty beyond that, but it seems more likely that colder air relative to normal could take over much of the country for a time.
A daily risk for at least a handful of cold and warm records is set to persist for the next week and perhaps beyond. For now, the focus of that is on the immediate West Coast to the Southeast and Florida.
The pattern forecast for the first week of March still looks fairly similar to what has been common of late. (weatherbell.com)
By Ian Livingston Ian Livingston is a forecaster/photographer and information lead for the Capital Weather Gang. By day, Ian is a defense and national security researcher at a D.C. think tank. Twitter
Much more:
Here are more "ET's" recorded from around the planet the last couple of days, their consequences, and some extreme temperature outlooks, as well as any extreme precipitation reports (These were too numerous from 2/23-24/2022 to post all, so only reports from major cities are reported here.):
Here is more climate and weather news from Friday:
(As usual, this will be a fluid post in which more information gets added during the day as it crosses my radar, crediting all who have put it on-line. Items will be archived on this site for posterity. In most instances click on the pictures of each tweet to see each article. The most noteworthy items will be listed first.)
If you like these posts and my work please contribute via the PayPal widget, which has recently been added to this site. Thanks in advance for any support.)
Guy Walton… "The Climate Guy"