The main purpose of this ongoing blog will be to track planetary extreme, or record temperatures related to climate change. Any reports I see of ETs will be listed below the main topic of the day. I'll refer to extreme or record temperatures as ETs (not extraterrestrials).😉
Main Topic: California Flooding Linked to Record Polar Warmth
Dear Diary. Over my 40-year career as a meteorologist I've come to understand that all weather events are linked. After all, the atmosphere is a gaseous fluid, so what starts across one area of the planet has ramifications at another on the opposite side of the globe. In the California case we are concentrating on today, extreme warmth around the North Pole is forcing atmospheric rivers into California. Let's link these events:
In the following Pivotal Weather 500 millibar chart we see yet another very convoluted pattern that I along with many others would contend has a climate change signature written all over it:
Anomalous war bubbles from Alaska into Greenland are forcing cold pockets to the south, in this case lining them up in the Pacific such that we have been seeing a series of pineapple express events moving through waterlogged California.
Taking an excerpt from Dr. Daniel Swain's (Weather West) latest post:
"The Pacific weather setup causing all this chaos is a pretty classic one from a Pineapple Express perspective: a strong ridge of high pressure in the Gulf of Alaska is being "undercut" by a strengthening subtropical jet stream–allowing subtropical moisture from near Hawaii to "phase" with moderately strong but colder low-pressure systems diving southward on the east side of the GOA ridge. This puts California squarely in the path of warm ARs that form over the Northeastern Pacific."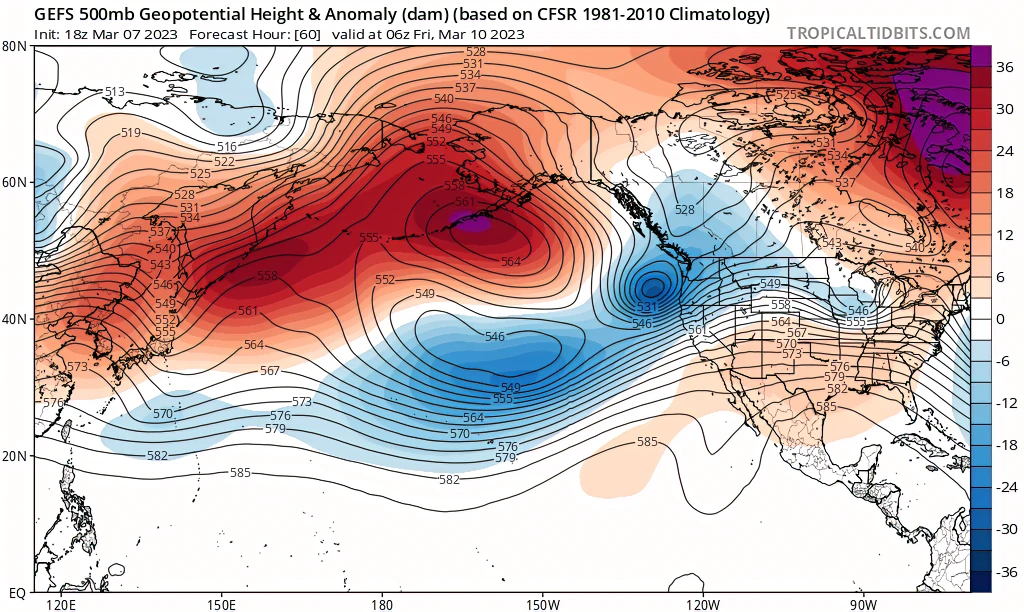 Snapshot from the GFS ensemble depicting the current "ridge undercutting" pattern whereby a strengthening subtropical jet forms to the south of a strong Gulf of Alaska ridge and brings warm/wet storms to California.
Now, California has seen these Pineapple Express patterns for centuries. The only thing I am arguing is that this year's extreme setup would not have happened without climate change (or extreme warmth around the poles). This might be one reason why we are seeing California flooding during a La Niña year. I contend that without the polar warmth the jet pattern would have been further north, probably impacting the Pacific Northwest as usually happens during La Niña winters, leaving California dry.
Here are more linked wet California news items:
Here are some "ET's" recorded from around the planet the last couple of days, their consequences, and some extreme temperature outlooks, as well as any extreme precipitation reports:
Here is some more new February 2023 climatology:
Here is more climate and weather news from Saturday:
(As usual, this will be a fluid post in which more information gets added during the day as it crosses my radar, crediting all who have put it on-line. Items will be archived on this site for posterity. In most instances click on the pictures of each tweet to see each article. The most noteworthy items will be listed first.)
If you like these posts and my work please contribute via the PayPal widget, which has recently been added to this site. Thanks in advance for any support.)
Guy Walton… "The Climate Guy"