The main purpose of this ongoing blog will be to track global extreme or record temperatures related to climate change. Any reports I see of ETs will be listed below the main topic of the day. I'll refer to extreme or record temperatures as ETs (not extraterrestrials).😉
Main Topic: Near Record Warmth Will Exacerbate a Bad Tornadic Weather Pattern Going into April
Dear Diary. I fear that we are stuck in an awful weather pattern in which cold pockets aloft will eject from the West and interact with near record warmth building across the South. This process will produce tornadic storms every few days across the South and southern portions of the Plains and Midwest. We just saw a deadly EF4 tornado hit Rolling Fork Mississippi Friday night. Unfortunately, more wedge type tornadoes will be possible going into the mid part of spring.
The next big tornado outbreak is forecast on Friday of this week: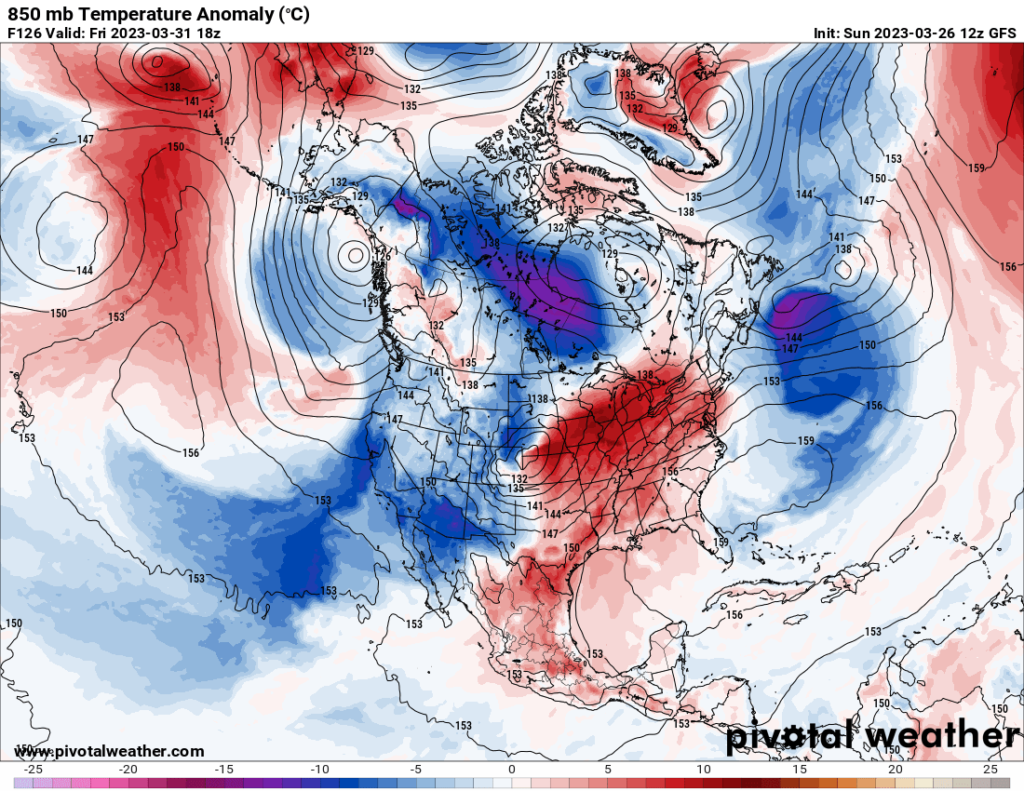 On the above three Pivotal Weather charts we see a classic setup for a severe weather outbreak. Notice the cold blue negatively tilt trough moving out into the Plains from the Rockies. This will be interacting with near record warmth brought to us by climate change building across the South. This weather pattern will repeat the following week: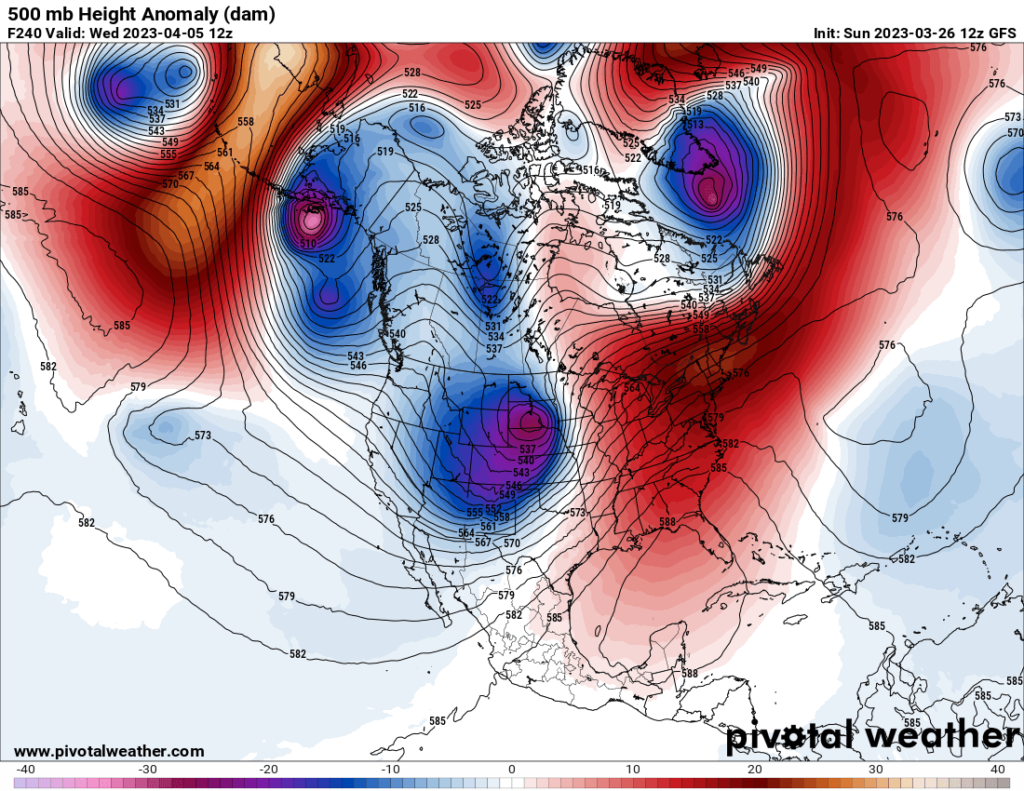 Notice the persistence of cold systems dropping southeastward from the Gulf of Alaska reinforcing an overall cold pattern in the West. This is not good at all. I do fear that we could see a very high number of tornadoes this spring due to the persistence of this weather pattern, some being quite destructive like the Rolling Rock twister.
Speaking of Rolling Rock, here is an analysis from the Washington Post on that tragic tornado:
How Mississippi's tornadoes unfolded and why they were so deadly – The Washington Post
How Mississippi's tornadoes unfolded Friday night and why they were so deadly
Updated March 26, 2023|Published March 25, 2023
https://www.washingtonpost.com/weather/2023/03/25/mississippi-tornadoes-path-what-happened/#:~:text=a.m.%20EDT-,Biden,-approves%20aid%20after
lick the above link to watch President Biden approve a major disaster declaration for Mississippi after devastating tornadoes swept through the state and neighboring Alabama on March 24. (Video: Josh Beckemeyer, Naomi Schanen/The Washington Post, Photo: Jahi Chikwendiu/The Washington Post)
At least 25 people are dead in Mississippi and one in Alabama following a terrifying Friday night in which large, destructive tornadoes tore across the state.
The violent twisters formed amid a severe weather outbreak that unleashed damage from Louisiana to North Carolina. They were fueled by record-setting heat and energized by howling jet stream winds.
The twisters formed from the same destructive storm system that barged into California's Bay Area on Tuesday and produced deadly flooding in both the Desert Southwest and the nation's midsection.
The twisters' terrible toll can be linked to their utter ferocity, the vulnerability of the region they struck and for sweeping through at night, when it was difficult to see them coming.
How the tornadoes were unleashed
The rotating thunderstorm or supercell that spawned the deadly tornadoes swept across the entirety of Mississippi and continued through northern Alabama — an exceptionally long path for a single storm. Supercells contain rotating updrafts fueled by warm, unstable air near the ground and are twisted by changing winds with altitude.
The National Weather Service in Jackson, Miss., first issued a tornado warning for the storm as it was exiting Louisiana and entering Mississippi around 7:40 p.m.
At 7:58 p.m., the agency cautioned that "a large and extremely dangerous tornado" was seven miles west of Rolling Fork, a town of about 2,000 people about 60 miles northwest of Jackson. By 8:03 p.m., the storm arrived. "This is a PARTICULARLY DANGEROUS SITUATION. TAKE COVER NOW!" the National Weather Service warned. Rolling Fork was among one of several towns that were especially hard hit.
Reported tornados across Mississippi and Alabama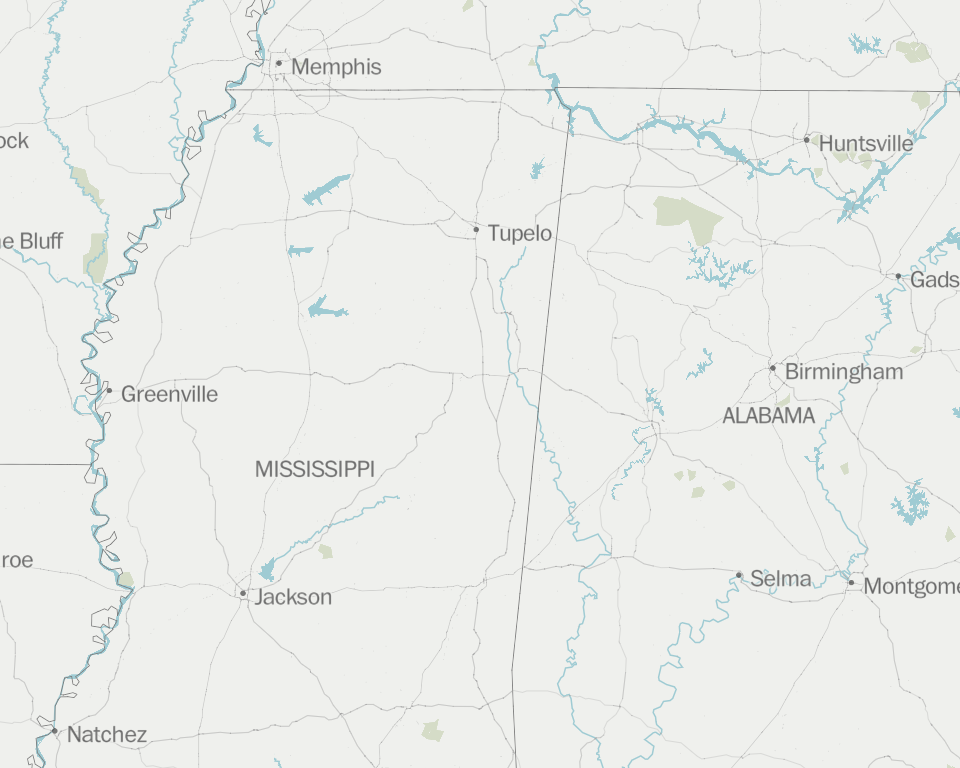 The wedge-shaped funnel was probably on the ground for the next 90 minutes, covering 80 miles as it barreled across west-central Mississippi at high speeds. The Weather Service was compelled to declare multiple tornado emergencies, the most dire alert for twisters, as it carved a path through Anguilla, Louise, Midnight, Silver City, Tchula and Winona — all small towns or communities less than 90 miles northwest and north of Jackson.
Along this path, the tornado lofted debris 30,000 feet high, said Samuel Emmerson, a member of the radar research group at the University of Oklahoma, describing it on Twitter as an "extremely high-caliber" tornado.
Shortly after passing Winona, around 9:32 p.m., the tornado may have weakened or lifted for a time as the storm raced across northeast Mississippi.
However, it appeared to re-form and strengthen around 10:50 p.m., when the Weather Service office in Memphis declared yet another tornado emergency for the town of Amory, Miss., and nearby Smithville, about 150 miles northeast of Jackson, near the border with Alabama.
When radar displayed an unmistakable signature of debris immediately west of Amory, confirmation of the destructive twister, broadcast meteorologist Matt Laubhan for television station WTVA could not contain his emotion.
"Dear Jesus, please help them," he pleaded.
The storm crossed into northwest Alabama shortly after 11 p.m. and continued producing tornadoes until it reached the northeast part of the state around 12:45 a.m.
The Weather Service received at least 10 reports of tornadoes in northern Alabama from this storm. Around Hartselle, which is about 30 miles southwest of Huntsville, one man was killed and the agency logged reports of damage to homes, people trapped and a tractor-trailer overturned.
Severe storm affected 8 southern states and it's not over
The storm that swept across Mississippi and northern Alabama was one of many that raged through the South on Friday into Saturday.
The Weather Service logged more than 170 reports of severe weather from Louisiana to western North Carolina, including more than 80 instances of violent straight line winds that toppled trees and power lines and damaged homes. Tens of thousands lost power.
The Weather Service reported one person was injured near Nashville when a tree fell on a house.
Severe storms continued to scatter around both the Southeast and the Ohio Valley on Saturday, producing more than 100 reports of damaging winds and large hail. A tornado was reported in southeast Alabama — producing areas of damage.
As the storm front stalls across the South on Sunday, the risk of severe weather is predicted to increase again between Louisiana and Georgia. "A few strong tornadoes and very large hail should accompany the most intense storms, particularly from central Louisiana across central to southern portions of Mississippi and Alabama," the National Weather Storm Prediction Center wrote. A pair of damaging tornadoes touched down in Georgia on Sunday morning.
Strong tornadoes, damaging hail could hit Mississippi and the South again Sunday
A deadly legacy
The larger storm system that spawned Friday's tornadoes has a lethal history. When it slammed into California on Tuesday, at least five people were killed by trees toppled by winds up to 80 mph in the Bay Area. The same storm spawned the strongest tornado to hit the Los Angeles metro area since 1983.
As the storm exited California on its way toward the central states, it triggered severe flooding in central Arizona, where at least three people died after their vehicles were swept away by floodwaters, the Associated Press reported.
The storm unloaded more heavy rain that spurred flooding over an extensive swath of the central and eastern United States — stretching from eastern Oklahoma into northern West Virginia. The AP reported a car was swept away by floodwaters in southwest Missouri, killing two passengers.
What caused the storm
When it first hit California, the storm was a powerhouse, intensifying rapidly as it made landfall in the Bay Area, meeting the meteorological criteria for a "bomb cyclone" because of its rapid drop in pressure. The lower the pressure, the stronger the storm.
Sweeping across the country, the storm has been energized by the roaring high altitude winds of the jet stream — powered by the strong temperature contrasts of early spring.
Ahead of the storm, temperatures soared, setting numerous records across the South and Southeast, rising into the 80s. Tupelo, Miss., tied a record high of 85 degrees Friday.
This warm and humid air helped provide the fuel for Friday's storms. Abnormally high sea surface temperatures over the Gulf of Mexico, drawn northward ahead of the storm, intensified this warm, moist air mass.
The Gulf of Mexico is very warm. That could mean a bad tornado season.
As the warm winds from the south fueled the storms at ground level, the westerly winds of the jet stream were crashing south, generating extreme amounts of wind shear. This shear — or changing wind direction with altitude — created the spin in the atmosphere necessary for the violent tornadoes.
The links between human-caused climate change and tornadoes are complex, but researchers agree higher temperatures provide more energy for storms — especially in winter and early spring when warmth is ordinarily limited.
Why the tornadoes were so deadly
In a preliminary assessment of the tornado that struck Rolling Fork and Silver City, the Weather Service reported it produced EF4 damage on the 0-to-5 Enhanced Fujita intensity scale, meaning it had winds of at least 166 mph. Tornadoes this strong are difficult to survive unless in a very well-built building or underground.
The Southeast has a disproportionate number of mobile homes, which cannot withstand strong tornadoes, compared with other parts of the country, which makes it particularly vulnerable.
"[T]he Southeast's mobile home residents are one of the most socioeconomically and demographically marginalized populations in the United States and are more susceptible to tornado impact and death," tornado researchers Stephen M. Strader and Walker S. Ashley wrote in a 2018 study.
The tornadoes were also particularly dangerous because they occurred at night. When it's dark, the visual cues that sometimes prompt people to take action are absent, and some are asleep. A 2022 study by Strader, Ashley and others found nighttime tornadoes are nearly twice as deadly as daytime events.
Deadly tornadoes outbreak in Mississippi and Alabama
The latest: Damaging hail and strong tornadoes could hit Mississippi again on Sunday. On Friday night, devastating tornadoes in Mississippi and Alabama left behind utter destruction and killed at least 26 people. Photos of damage in Mississippi show areas reduced to piles of wreckage. Follow our live updates.
Why were Mississippi's tornadoes so deadly? The twisters' terrible toll can be linked to their utter ferocity, the vulnerability of the region they struck and that they swept through at night. The rural areas of Rolling Fork and Silver City were some of the hardest-hit towns.
Are there any relief efforts? As Mississippi Gov. Tate Reeves (R) issued a state of emergency, local and national responses have begun assembling in what's expected to be a long recovery effort. Here's how to help those impacted by the tornadoes.
By Jason Samenow Jason Samenow is The Washington Post's weather editor and Capital Weather Gang's chief meteorologist. He earned a master's degree in atmospheric science and spent 10 years as a climate change science analyst for the U.S. government. He holds the Digital Seal of Approval from the National Weather Association. Twitter
Much More:
Here are some "ET's" recorded from around the planet the last couple of days, their consequences, and some extreme temperature outlooks, as well as any extreme precipitation reports:
Here is more climate and weather news from Sunday.
(As usual, this will be a fluid post in which more information gets added during the day as it crosses my radar, crediting all who have put it on-line. Items will be archived on this site for posterity. In most instances click on the pictures of each tweet to see each article. The most noteworthy items will be listed first.)
If you like these posts and my work please contribute via the PayPal widget, which has recently been added to this site. Thanks in advance for any support.)
Guy Walton… "The Climate Guy"