The main purpose of this ongoing blog will be to track planetary extreme, or record temperatures related to climate change. Any reports I see of ETs will be listed below the main topic of the day. I'll refer to extreme or record temperatures as ETs (not extraterrestrials).😉
Main Topic: Louisiana Is Burning While Idalia Is Churning
Dear Diary. My heart aches today for the southern U.S. where I live. First, a horrendous hurricane named Idalia is raking the Southeast with high winds, storm surge, and heavy rain as I write this post. Second, a dangerous, life-threatening heatwave that I dubbed Conoco abated earlier this week across the Gulf Coast states but left Louisiana so dry and hot that destructive wildfires broke out in many areas.
Today I will highlight those fires since many a news outlet has been covering Idalia. Of course, I will be linking news and notes about Hurricane Idalia after the following Washington Post article describing what folks have been dealing with across Louisiana. Yes, we are just beginning to live through the dire consequences of climate change, and this is only the beginning of what people will be dealing with for the rest of the 21st century and beyond as global warming produces extremes of temperature, flooding rains produced by gargantuan storms, and yes more wildfires:
Louisiana sees 'unprecedented' wildfires amid record heat, drought – The Washington Post
Louisiana sees 'unprecedented' wildfires amid record heat, drought
The state's largest wildfire on record has burned over 33,000 acres and is just 50 percent contained
August 29, 2023 at 6:00 a.m. EDT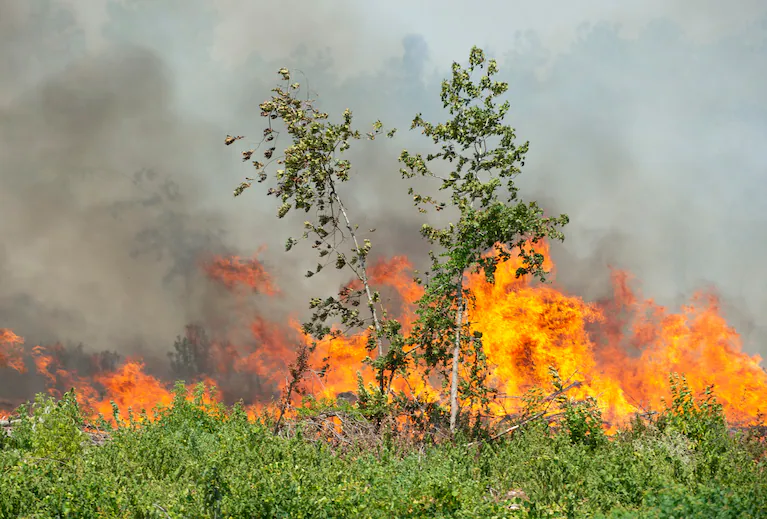 Fires burn along Highway 27 in Beauregard Parish, La., on Thursday. (Brad Bowie/The Times-Picayune/The New Orleans Advocate/AP )
More than 450 fires have scorched parts of Louisiana amid weeks of record-breaking heat and severe drought conditions. The Tiger Island Fire, the largest wildfire in the state's history, tore through Beauregard Parish in the southwestern part of the state and grew from an estimated 15,000 acres to over 33,000 acres between Friday and Sunday, according to local news reports. The fire is currently only 50 percent contained.
The Louisiana blazes have been blamed for two deaths.
The area burned in Beauregard Parish, both from the Tiger Island Fire and the Longville Fire, has now surpassed 50,000 acres. As the Tiger Island Fire raged Thursday, all 1,200 residents of Merryville in Beauregard Parish were forced to evacuate their homes. The fires ravaged an estimated 20 structures.
The Tiger Island Fire's latest burn
Fires detected in past 24 hours
Area burned in the past 24 hours
Areas burned this year
City boundaries
Note: Fire data of Wednesday, 1 p.m. ET. Sources: NASA (hot spots), NIFC (perimeters), OpenStreetMap, Maxar (imagery) Aditya Jain and Dylan Moriarty/THE WASHINGTON POST
"Wildfires this many and of this intensity are unprecedented," Mike Strain, commissioner of the Louisiana Agriculture and Forestry Department, told The Washington Post. Louisiana, one of the wettest states in the country, averages 771 wildfires a year, according to 10-year average data from the department. The state has averaged 21 wildfires per day over the past several weeks, Strain said.
Temperatures over the weekend broke all-time records in multiple areas across the state. New Orleans International Airport soared to 105 degrees Sunday, its highest temperature ever observed. Also on Sunday, the Agriculture and Forestry Department recorded 14 wildfires in less than 10 minutes because of lightning strikes.
As fires have burned to the north and west of New Orleans, smoke plumes have entered the city at times, reducing air quality. The smoke cast a haze over the city Sunday and into Monday but was expected to disperse some because of winds and the chance of rain showers.
"The fields are just so dry, so the grass is really dry and the bushes are really dry. Everything ignites a lot easier when we're in this kind of drought," said Danielle Manning, lead meteorologist at the National Weather Service forecast office in New Orleans.
Manning said that this summer is the hottest on record for the southern part of the state and that Baton Rouge is on track to exceed its three-month average temperature for the summer by nearly 3 degrees.
Nearly 77 percent of the state is experiencing severe drought conditions, which are affecting 4.2 million residents, according to the U.S. Drought Monitor. Beauregard Parish and the surrounding area, which borders Texas, is experiencing exceptional drought conditions — the most extreme category.
Gulf Coast temperatures surge to highest levels ever observed
"Our state has never been this hot and dry and we have never had this many fires," Louisiana Gov. John Bel Edwards (D) wrote on Twitter.
An elderly woman died Sunday after a debris pile caused a brush fire that spread to a shed in St. Tammany Parish, which is just north of New Orleans, the Louisiana Office of State Fire Marshal confirmed. A statewide burn ban has been in effect since Aug. 7 because of the increased fire danger.
Earlier this month, a man died in Franklinton, which is in Washington Parish, to the north of St. Tammany Parish, the Office of State Fire Marshal said, after his home and surrounding property caught on fire.
Wildfire smoke's effect on air quality and your health
(Getty Images/Nova Scotia Government)
Wildfire smoke can travel great distances, with particulates small enough to enter the bloodstream through your lungs if inhaled. If you are in an area affected by smoke, limit your outdoor activities, especially during exercise, and wear a good mask outside that can filter fine particles. Here is how to protect yourself from wildfire smoke.
Predicted scattered storms, featuring cloud-to-ground lightning and strong winds, could result in explosive fire growth and rapid and unexpected changes in the direction of fire spread in the upcoming days, according to the National Weather Service.
While Edwards shared that he is praying for rain to dampen the fires, it doesn't appear that the projected showers in the region will be enough. "While the showers moving through parts of our state are welcomed, they'll do little to impact the severe drought conditions" he said on social media.
The bulk of the predicated rainfall is expected to cross the southeastern part of the state — while most of the more severe wildfires are burning in the west. Manning estimates that about two inches of rain would go a long way toward reducing the wildfire threat, but said much more rain is needed to put a serious dent in drought conditions. Parts of Louisiana have a rainfall deficit of 15 to 20 inches, she said.
"It would take a lot more rain to see drought relief and to put at least a temporary relief to some of the fire activity," Manning said.
Winds from the backside of Idalia — a tropical cyclone that was expected to become hurricane — could fuel the fires midweek as relative humidity dips and the storm could send drier, northerly winds across the area. Little or no rain is expected from the storm.
"We are in this fight for the long haul," Strain said. "We expect this fight to continue until we get significant rainfall."
By Amudalat Ajasa Amudalat Ajasa covers extreme weather news for The Washington Post and writes about how extreme weather and climate change are affecting communities in the United States and abroad. Twitter
Here are more notes on Idalia and the tropics, which I'll be adding to as Wednesday rolls along (Newest items are listed first.):
Here are some "ET's" recorded from around the planet the last couple of days, their consequences, and some extreme temperature outlooks, as well as any extreme precipitation reports:
Here is more climate and weather news from Wednesday:
(As usual, this will be a fluid post in which more information gets added during the day as it crosses my radar, crediting all who have put it on-line. Items will be archived on this site for posterity. In most instances click on the pictures of each tweet to see each article. The most noteworthy items will be listed first.)
Today's News on Sustainable and Traditional Polluting Energy from Fossil Fuel:
More on the Environment:
More from the Weather Department:
More on other science and the beauty of Earth and this universe:
If you like these posts and my work on record temperature ratios, please contribute via my PayPal widget on this site. Thanks in advance for any support.
Guy Walton… "The Climate Guy"