The main purpose of this ongoing blog will be to track planetary extreme, or record temperatures related to climate change. Any reports I see of ETs will be listed below the main topic of the day. I'll refer to record temperatures as ETs (not extraterrestrials).😉
Main Topic: Much Needed Massive March Against Fossil Fuels in NYC
Dear Diary. I love "good trouble" being from Representative John Lewis and Dr. Martin Luther King's hometown of Atlanta. Massive peaceful protests are the best way to indicate to those in charge that laws or other societal structures need to be changed for the better. No politician will go against the will of people marching if they want to stay in power, unless they are totally corrupt and/or are a true racist. Being in a protest for change is almost a rite of passage and can be a lot of good trouble for youth who want to get out the message to older generations that rules and methods for living can be improved.
In this day and age of climate change, good trouble protests are really the only tool across the planet to get more rapid change, something desperately needed before our carbon budget runs out around the year 2030 in order to prevent average planetary temperatures from soaring above +2.0°C above preindustrial conditions. It did nor heart some good to see messages conveyed from signs and chants from Sunday in association with massive, planned climate protests in New York City.
Here are more details from the Guardian:
Tens of thousands in NYC march against fossil fuels as AOC hails powerful message | Climate crisis | The Guardian
Tens of thousands in NYC march against fossil fuels as AOC hails powerful message
Alexandria Ocasio-Cortez said the crowd must become 'too big and too radical to ignore' as Biden came under fire for oil projects
Alexandria Ocasio-Cortez speaks at the rally at the finish of the march to end fossil fuels in New York on Sunday. Photograph: Bryan Woolston/AP
Tens of thousands in NYC march against fossil fuels as AOC hails powerful message
Dharna Noor and Aliya Uteuova in New York
Sun 17 Sep 2023
Tens of thousands of climate activists took to the streets of New York City on Sunday in a "march to end fossil fuels", with Congresswoman Alexandria Ocasio-Cortez telling the crowd that the movement must become "too big and too radical to ignore".
To cheers from the crowd, the progressive Democrat criticized the US continuing to approve fossil fuel projects, something which the Biden administration did earlier this year with the controversial Willow project in Alaska.
"We are all here for one reason: to end fossil fuels around the planet," Ocasio-Cortez told a rally at the finish of the march, which ended close to the UN headquarters where world leaders will gather this week. "And the way we create urgency is to have people around the world in the streets."
She said: "The United States continues to be approving a record number of fossil fuel leases and we must send a message, right here today," adding that despite record profits the support for the fossil fuel industry was "starting to buckle and crack".
Climate action requires a democratic restructuring of the economy, she said. "What we're not gonna do is go from oil barons to solar barons."
Organizers estimated that between 50,000 and 75,000 people attended the march in Manhattan and had anticipated it would be the biggest climate march in the US in the past five years. The NYPD said it did not comment on crowd numbers.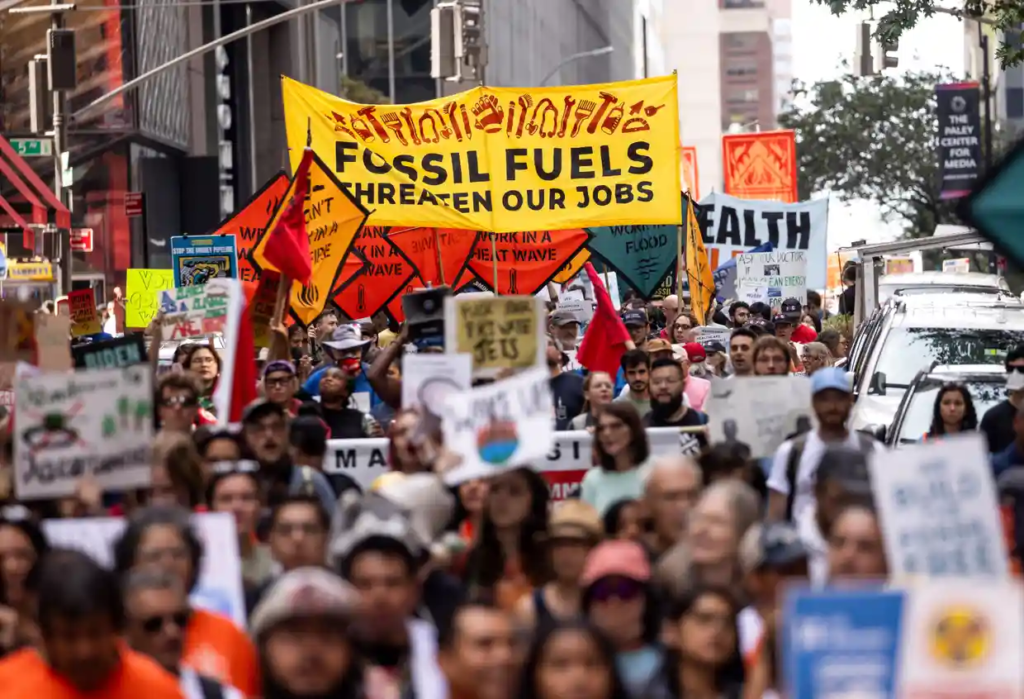 People march to end fossil fuels in New York City on 17 September 2023. Photograph: Justin Lane/EPA
"This is an incredible moment," said Jean Su of the Center for Biological Diversity, who helped organize the mobilization. "Tens of thousands of people are marching in the streets of New York because they want climate action, and they understand Biden's expansion of fossil fuels is squandering our last chance to avoid climate catastrophe."
She said the action was the largest climate protest in the US since the start of the pandemic.
"This also shows the tremendous grit and fight of the people, especially youth and communities living at the frontlines of fossil fuel violence, to fight back and demand change for the future they have every right to lead," she said.
The march came as world leaders gather for this week's UN general assembly, and a UN climate ambition summit on Wednesday, which the UN secretary general, António Guterres, has described as a "no nonsense" conference meant to highlight new climate commitments.
On Friday, the national security adviser, Jake Sullivan, said Biden was not currently scheduled to take part in Wednesday's UN climate summit. Biden has been praised by climate activists for last year passing a historic $369bn climate law but criticized for allowing oil drilling projects and the expansion of gas facilities in the Gulf of Mexico.
A decision for Biden to stay away from the UN climate ambition summit is "unacceptable", said Su of the Center for Biological Diversity. "The time is now for Biden to lead on the world stage, and show he means it when he calls climate change the existential threat to humanity."
During the march, the Rev Lennox Yearwood, head of the Hip Hop Caucus, likened today's climate movement to the US fight for racial justice. "We're at our lunch counter moment for the 21st century," he said. A native of Louisiana, he said he was excited to see demonstrators support environmental justice activists' fight to end petrochemical buildout in the south-west US. "We need to end fossil fuels in all forms," he said.
Indigenous leaders gathered to defend the climate. Photograph: Anadolu Agency/Getty Images
Youth climate activist Vanessa Nakate, from Uganda, said: "When we say that we want climate justice, we're not just talking about transitioning to solar panels. We are talking about leaving no one behind when you're talking about addressing the injustices that come with the climate crisis.
The actor and climate activist Susan Sarandon opened her speech by congratulating the students of New York University on the news of their university divesting from fossil fuels after years of pressure, as the Guardian first reported last week. Addressing the crowd, she said, "You guys give me hope," adding: "What we have to do is take responsibility and press those that are at the top to finally step up."
The veteran environmental activist Bill McKibben travelled to New York City to attend the march.
"I think it's a real restart moment after the pandemic for the big in-the-streets climate movement," he said. "It's good to see people get back out there."
The crowd, he said, reflected the diversity of New York City. "I'm glad to see there's a lot of old people like me here," said McKibben, who founded Third Act, an activist group aimed at elders. "We'll be marching in the back because we're slow!"
More than 650 global climate actions took place earlier this week; earlier on Sunday activists sprayed orange paint on to the Brandenburg Gate in Berlin, Germany.
Youth-led organizations, including Greta Thunberg's Fridays for Future, played leading roles in organizing the mobilizations.
Additional climate protests will be held throughout the following week, including at New York City's Zuccotti Park on Monday morning.
Here is more climate and weather news from Monday:
(As usual, this will be a fluid post in which more information gets added during the day as it crosses my radar, crediting all who have put it on-line. Items will be archived on this site for posterity. In most instances click on the pictures of each tweet to see each article. The most noteworthy items will be listed first.)
*Due to technical difficulties, there are no other added items to today's post.*
If you like these posts and my work on record temperature ratios, please contribute via my PayPal widget on this site. Thanks in advance for any support.
Guy Walton… "The Climate Guy"