The main purpose of this ongoing blog will be to track planetary extreme, or record temperatures related to climate change. Any reports I see of ETs will be listed below the main topic of the day. I'll refer to extreme or record temperatures as ETs (not extraterrestrials).😉
Main Topic: Hot Seas Probably Played a Big Role in the Intensification of Otis.
Dear Diary. Before Otis fades into history, we need to emphasize how much climate change played a part in its deadly role. As far as the Western Hemisphere goes, Otis was the deadliest and most destructive climate crisis event of this fall so far. Yesterday we indicated how a record warm Mexico influenced waters that fueled Otis to the tune of being a 165 mph CAT5 hurricane before landfall. Today I'm, doubling down on this claim since I'm seeing others coming to the same conclusion.
Hurricane #Otis rapidly intensified from a tropical storm to a Category 5 hurricane in under 12 hours.

At least 27 are now confirmed dead in Mexico. pic.twitter.com/cmGILwubOf

— The Weather Channel (@weatherchannel) October 26, 2023
Let me repeat this…#Otis
🧵 https://t.co/twtuvlWLr8

— Prof Michael E. Mann (@MichaelEMann) October 26, 2023
Here are water temperature anomalies worldwide: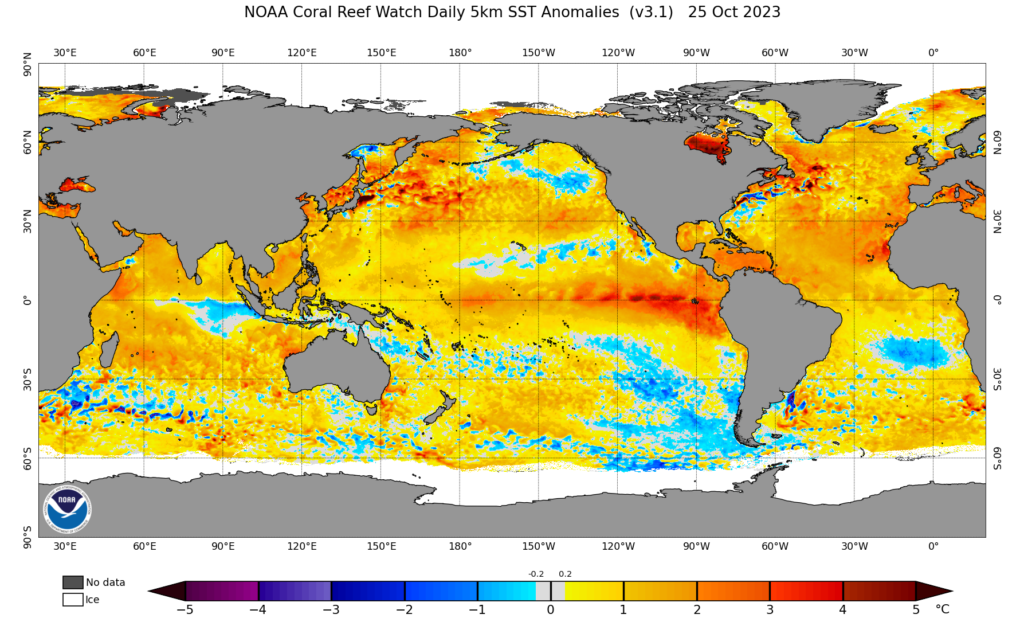 Notice that Mexico is surrounded by some of the most anomalous warm water on the planet. As an aside, notice the two small blue colder than average areas west of Mexico. This is where Otis and Hurricane Norma that interacted with the Baja Peninsula produced upwelling in their wake, bringing cold water to the Pacific Ocean's surface.
From October 9 to October 25, western Mexico has been hit by FOUR consecutive eastern North Pacific tropical cyclones. 😔

Three were hurricanes at landfall [note: Norma was rapidly weakening].

Lidia and Otis were major hurricanes that rapidly intensified on approach to land. pic.twitter.com/0H7REJ1E9F

— Dr. Kim Wood (@DrKimWood) October 26, 2023
Here is more from the Washington Post:
How hot seas may have fueled Hurricane Otis' sudden intensification…

Writeup by @ssdance: https://t.co/Zbd6WzS00Z pic.twitter.com/DielOc41yv

— Capital Weather Gang (@capitalweather) October 26, 2023
How global warming led to Hurricane Otis' intensification – The Washington Post
How hot seas may have fueled Hurricane Otis's sudden intensification
By Scott Dance
October 26, 2023 at 11:44 a.m. EDT
A street is strewn with debris after Hurricane Otis ripped through Acapulco, Mexico on Wednesday. (Marco Ugarte/AP)
Off-the-charts warmth in the world's oceans, so widespread and so far beyond anything ever observed, has stunned climate scientists and meteorologists for months. It set the stage for deadly floods and put Earth on track for a record-warm year.
Hurricane Otis stunned scientists anew. It intensified more quickly than any tropical cyclone ever observed in the eastern Pacific as it passed through 88-degree surface waters. The 165 mph winds it whipped into Acapulco were stronger than anything Mexico's west coast is known to have endured from a tropical cyclone.
Again, a surge of ocean warmth likely provided extra fuel for a storm that probably would have hit anyway, but might not have transformed so dramatically — and so quickly that it gave communities little time to prepare.
"It was a bit of an extra boost," said Colorado State University hurricane researcher Philip Klotzbach. "When you have waters that are this hot, it does load the dice for rapid intensification."
Specifically, warm waters well beneath the surface of Otis's path may have cleared the way for its development, scientists added. Cooler water at depths of 150 feet often inhibits tropical cyclones, as they churn it to the surface.
People walk along a road washed away near Acapulco after the passage of Hurricane Otis on Wednesday. (Rodrigo Oropeza/AFP/Getty Images)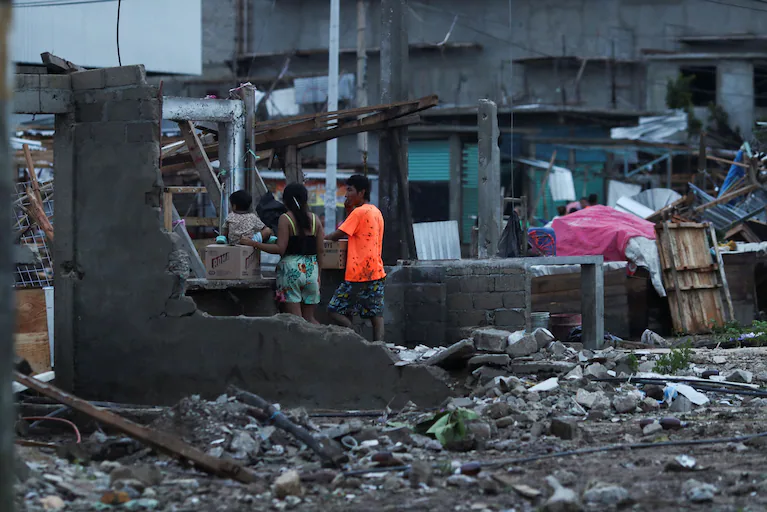 People stand near street stalls damaged by Hurricane Otis near the entrance to Acapulco on Wednesday. (Henry Romero/Reuters)
But ahead of Otis, "It wasn't just warm at the surface," said Karthik Balaguru, a climate and data scientist at the Pacific Northwest National Laboratory. "You had high ocean heat content. Those are definitely favorable conditions for rapid intensification."
Meteorologists define rapid intensification as a 35 mph increase in a tropical cyclone's maximum sustained winds within 24 hours. Compared to a string of storms that rapidly intensified before striking the United States in recent years, Otis was almost in another category — its wind speeds increased by 110 mph within 24 hours.
That intensification occurred as Otis moved northward toward southern Mexico in waters with surface temperatures around 88 degrees.
That is only slightly above normal in that part of the eastern Pacific, while the development of a strong El Niño climate pattern means surface waters farther south, along the equator, are more anomalously warm. But it is still "super hot," Klotzbach said, and plenty warm to fuel rapid intensification.
A growing body of research has linked warming oceans with an increasing likelihood of rapid intensification. A study published in 2017 modeled that rapid intensification would become more frequent and severe as the planet warms.
More recent research suggests that is indeed happening, at least with the most extreme storms.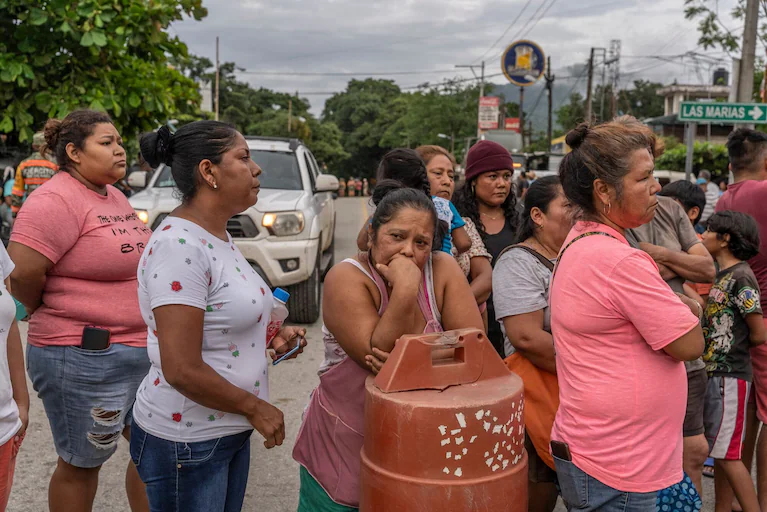 Residents wait for aid in the aftermath of Hurricane Otis in the Mexican state of Guerrero on Thursday. (Alejandro Cegarra/Bloomberg News)
A 2018 study found that, among storms that strengthened most quickly, their rates of intensification increased by about 4 mph per decade from 1986 to 2015. Research published last year found that "extreme rapid intensification" of tropical cyclones is occurring more frequently. Researchers looked at storms that increased by 50 knots, or 57 mph, within a 24-hour period.
And in a study published last week, researchers said they found intensification has become more likely and is occurring more rapidly in the Atlantic basin.
The lead author of the most recent findings said Wednesday that while they do not apply directly to Otis and the Pacific basin, it is clear that warmer waters are conducive to faster-forming and faster-intensifying storms anywhere. In a hotter world, such overnight storm transformations are exactly what scientists have learned will be possible, said Andra Garner, an assistant professor at Rowan University in New Jersey.
"Actually seeing it happen like we did with Otis is a different thing," Garner said. "It's still a bit mind-blowing, I think."
Exactly how the planet's record warmth may have contributed to Otis's rapid development will take months if not years to untangle, said Kerry Emanuel, professor emeritus at the Massachusetts Institute of Technology. It's possible record global heat in July, August and September helped contribute to warmth deep into the water column, he said.
In that part of the Pacific, a layer of relatively fresh water close to the surface acts as a cap on top of water that is saltier and typically cooler below. It could be that the surface waters were holding that summer warmth in place in Otis's path, Emanuel said. But he added that he could not be sure until more data and analysis become available.
"You might find waters 40 to 50 meters down warmer than they would have been had we not had this hot summer," he said.
Much More:
As Acapulco begins to tally the devastation from Hurricane Otis, one thing is clear: climate change played a role.

Record warm ocean temps allowed it to ramp up "from a tropical storm to an extremely dangerous Cat 5 hurricane in just 12 hrs." https://t.co/P79xc2Hsn6

— The Real Prof. Katharine Hayhoe (@KHayhoe) October 26, 2023
No words… https://t.co/TlvSZvVGIx

— Bob Henson (@bhensonweather) October 27, 2023
We've spent the day in Acapulco and the devastation is breathtaking. Almost all the high rises are heavily damaged. But the most heartbreaking part is all the regular people who have lost what they have worked decades for. This is what one neighborhood looks like. 1/ pic.twitter.com/JW048MY7sf

— Eyder Peralta (@eyderp) October 27, 2023
At least 27 people were killed after Hurricane #Otis slammed the #Acapulco, Mexico, area on Wednesday.

Here's a look at some of the damage: pic.twitter.com/39lXxzw4FX

— AccuWeather (@accuweather) October 26, 2023
Incredible devastation in Acapulco following the direct strike of Category 5 Hurricane Otis's northern eyewall.

With a population of 1 million, Acapulco may be the biggest city to be hit by a Category 5 eyewall since the Miami area was hit by Andrew in 1992.

Devastating. https://t.co/HnZlITrle7

— Matthew Cappucci (@MatthewCappucci) October 26, 2023
Before & after: This brand new $130 million luxury high-rise in Acapulco, Mexico has been severely damaged by Hurricane Otis. pic.twitter.com/X2PVzxrTIO

— Nahel Belgherze (@WxNB_) October 26, 2023
Not an Israeli or Putin bomb in sight
Just another climate bomb from Big Oil who plan a massive increase in fossil fuels in coming years https://t.co/EcVJdrdF5X

— GO GREEN (@ECOWARRIORSS) October 26, 2023
When journalists write about disastrous weather phenomenons "connected to climate change," they must go one step further, and also note the primary causes of climate change:

Fossil fuels, deforestation, and industrial agriculture.

My latest: https://t.co/KyJd4hSUcO

— Emily Atkin (@emorwee) October 26, 2023
Video beginning to trickle in of the damage in Acapulco in the wake of Category 5 Hurricane Otis. The high-rise damage is extreme along with the defronding of hearty palms. Really sobering to see this level of hurricane damage in such a densely populated urban corridor. #Mexico https://t.co/01DbSmZPvP

— Michael Lowry (@MichaelRLowry) October 25, 2023
When a tropical depression turns into a CAT 5 in less than 24 hours 👇 Their insurance premiums are going to be interesting from now on. Many coastal cities will be abandoned in the future as they'll be hit too often to be repaired. #Acapulco https://t.co/GGT9dNHhjH

— Peter Dynes (@PGDynes) October 26, 2023
"This can't be"
"This can't be true"
"Acapulco has been destroyed"pic.twitter.com/UHVrzPhyVe

— Leon Simons (@LeonSimons8) October 26, 2023
Will this make TV news today?

"Acapulco's Diamond Zone, an oceanfront area replete with hotels, restaurants and other tourist attractions, looked to be mostly underwater … with boulevards and bridges completely hidden by an enormous lake of brown water"https://t.co/CUqNp9K8tk

— Prof. Eliot Jacobson (@EliotJacobson) October 26, 2023
Neighbors from the Diamante area share this photo of the lobby of #Princess where everything flew, even a car 👇🏻 https://t.co/wH2M47LwU1

— Jeff Piotrowski (@Jeff_Piotrowski) October 25, 2023
Do I dare take my eyes off invest92E or 92EP after what happened to Otis? In my 37 plus years I have never seen something like that occur with a tropical system. When I left on assignment Monday I knew it could impact Mexico, but to blow up like that!! Never saw it coming.… pic.twitter.com/PMLGOOUyst

— Jim Cantore (@JimCantore) October 26, 2023
Here are some "ET's" recorded from around the planet the last couple of days, their consequences, and some extreme temperature outlooks, as well as any extreme precipitation reports:
East Asia Heat wave:
Another scorching hot day in Southern China with temperatures above 33C in 3 provinces

Further North insane warmth in #Siberia with MINIMUM temperature of +15.4C at Chemal and max >20C
The warmth will go on until 2 November
Let's expect many November records https://t.co/kTXgxo4Fab

— Extreme Temperatures Around The World (@extremetemps) October 26, 2023
Extreme heat wave in Southern Africa,many records were beaten

BOTSWANA
42.8 Letlhakane all time high + NATIONAL Monthly record tied

NAMIBIA
41.3 Omaruru 1217m asl
36.8 Eros 1699m

REUNION Monthly records
30.5 St-Denis AP Tmin 23.9
31.3 Saint Benoit
Tmin 25.9 Le Port pic.twitter.com/5Qsk6UPJnb

— Extreme Temperatures Around The World (@extremetemps) October 25, 2023
[2]
Exceptional heat wave in Southern Africa,brutally hot conditions also at high elevations

SOUTH AFRICA
44.3 Augrabies Falls 635m
44.1 Twee Rivieren 882m record
42.2 Van Zylsrus 935m
42.1 Upington 840m record

NAMIBIA
38.1 Windhoek 1725m record

REUNION
30.6 St Denis record pic.twitter.com/zNk6KYvMtC

— Extreme Temperatures Around The World (@extremetemps) October 26, 2023
Fierce heat wave in North Africa,Middle East,Central Asia and Caucasus:
40C Egypt,Israel and Saudi Arabia
35C Turkmenistan,Turkey and Cyprus

In Iran 35C at 1000m asl
In Russia 26C at 1000m asl

It can get worse next days
November will see hundreds if not thousands of records. pic.twitter.com/eAavRJtD6t

— Extreme Temperatures Around The World (@extremetemps) October 26, 2023
Australia split with intense heat in the West and cold in the Southeast.
Today very remarkable late frost in South Australia:
-1.9C Wudinna AP
-0.9C Lameroo
Both are record lows for October (but short POR),very significative at the end of the month. pic.twitter.com/uqgwhmkcdX

— Extreme Temperatures Around The World (@extremetemps) October 26, 2023
4 Seasons in the United States:
It's winter in the NW with the first 0F of the season (Swan Lake,Montana).
Mild in Central plains and summer weather in the SE with some 90s.
The East coast (and Ontario in Canada) will enjoy a very warm week with temperatures typical of September. pic.twitter.com/CZsxaNn6IG

— Extreme Temperatures Around The World (@extremetemps) October 25, 2023
🥵Records mensuels de Tmax #LaRéunion
25/10🌡️31.3°C St-Benoît ->30.1 20-10-2014 battu 4 jours de suite
26/10🌡️30.6°C Gillot-Aéroport ->30.5 30-10-1991

Records de Tmin hautes le 25/10
🌡️25.6 Le Port (record réunionnais d'octobre) ->24.5 15-10-2017
🌡️23.9 Gillot ->23.8 16-10-2014 pic.twitter.com/8RPE1czIW1

— Etienne Kapikian (@EKMeteo) October 26, 2023
More September 2023 Climatology:
Reviewing our record-breaking September…

🟥 – warmer than average
🟦 – colder than average

Overall, the average September global air temperature was +1.47°C above 1951-1980 climate baseline (+1.72°C above the 1880-1920 baseline). Data code: https://t.co/DXbFxLLHlC. pic.twitter.com/tA2xX9S6z2

— Zack Labe (@ZLabe) October 26, 2023
September 2023 in #Tunisia had an average temperature of 27.1C,+1.2C above normal and was the 5th warmest on records (left map)
Rainfalls were almost no existent except the coast (right map) and was the 2nd driest September on record after 1964
Maps are courtesy of Meteo Tunisia pic.twitter.com/PnmI40adHI

— Extreme Temperatures Around The World (@extremetemps) October 26, 2023
Here is More Climate and Weather News from Thursday:
(As usual, this will be a fluid post in which more information gets added during the day as it crosses my radar, crediting all who have put it on-line. Items will be archived on this site for posterity. In most instances click on the pictures of each tweet to see each article. The most noteworthy items will be listed first.)
As the tragedy of Hurricane Otis #HurricaneOtis becomes clear, do not let climate deniers tell you climate change is not making hurricanes more destructive. It is.https://t.co/NNBqvhXkxE

— Andrew Dessler (@AndrewDessler) October 26, 2023
New report: "climate change may be already exacerbating agricultural losses." 4 case studies for 2000-2019: climate change increased soy in Argentina by 3%, decreased wheat 10% in Kazakhstan, decreased wheat 2% in Morocco, decreased corn 5% in S. Africa.https://t.co/sM4gJ65VLq

— Jeff Masters (@DrJeffMasters) October 26, 2023
New paper!

Funding for carbon capture & pipes increases net CO2, air pollution, land damage, even in easiest case

Better to end ethanol refineries and flex-fuel vehicles and instead use battery electrics powered by #WindWaterSolar https://t.co/uhbNHTfXGM pic.twitter.com/iJYveLu9m8

— Mark Z. Jacobson (@mzjacobson) October 26, 2023
"Horrifying footage showing the current scale of the forest fire that hit Alberta, Canada"……..
10,000 hectares of trees involved……
Forest fire season is occurring earlier, and lasting longer.

There is nothing Normal about what is happening…….this is apocalypse NOW. https://t.co/j18gN0OyCR

— Robert Redmayne Hosking 🔥🌍🔥 (@rhosking252) October 26, 2023
This looks to be wonderfully useful resource …

The fossil fuel majors & their political puppets have been disinterested in what the science tells us is necessary to deliver on our 1.5-2°C commitments – let's hope litigation proves more successful. https://t.co/vygRO1OSQP

— Kevin Anderson (@KevinClimate) October 26, 2023
Today's News on Sustainable, Traditional Polluting Energy from Fossil Fuel, and the Green Revolution:
The world has made real progress in bending down the curve of future emissions.

While we remain far from on track to meet our climate goals, the positive steps we've made should reinforce that progress is possible and despair is counterproductive.https://t.co/0WA1nqm6dL pic.twitter.com/VRsXzTKtnZ

— Zeke Hausfather (@hausfath) October 26, 2023
THREAD

My usual deep-dive on @IEA #WEO23

📉Global CO2 cld peak *AS SOON AS THIS YR*
⛰️Global fossil fuel use peak in 2025
🇨🇳China fossil fuel use peak in 2024 (!)
🌄Solar outlook for 2050 up 69% vs last yr (!)
🌡️Warming 2.4C (🔽 2.6C 2021 ⏬ 3.5C 2015)https://t.co/ySJCjiCK8D pic.twitter.com/ff4eYRpS49

— Simon Evans (@DrSimEvans) October 26, 2023
On Tuesday, big batteries supplied 3.3GW of instantaneous power into California's grid in the morning peak period.

And then 4.3GW in the evening peak period after charging up on solar during the day.

That's a lot of power. pic.twitter.com/jBydX2vE8f

— Nick Hedley (@nickhedley) October 26, 2023
This stadium in the Netherlands has 4,200 #solarpanels on its roof & is 100% #solar powered. Shouldn't all stadiums and buildings get a solar upgrade?

We have the solutions. Implement them #ActOnClimate#climateemergency #climatecrisis #climate #energy #renewables pic.twitter.com/ohHYlPtpIB

— Mike Hudema (@MikeHudema) October 26, 2023
Climate "Australia's next big employer:" Cannon-Brookes joins push for net zero workforce https://t.co/z6tsrDgFxU #renewables #auspol

— Peter Gardner (@PeterDGardner) October 26, 2023
Good morning with good news: US sales of Heat Pump Water Heaters rose 26% and gas water heaters fell by 17% in 2022. Why? "HPWH will save $550/year for a family of four over an electric resistance water heater, and $200/year over a gas water heater." https://t.co/EwW1uFh15e

— John Raymond Hanger  (@johnrhanger) October 26, 2023
More from the Weather Department:
It's been a week for worldwide TC landfalls. Eight in 7-days has to be some sort of record.

Evenly spread out over the tropics too —
2🌀North Atlantic #Tammy #TD21
2🌀East Pacific #Norma #Otis
1🌀West Pacific #Sanba
2🌀North Indian #Tej #Hamoon
1🌀South Pacific #Lola

😵‍💫 https://t.co/p73d8ZHHjg

— Philippe Papin (@pppapin) October 25, 2023
With the last advisory on Tammy written, here's how the Atlantic season looks to date.

Seasonal Totals:
20 Storms
7 Hurricanes
3 Majors (Cat 3+)
144 ACE

While the number of hurricanes is near average, 2023 currently ranks as the 13th most active season by ACE since 1951. pic.twitter.com/kCGfyrtR9C

— Tyler Stanfield (@TylerJStanfield) October 26, 2023
With the MJO shifting over the Americas in the extended, it's worth keeping an eye on the pattern for tropical development in the Caribbean. Lots of uncertainty with various ULL's and areas of remnant vorticity as well. Synoptic pattern and very warm water say pay attention. pic.twitter.com/WvW2KEvpXz

— John Homenuk (@jhomenuk) October 26, 2023
Hello everyone! As the snow begins to move out of Billings and areas in eastern MT and northern WY this afternoon/evening, we would love to hear and see how much snow you got! Here at the office, we've received 4 inches of snow making for a beautiful winter scene. #mtwx #wywx pic.twitter.com/CdnhOcd0zt

— NWS Billings (@NWSBillings) October 26, 2023
By Halloween the nations temperature footprint is going to look a lot colder. Pretty abrupt changes start today. @weatherbell pic.twitter.com/DJetMmfTPQ

— Jim Cantore (@JimCantore) October 26, 2023
Come on downnnn! Trick or Freeze!🎃🥶 Coldest air of the season set to barrel southward late weekend into early next week. Interior sections likely to see their first frost or freeze of the season by the middle of next week. @weatherchannel pic.twitter.com/bQTgDOimmJ

— Scot Pilié (@ScotPilie_Wx) October 26, 2023
First significant Santa Ana event of the season will result in very low humidities and gusty winds across the region Sunday through Tuesday. A Fire weather watch was issued for late Saturday night through Monday evening. #cawx #LAWeather #SoCal pic.twitter.com/ChJ9bQmjPM

— NWS Los Angeles (@NWSLosAngeles) October 26, 2023
More on the Environment:
Water is sacred, and access is key to the empowerment of Tribal communities.

Through @POTUS's Investing in America agenda, @Interior is ensuring that Tribes across our country receive the water resources they have long been promised. https://t.co/Ssjnd0w5fe

— Secretary Deb Haaland (@SecDebHaaland) October 26, 2023
"There are only a few places on earth where thousand year old trees still stand"…….
The west coast of Canada is one of them, but every day they are logged…….

It's time for forced emergency legislative laws to ban ALL LOGGING OF THESE TREES…….. https://t.co/1ibYjsG6z0

— Robert Redmayne Hosking 🔥🌍🔥 (@rhosking252) October 26, 2023
I feel sick. Today the lives of activists in Finland were put in danger, all for the sake of deforestation. This video shows protesters yelling that it dangerous to cut the trees as it could hurt people, yet the police or the drivers of the machines do not stop the cuttings. 1/ pic.twitter.com/wtNQGnWu7l

— Sommer Ackerman (@lifewithsommer) October 26, 2023
More on Other Science and the Beauty of Earth and this Universe:
Sunset at Surfer's Beach, Half Moon Bay. 10/16/2023 pic.twitter.com/blQPKGR8jU

— Jan Null (@ggweather) October 27, 2023
I put my tripod in the water to make this time-lapse. I'd do it again.

The Pleiades are in the center and Jupiter is on the right. pic.twitter.com/Z9WEY1JO31

— Don Moore (@capture907) October 26, 2023
Good morning! After a month of living here, this is the quietest water I've seen on the wilder shore.

Here's your moment of peace and calm. #OceanDevotion pic.twitter.com/9AJ59EWYav

— Marlo Garnsworthy 🌊❄️ (@MarloWordyBird) October 26, 2023
I wish a relaxed and peaceful good evening and a blessed night to my beloved and much appreciated fellow inhabitants of planet Earth with a dear greeting from my home. Enjoy life, stay kind and healthy. May God bless you.❤️💙💚🐝☘️🌿🌱🌲🌳🍀💚 pic.twitter.com/rSCDzDthyz

— Green is a mission (@Greenisamissio1) October 26, 2023
If you like these posts and my work on record temperature ratios, please contribute via my PayPal widget on this site. Thanks in advance for any support.
Guy Walton… "The Climate Guy"