The main purpose of this ongoing blog will be to track planetary extreme, or record temperatures related to climate change. Any reports I see of ETs will be listed below the main topic of the day. I'll refer to extreme or record temperatures as ETs (not extraterrestrials).😉
Main Topic: Cold Front Will Put an End to U.S. Record October Heat
Dear Diary. September going through most of October has been quite toasty for most of the United States. The ratio of daily record high max records to those of daily low mins has been over ten to one for both months. Our climate is not so broken yet that temporarily weather corrections won't occur, however. Finally, as October turns the page onto November at Halloween, the climate changed atmosphere will be spitting out a colder than average weather pattern, putting an end to record warmth now affecting most of the eastern half of the country: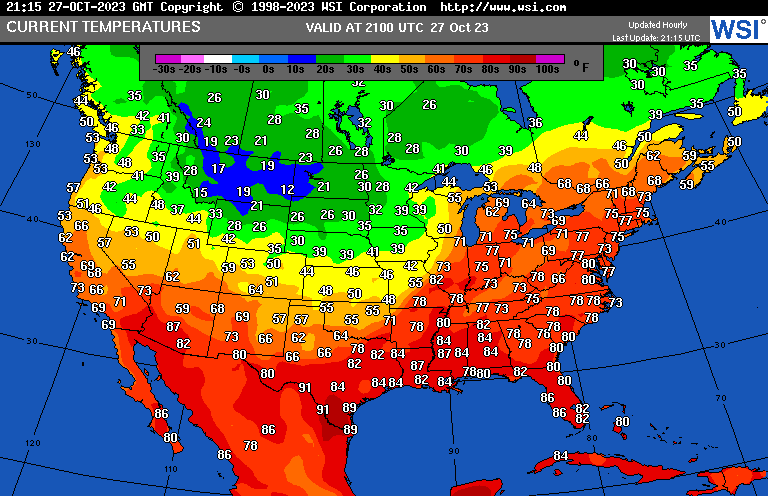 As noted from the above chart from Friday afternoon, cold air from Canada has already spilled into the northern Rockies and is penetrating into the northern Plains. We will see many reports of record warmth in the Northeast today where some locations will get close to 80°F.
👻 Goblins & ghouls won't be the only reason you get chills this Halloween! Bitter cold air is surging into the Central U.S. behind a strong cold front & will gradually expand south & east through Halloween. Temps will be well below normal, by as much as 20-30°F in some places 🥶 pic.twitter.com/ne2Q57y43S

— NWS Weather Prediction Center (@NWSWPC) October 27, 2023
By the first day of November these minimum temperatures look quite chilly. We might see some reports of record chill by then across the Plains, but the airmass settling over the nation won't be historically cold. Historic cold outbreaks do set hundreds of records:
For a detailed report on this welcome cooldown by some who like traditional cold fall weather, here is a new Washington Post article:
Halloween is coming Tuesday! COLD will be big story for many of us out & about. Temps 10-30F below normal over large part of Lower 48. Some rain possible in Mid-Atlantic & snow showers in Great Lakes.

Details: https://t.co/QIuiLkKICi

Pictured: High temp diff from normal Tues pic.twitter.com/GybHvcPpg7

— Capital Weather Gang (@capitalweather) October 27, 2023
Halloween weather forecast: Rain in Mid-Atlantic, mostly dry elsewhere – The Washington Post
Trick or treat? Here's your Halloween weather forecast.
Large parts of the country look dry but cold. Some rain could fall in the Mid-Atlantic.
Updated October 27, 2023 at 12:56 p.m. EDT|Published October 27, 2023 at 12:41 p.m. EDT
The height of Halloween spirit in Alexandria, Va., in 2021. (Matt McClain/The Washington Post)
There are few nights of the year when more people take to the streets than on Halloween. Children frolic through neighborhoods in hot pursuit of candy, parents and guardians chase after them hoping to manage their sugar highs, and millions find themselves outdoors for hours.
It's a time when the weather forecast is of the utmost importance. Fortunately, the weather is looking mostly cooperative. Most of the Lower 48 will be dry except for portions of the Mid-Atlantic, where there could be some rain, and around the Great Lakes, where some snow showers are possible.
That said, it will be a cold one. Virtually the entire Lower 48, other than Florida and California, will face temperatures well below average, particularly over the Plains, where readings will plummet up to 30 degrees below the norm.
High-temperature difference from normal on Tuesday, as predicted by the National Weather Service. (WeatherBell)
Despite temperatures over the weekend approaching record highs in the eastern United States, a dramatic change is on the way. Canadian high pressure is settling into the West, its leading edge demarcated by a cold front that's swinging across the heartland. By early next week, the cold front will blast all the way to the Eastern Seaboard. D.C., for example, will be in the 80s this weekend, with highs in the mid-50s by Tuesday.
The cold front sagged through the Texas Panhandle on Friday morning in what locals colloquially call a "Blue Norther." In Perryton, Tex., temperatures dropped from 64 to 48 degrees in 40 minutes. Winds suddenly gusted to 44 mph out of the north as the front blew through.
Light showers are ongoing ahead of the front, and that will be the trend these next few days. On Friday night, the cold front will stretch from Chicago to Dallas. By Saturday evening, it will progress to south of New York City to Philadelphia to Little Rock. The front's progress will slow to a crawl, keeping the Mid-Atlantic and Southeast in the mild air on Sunday. Monday and Tuesday, the front will press southeastward, allowing the cool air to reach as far south as Georgia. But the front could get hung up along the Mid-Atlantic and Southeast coast late Tuesday, and some rain could develop along it.
Region-by-region trick-or-treating forecast
New England
Temperatures will hover in the 20s for northern and western Maine, northern New Hampshire and northeast Vermont. Thirties dominate elsewhere, except 40s inside of Interstate 95 in southeastern Massachusetts, Rhode Island and Connecticut. There will be mostly clear skies in central New England and light winds with a bright moon. The "waning gibbous" moon will be 91 percent illuminated. Clouds will linger near the coast and over the Appalachians.
Temperatures at 8 p.m. Tuesday in the eastern United States, predicted by the National Weather Service. (WeatherBell)
Mid-Atlantic
Some showers are probable in the eastern Mid-Atlantic, mainly in southeast Virginia and eastern North Carolina. Some models, such as the European, suggest more-widespread showers could expand to the north and west, with a wave of low pressure forming along the front.
Temperatures will settle in the upper 40s to around 50 east of I-95 and the lower 40s to the north and west after dropping during the afternoon and evening in the wake of a cold front. Lower 30s are expected in the Maryland Panhandle, parts of West Virginia and adjacent Pennsylvania.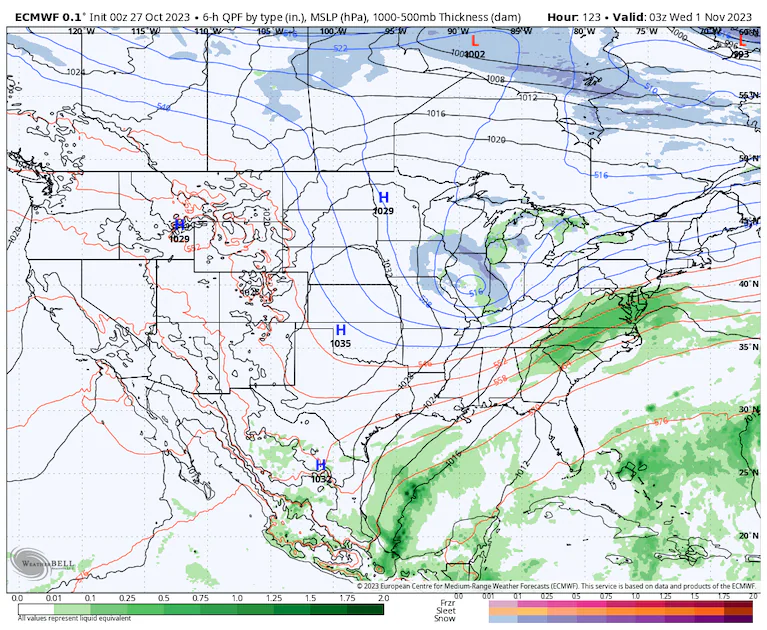 The European model shows some snow showers in the Midwest and Great Lakes and some rain in the Mid-Atlantic on Halloween night. (WeatherBell)
Southeast
Some showers are probable in the Carolinas, possibly extending in Georgia. Temperatures start in the 70s in Florida, the 60s in Georgia and southern South Carolina, the 50s over the Deep South and the 40s in North Carolina. Readings will tumble 10 degrees more over the remainder of the night. Expect clouds in Georgia and the Carolinas, with mostly clear skies in Mississippi, Alabama and Florida.
Great Lakes, Ohio and Tennessee valleys
A few snow showers are possible in Wisconsin, western Michigan, northern Illinois and Indiana; otherwise, it will be mostly dry and clear. Temperatures in the 40s in Tennessee will drop into the 30s to the north and northwest with some 20s in northern Wisconsin and the Upper Peninsula of Michigan. It will feel even colder, with blustery winds from the northwest.
North-central U.S.
Temperatures will be in the teens and 20s in North Dakota and northwest Minnesota, with 30s elsewhere. Skies will be mostly clear, but clouds will increase in southern Minnesota and Iowa, where some snow showers or flurries are possible.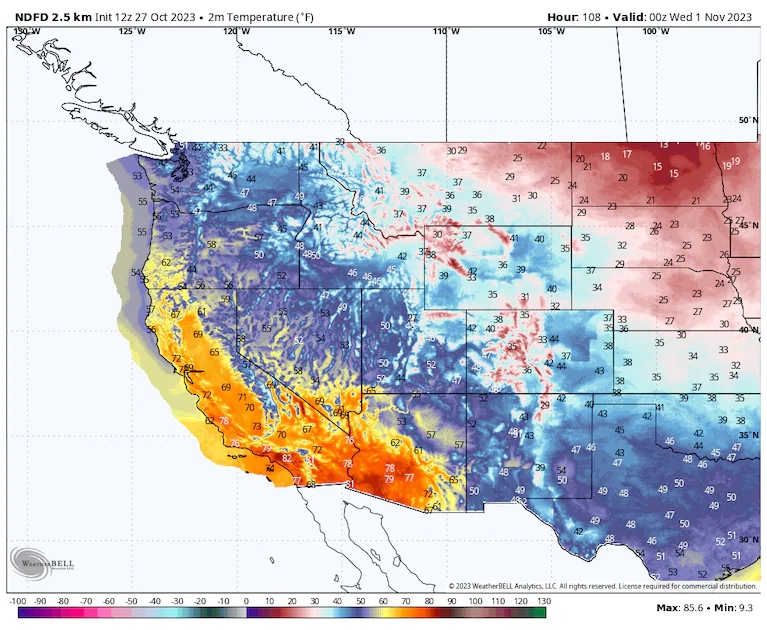 Predicted temperatures at 6 p.m. Mountain time on Halloween from the National Weather Service. (WeatherBell)
South-central U.S.
Expect clear skies, except for a few clouds in South Texas. Temperatures will be in the 30s near and north of I-40 in Arkansas, Oklahoma and Texas. Forties to around 50 will dominate to the south, except mid-to-upper 50s near the Gulf Coast and Mexican border.
Intermountain West
Temperature depend on elevation. Readings in the 20s will be prevalent in northern zones and/or higher elevations with 50s in the lowest valleys of New Mexico and Arizona. Otherwise, most folks will stay in the 30s and 40s. Highs will generally be 5 to 12 degrees below average. Skies will be clear in southern regions, with cloud cover surfing the jet stream and fanning over Montana, Idaho and northern Wyoming.
West Coast
Clouds will predominate, except in the Great Basin of Nevada. Readings will be in the 70s in the Central Valley of California, the 60s in the Willamette Valley of Oregon and the 50s elsewhere.
Jason Samenow contributed to this report.
By Matthew Cappucci Matthew Cappucci is a meteorologist for Capital Weather Gang. He earned a B.A. in atmospheric sciences from Harvard University in 2019 and has contributed to The Washington Post since he was 18. He is an avid storm chaser and adventurer, and covers all types of weather, climate science, and astronomy. Twitter
Here are some "ET's" recorded from around the planet the last couple of days, their consequences, and some extreme temperature outlooks, as well as any extreme precipitation reports:
Exceptional heat in Middle East yesterday with 41,1C at Gilgal in Israel and 39.5C at Aqaba in Jordan amongst others.
These temperatures are about 3C above the highest ever recorded in climatic history for this time of the year. https://t.co/ssXs0mwEZw

— Extreme Temperatures Around The World (@extremetemps) October 27, 2023
East Asia warm spell
Today it was another scorching hot day in Southern China with up to 34.8C at Yuanjiang.

But it's more North where the heat is ridiculous:
20.6C at Khanbogd in MONGOLIA highlands at 1110m asl (after a Tmin of +9.1C) and tomorrow it can be even warmer. pic.twitter.com/1EA7cHWZWK

— Extreme Temperatures Around The World (@extremetemps) October 27, 2023
Endless record heat in Southern Africa

SOUTH AFRICA 40.1C Kathu and Taung monthly records

BOTSWANA
Insane MIN temp 27.3C at Tshane the Highest on record

MADAGASCAR 40.1C Maevatanana record again

REUNION 30.7C St Denis monthly record again pic.twitter.com/Dvqdqgb9vn

— Extreme Temperatures Around The World (@extremetemps) October 27, 2023
Record Heat waves allover Africa North/South/East/ West

43.6C in SENEGAL,with the chance of reaching a historic 44C in early November

Record hot nights;Highest TMIN in climatic history:
28.6C in the capital Dakar
28.9C St Louis

EGYPT
38.6C Cairo unprecedented for late October pic.twitter.com/IABQ7gYBnU

— Extreme Temperatures Around The World (@extremetemps) October 27, 2023
New Zealand is known for its mild climate but it's not necessarily always so.
Yesterday it was very warm with a max. of 28.1C at Kaikoura (11/12C above average).
This morning the min was 5.5C (about 5C below average).

Some frost in the South Island in this late cold spell. https://t.co/dKMRP3vcYB

— Extreme Temperatures Around The World (@extremetemps) October 27, 2023
Record warmth in the tiny Pacific Ocean country of Tuvalu:
Today the Min. temperature at Funafuti was 28.9C which is the highest Min. Temperature ever recorded in October in the country. pic.twitter.com/BJOEuogK8g

— Extreme Temperatures Around The World (@extremetemps) October 27, 2023
Today the Lower 48 USA is close to average,but very few areas are indeed in average:
Very cold in the West with -4F this morning at Chester MT and very warm in the East with 90s in the Gulf and several 80s in the East Coast including in Massachusetts.
75F in Nova Scotia,Canada. pic.twitter.com/UJw07wXMHn

— Extreme Temperatures Around The World (@extremetemps) October 26, 2023
🥵#Chaleur précoce à #LaRéunion🇷🇪, encore des records mensuels ce 27/10 :
🌡️30.7°C Gillot-Aéroport, rebattant le record de la veille (30.6°C) ->ancien : 30.5, 30/10/1991 (mesures depuis 1953)
🌡️30.6°C Menciol ->29.6, 28/10/2011 déjà battu plusieurs fois (mesures depuis 1961)
… pic.twitter.com/nOd13yooEZ

— Etienne Kapikian (@EKMeteo) October 27, 2023
Serious flooding ongoing in southeastern portions of the DFW MetroPlex, particularly for portions of Dallas, Ellis, Kaufman and Rockwall Counties.

4.88 inches has fallen in Crandall in 3 hours. 2.54 inches in Lancaster.

Radar estimating 6.3 inches near Combine! @MyRadarWX pic.twitter.com/GUI3fUUNHa

— Matthew Cappucci (@MatthewCappucci) October 28, 2023
One Last Set of September 2023 Climatology:
September 2023 in #Montenegro was very warm and dry and had temperature anomalies from +2.0C in Ulcinj to +3.5C in Kolašin vs 1991-2020 norm (left map).

Rainfalls amount ranged from 24% of normal in Bar to 118% in Berane (right map).

Maps kudos of ZHMS. pic.twitter.com/ME1vUR0l0C

— Extreme Temperatures Around The World (@extremetemps) October 27, 2023
Here is More Climate and Weather News from Friday:
(As usual, this will be a fluid post in which more information gets added during the day as it crosses my radar, crediting all who have put it on-line. Items will be archived on this site for posterity. In most instances click on the pictures of each tweet to see each article. The most noteworthy items will be listed first.)
Hurricane #Otis made a historic landfall near Acapulco, Mexico, on Wednesday after rapidly intensifying from a tropical storm to a Category 5 hurricane just hours before reaching the coast. pic.twitter.com/C0cViBjFcI

— AccuWeather (@accuweather) October 27, 2023
Hurricane #Otis may well surpass the $7.5 billion cost (2022 USD) of Hurricane Wilma of 2005 as Mexico's most expensive weather disaster on record. Crazy to see the top floors of high rises completely blown out, with the interior walls gone. https://t.co/ms922N2trm

— Jeff Masters (@DrJeffMasters) October 27, 2023
#ClimateFriday Reading #ClimateEmergency: "This includes a smarter approach to how and where we build" #Acapulco #HurricaneOtis has cost dozens of lives, and billions of dollars https://t.co/MjYTq3ncGl

— Silicon Valley North (@CCLSVN) October 27, 2023
"Even if #climatechange trends can be slowed… forecasters and the populations that rely on them will still need to develop a healthier respect for—and keep a closer eye on—marginal tropical storms that just might turn into deadly monster cyclones" 👇🏼https://t.co/o3Sr7Tx1zQ

— John Morales (@JohnMoralesTV) October 27, 2023
Just incredible aerial footage- my heart goes out to the residents of Acapulco- this is a multi-year recovery from #Otis 💔 https://t.co/HqTYYLe540

— Eric Blake 🌀 (@EricBlake12) October 27, 2023
New study out in Geology used stalagmite data from southeastern Europe to analyse the Atlantic winter jet stream changes.
They find the current anomalous jet stream trend "is unprecedented for the past 2500 years", and link this to the Atlantic cold blob. https://t.co/bmPVrMLaMN pic.twitter.com/SnQ0CCraEH

— Prof. Stefan Rahmstorf 🌏 🦣 (@rahmstorf) October 27, 2023
Trends in October #Arctic sea ice thickness over approximately the last four decades…

🟦 – increasing ice thickness
🟥 – thinning ice

[Simulated data from PIOMAS. For more information: https://t.co/oNbIw7lpb3] pic.twitter.com/vD47FssqrF

— Zack Labe (@ZLabe) October 27, 2023
Heat extremes in Western Europe warmed faster than simulated. Our new @NatureComms paper led by @RobertVautard shows that this due to more frequent southerly flows, an observed atmospheric circulation trend, which is larger than in climate models.https://t.co/ewwsrZuCMy

— Erich Fischer (@erichfischer) October 27, 2023
This graphic shows the average Earth energy imbalance over the fiscal 12 month period Sept. – Aug., from 2001 through 2023.

The rate Earth is heating up is accelerating, now nearly 4 times faster than 20 years ago.

2023: the year doom became reality. pic.twitter.com/zeMI0UhnD0

— Prof. Eliot Jacobson (@EliotJacobson) October 27, 2023
Your 'moment of doom' for Oct. 27, 2023 ~ Lethal wet-bulb temps are coming:

"…the hot spots for exceeding this wet-bulb temperature threshold include…the Indus River Valley in India and Pakistan, eastern Asia, the Middle East and sub-Saharan Africa."https://t.co/lEu9pqBQJd

— Prof. Eliot Jacobson (@EliotJacobson) October 27, 2023
This is a real climate champ, who stood up to the big boys at Amazon https://t.co/5C9CDhkFoP

— Bill McKibben (@billmckibben) October 27, 2023
High climate sensitivity and a greater Faustian debt are a double whammy. We need to cool off the planet to maintain shorelines and a propitious climate. That requires a better understanding of the home planet and appropriate observations. See Home Planet: https://t.co/U0ZaSRb2DU pic.twitter.com/ESTq1vJLJB

— James Edward Hansen (@DrJamesEHansen) October 27, 2023
PROTEST IS NOT A CRIME!
Yesterday the court in Berlin did not declare the actions of Dr. Nana-Maria Gruening in April 2022 in Berlin as a crime. (1/6) pic.twitter.com/18cD33qVGV

— Scientist Rebellion (@ScientistRebel1) October 27, 2023
Week 271. #FridaysForFuture #ClimateStrike #StandWithPalestine #StandWithGaza pic.twitter.com/sH3MLbloE0

— Greta Thunberg (@GretaThunberg) October 27, 2023
Today's News on Sustainable, Traditional Polluting Energy from Fossil Fuel, and the Green Revolution:
IEA now says emissions likely to peak this year!
And a new study shows how fast coal, oil and gas use must decline for limiting warming to 1.5°C to prevent a climate catastrophe. Dashed lines! See Carbon Brief: https://t.co/fB40BjBnya pic.twitter.com/Fh0RjhsYW7

— Prof. Stefan Rahmstorf 🌏 🦣 (@rahmstorf) October 27, 2023
Writing in the @LATimes last week, @BillMcKibben and @RevYearwood urged President Joe Biden's administration to block "a massive fossil fuel buildout" being proposed in Louisiana. https://t.co/gDxP4PeqFc

— Covering Climate Now (@CoveringClimate) October 25, 2023
Yes we can.

'South Australia grid operates at 99.8 % #wind and #solar over past seven days.'

SA 100% #renewables as early as 2026 when new transmission link to NSW fully commissioned.#ClimateAction https://t.co/TNv64W6FVU

— Dr Paul Dorfman (@dorfman_p) October 27, 2023
Montreal joins growing wave of cities banning natural gas

Will no longer allow gas in new buildings of up to 3 storeys as of Oct2024 & ban the #fossilgas as of 2025 in larger builds

Come on BC lets get ON with this #netzero 2030 #vanpoli #bcpoli #yvrhttps://t.co/SVdyP0ieWf

— Climate Watcher 🔥 (@pmagn) October 28, 2023
NREL's latest cost of solar report shows residential PV prices declined 15% between Q1 2022 and Q1 2023.

Price of residential solar plus battery was down 9%. Nice!

Price of utility scale with batteries was 0.2% higher and without batteries 8% higher. https://t.co/1m0Iubm1bd pic.twitter.com/VaCZzzkORn

— John Raymond Hanger  (@johnrhanger) October 27, 2023
California is putting solar panels over some of its aqueducts – a solutions that can save water while generating clean energy. The first of its kind in the US.

We have so many solutions. Implement them. #ActOnClimate #climate #energy #renewables pic.twitter.com/HXeZfoelXC

— Mike Hudema (@MikeHudema) October 27, 2023
In South Korea, they've covered this protected bike lane with solar panels – cyclists are protected from the sun, isolated from traffic, and it produces clean energy.

We have so many solutions. Implement them. #ActOnClimate #Climate #energy #renewables #GreenNewDeal pic.twitter.com/fnpWrS0YBX

— Mike Hudema (@MikeHudema) October 26, 2023
More from the Weather Department:
Watching track of developing truly massive "bomb cyclone" for Ireland and Britain on Wednesday.

Central pressure in the 940s and hurricane force winds possible. pic.twitter.com/DTByeIRnuR

— Ryan Maue (@RyanMaue) October 27, 2023
These numbers could change in post analysis. Might have become hurricane earlier. #Otis eye obscured just before landfall but winds didn't necessarily weaken much. Little difference between high end cat 4 and cat 5 anyway. Damage & human toll we already know are devastating. pic.twitter.com/9szsFO6FBH

— Dr. Rick Knabb (@DrRickKnabb) October 27, 2023
Friday afternoon look at Caribbean spot to watch. Halloween front coming looking to help pick whatever up and maybe keep a N/NE direction. Models inconsistent with what development right now. https://t.co/Hk3pbO7x8H pic.twitter.com/iGQ1YNBqxy

— Mike's Weather Page (@tropicalupdate) October 27, 2023
From our archives: The real danger from hurricanes is water, not wind. But the current hurricane rating system says nothing about water.

Some experts say it's time to rethink the way we rate hurricanes.https://t.co/VOLL79iQJL

— Yale Environment 360 (@YaleE360) October 28, 2023
Tammy is back… https://t.co/Hk3pbO7x8H pic.twitter.com/s8KJ6McFjQ

— Mike's Weather Page (@tropicalupdate) October 27, 2023
#Tammy is back as a tropical storm after being extra-tropical (e.g., non-tropical) for a couple of days. Tammy is the first Atlantic storm to be a #hurricane, then extra-tropical and then come back as a tropical storm since Paulette (2020). pic.twitter.com/pX09O9jqcJ

— Philip Klotzbach (@philklotzbach) October 27, 2023
An important & v personal anniversary nears for myself, @icyclone & Mark Thomas – 10 years since super typhoon Haiyan tore through Philippines killing thousands & upending lives of many more. To mark the occasion, a re-release of my eyewitness account, and more, is coming soon pic.twitter.com/y7XbjSqFEp

— James Reynolds (@EarthUncutTV) October 27, 2023
#OnThisDate 25 years ago, a monster storm named #HurricaneMitch battered Central America with flooding rain and high winds. To this day, Mitch still ranks as the second-strongest October hurricane on record and remains one of the most intense Atlantic hurricanes.

Take a look… pic.twitter.com/cHAyvy6zbS

— NOAA Satellites (@NOAASatellites) October 27, 2023
Someone turned on the snow machine in Utah! ☃️ pic.twitter.com/qAcwRMmjW2

— AccuWeather (@accuweather) October 27, 2023
Based on past #ElNiños, is your location a snowfall winner or loser? Read our latest ENSO blog to find out! https://t.co/7FJogmivlp pic.twitter.com/5ZD7C1BNcn

— NOAA Climate.gov (@NOAAClimate) October 27, 2023
Rain gauge check:
Dry as a bone.🦴#gawx pic.twitter.com/54j6gHYpZa

— NWS Atlanta (@NWSAtlanta) October 27, 2023
More on the Environment and Nature:
Water companies are lining their pockets while they turn our rivers into sewage-swamps. 🤢💰

Their CEOs are splurging on bonuses, making shareholders rich, and then have the nerve to stick us with the cleanup bill. 🤢 💰 pic.twitter.com/UO7BOV2NMX

— Greenpeace UK (@GreenpeaceUK) October 27, 2023
Despite the urgency behind global pledges to stop cutting down trees and damaging forests, the world lost tens of millions of acres of woodlands in 2022.https://t.co/ewDiozuabG

— Inside Climate News (@insideclimate) October 27, 2023
Orcas are notable for their complex societies only comparable to elephants and higher primates.

Unlike any other mammal, orcas live with their mothers for their entire lives and since they can reach age 90, as many as 4 generations travel together.

These family groups are… pic.twitter.com/EHqTGdwOCS

— Massimo (@Rainmaker1973) October 27, 2023
An incredible instance of an octopus disguising itself as the head of a bigger marine creaturepic.twitter.com/QpGyF7URqG

— Massimo (@Rainmaker1973) October 27, 2023
More on Other Science and the Beauty of Earth and this Universe:
This Ethiopian opal looks like a nebula in space

[📹 Thee Ancients]pic.twitter.com/XKyfUZ35O7

— Massimo (@Rainmaker1973) October 27, 2023
Held my phone up to my telescope's eyepiece and recorded this video. Not bad for a phone camera! pic.twitter.com/VEtJmW4qh0

— Andrew McCarthy (@AJamesMcCarthy) October 27, 2023
NYC's last post-6pm sunset of the year going out with a bang 🌅 pic.twitter.com/73SrLC3mG3

— Dr Simon Lee (@SimonLeeWx) October 26, 2023
"Human hunger is the enemy of our forests. When we help local people to plant forests and manage them sustainably, we also create jobs and prosperity. That is why the way out of the climate crisis leads directly to our forests," demanded DFWR President Georg Schirmbeck.💚☘️🌿🌲🌳 pic.twitter.com/zSUwbWBWrO

— Green is a mission (@Greenisamissio1) October 27, 2023
If you like these posts and my work on record temperature ratios, please contribute via my PayPal widget on this site. Thanks in advance for any support.
Guy Walton… "The Climate Guy"