Tuesday August 29th…
Dear diary. Today is the 12th anniversary of Katrina's landfall near New Orleans. Ironically, that city is beginning to evacuate people due to Harvey. Due to both Katrina's and Harvey's increased power due to climate pollution we are beginning to see what I'll term the first climate change refugees having to leave their homes and move elsewhere away from the coast this century. In Harvey's case this is partially due to urban sprawl and poor planning. As with Katrina its going to be months if not years for Houston to recovery, and that's provided that another weather system doesn't flood the area again. In the weeks and months to come many people will decide to move away from Houston; and thus becoming refuges from a hurricane made that much more powerful due to above average sea surface temperatures and weakened steering currents.
I'll get on my soapbox here and just state that due to thermodynamically stronger, juiced storms and rising seas those in power will need to carefully plan for adaption. Good plans need to be in place by 2020 for all coastal areas, and particularly big coastal cities. Literally trillions of dollars will need to be spent, but costs can be reduced through good planning heeding scientific advice, and human suffering can be limited.
Today from Climate Central there is a new report out saying that the worst damage from Harvey will be felt among Houston's most vulnerable, poorest population:
https://www.citylab.com/environment/2017/08/the-vulnerable-populations-in-harveys-path-mapped/538071/?utm_content=buffer90a2b&utm_medium=social&utm_source=twitter.com&utm_campaign=bufferhttps://www.citylab.com/environment/2017/08/the-vulnerable-populations-in-harveys-path-mapped/538071/?utm_content=buffer90a2b&utm_medium=social&utm_source=twitter.com&utm_campaign=buffer
As Harvey moves northeast today flooding problems will be exacerbated from Houston to Beaumont into Louisiana. The good news here is that Harvey is moving with guidance sending the thing faster to the northeast out of flood ravaged areas. On Saturday and Sunday most models kept Harvey in eastern Texas through the end if this week. I think Harvey will be approaching the Arkansas border by Thursday, Good riddance!
Here is a recent visible satellite picture of the system from this morning: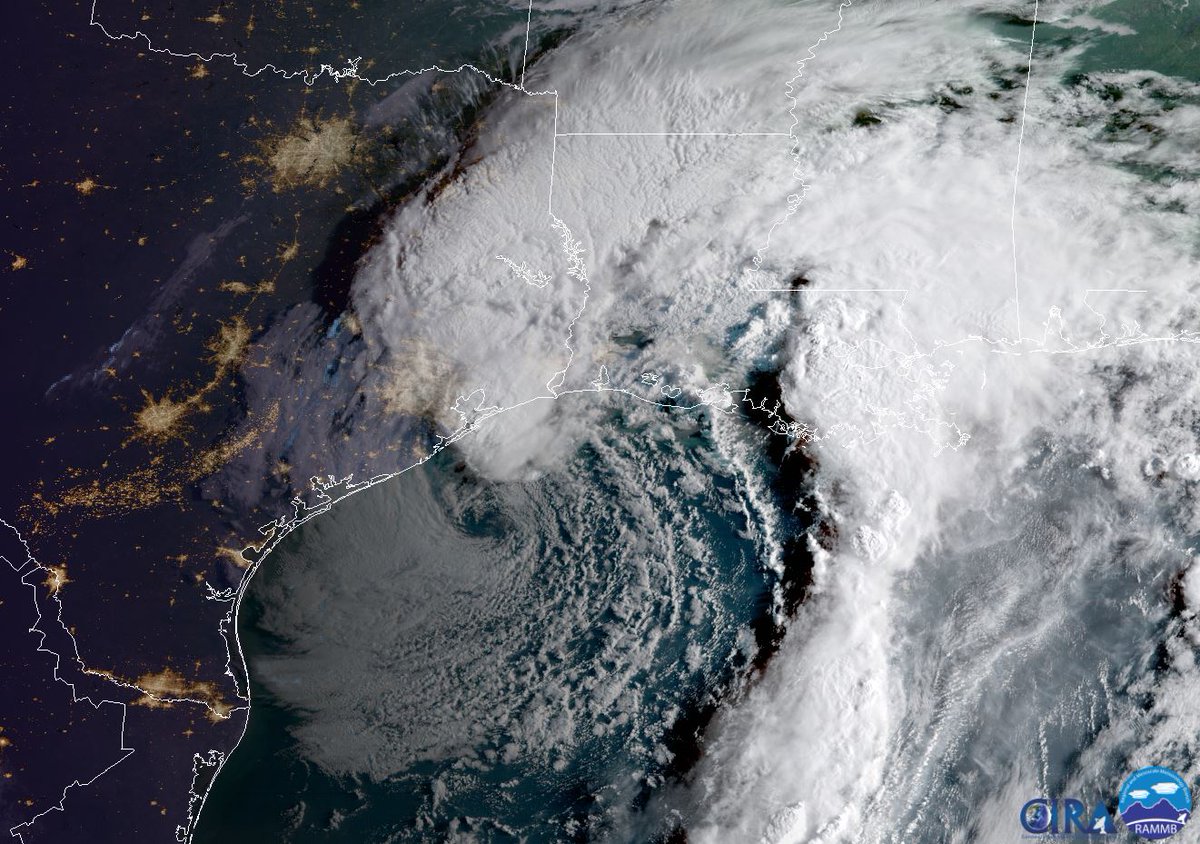 The bad news starting last night was that Harvey oriented itself such that deep convection produced more significant flooding ran over the Houston area. Typically the thunderstorms producing heavy rainfall will fire on the northeast quadrant of a weak tropical storm. That is certainly the case this morning with Harvey. As Harvey moves northeast through Wednesday that white blob to the northeast of Harvey's distinct center of circulation on the satellite photo will move right into Louisiana.
Harvey should be east of Beaumont by this evening: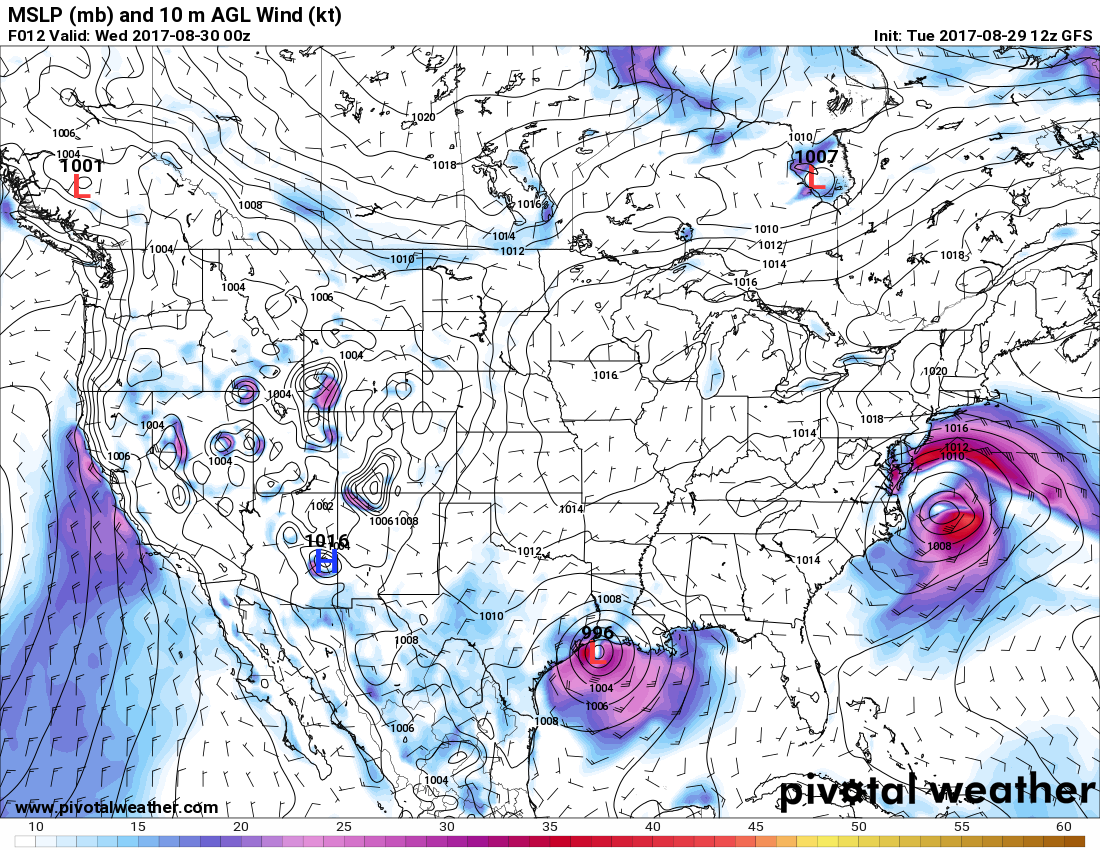 Touching on what could be Irma, that system, if named at all, will be exiting the middle Atlantic area. One big reason why this storm may never get a name is because it is lacking tropical meteorological characteristics.
Well its now official after the rain from last night. The U.S. has a new all-time record rainfall  from one organized tropical weather system:
In bold letters since this is huge news. Harvey is the most extreme rainfall event in U.S. history.
https://www.washingtonpost.com/news/capital-weather-gang/wp/2017/08/29/harvey-marks-the-most-extreme-rain-event-in-u-s-history/?utm_term=.99bf6b7126f9
Partially due to Harvey's increased speed the system will stay in tact longer. There are increased chances for flooding north, although not as significant as that of the Gulf Coast: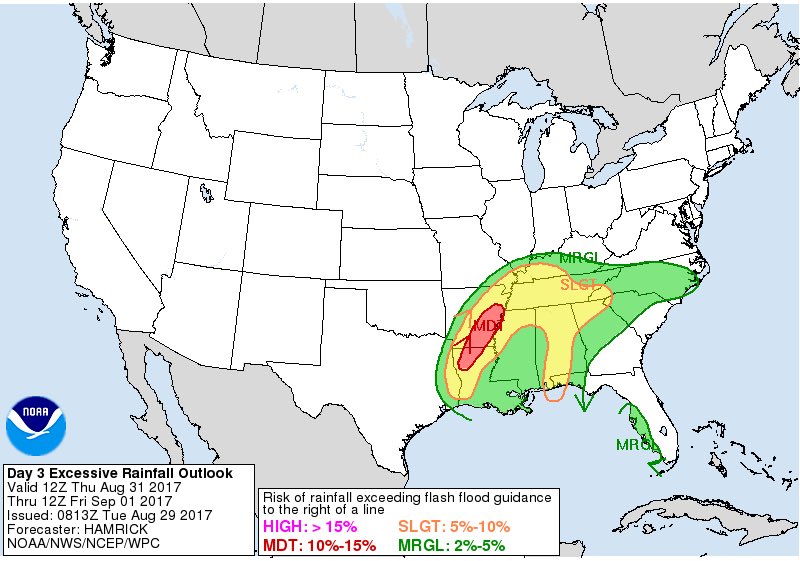 P.S. On the other side of the planet there is also some horrendous flooding in Mumbai:
http://www.news18.com/news/india/with-ten-times-the-usual-rain-mumbai-heads-towards-imminent-flood-1504367.html
In the toasty West I'm getting increasing concerned about the strength and duration of the latest heatwave there, which will probably lead to more wildfires. I'll report records  as they come in today.
I'll be adding more relevant updates to this post as the day progresses.
The Climate Guy
Tuesday Evening Updates…
Dear diary. Yeah! The sun has made a brief appearance in Houston this evening. Thankfully Harvey didn't hang around Texas as long as Friday of this week per the GFS from a few days ago. All along, as is typical, the European model was the better guidance. (Image from  Houston)
Irma, we hardly knew you off the East Coast. This system won't get named since it never acquired tropical characteristics. In this latest satellite image we see a disorganized looking system well east of Virginia:
Here are some preliminary record highs set in California:
110F at Paso Robles; 109F at Lancaster; 112F (tie) at Woodland Hills, 108F at Ramona; 103F at Sandberg
Here are some toasty maxes set in southwest California today:
It will continue to be extra hot in the Sacramento Valley this week: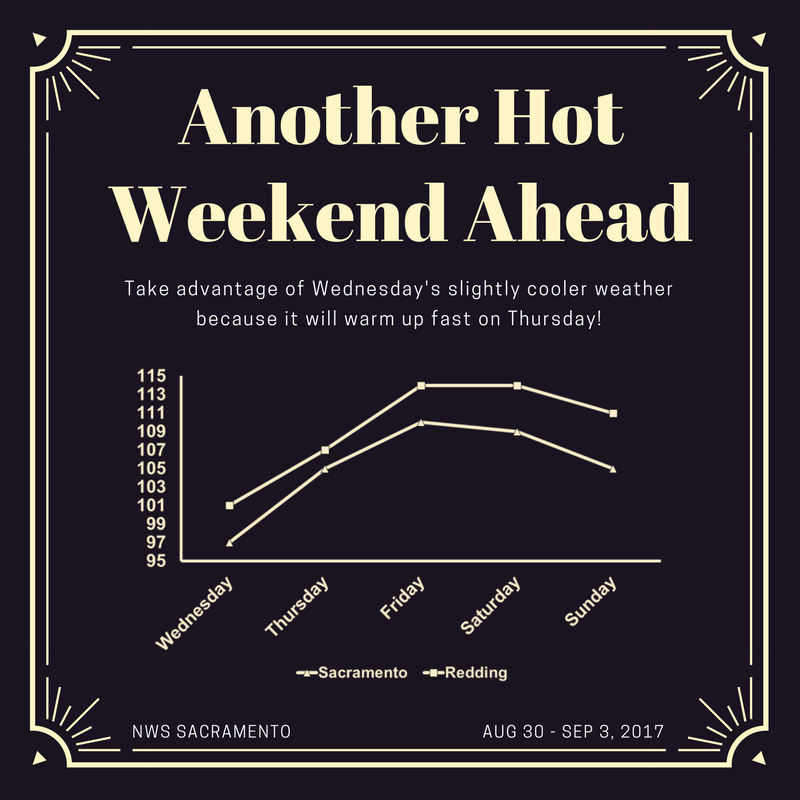 One last update this evening. Harvey remains offshore and continues to pump flooding rainfall to the tune of 10-20 additional inches in the Beaumont /Port Author area. The radar that I am seeing at midnight shows an awful training pattern in the Texas/Louisiana line where the NWS has posted flash flood emergency warnings.
And… just wow. As strident as I am on the issue of climate change this author from CNN has me beat:
http://www.cnn.com/2017/08/29/opinions/hurricane-harvey-abbott-needs-to-resign-sachs/index.html
The Climate Guy
Monday Evening Updates…
Dear diary. A couple of days ago I sent out a tweet comparing Harvey to  Katrina and implying that Harvey was made worse by climate change. Now the "big boys" are doing so. Comparisons between Harvey and Katrina are already being written despite the fact Harvey is still an ongoing disaster. Here is a good write up from the New York Times:
https://www.nytimes.com/2017/08/28/us/hurricane-katrina-harvey.html?smid=tw-nytimes&smtyp=cur
Dr. Michael Mann has linked the ill effects of Harvey to climate change. I agree that carbon pollution exacerbated the tragedy still unfolding in Texas and Louisiana:
https://www.theguardian.com/commentisfree/2017/aug/28/climate-change-hurricane-harvey-more-deadly?CMP=share_btn_tw
Tropical Storm Harvey will have to move north and east of Houston before the deluge ends there, hopefully as early as tomorrow night. In the meantime the radar in and around Houston is unfortunately lighting up again tonight. Here's a radar shot from @Eweather13 posted around 9 PM EDT-
As if 8 PM CDT there were over 40 reports of rainfall over 30″ in Harris County alone (from Philip Klotzbach- https://forecast-v3.weather.gov/products/locations/HGX/PNS/1)
As of this evening here is Dr. Jeff Master's in depth Category 6 blog in future flooding from Harvey. Let's hope that some old earthen dams upstream of Houston hold through Tuesday:
https://www.wunderground.com/cat6/harvey-moves-back-over-water-historic-rainfall-will-continue
Meanwhile in the West as hot as it has been today Sacramento CA had its hottest temperature of the year, so far at 109F.
Here are some records set today from the San Diego area:

Here are some records from NWS Utah. Salt Lake City tied their daily record today:
The West was roasting today while there was not much dangerous heat east of the Rockies:
The nation's heat capital, Death Valley, was extraordinarily hot coming in at a max of 122F.
I'll be updating this post with relevant information through this evening.
The Climate Guy
Monday August 28th…
Dear diary. I added the word flood to the title of this blog. Yep, I've been writing about flooding problems more than heat lately, although I'm getting more impressed with the western heat dome.
One big stat stands out with me in association with Harvey. Since making landfall Harvey has retained at least tropical storm status for 60 hours and counting. That's the longest time in Texas history that a land falling tropical system has been in tact with at least tropical storm status. No wonder that we are seeing catastrophic flooding in southeast Texas.
Here are some ways that you can help people in dire need:
http://www.texasmonthly.com/the-daily-post/ways-can-help-people-hurricane-harvey/
Now Louisiana is getting in on the act. A heavy band of rain and storms moved through Louisiana this morning dropping around 5-10″ mainly in southwestern and southcentral portions of that state. I'm getting some ominous signs from radar and met models that the core of Harvey is moving back into the Gulf with thunderstorms developing near the center. This only means more flooding hell for the Houston area as Harvey slowly moves towards Galveston Bay. Here is the latest GFS guidance valid for Tuesday night: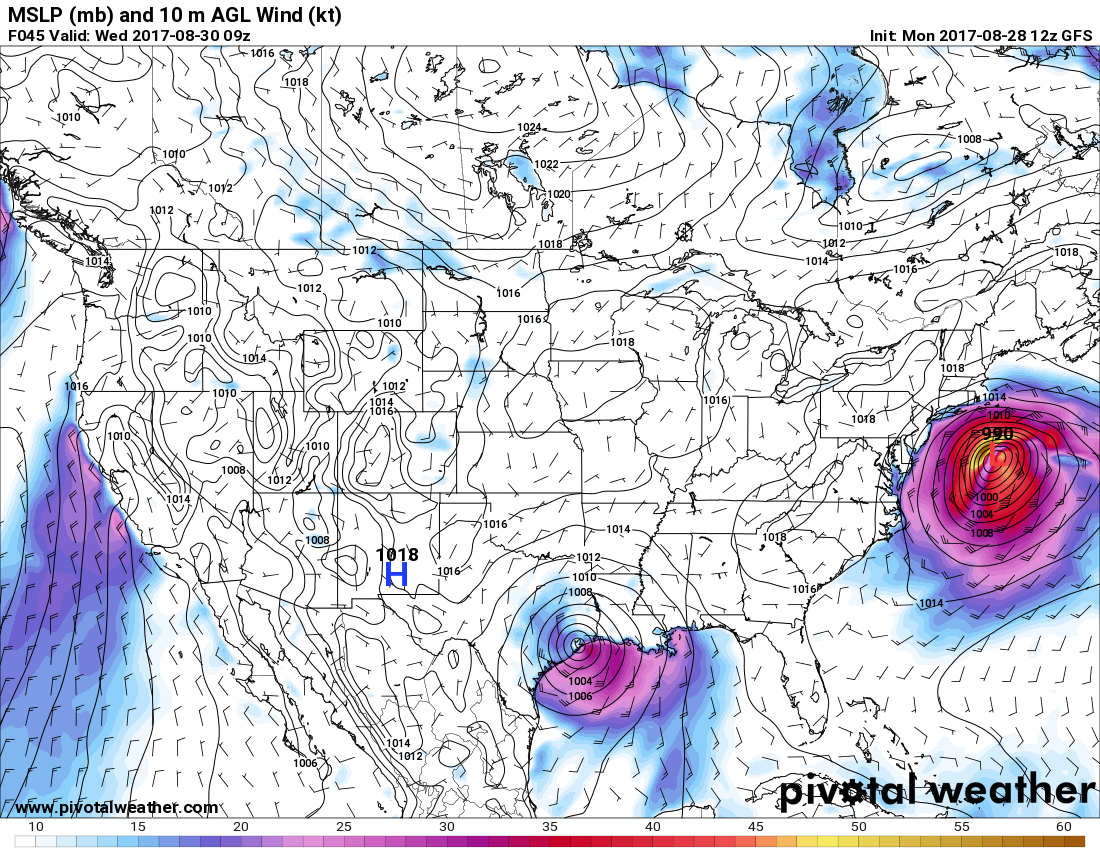 There is some good news here. Once Harvey lifts north of Houston heavy rain there should cease, and models are trending faster with this menace lifting out of Southeast Texas. Also on the above chart what might be Hurricane Irma will be rapidly moving northeast out to sea.
Heroic folks are in the process of rescuing and comforting people. This is one of my favorites from this morning (Image from @itsjustjen after she was rescued by the National Guard):
Here is the forecast additional qpf just for today from the NWS Houston office: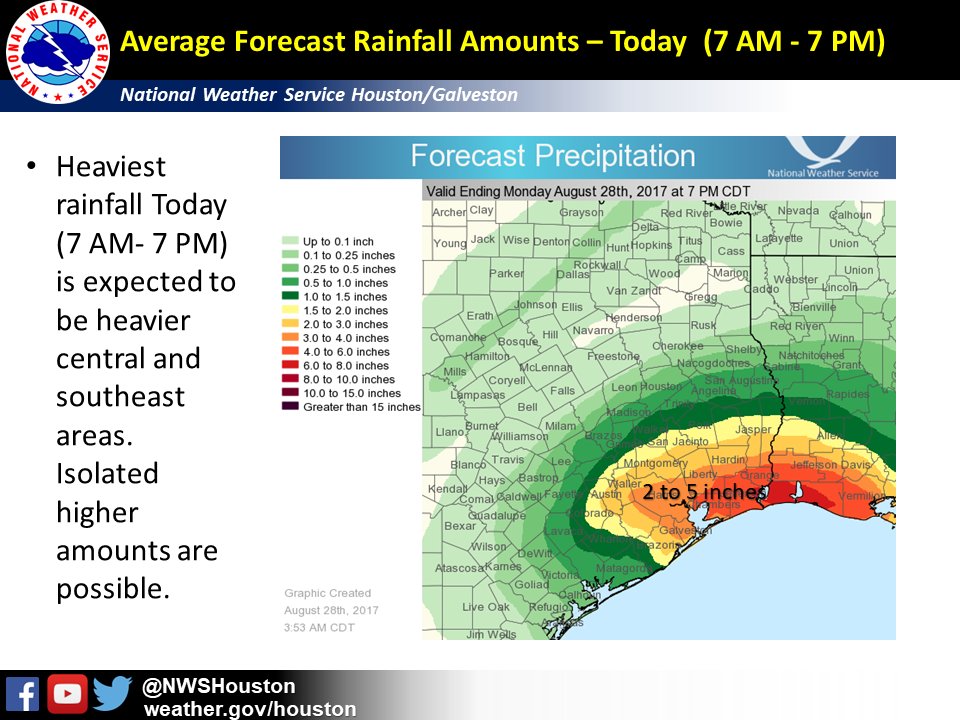 Here is a long list of reports from this morning where more than two feet of rain has fallen, thus far, from Harvey: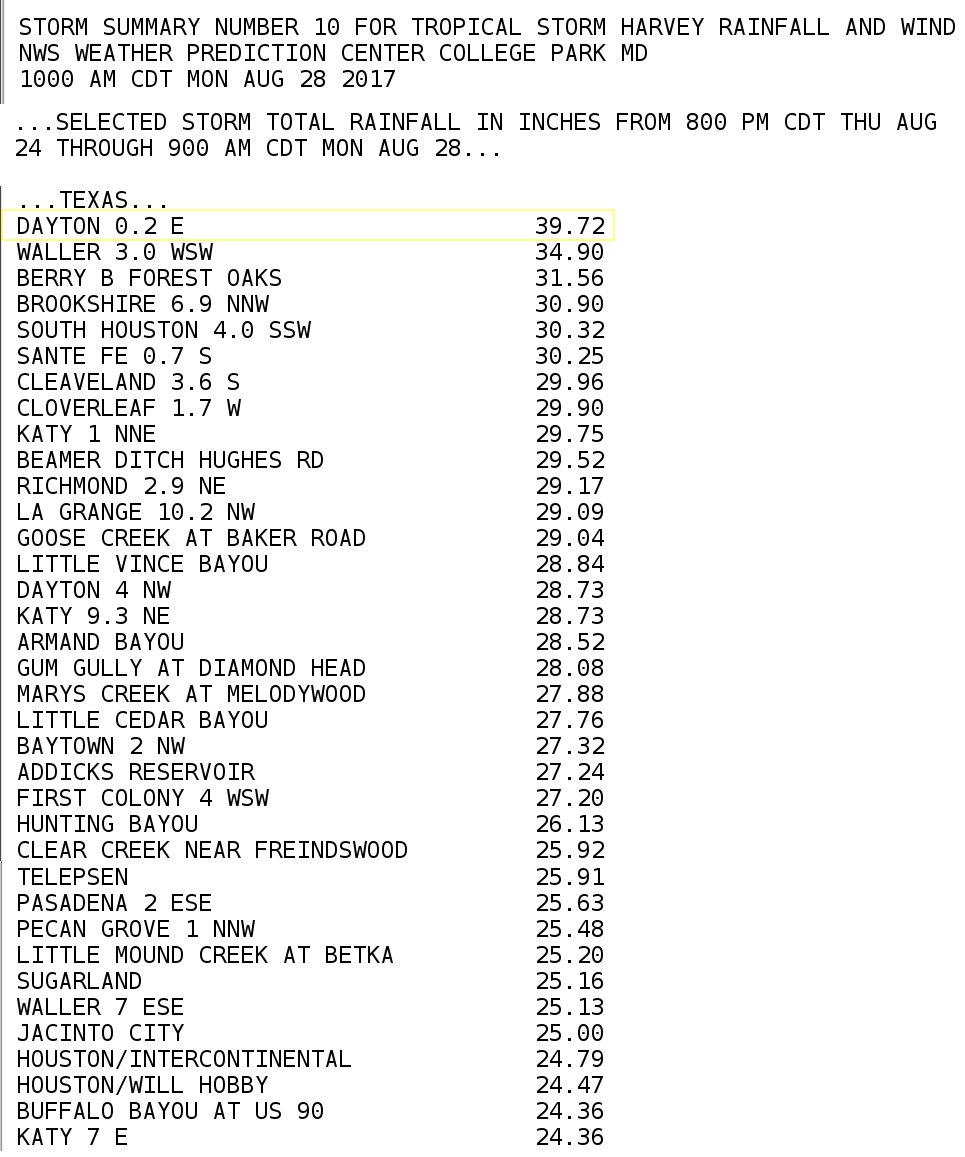 There are strong signs that Harvey can be linked to climate change. This Atlantic article is a good summary of reasons. The only one missing was why Harvey stalled once it made landfall due to a strengthening western heat dome:
https://www.theatlantic.com/science/archive/2017/08/did-climate-change-intensify-hurricane-harvey/538158/
And now back to that western heat dome. Yikes! I can't recall seeing a 597 dm ridge in the West during early September (chart valid for next Monday), and a heat dome of this magnitude lasting for week over a week this time of the year:
Numerous records will be shattered. The following are some samples from the weather service:
I'll be adding more relevant information to this post as the day progresses.
To see all 2017 Heat Diary entries click:
https://guyonclimate.com/category/heatdiary2017/
The Climate Guy