Thursday August 31st…
Dear diary. Today is the last day of August so it is time to check the NCEI surface records site to see if the "streak" of consecutive months of more daily highs than lows across the U.S. is still alive and well. Data is in through the 29th and what will be coming into the system for the last two days of the month will be more record high reports from the West, so, unfortunately, I have no doubt that the streak has reached 33 months…a big climate change signature:

At the beginning of this month I thought that perhaps cool air masses moving into the Midwest and eastern U.S. would break the streak. The early and late August western heatwaves, though, more than made up for any record cool reports from the East. September should be off to a toasty start, as well, as heatwave #8 rolls along in the West. The NCEI August 2017 climate report temperature rankings for the U.S. will be interesting probably showing cooler conditions in the Midwest and other portions of the country east of the Rockies, and very toasty numbers in the West.
The reports coming out of Texas in the wake of Harvey continue to get worse. The city of Beaumont, with a population over 100,000, does not have any drinking water. The death toll from Harvey has climbed above 30 people, which may go up more after rescuers finish combing ravaged storm areas. Houston area refineries are shut down, so roughly 40% of the nations fuel supply is shut off. All relying from fuel from the Colonial Pipe Line connecting Houston to the Northeast, which has been shut down due to lack of refined gasoline and other petroleum products, will encounter shortages and higher prices. A petrol-chemical plant has blown up and is currently burning. Thousands of people are in shelters and may not have livable homes to go back to for months to come.
Now in my "240 hour rule" window, we are seeing a new threat coming from the eastern Atlantic. Irma has grown to major hurricane status and most models now predict a U.S. landfall. Here is the latest satellite image showing a well developed, symmetrical system with a pinprick eye: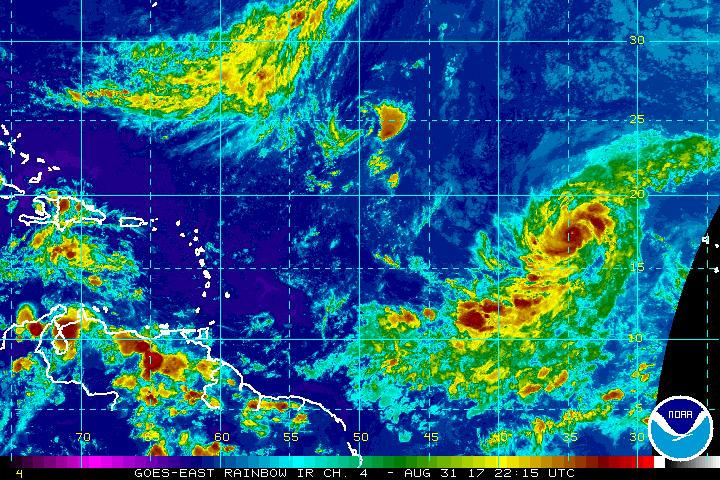 The most reliable model, the European, paints a bleak picture from this morning's run sending Irma through the Florida Keys into the Gulf. I'll emphasize here that I'm not forecasting Irma to move into the Keys or even affect Florida, but the window is beginning to close for the system to be deflected east of the U.S.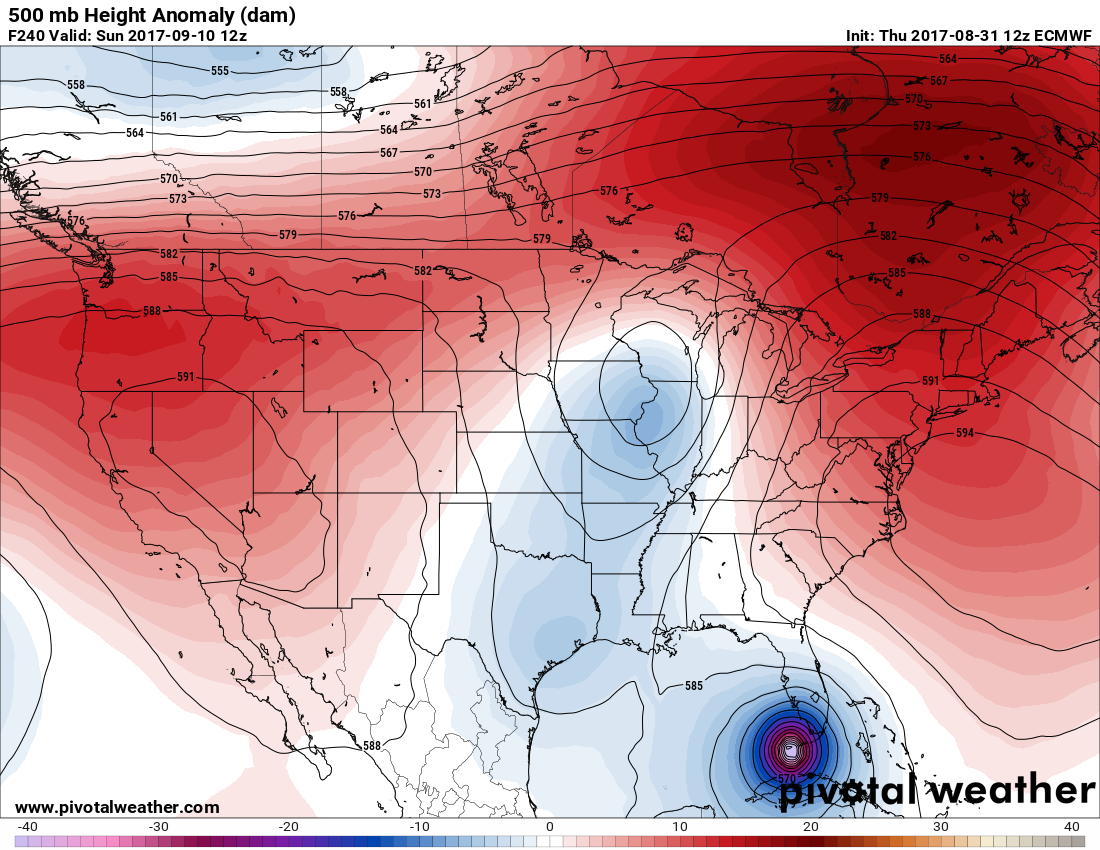 In the meantime before Irma makes any move on the U.S. our western heat dome will be in place producing widespread, uncomfortable conditions setting plenty of records. The heat dome is oriented such that records will be set over much of California and Oregon tomorrow on the first day of September:
Harvey's remnants, which remain a well defined area of low pressure, will move through Tennessee producing localized flooding and some severe storms to the Southeast.
Here are some records from  Southern California (not a complete list) that were set today: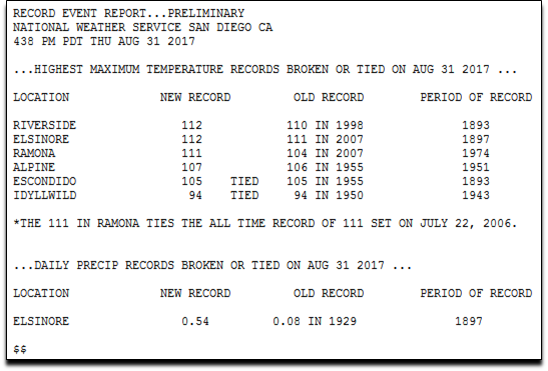 The Climate Guy
Wednesday August 30th…
Dear diary. We certainly are closing out boreal summer with a bang due to Harvey and a continued western heat wave. Unfortunately there is more bad news going into September. I'm seeing more signs on models that the Gulf coastal area will soon see another wet pattern exacerbating what is already a catastrophic flood from Harvey. Am not going to forecast that another tropical storm will be in the western Gulf, but taking morning's GFS run verbatim, there is a system approaching Galveston by next Wednesday:
Last night Harvey dumped around 15 additional inches in the Beaumont/Port Author area leading to more flood emergencies. Quoting this morning's Category Six blog: "After causing severe wind damage near its landfall point in Rockport, Texas on Saturday, followed by an almost unimaginable flood catastrophe Saturday through today in Houston, Harvey has notched yet another extreme rainfall catastrophe this morning, in the Golden Triangle area of Texas, encompassing the cites of Beaumont/Port Arthur/Orange (population 410,000). Harvey made its final landfall in Western Louisiana near the Texas border near 4 am CDT Wednesday, with top winds near 45 mph. Overnight, Harvey dumped a devastating deluge of rain over the region, where catastrophic rains in excess of five inches per hour fell early this morning."
https://www.wunderground.com/cat6/another-harvey-catastrophe-extreme-flood-emergency-port-arthur
The death toll will climb as rescuers comb through flooded waters and rubble in southeast Texas through the end of this week. We are now in the recovery phase of this disaster, which will be a long process much like what happened in the aftermath of Katrina in 2005. Boaters are needed to assist in rescue operations. Besides giving to the Red Cross, other assistance is needed as noted and quoted by the Category Six blog here:
Portlight disaster relief charity responding to Hurricane Harvey
"The Portlight.org disaster relief charity, founded and staffed by members of the wunderground community, is responding to Hurricane Harvey. They need your help!! The flooding caused by Harvey has left many people stranded, and experience shows that a disproportionate number of them will be people with disabilities and older adults. During Harvey, Portlight's Partnership for Inclusive Disaster Strategies Disability Hotline (800) 626-4959 has already assisted hundreds of older adults and people with disabilities. They're rallying stakeholders, working to get people to safety, providing for any immediate needs for durable medical equipment and other assistive technology, and responding to evacuation and sheltering issues and problem-solving for a variety of immediate disability accessibility issues. Portlight has already heard from people being turned away from shelters, denied sign language interpreters, and many of the other issues the disabled have suffered from throughout past disasters. We hope you'll consider supporting Portlight's work with a donation."
(Image credit: Washington Post)
Irma has been named, just not in the Atlantic Basin where I originally thought it might develop.☹ Irma is likely to be a powerful cat. 3 or stronger hurricane in the next few days. We will be watching this system to see if it recurves north staying clear of the U.S.
Andrew Freedman, who I coordinate with, has dug up some climate change research in association with Harvey's relative short time for ramping up from a disturbance off the Yucatan Peninsula to the monster it became before slamming into Texas:
http://onlinelibrary.wiley.com/doi/10.1029/2012GL051700/full
Quoting from the article: "To put it simply, the average time taken by a TC to mature from 64 kt to 104 kt has reduced by about 9 hours during past 25 years."
Heat section:
On this part of my blog I'll be adding western heat tidbits today. Here is one for the Sacramento Valley:
Wow! Both Las Vegas and Death Valley saw extreme heat on Tuesday: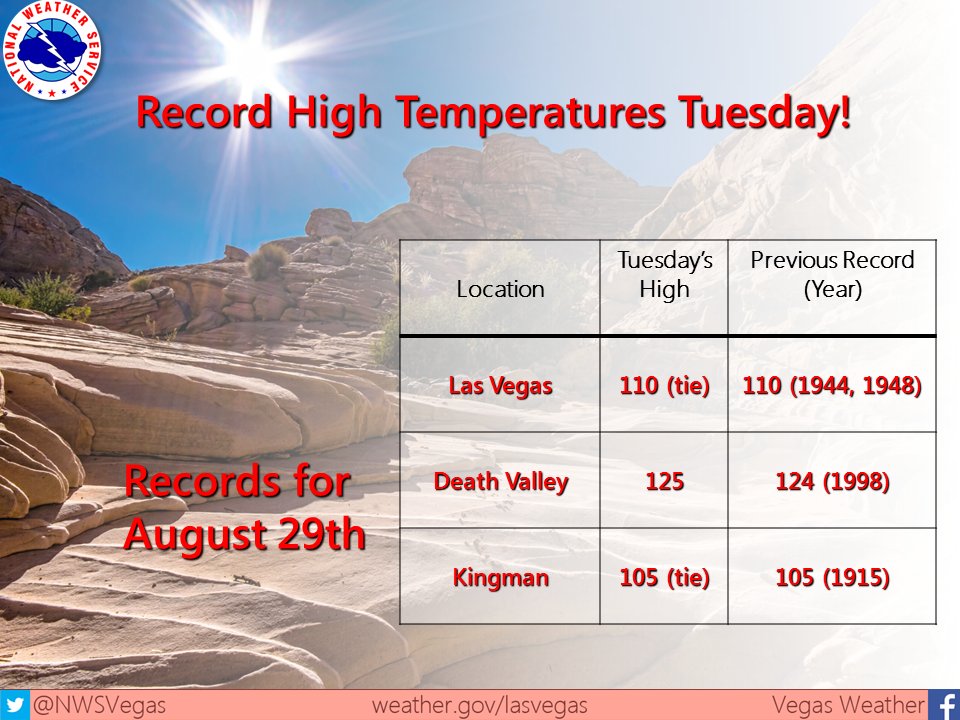 As noted by Daniel Swam (@Weather_West) the San Francisco area could be seeing record heat on Friday: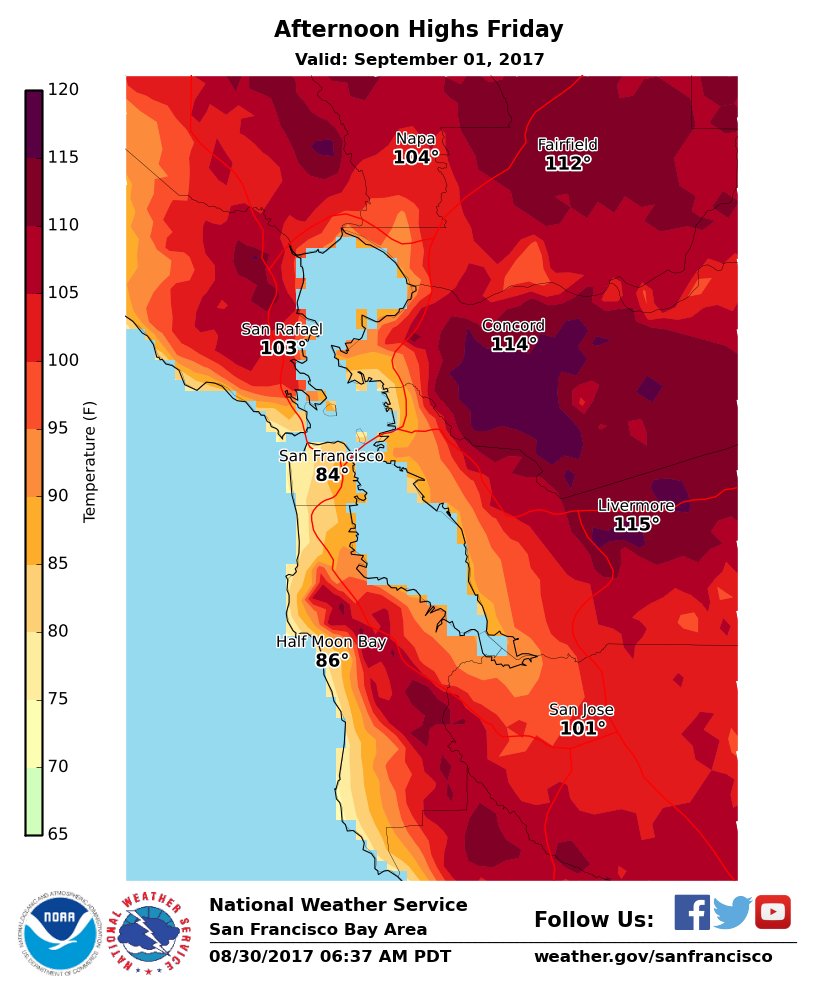 I'll be adding more relevant information to this post as the day progresses.
To see all 2017 Heat Diary entries click:
https://guyonclimate.com/category/heatdiary2017/
The Climate Guy