Midnight Updates…
Dear diary. The 00Z WED operational GFS is just a tad farther west hooking Irma due north out of the Bahamas paralleling Florida's east coast. Taken verbatim the western eyeball wild be perilously close to shore similar to Matthews track last year. Here is Irma at its closest point to Miami on this model run:
If the actual track is no more than about 30 mikes farther west Miami will get a direct hit. Well, let's continue to bite our nails and wait for tonight's European model to come in.
Here's a nice graphic of NHC's official 11 PM EDT track from KXAN Weather: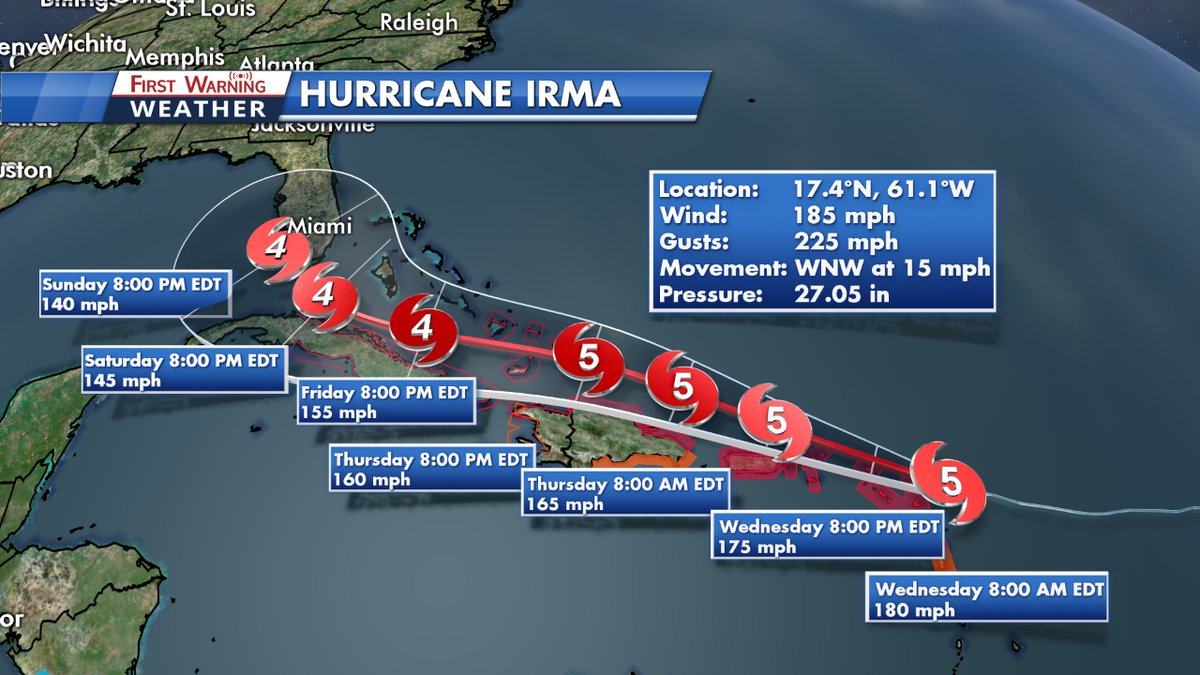 If Irma does not bump into Hispaniola or Cuba I would not be surprised to learn that it has set a record in the Atlantic for the longest lived category 4 storm or higher.
Geez! A buoy near Barbuda, which we are surprised is still working, just gusted to 154 Knots. (Image from Dan Scoff)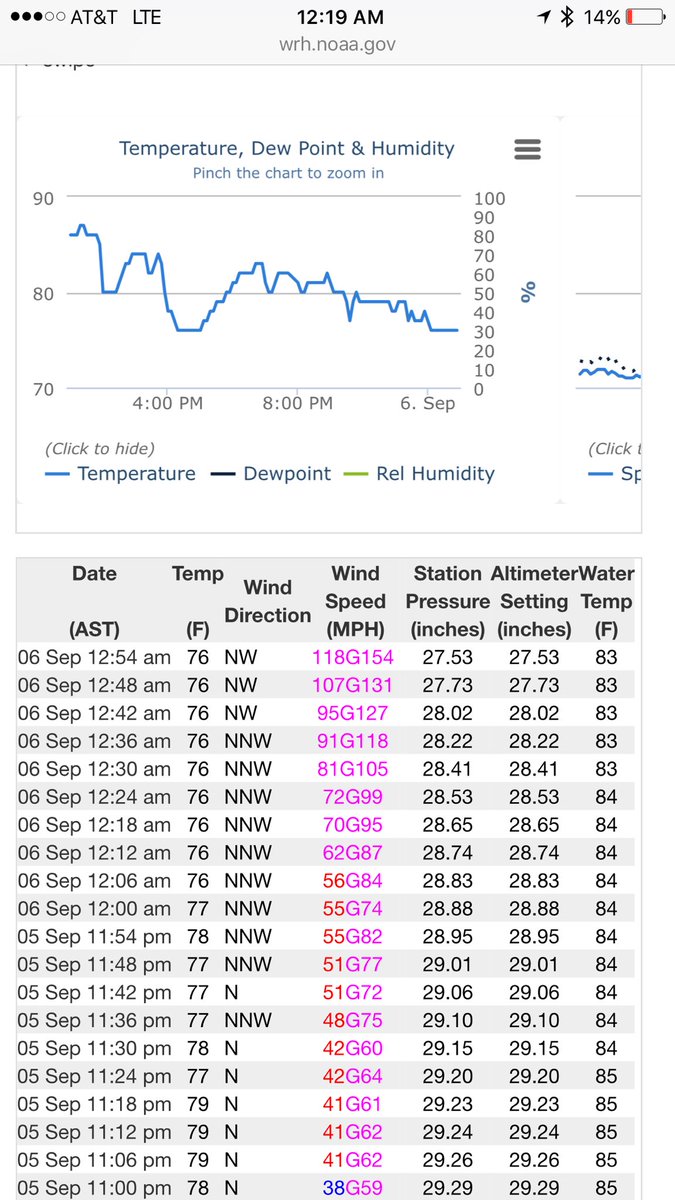 Tonight's hurricane model guidance has all shifted to the right. Will Florida escape most of Irma's wrath? We will all stay tuned:
Well what have we here? Looks like the operational 00Z WED European model has shifted north and east like the rest of tonight's guidance, but has Miami and the east coast of Florida in its crosshairs. The European model has been all over the place the last couple of days. I'm actually impressed more by the more steady, consistent GFS.
That's it for tonight. I'm sure that there will be more surprises when I continue blogging later this morning.
The Climate Guy
Tuesday Evening Updates…
Dear diary. Well this is fun… not! Models have broken with continuity with the 18Z GFS trending more east and the European trending farther south and west of prior runs. I'm still thinking that a middle of the road solution right up the spine if the Florida Peninsula is still possible. On the 18Z TUE run this is as close to Miami as Irma gets, which would be fantastic news:
You don't have to look real close at the below PSU chart to see that the operational 18Z TUE GFS is farther north and east of ensemble members: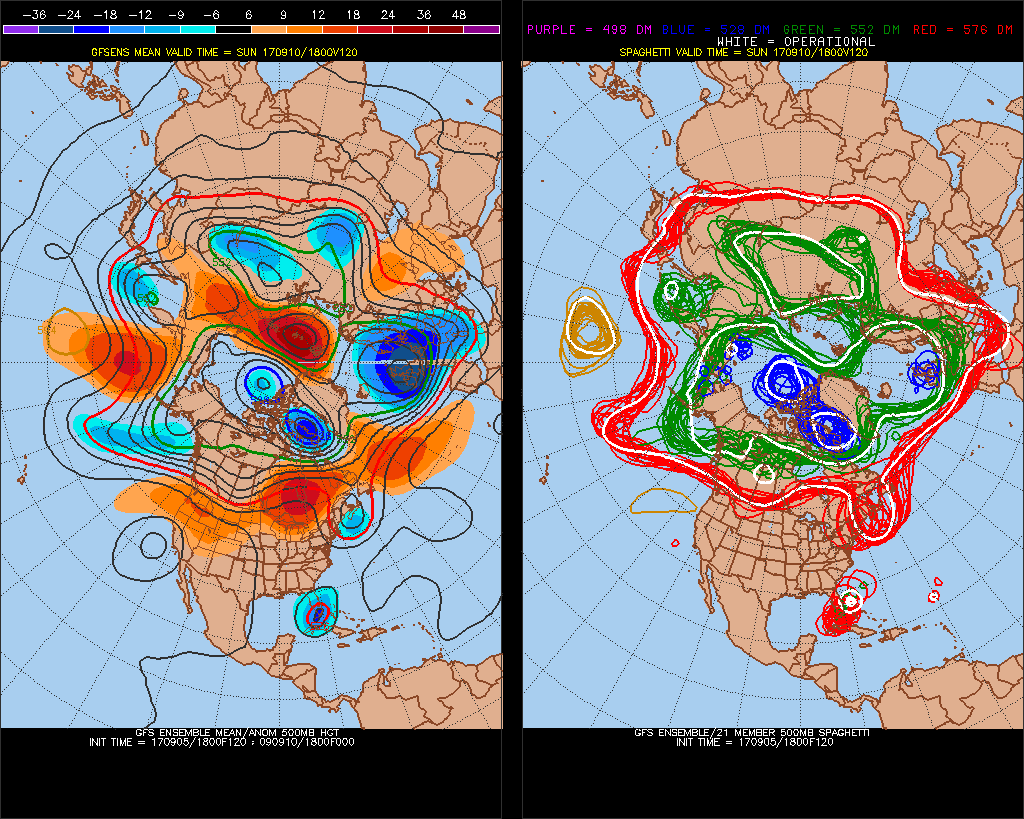 Most of this afternoon's hurricane models took Irma right through Florida:
Here is the most impressive image that I've seen of Irma so far (VIIRS at 1704 UTC from Dan Lindsey) :
A
What a monstrous looking thing that could spell death for many people.
For an in depth look at Irma see this Weather Underground post with some state of the art graphics:
https://www.wunderground.com/cat6/extremely-dangerous-cat-5-irma-storms-leeward-islands
Now let's address the heat wave in the West. Smoke has become a big problem again in Washington and Oregon, but conditions will be improving tomorrow:
Here is an look at the awful fiery, smoky conditions in the Pacific Northwest today from NWS Boise:
The western heat wave has extended north to our friends in Canada. Check out these records: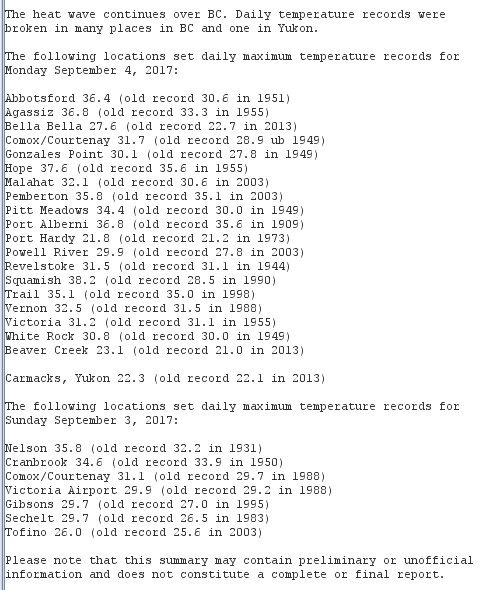 I'll be adding much more information this evening.
The Climate Guy
Tuesday September 5th…
Dear diary. Irma is just sick and so is its forecast path. As of 11 AM EDT top sustained winds have increased to 180 mph. I can't recall a worse forecast path taking the system up the Florida peninsula as a category 4 or even 5 hurricane. The 06Z operational GFS is now back to a track mirroring that from what I saw at this time yesterday. I stated, "Taken verbatim Irma would move into the Keys then lift northward into Miami as at least a cat. 4 hurricane, then parallel Florida's east coast, then move into coastal Georgia eviscerated Saint Simons Island and Hilton Head. If I were an evil genius able to steer a powerful hurricane on the most destructive path possible, I can't think of much worse." The models have been so consistent that this quoted statement applies today. With that being written:
Here are my updated forecasts:
Probability of U.S. landfall: 100%
Probability of Florida Landfall: 80%
Probability of at least a major hurricane at landfall: 80%
Probability of Miami seeing at least hurricane force winds: 60%
Here is the latest satellite imagery showing Irma and its location in relation to the leeward islands:
Here is the 06Z operational model forecasting category 5 Irma to be near Miami:
The NHC cone as of 11 AM EDT TUE has taken up much more real estate in Florida:
You can follow what the hurricane hunters are finding on this fascinating site: https://www.tropicaltidbits.com/recon/
Irma's central pressure is down to 927 Mb looking at the latest mission observations: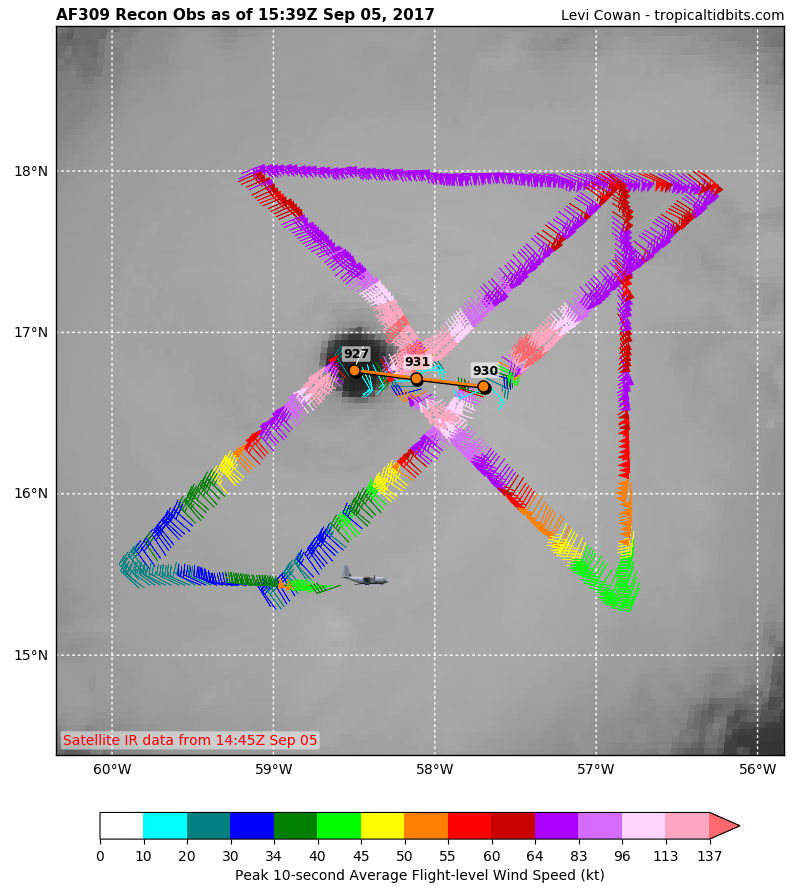 Another great site depicting the latest hurricane models is:
http://derecho.math.uwm.edu/models/al112017.png
Here we see most of the models moving Irma right up through the gut of Florida:
Uh oh. More sad news. The 12Z TUE operational GFS continues the trend of getting Irma very close to south Florida and Miami:
There has been a tiny shift to the east with the GFS. Taken verbatim Irma would slam into Miami with the eyeball bisecting much of the Florida East coast.
I'll be updating this post as relevant items cross my radar today.
The Climate Guy
Late Monday Night/Tuesday Morning Update…
Dear diary. Let the real panic begin. The 00Z Tuesday operational GFS is monstrously consistent with the 18Z and 12Z Tuesday GFS model runs. The new operational model is just a hair further south and west. Taken verbatim the entire Florida Peninsula gets gutted like a fish served for dinner. Now there isn't much wiggle room for significant changes to Irma's path given the consistency of three consecutive model runs. There might be some hope here, though. If Irma threads the needle between Florida and Cuba and moves into the eastern Gulf, Miami might not be devastated.
As pointed out earlier on Monday the GFS is probably deepening Irma too much. If Irma doesn't weaken once it encounters Hispaniola, we'll see if the central pressure can get below 900 Mb.
Hang on to your hats kids. The next week could be a very wild ride.
The Climate Guy
Monday September 4th:
Dear diary. Oh my! This mornings operational run of the GFS painted about the worse case scenario imaginable for Florida and the southeastern U.S. Taken verbatim Irma would move into the Keys then lift northward into Miami as at least a cat. 4 hurricane, then parallel Florida's east coast, then move into coastal Georgia eviscerated Saint Simons Island and Hilton Head. If I were an evil genius able to steer a powerful hurricane on the most destructive path possible, I can't think of much worse. I'm definitely not going to forecast this scenario, but as models come closer together in agreement we can start to refine forecasts. Since it appears that Irma will impact Florida first the timeframe can be moved up to 9/10 and 9/11.
Here are my updated forecasts:
Probability of U.S. landfall: 95%
Probability of Florida Landfall: 70%
Probability of at least a major hurricane at landfall: 80%
Here is an image from this morning's awful GFS:
Miami would be in the worst case right front quadrant of Irma should this model run verify exactly. There is still plenty of time, however for Irma to veer off either to the north or even south of Miami, though.
The European Model has come around more towards the GFS solution looking at ensembles:
Last nights operational European model had Irma barely missing Florida but striking the Southeast: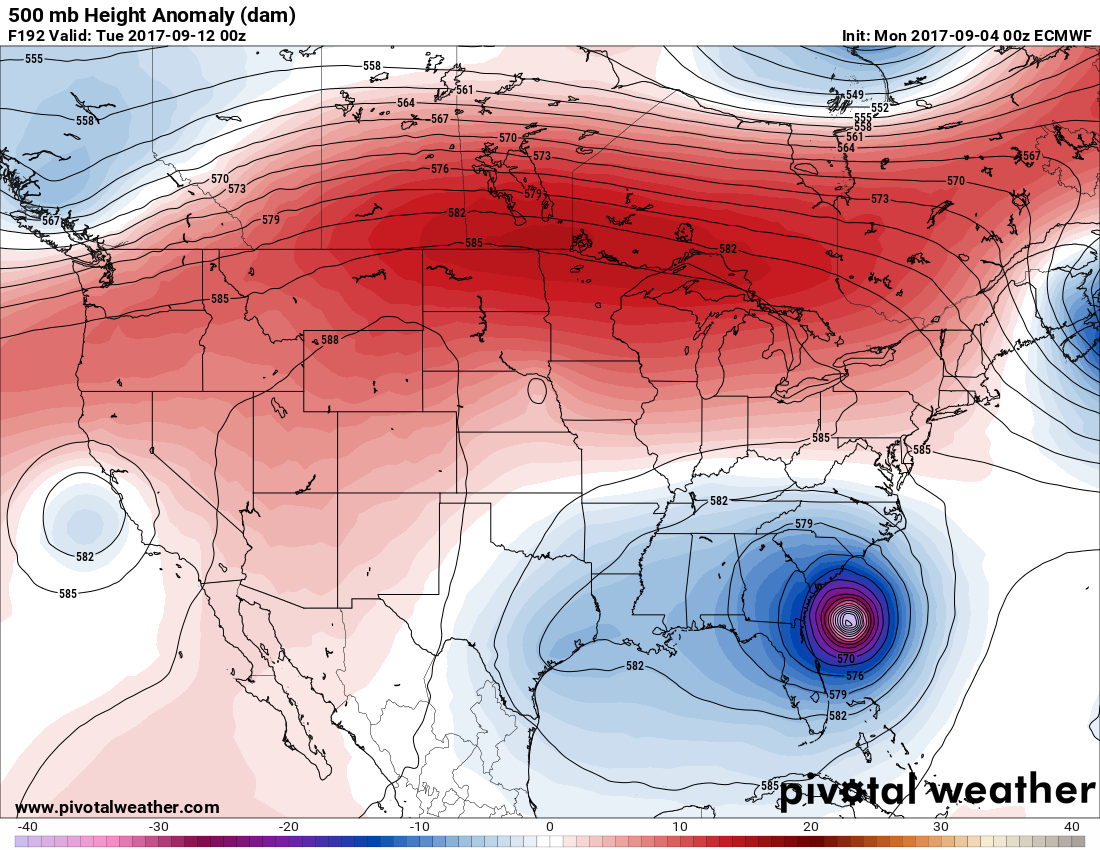 Eek! Now this morning's European model just about matches that awful GFS forecast:
I noticed this yesterday and I agree with Ryan Breton who supplied the below image. In the world of meteorology a weak disturbance, or "short", can make all the difference in the world for a forecast. This is the short that will turn Irma northward into Florida, more than likely, not so much the strong system exiting the Northeast:
Of most immediate concern are the Windward Islands and Greater Antilles which are greatly threatened by Irma. Here are the current advisories and cone forecast from NHC: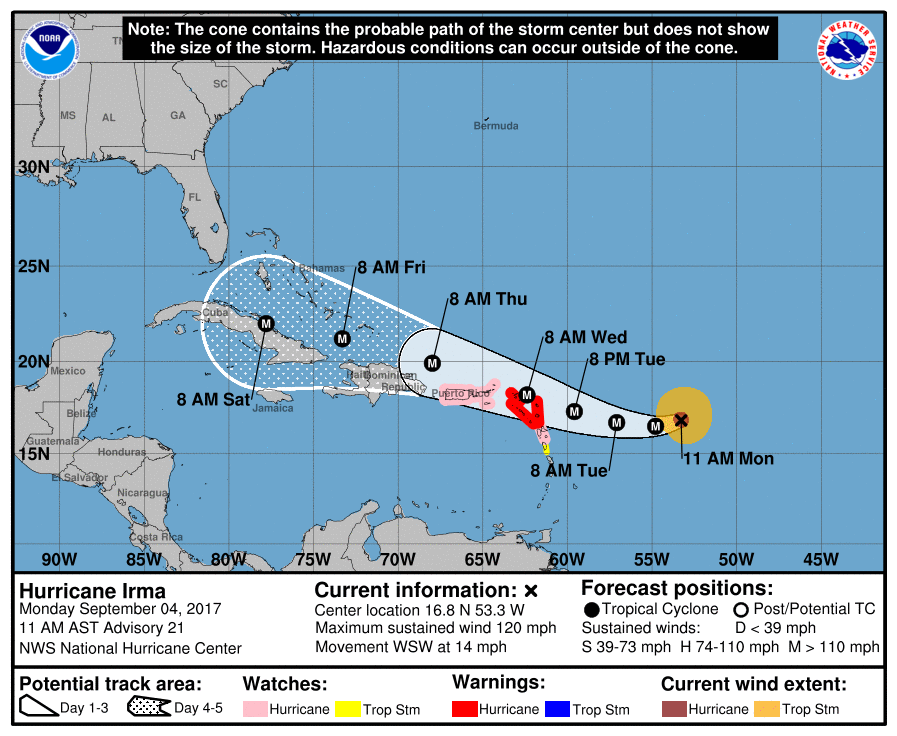 In an email yesterday I wrote the following linking the forecast of Irma hitting the U.S. with the western heat wave. I strongly believe that there is a climate change connection:
"As we all know by know weather and climate change are inextricably linked. The western ridge moves north to Canada then progresses and merges with a building ridge across eastern Canada. The strong Canadian ridge warms (absorbs) a strong, early fall cold trough dropping down into the CONUS. This process builds a block, which may prohibit Irma from recurving out to sea."
I'm quoting a tweet made by Bill McKibben from this morning here:
Houston: Slowly draining
LA: On fire
Miami: Worrying about Cat5 Irma
Paris: Climate agreement would "be bad" for America
The news in association with our western heat wave gets worse and worse. Los Angeles is undergoing the worst blaze in its history dubbed the La Tuna Fire:
http://www.huffingtonpost.com/entry/largest-los-angeles-brush-fire-la-tuna_us_59ac11d7e4b0dfaafcf0fda0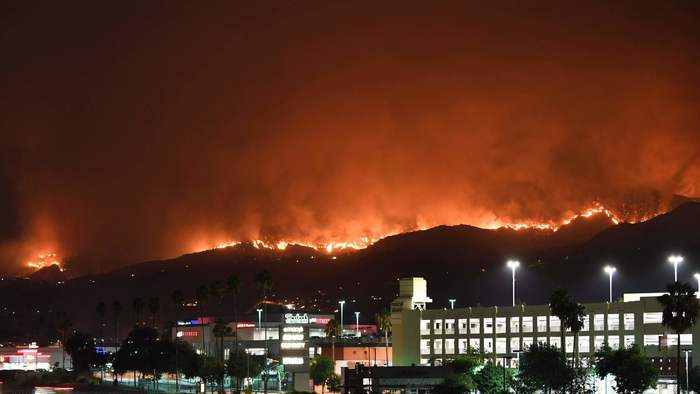 (Image credit: Los Angeles Times)
What was tropical storm Lydia moving northward from the Baja Peninsula has helped to curtail California's heat, and its southerly winds have moved some of the smoke north if the state: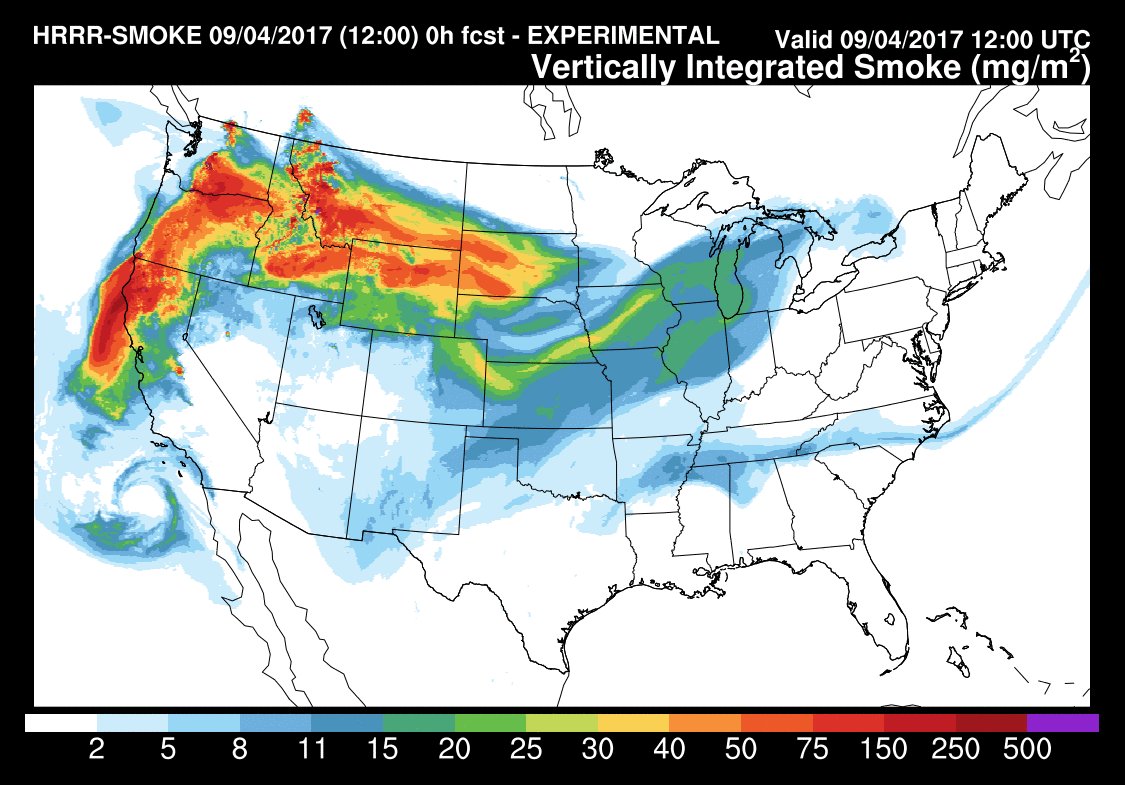 This is in part due to our heat dome moving east and setting up camp over the Great Basin and northern Rockies: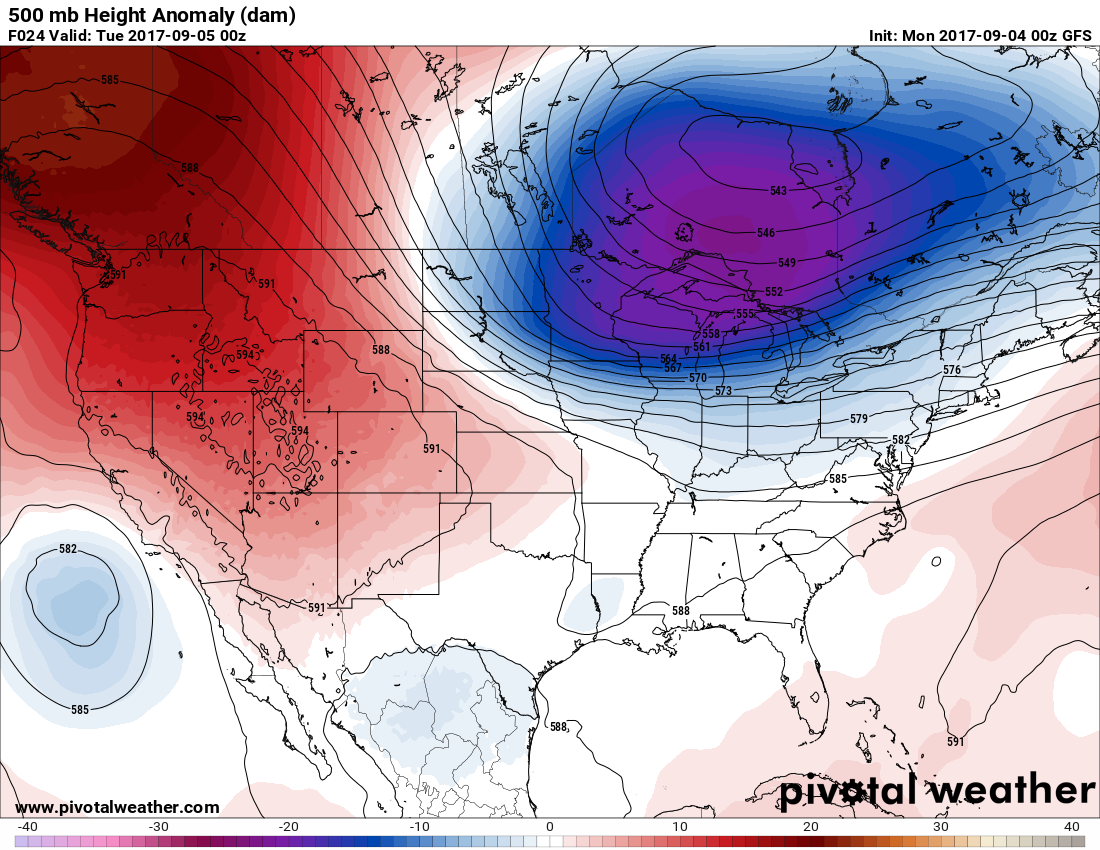 Record heat is expected underneath the heart of the ridge as depicted on the Pivotal Weather chart.
Here is the forecast for today, Labor Day, around Utah:
Yesterday Salt Lake City saw a record high if 98F.
Here's a reminder about what to do because of all of that forest fire smoke:
Monday Evening Updates:
Unfortunately there was no change with the 18Z run and Irma was upgraded to a category 4 storm: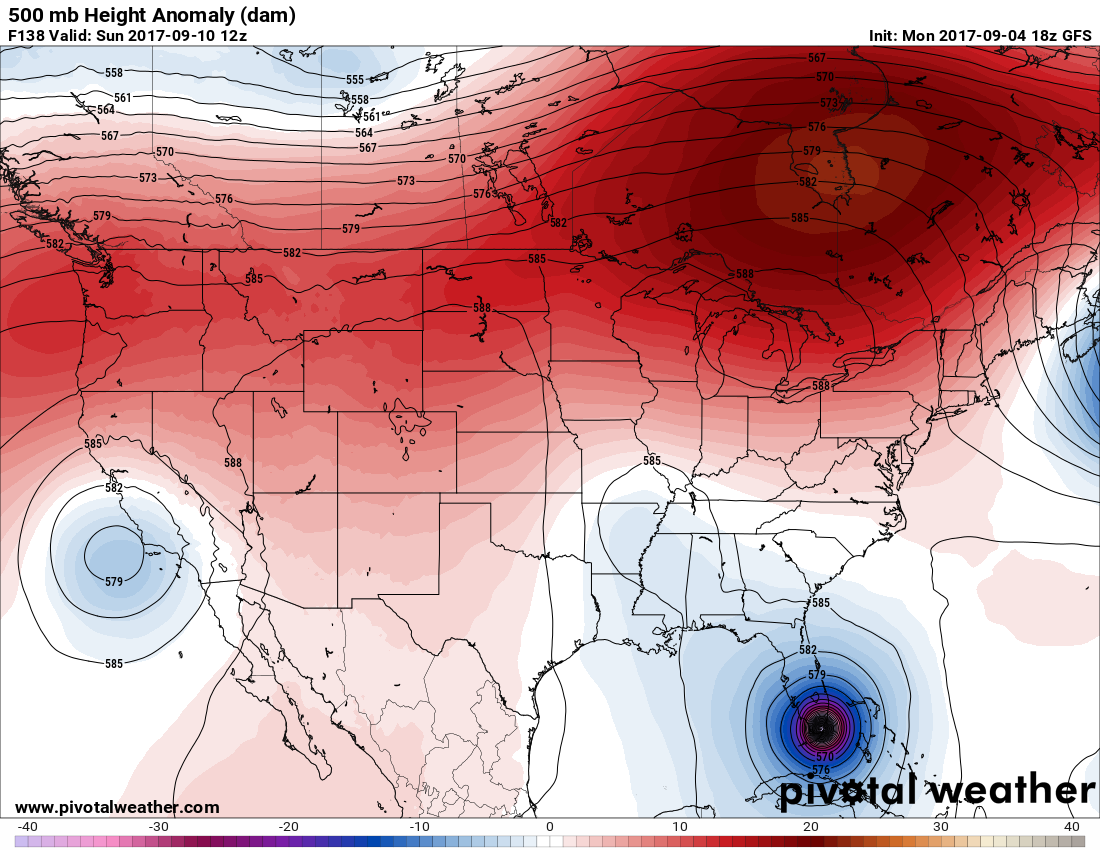 Note the huge heat dome that has moved east into eastern Canada, which will block the storm from moving out of the Southeast once Irma slams ashore. As written earlier today and can be seen on the above chart, the small system located near Memphis will be responsible for pulling Irma to the north, perhaps across Florida.
Governor Rick Scott has declared a state of emergency for every Florida county to prepare for Irma.
This Salon article logically links Harvey with climate change:
http://www.salon.com/2017/09/04/three-things-we-just-learned-about-climate-change-and-big-storms-can-the-lessons-of-harvey-save-us/
Here are some record highs recorded in Labor Day:
Despite a thick layer of smoke many stations across Washington saw record heat.
I'll be adding to this evening  as relevant news crosses my radar.
To see all 2017 Heat Diary entries click:
https://guyonclimate.com/category/heatdiary2017/
The Climate Guyhttps://www.tropicaltidbits.com/recon/