Thursday November 9th… Dear Diary. NCEI temperature record data has been processed in their records site through November 7th, which is enough data to represent how much the "heat wave" across the South affected my statistics. A cold front put an end to the warmth after the 7th. This is the same heat regime that these amazing heat statistics from Dallas were a part of:
Thursday 11/2:  94°F
Saturday 11/4:  90°F
Sunday 11/5:    94°F
Remember that Dallas had never gotten to or exceeded 90F in November. Here is what we see in association with the first "warm episode" this month from coast to coast:
853 DHMN   421 DHMX   206 DLMX   48 DLMN
Wow! We see a total of 1274 warm records versus a paltry 254 cold records. I'll be updating these statistics on this page as more records are reported in the NCEI site.
So it's clear by now that November 2017 will be the 36th consecutive month of more daily max records than mins? Not yet. Let's see what the statistics look like after that cold shot moving into the Northeast has moderated next week. Here are the latest GFS forecasts for Saturday morning in the Northeast showing some values threatening cold records: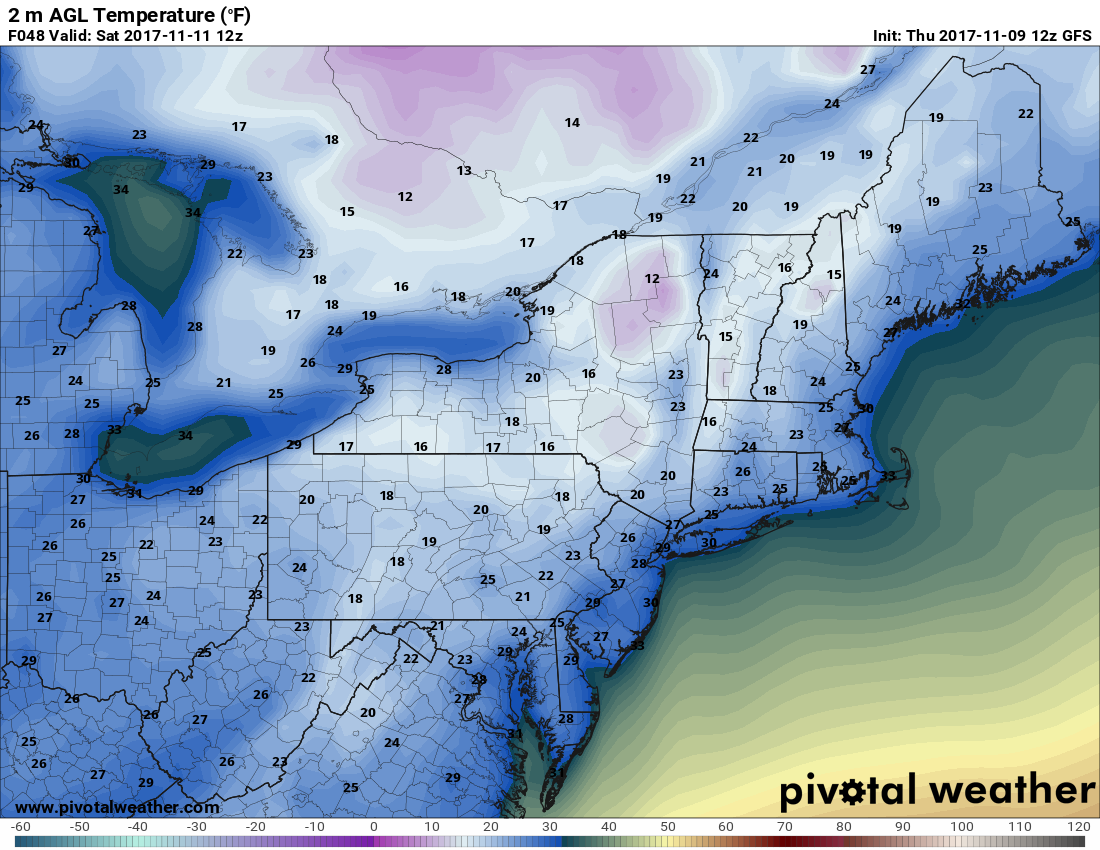 Polar high pressure will be settling over much of the East with this orientation by Saturday morning:
I'll be adding more to this post as information crosses my radar.
The Climate Guy
Wednesday November 8th… Dear Diary. The National Center for Environmental Information statistics are out for October 2017. All of the temperature and precipitation charts can be found here:
https://www.ncdc.noaa.gov/temp-and-precip/us-maps/1/201710#us-maps-select
Here are the ranked temperature averages per state. A ranking of 1 would be the coldest since 1895 and 123 would be the warmest:
Note that the Northeast had their warmest October in recorded history. Overall, the lower 48 states came in with a ranking of 103 or the 20th warmest October on record. So how did the record count statistics stack up for October, which this blog specifically is keeping track of? Here you go:
3818 DHMN         1518 DHMX         1038 DLMX           909 DLMN
All of these statistics are what one would expect in a warming world due to carbon pollution. The one figure that really stands out is the 3818 daily high minimums either tied or set. Yes, as I keep pointing out, nights are warming faster than days.
California continued to have above average temperatures during October 2017. Edgar McGregor notes: "Pasadena CA was 6.95F above than the 1909-2017 average. It was the first October on record to record an average high temperature above 90F. 3 daily high recrds were broken. 1 daily record low was broken. 10 days had highs above the mean maximum for October."
How is this first week of November stacking up to the first week of November 2016? Overall, November 2016 was the warmest November on  record. The answer, much cooler, but still above average looking at these MDA Weather Services charts: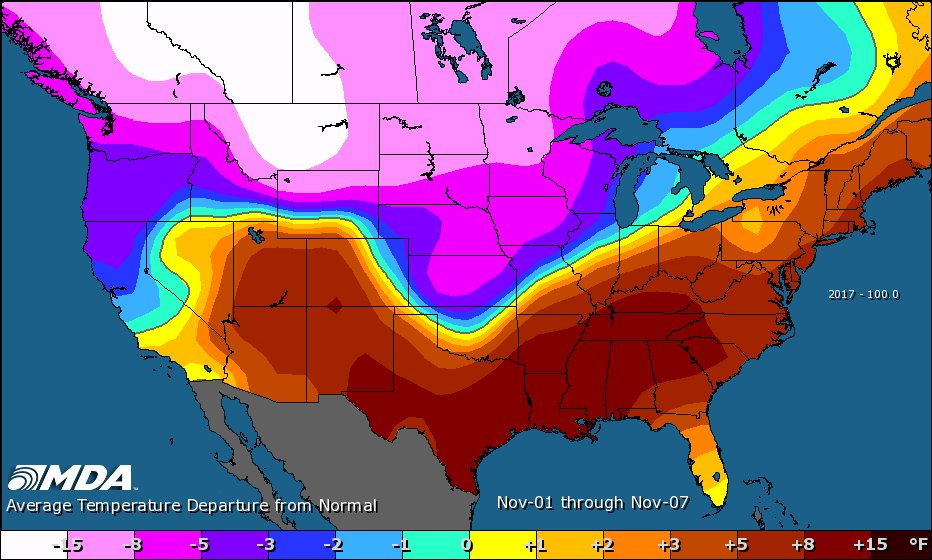 Yesterday I noted on this post the huge change in snow cover across the lower 48 states compared with last year.  I've looked at weather models going our through the end of this month forecasting that, for the most part, a cold, snowy pattern locking in place from western Canada southward through the Pacific Northwest and eastward into the upper Midwest. Chunks of cold air masses will eject over the Northeast, but that section of the country could see a seesaw pattern with temperatures. A warm pattern will persist over Texas and most of the Southeast. We will see if the cold is more significant than the warmth during November 2017.
Speaking of the "cold team," they will be wracking up some points by late this week in the Northeast:
Dr. James Hanson has endorsed this strong measure to deal with climate change today:
"Lawsuits against governments and carbon majors could force what Hansen and many climate activists have long advocated: a carbon fee or tariff system on fossil fuels to raise their cost and provide funding. "As long as we allow fossil fuels to be cheap energy, and not required to pay their costs to society, we cannot kick our fossil fuel addiction," he says."
Read the full article here:
https://news.nationalgeographic.com/2017/11/james-hansen-fight-climate-change-sue-pollutors-cop23/
I'll be adding more relevant information to this post if it crosses my radar.
The Climate Guy