Tuesday November 7th… Dear Diary. After we see a good shot of arctic air in the Great Lakes and Northeast late this week the atmosphere will be setting up for warmth, at least at mid and upper levels, across most of the country the following week. Here we see well above average 500 mb heights slated for next Monday: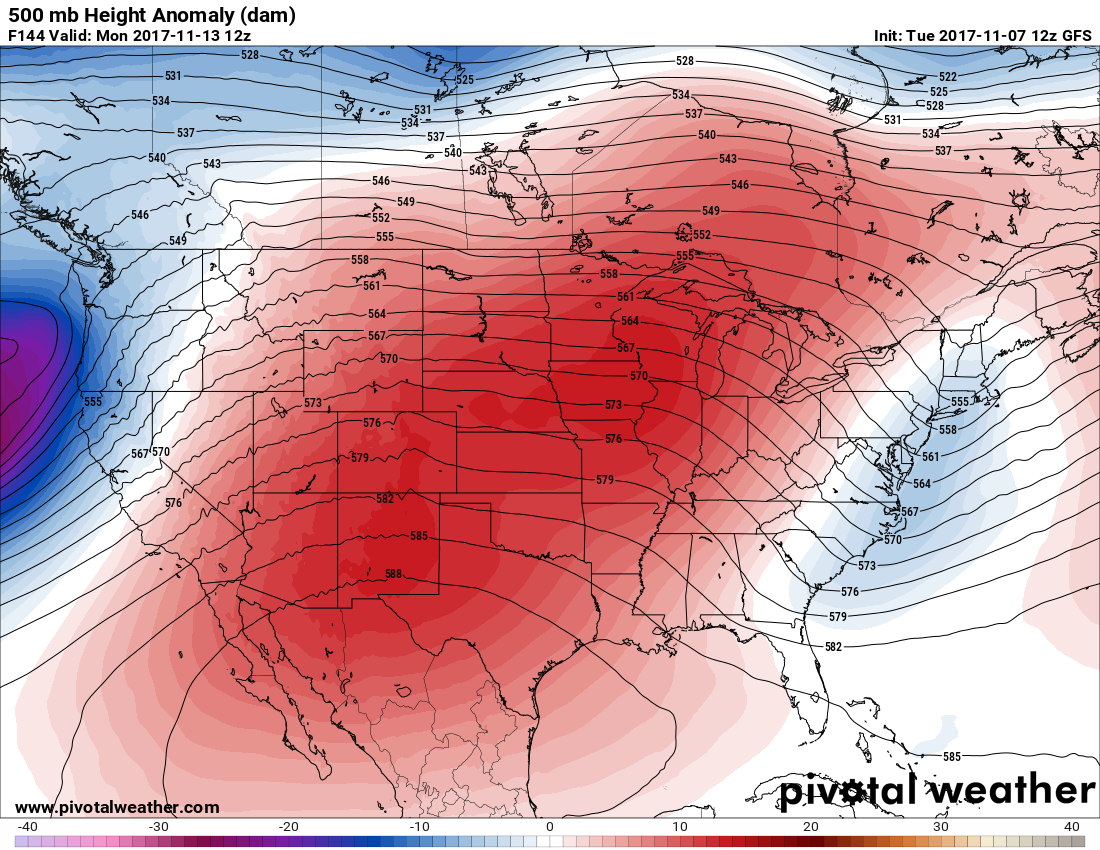 So will this be the next opportunity to rack up more record warmth? Perhaps if medium range temperature guidance is off. Upon closer examination guidance is below record max values for next week. Here is an example:
Perhaps if we see 60s and 70s making there way into the northern Plains we will see some records fall. The one factor that may prevent records from falling will be snow cover. Snow acts as a radiating force preventing incoming solar energy from transitioning to warmth at the surface. There is a huge difference between current snow cover this year from at this time last year. First we see healthy snow cover this year from the Pacific Northwest into the northern Plains:
Last year the lower 48 states were nearly devoid of snow:
Last year we saw the second warmest winter across the lower 48 states in recorded history. The winter of 2015/16 takes top honors. Will the winter of 2017/18 be colder partially due to snow already in place both in the U.S. and Canada? I think so.
Updates: The warmth across the South keeps producing records. Yesterday Atlanta tied its record of 78F and today (11/7) Atlanta tied the old record of 79.
Quoting Bob Henson's blog:
https://www.wunderground.com/cat6/sundays-tornadoes-confirmed-four-states-ts-rina-churns-across-central-atlantic
November heat records obliterated in Dallas-Fort Worth
"The unusually warm, muggy air mass for early November that helped produce the Midwest tornadoes on Sunday also led to a few spectacular heat records in Texas, especially in the Dallas–Fort Worth area. Prior to this year, November was the only month in which DFW had never hit 90°F. The city's hottest November reading in records dating back to 1898 was 89°, occurring on multiple dates/years. That record was demolished in short order with the following highs at DFW:
Thursday 11/2:  94°F
Saturday 11/4:  90°F
Sunday 11/5:  94°F
Later this week, a cold air mass will plow into the central and eastern U.S., potentially bringing record lows to parts of the Northeast, including Boston and New York. The cold will undoubtedly be noticed, given the very mild autumn thus far in the Northeast. Daily record lows are likely, and a few spots could dip toward record-cold readings for so early in the season. However, all-time monthly records are very unlikely given that we're still in early November. For example, Boston might get as cold as 20°F on Saturday morning, November 11. The record low for that date is 24°F in 1901, while the record coldest for early November is 17°F (Nov. 4, 1889) and the all-time monthly low is a frigid -2°F (Nov. 30, 1875)."
The Climate Guy
Monday November 6th… Dear Diary. We are currently seeing record warmth from Texas through the Southeast. I'll have some tallies for early November once the warmth ends in a few days. The next potential record temperature U.S. episode, potentially adding to those NCEI tallies, will stem from arctic air pooling in Canada, which is already affecting Montana and the northern Plains. This chart via Bill Karins shows where the only substantial colder than average air mass is currently residing on the planet, which happens to be where that arctic air mass is building:
Since this air mass will be moving over the Great Lakes in a couple of days we should see the first significant lake effect snow of the season. One rule of thumb for forecasting LES is seeing about -10C air flow over the Great Lakes at 850 millibars. Here is what we have by Wednesday of this week:
The required cold air mass for LES will just be coming into the upper peninsula of Michigan Wednesday morning. Well below -10C at 850 mb will be encompassing all of the Great Lakes by Friday. We might see a few records fall once the system ushering in the cold pinches off in northern New England by Friday:
The corresponding arctic high pressure area will be over the Great Lakes by Friday morning:
Tomorrow's minimums don't look that impressive for this time of year from Montana into the northern Plains while I would expect some record warm minimums to be tallied from the South:
I may add more to this post later today as relevant information crosses my radar.
The Climate Guy