Monday November 27th… Dear Diary. Here is today's climate change related topic:
I have some good news about light emitting diodes or LEDs, which are being used to fight climate change. Nope. Remember back around the turn of this century when environmentalists were touting LEDs to save energy? Yes, LEDs did that, but as far as outdoor lighting goes energy savings has spurred more growth, thereby undercutting the intent of the new bulbs. Sigh, it is human nature to do more with more and not be content to conserve should that option be handed to us. LEDs are a case in point:
https://gizmodo.com/the-switch-to-outdoor-led-lighting-has-completely-backf-1820652615
From the article: "This study is important because it validates with data two things we have suspected: that the rate of growth of light pollution continues upward on a worldwide scale, and that the migration of outdoor lighting from older technologies to LED isn't having the anticipated benefit in terms of global reductions in energy usage," John Barentine, the resident physical scientist for the International Dark-Sky Association, told Gizmodo. "The latter point is especially important because a number of governments have been convinced to convert their outdoor lighting to LED on the basis of promised reductions in energy usage."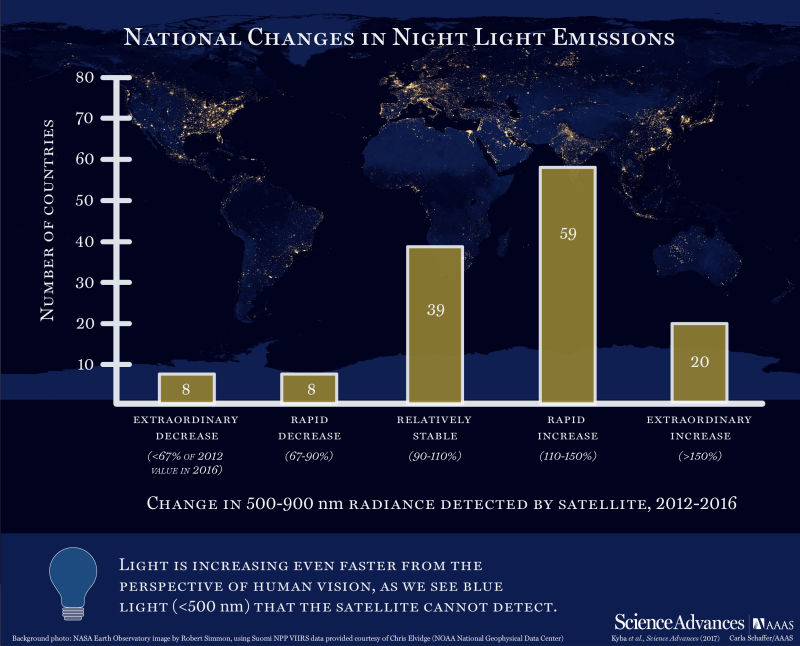 As far as this week goes in the United States, a front will curtail warmth in the Plains and Southwest starting tomorrow: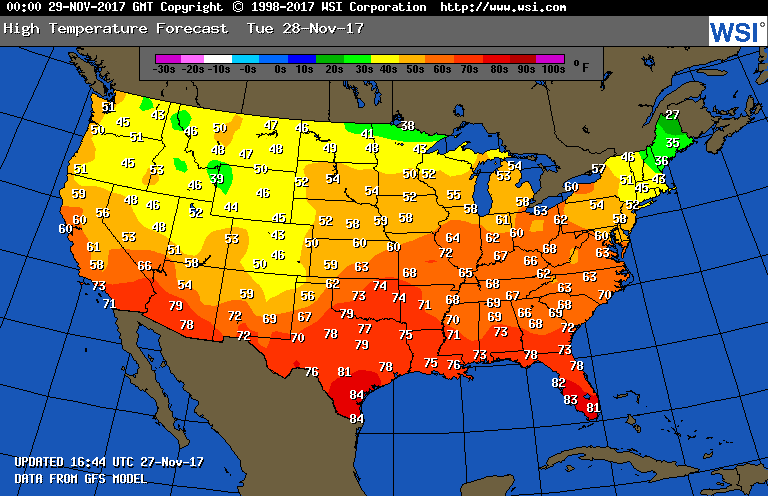 Toasty times in Tucson over Thanksgiving weekend (From Bob Henson's Weather Underground Blog) : 
"Among the locations where heat records for so late in the year were toppled over the weekend were San Jose, CA (80°F on Saturday), Cheyenne, WY (71°F on Sunday—the latest 70°F on record in data going back to 1872), and Casper, WY (67°F on Sunday). Tucson, AZ, had its hottest day so late in the season with 88°F on Saturday, and then bested itself with 92°F on Sunday. The Sunday reading in Tucson was just 2°F shy of the city's all-time November record—an especially impressive feat given that we're near the end of an autumn month, when the mildest readings typically arrive sooner rather than later. Tucson notched daily record highs on all four days of the holiday weekend (Thurs-Sun), and it's racked up a total 21 record highs for the year thus far. "With a period of record starting in 1894, having almost 7% of all days this year attaining record warmth is quite unusual," said WU weather historian Christopher Burt."
Tucson AZ was the nations hot spot today topping out at 92F breaking the old record of 85F set in 1950 and again in 1998.
It's very late in November to establish a monthly record since it's much warmer, climatologically, at the beginning of the month than at the end. Nevertheless, Denver has indeed done so reaching 82F today. Their old record for November was 81F set on 11/8/2006 and 11/16/2016.
Wow are we going to see a lot of reports of records getting into the NCEI database from today:
Here are some records from Kansas:
Across Nebraska:
In Lincoln NE the new record max is now 72F (old record 68F in 1998)
In Omaha NE the old record max of 67F was tied (old record set in 1998)
Wow! It got up to 70 at Huron SD breaking the old record by eleven degrees:
From the Aberdeen SD office I spotted these records:
62F at Sisseton SD (old record 58F set in 1998)
60F at Watertown SD (tied old record of 60F set in 1941)
59F at Wheaton SD  (old 53 set in 1998)
Here is today's toasty national maximum chart: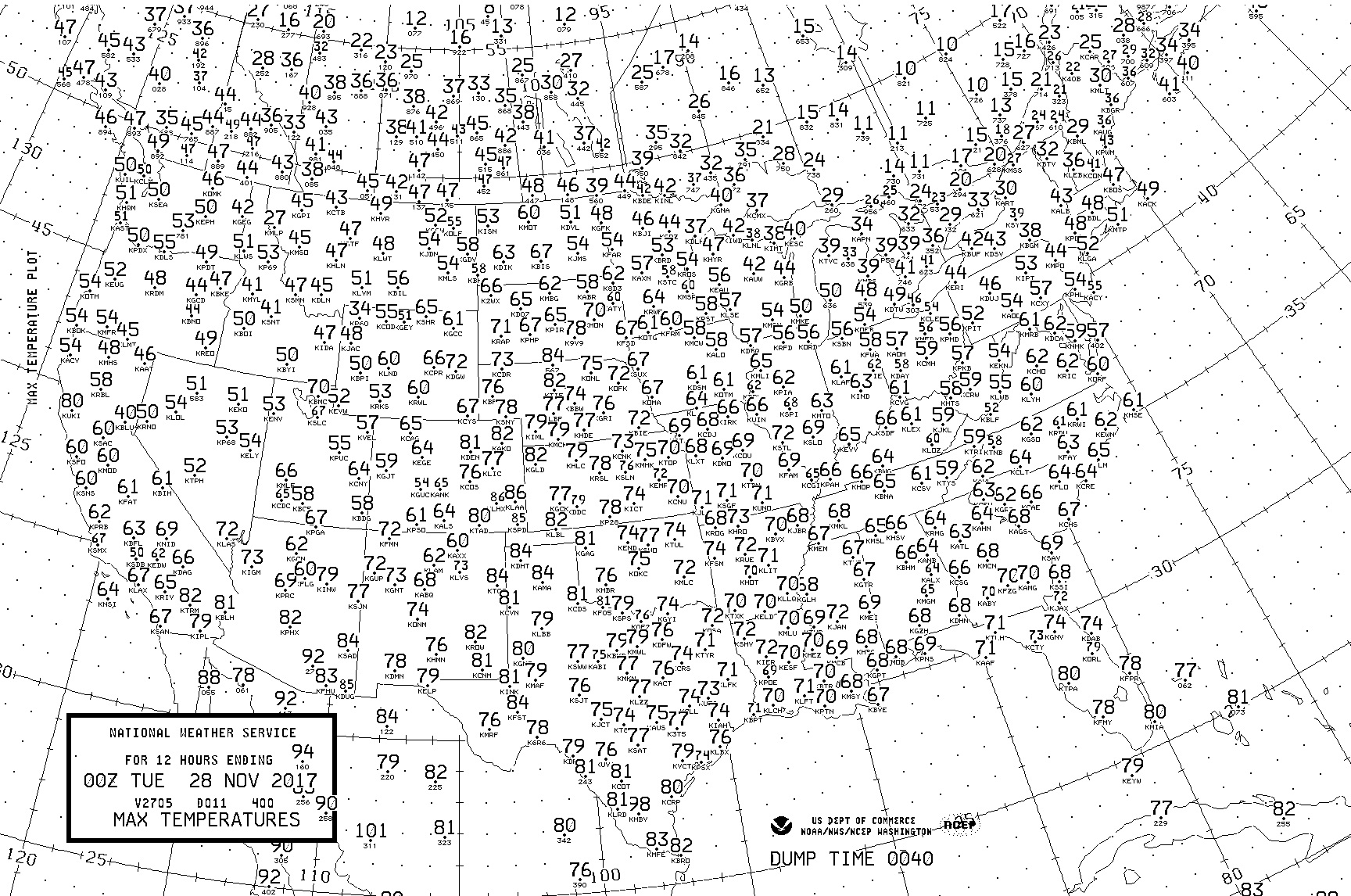 Whew! I can't recall a day in late November quite this warm in the Plains in my 30+ career of looking at temperature charts.
The Climate Guy
Sunday November 26th… Dear Diary. Here is today's climate change related topic:
Well, well, well. Look what we have here…a landmark for my personal climate change marker, the disparity between the number of record highs and lows on a monthly and yearly basis. As the planet warms there should be fewer cold extremes with time, but they are still occurring. Looking at the data in the National Center for Environmental Information the record "Streak" of consecutive months of more daily high than low records has reached 36 or three years for the United States :
(data through 11/23)
Here is the link showing my data on colored charts back to 1920 (the charts are catalogued at the end of the post):
https://guyonclimate.com/2017/03/03/february-game-over/
The reasons why I am certain that we can tack on NOV 2017 to the streak is because many more records will come into the NCEI system from the warm Thanksgiving holiday weekend, and the rest of November will be mild across the U.S.
Tomorrow we will have some record warmth in the Plains and Southwest:
Here is an updated chart of two meter temperature anomalies for Cyber Monday:
This is a spiffy graphic indicating that Phoenix got close to 90F today and established a new record:
Yuma did get there.
We will see exactly how many more record highs get tacked onto the November stats by early December.
The Climate Guy
Saturday November 25th… Dear Diary. Here is today's climate change related topic, which will be an incomplete, open thread since there are no easy answers:  Eco-friendly gift giving.
Here is a holiday question for all to ponder. What would be less environmentally friendly… getting goods and gifts packed in plastic bubble wrap and other material from on line sources that take energy to be shipped, or using energy to drive from store to store to do traditional shopping?
We just went through Black Friday, and we are just about to go through Cyber Monday. Since its inception in 2005 Cyber Monday has grown such that in 2015 online sales grew to a record $2.98 billion, compared with $2.65 billion in 2014 (stats from Wikipedia). Saving on energy by not going to and from brick and mortar stores to do holiday shopping in carbon polluting vehicles is a good thing, but what about dealing with that packing material protecting .com bought shipped items?
On the one hand bubble wrap sometimes is not recycled and ends up in landfills, not to mention aiding the petroleum industry increasing demand for oil, and using more energy in a vicious cycle to produce those plastics and other wrapping. On the other hand if one drives around a lot to stores more energy might be used than ordering stuff on line. What's an eco-conscious person to do if they don't want to be Scrooge? Here are a few tips I've come up with for eco-friendly shopping. I may add more suggestions from those of you who have responded off social media:
1) Do your homework by making a list. Think of what items you wish to purchase on line. Check the    list against store items that might be less expensive than on-line goods should you wish to burn gas to go the brick and mortar route.
2) When doing traditional shopping in a gas using vehicle plan the shortest rout. Try to do traditional shopping on one or two trips. Browsing at the mall and then going back again without picking up anything is a no no.
3) Contact on-line companies to see if they use eco-friendly packing material. Bug them if they don't .😊
4) Recycle any shipping material including that bubble wrap and, of course, card board. 
5) Package carriers have become much more energy efficient, but you could inquire about those.
For Sunday guidance forecasts heat to build again in the Southwest and more warmth is slated for the western High Plains. A cold shot will hold the warmth in check in the Upper Midwest and Northwest:
I'll add more to this post if pertinent information crosses my radar.
The Climate Guy