Wednesday December 13th… Dear Diary. Here is today's climate change related topic:
New Attribution Study for Harvey
This year Harvey, which produced cataclysmic flooding in the Houston area, was the first of three major Atlantic hurricanes suspected of being affected or strengthened by climate change. In coming months and years many papers will be written on Harvey, Irma and Maria. Today I saw reporting on Harvey from Climate Central here:
https://wwa.climatecentral.org/analyses/hurricane-harvey-august-2017/
From the article: "World Weather Attribution's scientific analysis found that human-caused climate change made the record rainfall that fell over Houston during Hurricane Harvey roughly three times more likely and 15 percent more intense. WWA is an international coalition of scientists that objectively and quantitatively assesses the possible role of climate change in individual extreme weather events."
Here's the connection between climate change and Hurricane Harvey pic.twitter.com/1fvV7VfoWq

— Climate Central (@ClimateCentral) December 14, 2017
Here is the referred to paper: http://iopscience.iop.org/article/10.1088/1748-9326/aa9ef2 
Here is the first couple of sentences from the abstract: 
Tuesday December 12th… Dear Diary. Here is today's climate change related topic:
Yes I'm guilty too… Cyber Communications are Increasingly Gobbling Up Energy
Obviously it takes electric energy to run and use computers, which do contribute to carbon emissions, particularly from non-green grids. Just by writing this post, unfortunately, I have put a little more carbon into the atmosphere. A new article shows how the percent of total emissions in association with device driven communications will increase with time:
https://www.theguardian.com/environment/2017/dec/11/tsunami-of-data-could-consume-fifth-global-electricity-by-2025
From the article:
"The industry has long argued that it can considerably reduce carbon emissions by increasing efficiency and reducing waste, but academics are challenging industry assumptions. A new paper, due to be published by US researchers later this month, will forecast that information and communications technology could create up to 3.5% of global emissions by 2020 – surpassing aviation and shipping – and up to 14% 2040, around the same proportion as the US today. Global computing power demand from internet-connected devices, high resolution video streaming, emails, surveillance cameras and a new generation of smart TVs is increasing 20% a year, consuming roughly 3-5% of the world's electricity in 2015, says Swedish researcher Anders Andrae."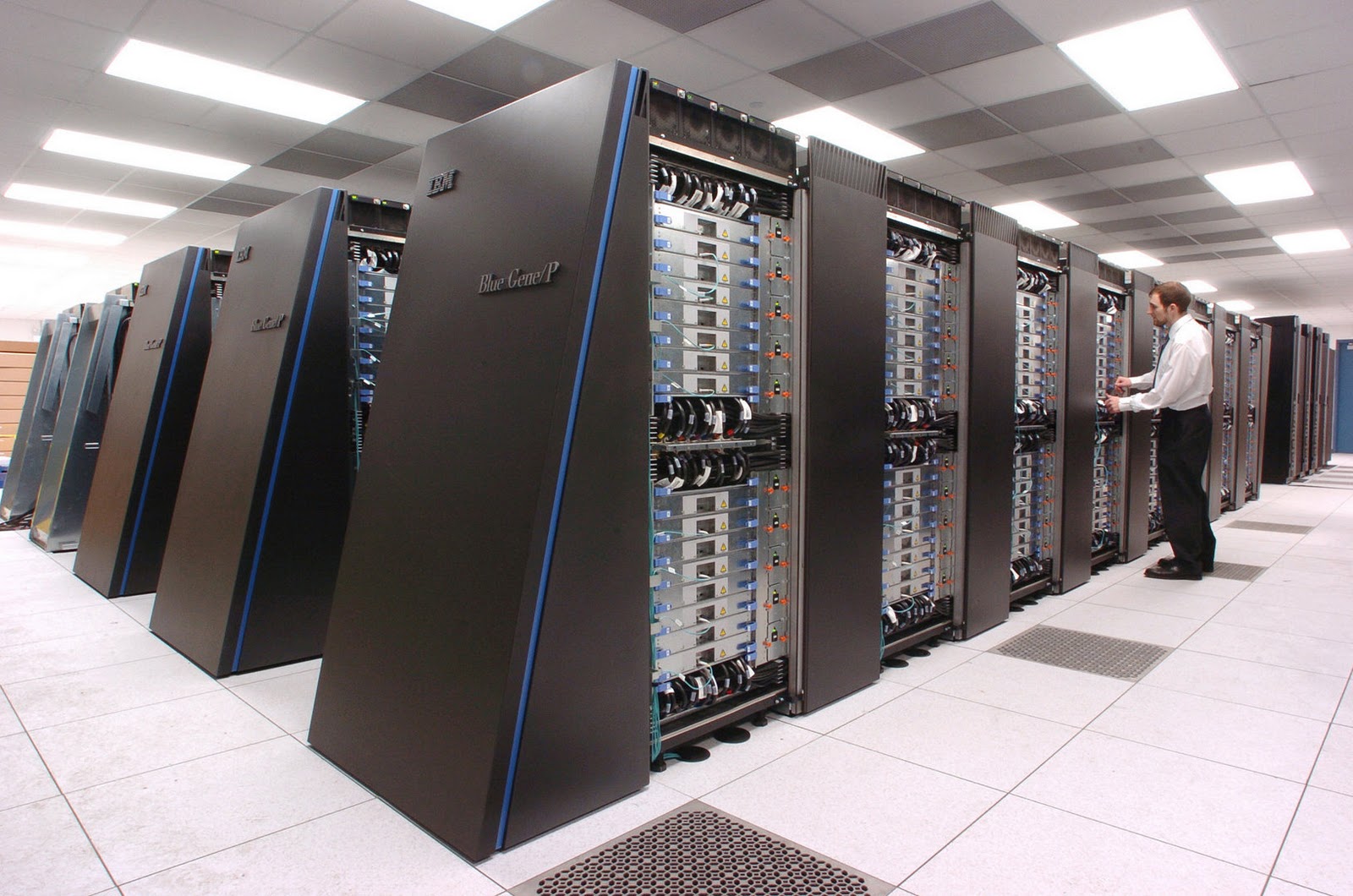 Increasingly powerful computer mainframes, such as the one pictured, use a lot of energy.
After that sour note I do have some short term good news. The U.S. should undergo a weather pattern change soon, which will bring relief to California with the possibility of rain. Here is the latest operational European model indicating a big cool down for the West and major warm up for the East (coming within my 240 good model hour range):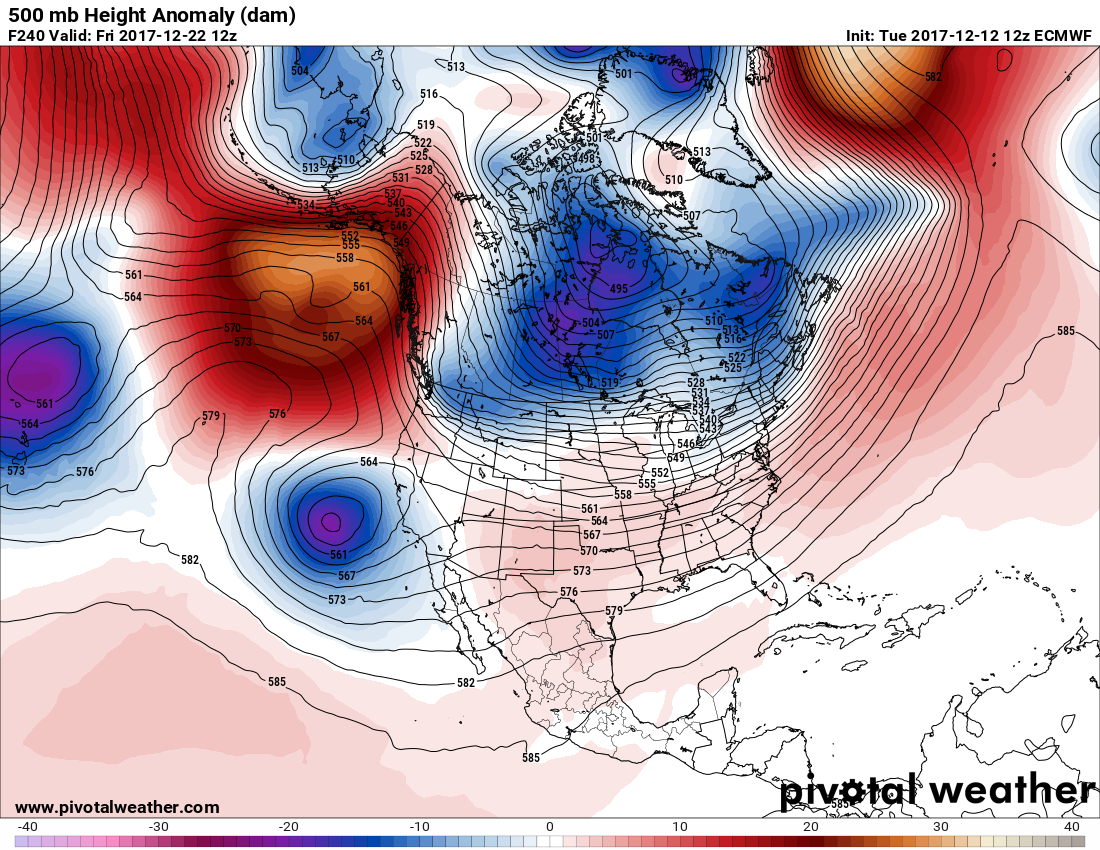 Will Santa bring the present of rain to California? We will see.
Here is some of the latest forecast fire information from Southern California:
This is a check on global temperatures so far for December 2017:
Ouch! Talk about baked Alaska from that resilient ridge. Here is some information from Monday:
Dear diary. Here is an update from this evening from Southern California:
I'll post more relevant information later today as it crosses my radar.
The Climate Guy
Monday December 11th… Dear Diary. Here is today's climate change related topic:
Past Warnings in Association With California's Current Climate Change Tragedy 
I came across an interesting discussion today indicating that past studies have warned about likely climate change effects on California more than ten years ago. Here is one example from climate scientist, Dr. Katherine Hayhoe:
http://onlinelibrary.wiley.com/doi/10.1029/2006GL025808/full
Daniel Swain also notes:
The point here is that humanity has been and continues to not heed scientific studies and warnings in association with climate change. Personally I think we needed to right the climate ship around the year 2000 keeping, as Bill McKibben and others have stated, CO2 levels well below 400 parts per million. Obviously its going to be much harder to stabilize the planet's climate now as we move into the 2020s with CO2 levels getting above 410 ppm, but we need to keep trying. At least green energy technology has come a long way since the turn of the century.
Today as far as short term weather goes I do have a little good news for California, which certainly will help fire fighting efforts if verified:
Climate Change is Causing California's Fire Season to be Year Round
My little break from writing about the devastating California wild fire 🔥 situation is over. The anomalous snow across the South was nice to report on and look at, but the California fires are causing the worst damage this December much more than any icy, snowy weather. Here is more scientific information on why global warming is leading to a threat from fire year round across California from a Rolling Stone article:
http://www.rollingstone.com/culture/features/southern-california-wildfires-climate-change-emergency-w513659?utm_content=buffer74db9&utm_medium=social&utm_source=twitter.com&utm_campaign=buffer
From the article:
"For years, climate scientists have warned us that California was entering a year-round fire regime. For years, climate campaigners have been wondering what it would take to get people to wake up to the urgency of cutting fossil fuel emissions. For years, we've been tip-toeing as a civilization towards a point of no return.
That time is now.
The advent of uncontrollable wintertime megafires in California is a turning point in America's struggle to contain the impacts of a rapidly changing climate. Conditions that led to the Thomas fire won't happen every year, but the fact that they're happening at all should shock us."
This morning the mentioned Thomas fire was spreading  due to yet more high Santa Ana winds and dry, warm conditions. From Bob Henson: