Thursday March 15th… Dear Diary. The main purpose of this ongoing post will be to track United States extreme or record temperatures related to climate change. Any reports I see of ETs will be listed below the main topic of the day. I'll refer to extreme or record temperatures as ETs (not extraterrestrials)😊. Here is today's main climate change related topic: (If you like these posts and my work please contribute via the PayPal widget, which has recently been added to this site. Thanks in advance for any support.)
Doubling Down on Brown Energy
Today is the Ides of March when it's said that Julius Cesar was assassinated by Brutus. This week Trump played the part of Brutus unceremoniously firing Secretary of State Rex Tillerson by tweet wanting to replace the former Exon CEO with a more hard core climate change denier and someone more in keeping with his other views. I've previously written on this site that one of the reasons Tillerson was tagged as Secretary of State was to aid in securing a half trillion dollar oil deal with Russia by supporting lifting of Obama era sanctions. Well, that deal is off for now. If anything Tillerson was a horrible choice for Secretary of State in this era of climate change, but at least he supported dialogue. That's right, one of Tillerson's "crimes against Trump" was to support the Paris Climate Accords, which politically has become anathema to Trump's supporters and Trump's apparent own world view:
https://insideclimatenews.org/news/13032018/mike-pompeo-koch-brothers-secretary-state-climate-change-rex-tillerson-exxon
Quoting from the Inside Climate News Article: 
With Rex Tillerson's firing, President Donald Trump's new choice for Secretary of State—Mike Pompeo, a former Kansas congressman currently serving as director of the CIA—signals a hardening stance against international engagement on climate change.
Pompeo's career in business and politics was tightly intertwined with the oil magnate Koch brothers, and he has shown a deep disregard for climate science and the need to address the climate crisis.
As a congressman, Pompeo said the Paris climate agreement amounted to "bow(ing) down to radical environmentalists," and he blasted President Barack Obama for what Pompeo called a "perverse fixation on achieving his economically harmful environmental agenda" in the 2015 talks.
Pompeo's past statements indicate a far more recalcitrant stance than Tillerson's.
Tillerson, a longtime oil executive, argued that the U.S. should keep a "seat at the table" in global climate change talks and unsuccessfully sought to persuade Trump to stay in the Paris accord. Environmentalists noted the irony that the best advocate of their cause in the Trump administration—albeit never an effective one—was the former CEO of Exxon.
Also from the article other "moderate" voices on the climate issue inside the Trump Administration have recently been fired:
The Trump White House in recent weeks has lost two other supporters of the Paris accord: National Economic Council Director Gary Cohn and George David Banks, who was a senior director at the NEC and on the National Security Council. Cohn resigned in a rebuke of Trump's steel and aluminum tariffs. Banks, who had clashed with the White House counsel's office over the legalities of the Paris accord, resigned after learning that he would not be granted permanent security clearance because of his past marijuana use.
So now the people left surrounding Trump are hard core Koch brother "brown energy" supporters doubling down on an anti-green movement that thankfully is shrinking world wide due to good science. Mike Pompeo, Trump's new selection as Secretary of State who had headed the CIA has said the following:
As a congressman, Pompeo described the new 2015 Paris climate pact as a "costly burden" to the United States. "Congress must also do all in our power to fight against this damaging climate change proposal and pursue policies that support American energy, create new jobs and power our economy," he said.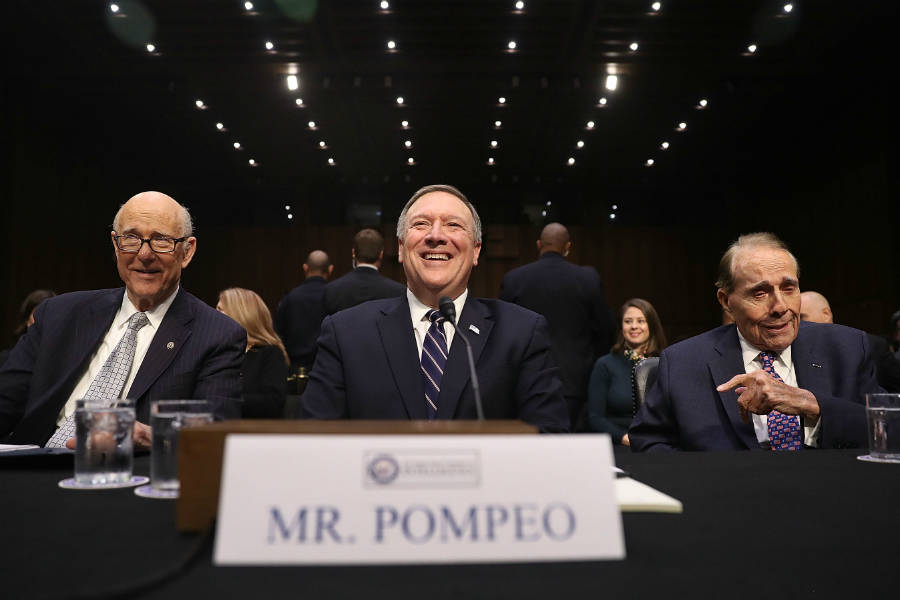 Photo Credit: Inside Climate News and: Credit: Joe Raedle/Getty Images
Shifting from the Secretary of State position to Secretary of the Interior states allied with environmentalists will really have to fight hard battles for the remainder of the Trump years to keep U.S. carbon pollution in check. Interior Secretary Ryan Zinke has been tasked to politically pave the way for expanded offshore drilling and open federal lands to mining and drilling (except for political reasons in Florida): https://www.yaleclimateconnections.org/2018/03/coastal-states-vs-trump-offshore-drilling-plan/
Quoting from Yale's Climate Connections article: 
Several state officials have been fiercely upset by the action of the Trump administration Interior Secretary, Ryan Zinke, to exempt Florida from the drilling plan. His announcement via a series of tweets came shortly after a private meeting on January 9 in Tallahassee with Republican Governor Rick Scott, a potential candidate for the Senate seat currently held by Democrat Bill Nelson.
Also from the article:
So it's no  surprise that Californians have lined-up against President Trump's proposal to open drilling on most of America's outer continental shelf. The plan is "a step backward in time, toward an energy policy that blindly handcuffs the nation to an unsustainable future," California Lieutenant Governor Gavin Newsome said in a statement as the California State Lands Commission, which he chairs, submitted a protest letter to the federal Interior Department.
Here is more from a Hill article: http://thehill.com/blogs/congress-blog/energy-environment/377623-offshore-drilling-its-not-worth-it?utm_content=buffered105&utm_medium=social&utm_source=twitter.com&utm_campaign=buffer
In his first 100 days, President Trump signed an executive order undoing the Obama-era restrictions on offshore oil and gas drilling and later rolled back important safety rules put in place after the 2010 Deepwater Horizon disaster that killed 11 and caused the country's worst oil spill. In January, Interior Secretary Ryan Zinke announced a plan to allow drilling in nearly all United States coastal waters beginning in 2019. Energy companies would have access to billions of acres on the U.S. Atlantic continental shelf, which has never had a producing oil well, and could expand production on the Pacific Seaboard for the first time in 30 years.
The Trump administration envisions oil rigs operating within a hundred miles of San Francisco, the Florida Keys and the Delmarva peninsula within five years. The seismic airgun blasting to find oil and gas deposits that would precede this industrialization of our oceans, and the inevitable oil spills that will follow – would dramatically and permanently impact the nation's coastlines and the surrounding communities. This would not lead to American energy dominance but instead to ecological and economic disaster.
Dear Diary. I have an evening update since I didn't mention Larry Kudlow, who Trump just named the new director of the National Economics Council:
https://thinkprogress.org/larry-kudlow-trump-administration-climate-denier-f9c74cc3119f/
Just really? Here is the title of the Think Progress article: "Trump's new economics director is a climate denier who thinks animals can 'snuggle' under pipelines."
One more tidbit. Trump has proposed naming Barry Myers, who is the CEO of Accuweather based in Pennsylvania, as the new head of the National Weather Service:
https://www.washingtonpost.com/news/capital-weather-gang/wp/2017/10/12/trump-taps-barry-myers-accuweather-ceo-to-head-noaa-choice-seen-as-controversial/?utm_term=.d722edb26388
Quoting from the end of the Washington Post article:
One of the big unknowns about Myers is his position on climate change. He has made no known public statements on the politically charged issue.
AccuWeather's stated position on climate change, while not inconsistent with existing scientific assessments, is vague. "Global climate change is a matter of intense concern and public importance," it begins. "There can be little doubt that human beings influence the world's climate. At the same time, our knowledge of the extent, progress, mechanisms and results of global climate change is still incomplete."
Marshall Shepherd, a past president of the American Meteorological Society, said he is willing to give Myers "the benefit of the doubt" if he is "a stronger leader on climate change and an advocate for the National Weather Service."
 Dare I write it, but we will be battling a new "axis of evil:" Scott Pruitt at the EPA, Ryan Zinke of the Interior Department, and now Mike Pompeo at the State Department. This climate problem is a hopefully a short term political problem, which can be solved at the ballot box this November. Getting a democratic House will go a long way towards thwarting any "evil" committed against our environment by brown energy Trumpsters.
The Climate Guy