Thursday May 10th… Dear Diary. The main purpose of this ongoing post will be to track United States extreme or record temperatures related to climate change. Any reports I see of ETs will be listed below the main topic of the day. I'll refer to extreme or record temperatures as ETs (not extraterrestrials)😊. Here is today's main climate change related topic:
First Widespread Heat Wave for U.S.
Last year I counted eight separate instances of widespread, dangerous heat across the continental United States. Sometimes if the predominate weather pattern for summer is hot enough, as was the case in 1980 for example, there are no breaks in the heat. This year marginally dangerous heat is beginning relatively early in May. It's too soon to tell if this first heat wave will break after this weekend or become a prolonged event. What we do know is that near record heat from the upper 80s to the 90s will be widespread in the southern half of the U.S. at least through Monday. Here are forecast maxes for Friday:
Residents across the South are used to this level of heat in the summer, so I would not expect to learn of any deaths at least through this weekend. Should the heat wave intensity next week, of course, concern will grow. The south-central states appear to be the area that will be stuck in the heat well into next week. Areas already in a drought from New Mexico into west Texas should fry.
The Southeast should warm a few degrees over what is depicted on the chart for Friday then cool some next week due to an influx of tropical moisture. Off hand it appears that about 500 reports of record high maxes may get into the NCEI record counter over the weekend. This time of the year most record highs are in the low 90s across the Southeast.
 It's interesting that during this decade May has been the month with the least number of record high maxes recorded vs. record low minimums: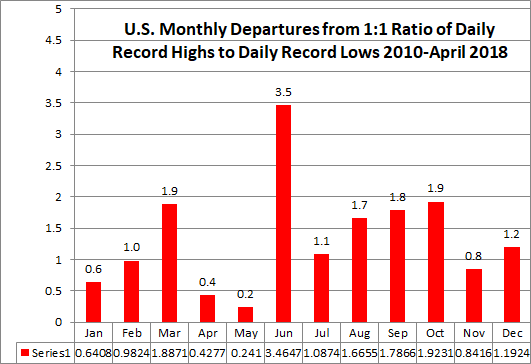 Perhaps this Mays heat wave, if it persists, will be nature's way of evening the score. We will see.
Speaking of the  tropics I'm watching the models for this:
After first tweeting about this potential storm 24 hours ago the GFS remains consistent forecasting the thing to form in the far western Caribbean like Nate then move north. Timeframe is now within my 240 hour "garbage model" rule, so scenario remains uncertain but now plausible.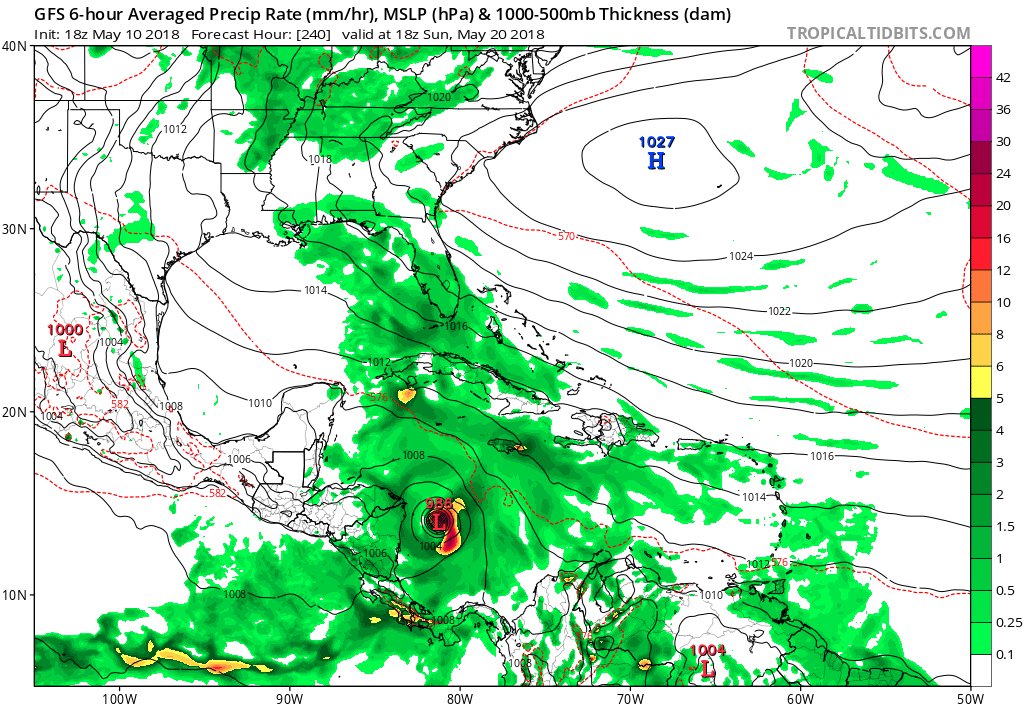 I may add more relevant information to this post later this evening should something of interest crosses my radar. 
(If you like these posts and my work please contribute via the PayPal widget, which has recently been added to this site. Thanks in advance for any support.)
The Climate Guy