Wednesday May 9th… Dear Diary. The main purpose of this ongoing post will be to track United States extreme or record temperatures related to climate change. Any reports I see of ETs will be listed below the main topic of the day. I'll refer to extreme or record temperatures as ETs (not extraterrestrials)😊. Here is today's main climate change related topic:
Forced Requirements
It's always interesting to me that most climate scientists involved with the climate crisis from the 1980s through about 2010 didn't take into account human behavior, whether it be short sighted greed or denial. Most felt that just by presenting strong evidence humanity would jump on the problem and start to solve it in mass, eagerly volunteering to do so. Obviously history didn't pan out the way most experts had hoped. Late in this decade a few governments are realizing that technologically possible mitigation needs to be regulated and enforced. The enforcement movement flies in the face of more libertarian elements in society, in particular those of the United States that are currently in power. As an example just look at Scott Pruett's EPA.
A small child is required to take cough medicine or get inoculation shots sometimes balking and screaming trying to endure pain. Father knows best as an old saying goes, so the public should take its medicine now without too much kicking and screaming to avoid horrible complications later. We should all grow up.
What strikes me is that solar and wind power are medicine that isn't too nasty, sort of like candy coated cough drops for a rambunctious population acting like children that don't want to change life styles. This action by California should not be that hard to take: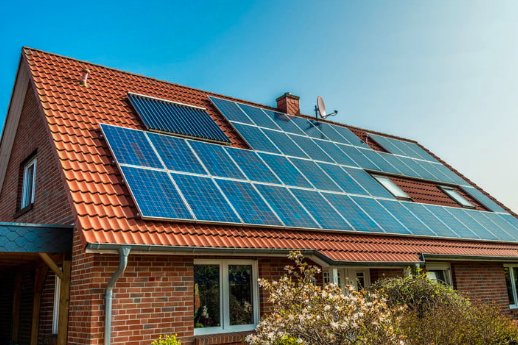 California is leaps and bounds ahead of the rest of the U.S. By this point all homes should be getting their power from green energy according to those making plans in the 1980s. Oh well, we are three decades late to the game but still plan on playing.
One pill that is harder to swallow is transportation. Electric and hybrid cars remain much more expensive than their gas guzzling counterparts. To make any requirements of using only electrics for travel palatable involving a massive switch in the future from internal combustion engines some plan including tax incentives needs to be in place.  Remember back in 2009 Obama's Cash for Clunkers plan? Taxpayers could fork over enough money for a strong plan. Also, auto makers should be required to make all electrics quickly scaling down production of traditional power trains. Thirdly, electric mass transit should be part of the equation. All of this flies in the face of libertarianism I know. 
Most people don't like to be told what to do thinking that they know best. Well, I hate to break it to climate change deniers….swallow your medicine because experts do know what is best. Yep, I'll be watching you to see if you are on your best behavior kiddies.
………………………………………….
Here is an item we should be keeping a wary eye on should models keep insisting on development within  my rule of thumb "garbage time" of 240 hours out: 
Hope I am jinxing this setup. The GFS has been worryingly consistent developing an organized
#
tropicalstorm
in the Gulf the last few model runs during late May.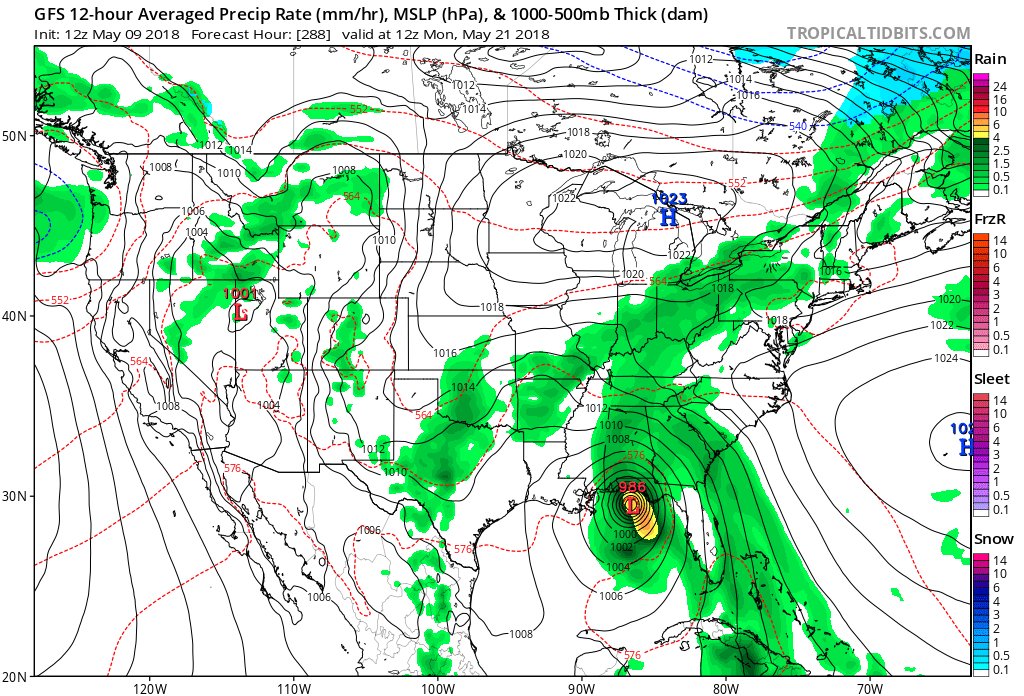 In the meantime record heat is likely this weekend across the southern U.S.:
I may add some pertinent information to this post later today.
(If you like these posts and my work please contribute via the PayPal widget, which has recently been added to this site. Thanks in advance for any support.)
The Climate Guy