Wednesday June 20th… Dear Diary. The main purpose of this ongoing post will be to track United States extreme or record temperatures related to climate change. Any reports I see of ETs will be listed below the main topic of the day. I'll refer to extreme or record temperatures as ETs (not extraterrestrials)😊. Here is today's main climate change post related hot topic:
Hansen Testimony 30th Anniversary (Part 1)
Many articles have already been written on the historic 30th anniversary of Dr. James Hansen's climate change testimony before congress since late last week, which will take place on 6/23/18. His testimony was a game changer, putting the climate issue in the public eye, letting all know of a "new" existential threat. I put into quotes "new" since climate scientists have known about the greenhouse effect of CO2 since the nineteenth century. To this day, though, individuals and groups have been jumping through all kinds of hoops trying to scientifically discredit Hansen's testimony saying that the climate system has enough fail safes such that carbon pollution isn't much if any of a problem. The proof is always in the proverbial pudding and that dessert has been getting warmer and warmer since 1988, though. I wish that denialists will eventually get their just desserts, but I digress.
What caught my eye over the last few days was an Associated Press article that also included record count data, my specialty:
https://www.apnews.com/dbd81ca2a7244ea088a8208bab1c87e2/Global-warming-cooks-up-'a-different-world'-over-3-decades
The AP used the same database from the National Center for environment Information to make the following chart:
(https://www.ncdc.noaa.gov/cdo-web/datatools/records)
Quoting from the article:
Since the 1800s scientists have demonstrated that certain gases in Earth's atmosphere trap heat from the sun like a blanket. Human activities such as burning of coal, oil and gasoline are releasing more of those gases into the atmosphere, especially carbon dioxide. U.S. and international science reports say that more than 90 percent of the warming that has happened since 1950 is man-made.
Others cautioned that what might seem to be small increases in temperature should not be taken lightly.
"One or two degrees may not sound like much, but raising your thermostat by just that amount will make a noticeable effect on your comfort," said Deke Arndt, NOAA's climate monitoring chief in Asheville, North Carolina, which has warmed nearly 1.8 degrees in 30 years.
Arndt said average temperatures don't tell the entire story: "It's the extremes that these changes bring."
What Deke Arndt states is correct. We now know that just a slight positive change in global temperature averages can greatly increase the chances for record warmth over record cold, and thus worse heat waves. I'm glad in a small way to have contributed to Dr. James Hansen's legacy. I did some checking to see how the stats from the AP article stack up with my own data files of record counts coming up with the following chart: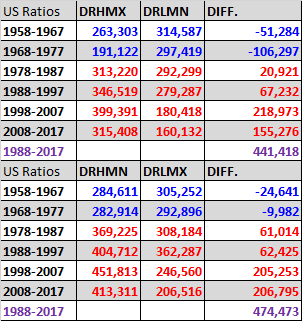 The AP article was correct. There were almost a half million more record high maxes than low minimums since 1988. Also I took the trouble to process daily high minimums and low maximums, and saw that there were more than a half million DHMN than DLMX. Keep in mind that my counts include all tied records. I total as of 6/20/18  915,891 more warm records than cold records from 1/1/1988 through 12/31/2017….nearly a million more reports from the United States alone.
Well Dr. Hansen I feel your pain. The planet can't unanimously agree that there is a bad climate problem much less how to fix it. What might the next thirty years bring? We'll discuss that on later parts of the anniversary topic.
……………………………………………………………..
The big weather/climate story of Wednesday 6/20 was heavy, and in some cases around McAllen, Texas historic, rainfall. Robert Fanney addresses this wet event;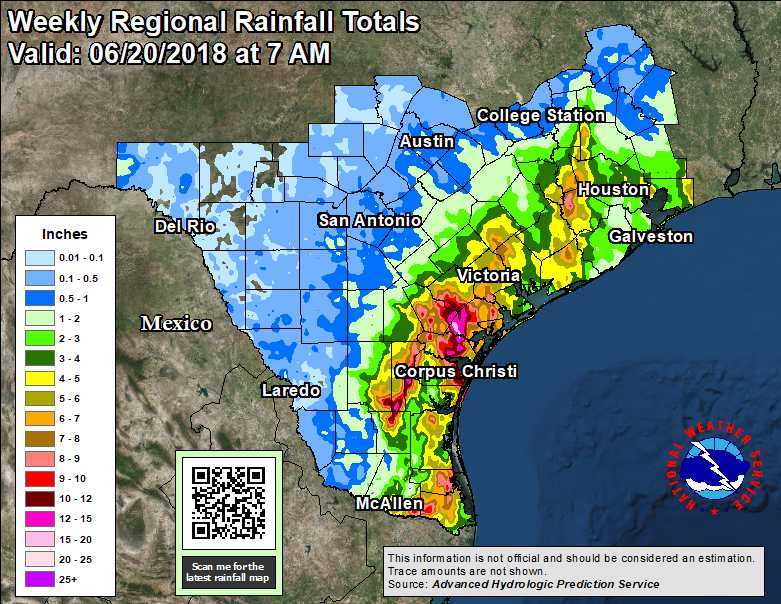 As far as the current heat wave goes dangerous heat will continue in coastal areas of the Carolinas on Thursday. Also, the hottest weather of the season, so far, will be occurring in the Southwest the next few days:
Here are the current NWS advisories: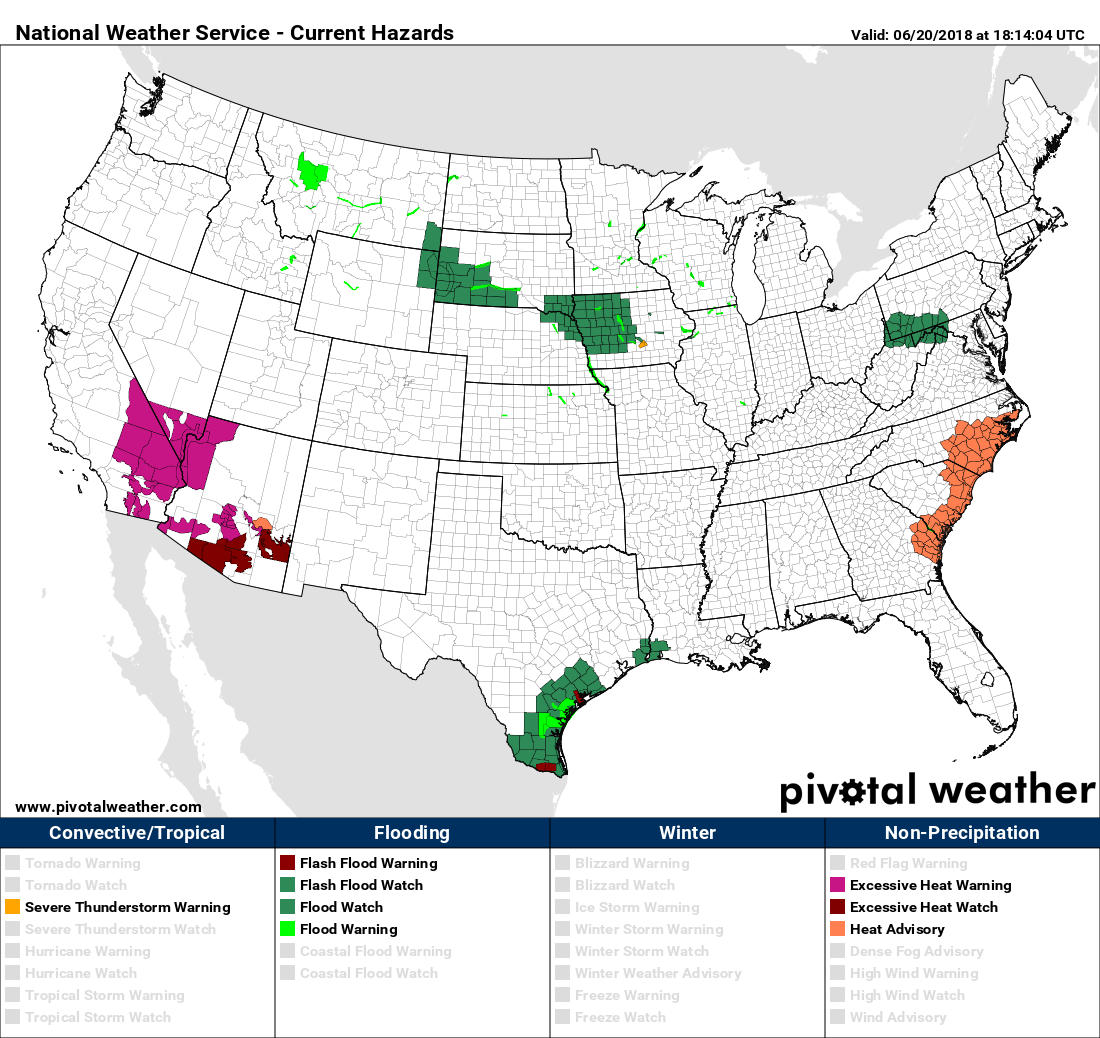 The hottest conditions of the year so far are expected across portions of the Desert Southwest Thursday and Friday, including the Phoenix area. #azwx #cawx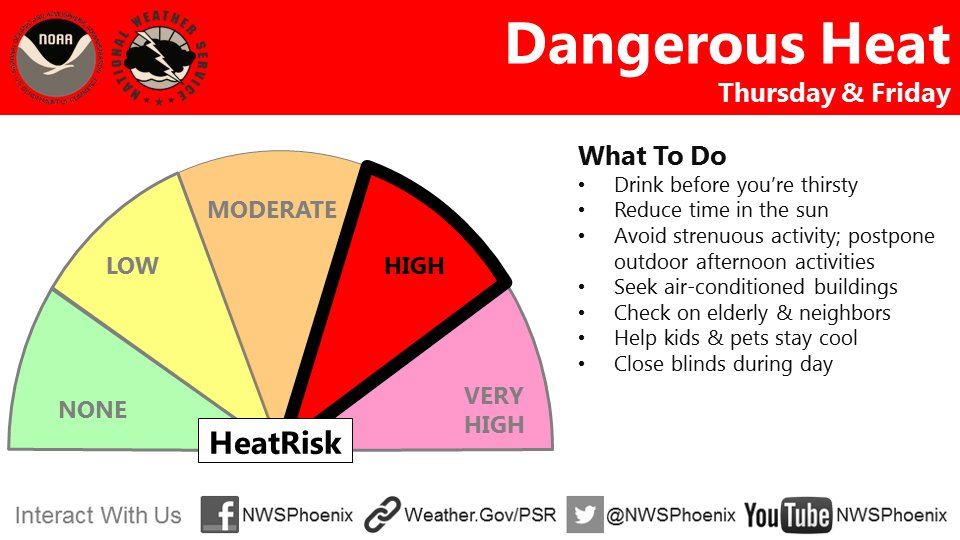 Hottest weather of the season on the way over the next few days. Be sure to limit outdoor activities. Cooler weather expected over the weekend. #azwx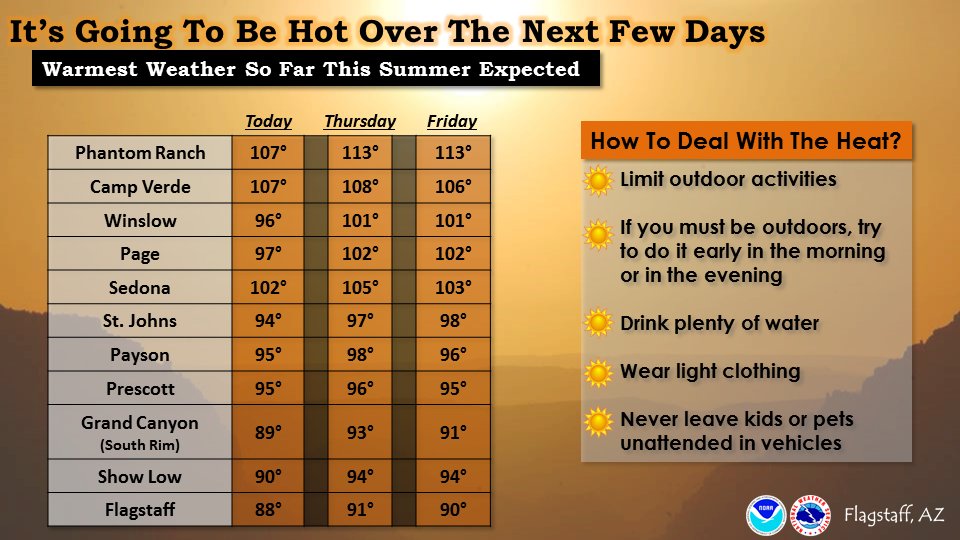 Here are Wednesday's maxes:
The worst of the heat in the East was in the coastal Carolina area where the heat index exceeded 105F. Heat was building in the Southwest to dangerous levels. Most of the country experienced a comfortable last day of spring.
(If you like these posts and my work please contribute via the PayPal widget, which has recently been added to this site. Thanks in advance for any support.)