Sunday June 24th… Dear Diary. The main purpose of this ongoing post will be to track United States extreme or record temperatures related to climate change. Any reports I see of ETs will be listed below the main topic of the day. I'll refer to extreme or record temperatures as ETs (not extraterrestrials)😊. Here is today's main climate change post related hot topic:
Future U.S. Historic Heatwave?
With a week to go in June I'm starting to see signs of some major heat building across the country, but could we see a historic heat wave? Perhaps, but any extraordinary heat may hold off until July. If you read through my posts you'll note that I arbitrarily declared that heat episode #3  in the U.S. started earlier this month, but I didn't end the declaration since some dangerous heat that prompted NWS advisories remained in the West despite cooling due to a frontal passage in the East. Some impressive heat with maxes well above 100F moved back into Texas over the weekend. Now we see heat building northward from the Gulf Coast into the 90s for Monday:
 Here are the current National Weather Service advisories:
As might be expected for late June there is some dangerous heat in the Sacramento Valley, west Texas, the Gulf coastal area, and in the southeast Atlantic. There is absolutely nothing abnormal here, or within climatological bounds, with heat levels forecast from coast to coast on Monday, so very few records will be set. During the week, though, we will see some dangerous heat surge northward. Here is the GFS surface panel valid for Thursday:
Ahead of the next system moving eastward from the Rockies there is a large area of 5820 meter and above 1000-500 millibar thickness indicating that there will not only be an air mass supporting maxes into the low 100s but a warm cap inhibiting thunderstorm development. Note the southerly flow in the Plains and westerly flow in the Ohio Valley indicating that heat will be spreading north and east. Let's look at the heat dome valid for Thursday from the same model:
The weather is hotter than that of Monday for late in the week but still nothing to write home about. Note the trough in the West though. During June we have seen short waves "dig" into the West (or in non met speak move southward into the West from Canada), which is a big change from last year when a warm heat ridge deflected cooling weather systems eastward. This year it would appear that the West Coast will catch a break from dangerous heat, but oh my, the Plains, Midwest, South and Northeast are due for some scorching weather.
Let's compare some near surface temperatures from the more reliable European Model courtesy Dr. Ryan Maue's Weather.US company. First, here is what we see for Thursday 6/28: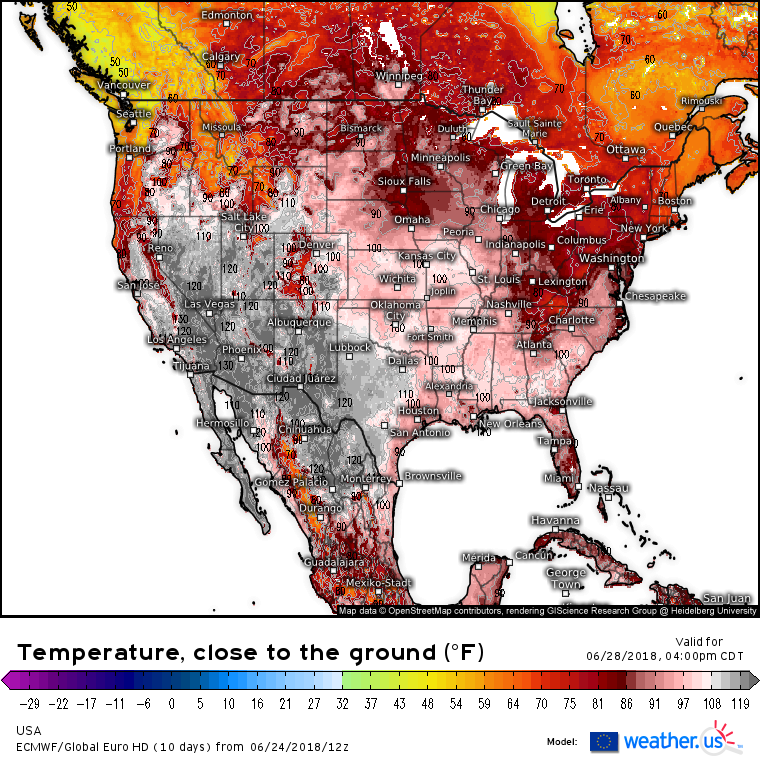 By next Tuesday one day before the Fourth of July holiday we see this:
I seriously doubt that maxes will get near 120F at Dallas. This is some model garbage to throw out. Nevertheless nineties are forecast to spread north throughout the Northeast, probably before next weekend with the  heat getting more intense. The heat dome by next Tuesday looks much more substantial in the Northeast than what we are forecast to see on Thursday (note the bright red colors):
Last, what do we see in those more trusty model ensembles for Tuesday 7/3? Check this out:
At 216 hours out there is a lot of spaghetti or disagreement on the exact orientation of the ridge, but all guidance points to hot times ahead for the Midwest and Northeast. I can't recall though in my 30+ years as a meteorologist the 588 decameter line consistently forecast to be as far north or farther north into Canada as Maine for as long as a week. If we see many records during this, the hottest climatological time of the year, indeed a historic weather event will have taken place. I'll try to be on top of this story the next several days.
……………………………………………………………………………..
In other hot news:
Daniel Swain‏Verified account @Weather_West
Daniel Swain Retweeted Etienne Kapikian
Remarkable: a substantial slice of the #Arctic Ocean coast north of Siberia was 15-20 degrees warmer than the beaches in #LosAngeles County (~89F vs. ~70F) today! The June coolness along the CA coast is not usual, but the extreme Arctic warmth is definitely a record. #CAwx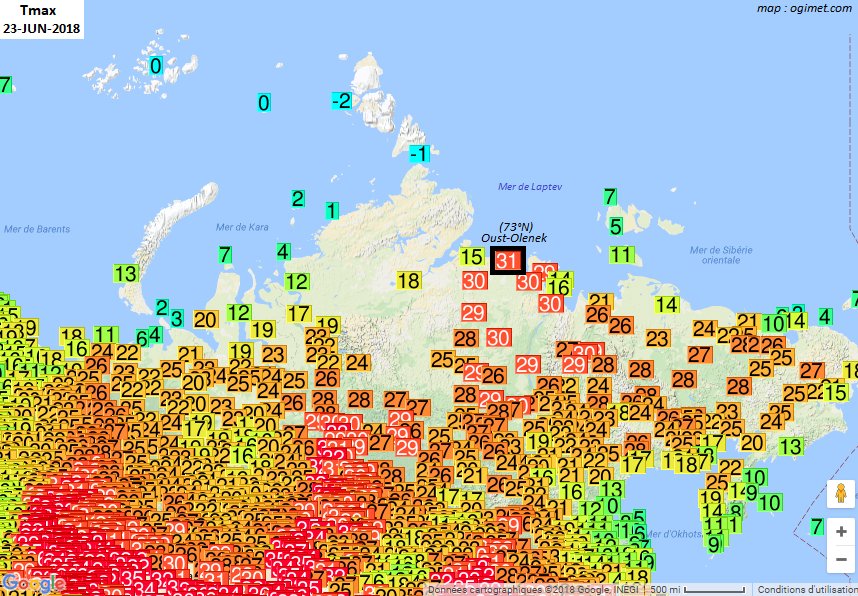 (If you like these posts and my work please contribute via the PayPal widget, which has recently been added to this site. Thanks in advance for any support.)
The Climate Guy