Monday September 17th… Dear Diary. The main purpose of this ongoing post will be to track United States extreme or record temperatures related to climate change. Any reports I see of ETs will be listed below the main topic of the day. I'll refer to extreme or record temperatures as ETs (not extraterrestrials)😊.  Here is today's main climate change related topic:
A) "Lazicanes" and B) Hot September
There are so many climate change related news items today it's extremely tough to pick and choose my proverbial battles, or which topic to write about. The old Climate Guy tried to start catching up with a few items yesterday by presenting both information on Florence and my seasonal Climate Lottery contest with its verification for the summer, which was a week late because of concentrating on a life threatening hurricane. Yes it was a hotter than average summer for most of us in the United States, and now September is quite toasty. I've barely touched on the latest round of toastiness, but will do more in part B of this evening's post. While Florence is on everyone's minds let's reiterate why the hurricane had at least a couple of climate change aspects.
Remember this list of items researchers need to look at to see if climate change is affecting hurricanes from my second day blogging about Florence?
1) Record strength per relatively high latitude (For example, if Florence moves in near Wilmington, NC or further north as a cat 4 this would be the farthest north a cat 4 or higher storm has made landfall in the U.S.)
2) Record or near record low pressure and corresponding record high sustained wind speed (Wilma from 2005 holds that record over the Atlantic Basin at 882 millibars.)
3) Longevity of maintaining a relatively high wind speed. (Irma set some records for this over the central Atlantic last year.)
4) Record rainfall after landfall (Harvey set many records for totals last year.)
5) Stalling, becoming trapped underneath a warm ridge either before or after landfall. (Harvey was the poster child for this effect.)
6) Record or near record rapid intensification
7) Record late or early season tropical cyclones for any given ocean basin
8) Record length of time a tropical system is able to maintain depression status or higher once moving inland
9) Forming over "odd" locations of an ocean basin not traditionally seeing tropical development
10) Seeing numerous simultaneous systems over the world's oceans
11) Size of tropical cyclones
I thought of one more aspect for researchers to look at with hurricanes in association with climate change in a rapidly changing world. Number 11 would be the size of tropical cyclones, or rather the areal expanse affected by their circulation. Irma was a large hurricane that affected the entire Florida Peninsula last year. Harvey drenched most of Southeast Texas with a large circulation. The biggy for this year to affect the U.S., so far, has been Florence. Are hurricanes getting bigger? Drop me a line if you can point me to a scientific study indicating such yeah or nah.
Currently the mischievous ghost of Florence is blasting central Virginia with tornadoes, and what's left with its circulation will produce heavy rainfall in the Northeast. What can we check off on this list of eleven points for Florence? Certainly not point 1. Florence came ashore near Wilmington as a CAT 1 hurricane. However, we can check off boxes 4 and 5, and perhaps box 11. As Florence was making landfall their were numerous other systems on the planet including the deadly Typhoon Manghut in the Far East, so perhaps box 10, as well.
Today I got a kick out of a tweet written by my burgeoning meteorologist/climatologist friend from California:
Both #HurricaneHarvey and #HurricaneFlorence are perfect examples of #Lazicanes. Climate change is making these storms move more slowly dumping heavy rain over the same areas again in again. This is why a tropical storm can be just as dangerous and as deadly as a category 4.

Here are Stu Ostro's fantastic Harvey and Florence radar loops.
(Yes I worked with him for nearly 20 years at The Weather Channel):
#Harvey #Florence #radar 100 hours pic.twitter.com/B1V3r51cIy

— Stu Ostro (@StuOstro) September 17, 2018
Harvey and Florence are very similar in that they both produced record "once in a millennium" rainfall well after making landfall. In Florence's case its dynamics produced astounding amounts of rain despite coming into coastal North Carolina only as a CAT 1. Thank the Creator that the Carolinas were spared a much more potent major hurricane. Edgar makes a great point in his tweet, and he is not alone. Many people involved with weather and climate have noticed that organized tropical systems are moving slower due to changes in the jet, which is weakening and having a tendency to keep systems stuck in place. The new breed of storm is Edgar's "Lazicane," or since perhaps lazy is spelled l a z y we should call them lazycanes.
So where is any science to back up Edgar's point? Please read the following paper indicating that indeed heat domes are increasingly growing in size and not moving as much during the warm season slowing down tropical systems both before and after landfall by as much as 10%: https://www.nature.com/articles/s41586-018-0158-3
Another study was done by the National Center For Atmospheric Research on the tendencies of changes from global warming with hurricanes backing up all of my points:  https://news.ucar.edu/132608/hurricanes-bit-stronger-bit-slower-and-lot-wetter-warmer-climate
We often associate being lazy with being slow, so perhaps Edgar's nomenclature of "lazicane" fits slow moving, heavy rain dumping hurricanes in our new climate change era. Personally I don't want to write about a lazicane for a long time to come, but I fear that we will see many Florences and Harveys going into the 2020s affecting many coastal areas. One bright spot is that a slow moving hurricane gives people more time to prepare and get out of harms way. We should all work hard, though, to limit carbon pollution. Let's not get lazy so that hurricanes become commonly lazy too.
And now to part B of tonight's post since we are way behind on reporting other current climate change events affecting most people across the United States:
We are closing in on the official first day of fall, yet it doesn't feel like a season change is in the air, at least across the Deep South and central and southern Plains. I did report that in the western, subsidence side of Florence Atlanta's maxes were in the mid 90s, being hotter than at any time since this relatively mild summer started and that of 2017. During a typical  summer Hartsfield International typically gets into the upper 90s a few times, touching the century mark or a little above about once in every five years. By this date dear diary (9/17) maxes decline into the low 80s with nights refreshingly seeing minimums close to 60F. I would not know that the season is becoming fall if it weren't for days getting shorter in my neck of the woods. Tomorrow's max chart across the country looks very summer-like: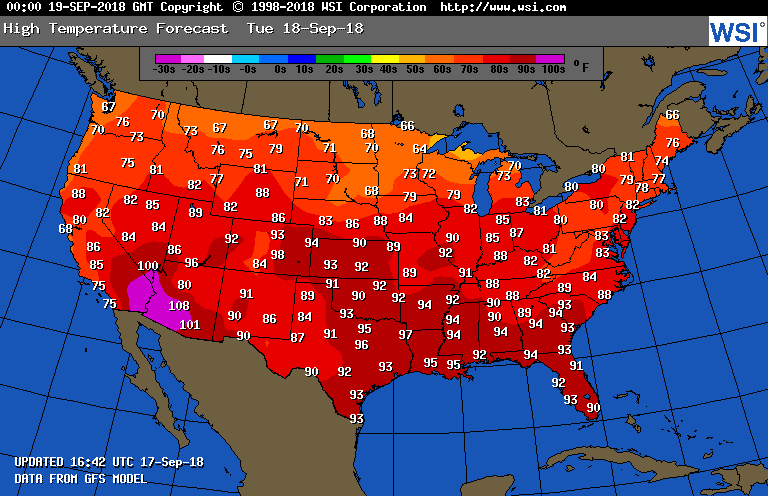 The above chart probably forecasts maxes too low in a lot of instances since climatology is built into computer programs spitting out these numbers. Rain from Florence will keep readings down in the Northeast.
Time for a little bookkeeping. I typically  present the NCEI "Record Scoreboard" around the tenth of each month to give my readers a sense of how extreme temperature reports are trending, and thus average temperatures being influenced by climate change for a new month in the United States. Well, while Florence took the Climate Guy away the records did play, or rather came unto the NCEI system. My, there sure haven't been many reports of record lows during September 2018, so far:
September will only get more anomalously warm in the Midwest and Northeast late this week as the flow ahead of a front zephyrs hot air into those regions:
Here is the associated heat dome valid for this Friday over the lower 48 states: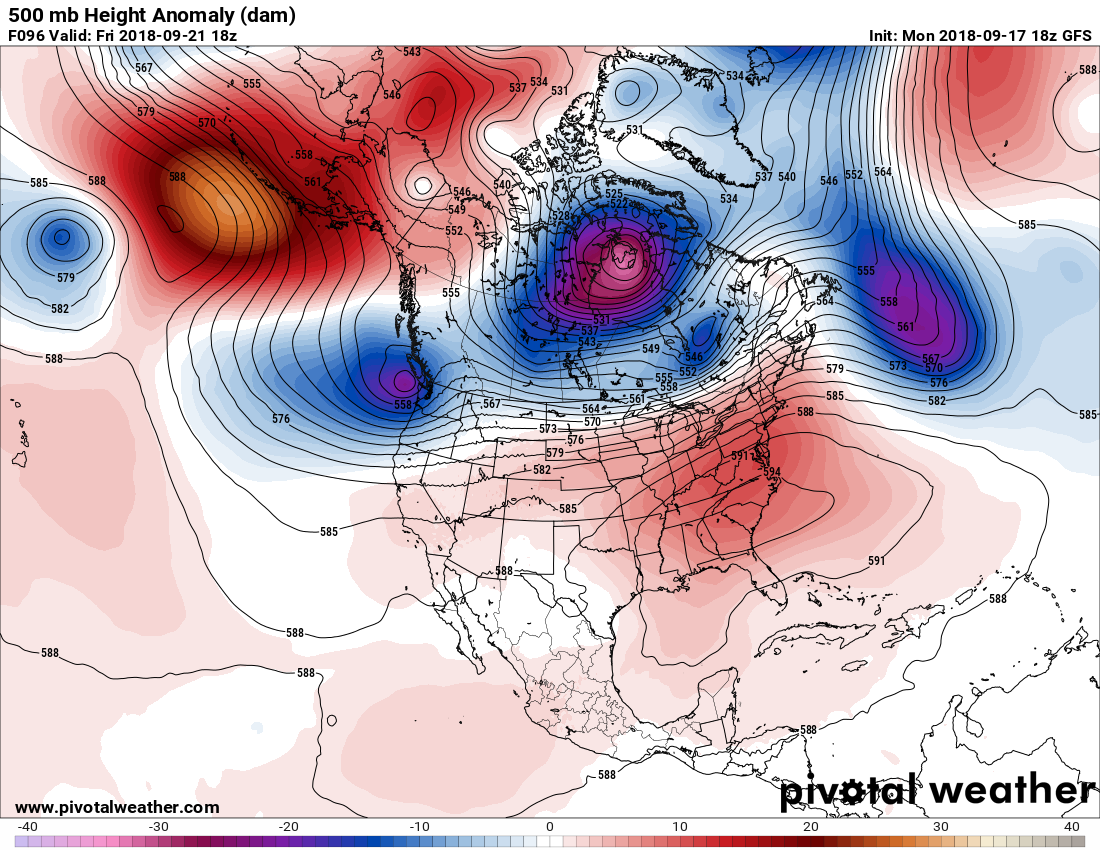 It astounds me see to see 594+ decameter ridges over the CONUS near the autumnal equinox and later after looking at these charts for 30+ years. I'm sure that we will be adding to the 716 RDHMX total for September on the scoreboard.
The upper weather pattern going through the 25th of the month looks pretty warm across the CONUS east of the Rockies:
We'll see what that record scoreboard looks like again by the end of this month.
..……………………………………………………………………………………….
The floodwaters from Florence have done a massive amount of damage over the weekend and today. Here are a few more reports and some climate news from Monday:
(As usual, this will be a fluid post in which more information gets added during the day as it crosses my radar, crediting all who have put it on-line. Items will be archived on this site for posterity.)
Dry air injections aloft into tropical systems tend to give tornado potential a boost. Can see today's tornado activity — focused on SE VA — sitting near where the overlap b/w that and best instability occurs. pic.twitter.com/0Sf32KISYM

— Ian Livingston (@islivingston) September 17, 2018
Florence's peak rains have less than a one-in-a-thousand chance of occurring in any given year, according to a new analysis https://bit.ly/2QFHfBk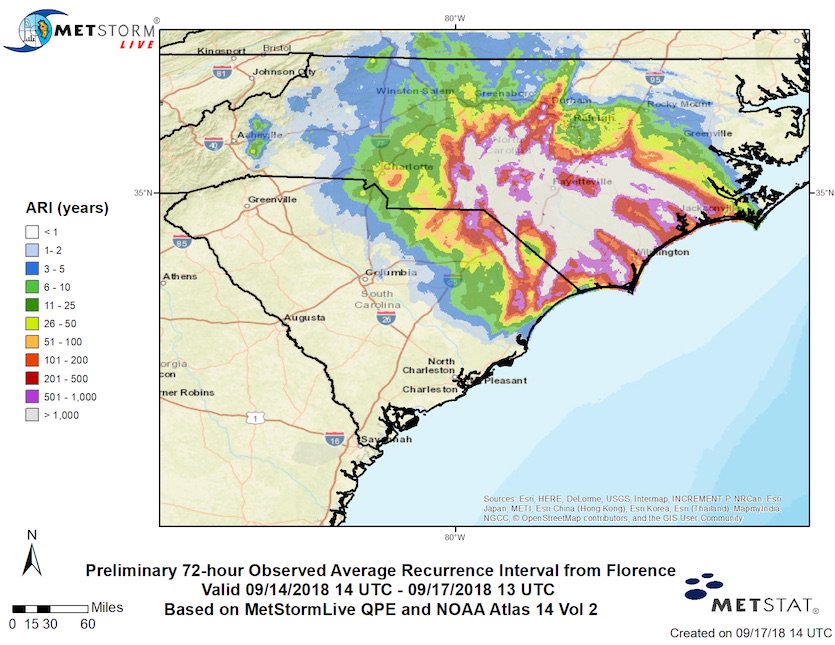 It was a deadly day in Virginia as several tornadoes ripped through the state Monday, causing significant damage and killing one person: https://t.co/wbyToJczeJ pic.twitter.com/AMsTiBRD1e

— The Weather Channel (@weatherchannel) September 18, 2018
This is the Rocky River low water bridge on Hillsford road in Oakboro, down the street from my house and our direct way into town. I've never seen it crest this much over its banks before. @wxbrad @breakingweather @weatherchannel @wsoctv @WBTV_News pic.twitter.com/fwCC7Fu5Ju

— Kate McCrea #CarolinaStrong #KeepPounding (@kate_mccrea) September 17, 2018
Aftermath of #FlorenceHurricane2018
pic.twitter.com/fwliGIxUG5

— David Begnaud (@DavidBegnaud) September 17, 2018
Hard as it is to say, floodwaters in parts of Carolinas not done rising. Among many heartbreaking outcomes of #Florence will likely be, as with Matthew 2016, flooding in Nichols, SC as Lumber and Little Pee Dee Rivers rise and head downhill NC to SC. This gage closest to Nichols.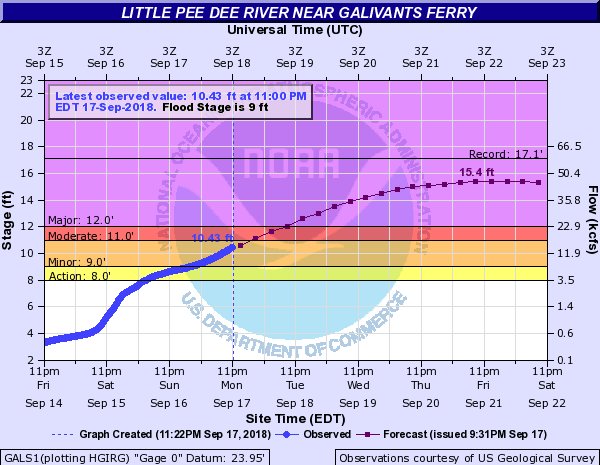 Climate Signals Retweeted NWS Eastern Region
Florence dumped 3 FEET of rainfall in Elizabethtown, NC, and 2-3 feet at a dozen other weather stations. Extreme rainfall is one of the classic signals of #climatechange on a warming planet.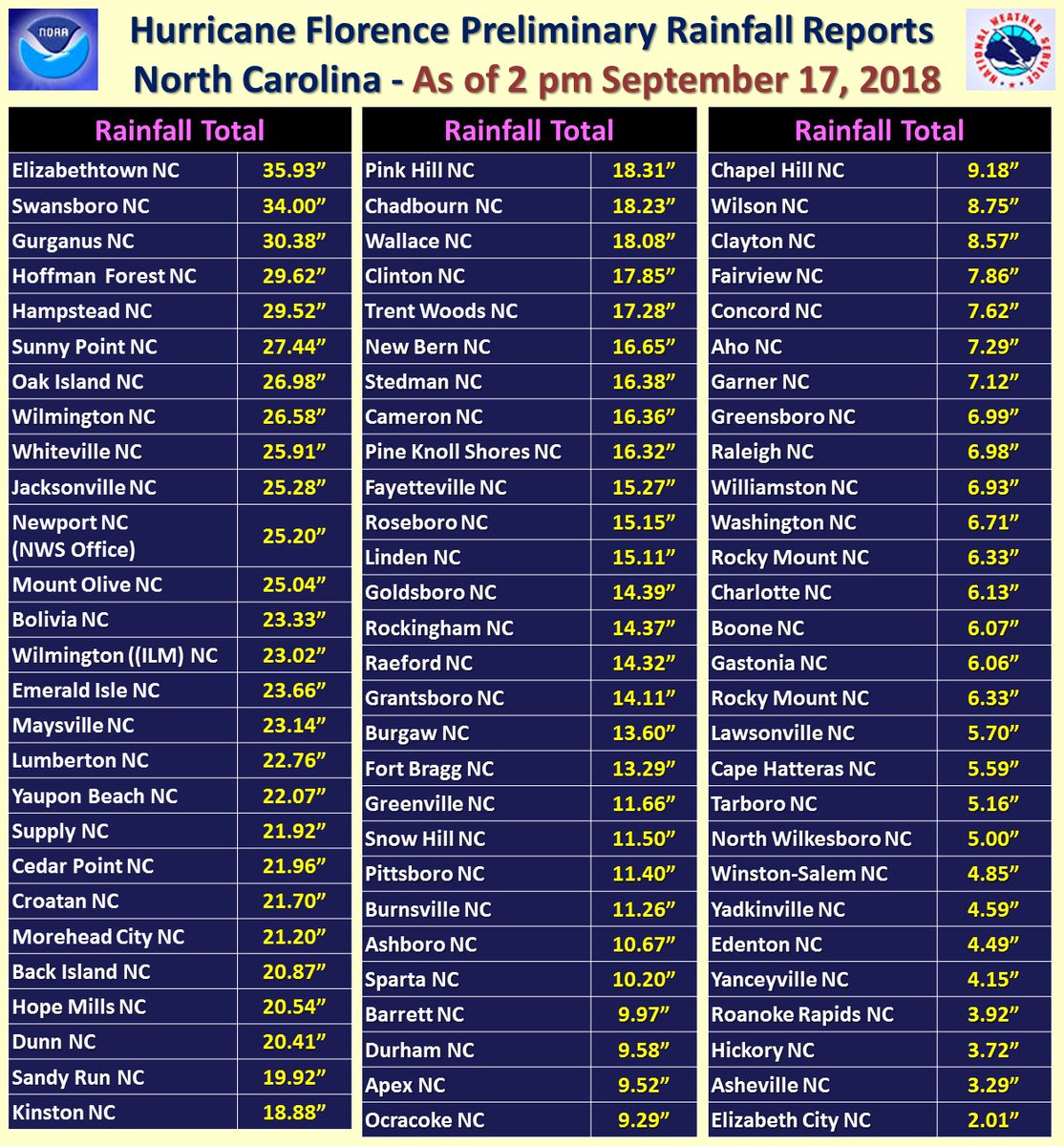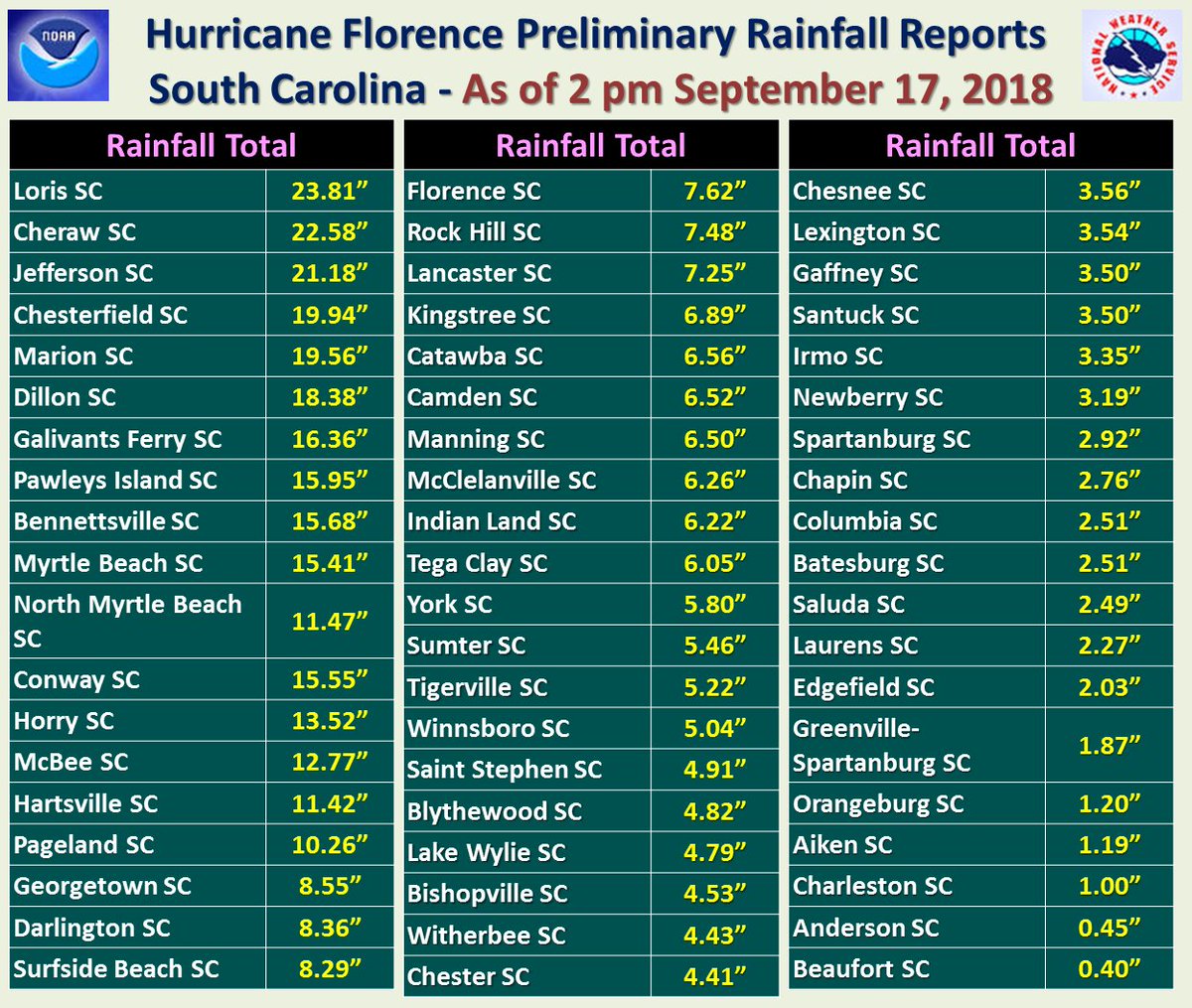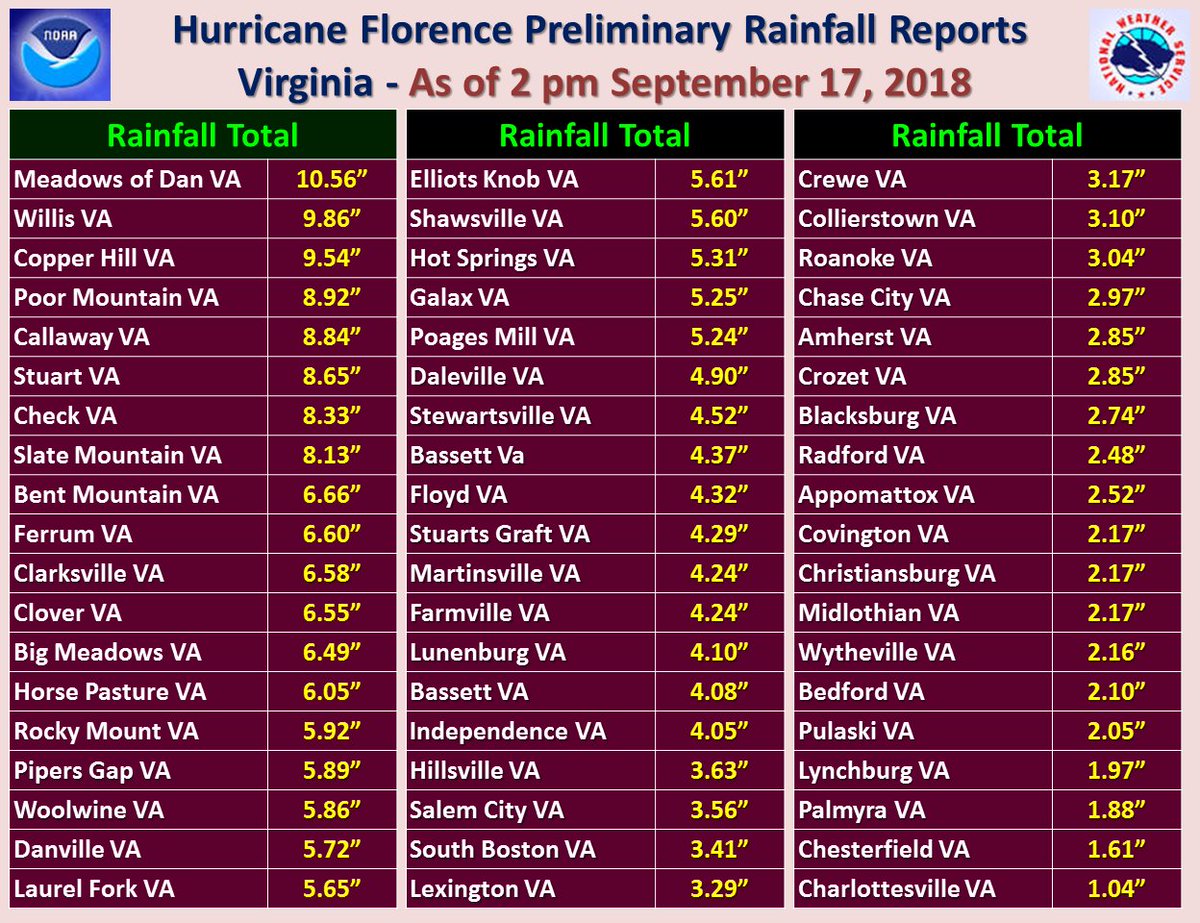 (If you like these posts and my work please contribute via the PayPal widget, which has recently been added to this site. Thanks in advance for any support.)
The Climate Guy