Wednesday September 19th… Dear Diary. The main purpose of this ongoing post will be to track United States extreme or record temperatures related to climate change. Any reports I see of ETs will be listed below the main topic of the day. I'll refer to extreme or record temperatures as ETs (not extraterrestrials)😊.  Here is today's main climate change related topic:
Green Jobs In A Booming Economy
After blogging on Florence and reporting the terrible heat from this summer it's time for an optimistic, feel good story. Here is one. Thankfully, going into the 2020s the United States and most of the rest of the world is in a boom economy. The planet's employers are hungry for skilled workers who can not only repair and construct high tech, 21st century infrastructure, but also build new energy producing devices that improve all of our lives. I would hate for the human race to face the climate crisis head on say with the Great Depression economy of the 1930s. Thankfully, what we have now is more like that of the raring 1920s in the United States except with more fail safe mechanisms to help people if the economy has another downturn. New green jobs, in turn, are helping people to earn high paid wages supporting their dreams.
With a booming economy the U.S. and planet are very hungry for more energy. Ever more sophisticated devices including computers are spiking demands for electricity. Demand for goods is increasing, which requires power for production as well as for distribution. Those goods coming  from Amazon, for example, don't just magically appear at your door. They require the use of fossil fuels to be both manufactured and delivered. Rather than get into the weeds of fossil fuel transportation let's stay positive and report on what the green sector is doing to help economies and people enjoy what I'll call in this period of history the "Boomtime."  This Boomtime is occurring before any widescale ravages of climate change influenced weather drag economies down. Yes, for example, Florence will hurt the United States economy some, but not so much that a recession or depression is imminent. Hopefully the Boomtime will allow for a quicker change to green energy such that in the future climate change can be corralled and the good times can continue through the rest of the 21st century.
Today I received information from Climate Central showing how many jobs were in the solar and wind energy sector per state as of 2017: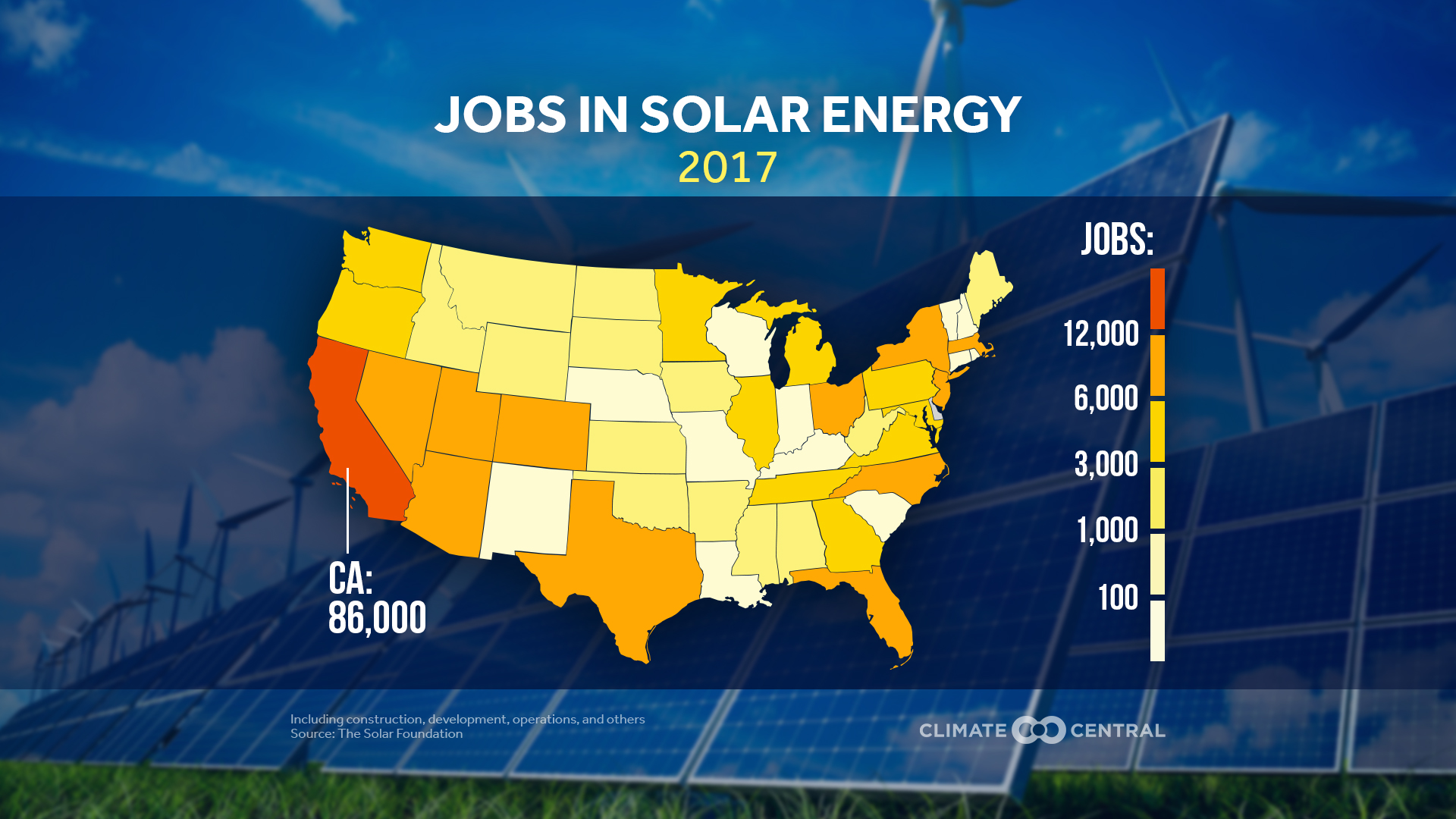 Quoting Climate Central: 
Sep 19, 2018
"Wind and solar energy are making rapid increases into the U.S. energy grid and fueling economic job growth. Next week, Climate Central will release a wind and solar forecasting tool that enables broadcast meteorologists to bring daily renewable-electricity generation information into their forecasts."
This is all good news. Here is one of Climate Central's specific graphics for Oklahoma: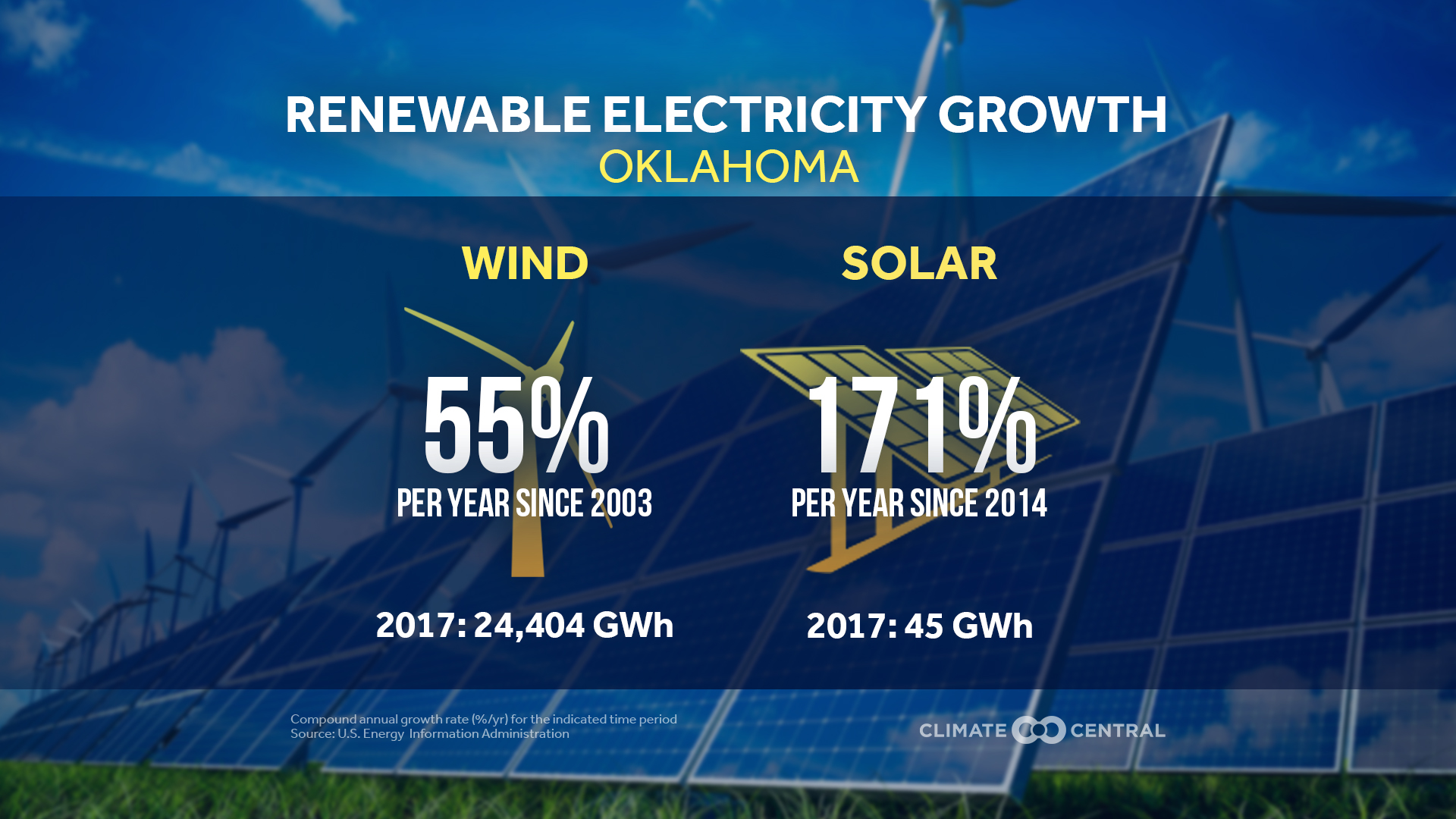 I invite all reading to go to the Climate Central web site and get these stat graphics for your state:
http://www.climatecentral.org/gallery/graphics/renewable-electricity-growth-across-the-us
More from Climate Central:
Renewable Electricity Growth Across the U.S.
By Climate Central
The rise of renewable electricity into the U.S. energy infrastructure and economy means that weather is playing a growing a role in electricity generation. Since the start of the decade, wind capacity across the U.S. has more than doubled, and the cost to install solar energy has fallen 70 percent.
Solar and wind electricity generation in the U.S. are growing rapidly. Georgia, Maryland, and Nevada have more than tripled solar generation during the 2010s. And Texas has been leading the way in wind power for several years, with generation up 29 percent per year from 2001 to 2017. Jobs in wind and solar energy are not just confined to the states where the power is generated, as jobs in development, production, construction, operations, and others are all included.
But not surprisingly, jobs in the wind energy sector are highest in the Plains, where wind, and thus wind power is more consistent. The solar energy sector provides more than a quarter-million jobs in the U.S., up more than 160 percent since the start of this decade. California is tops with more than 86,000 solar jobs, but there are hotbeds of solar jobs from Massachusetts to North Carolina.
Will green electric energy well outpace that produced by dreadful coal during the 2020s? After reading many an article I think so. It's up to huge energy company executives, though, to make the green switch. Windmills and solar panels don't grow on trees; thus the much wanted need by new companies offering more fantastic opportunities via green jobs. Green energy infrastructure has to be built by skilled laborers, thus the potential boom for those educated and trained with a desire to change the planet. It's in our best interest for energy executives to make the green switch. Press them to do so.
…………………………………………………………………………………………………………………………………..
Tomorrow mid-summer type heat will persist across most of the United States. Fall weather will finally arrive in Montana and the northern Plains in the wake of a front:
Here is  some of today's Florence and climate change related items later today in this space:
(As usual, this will be a fluid post in which more information gets added during the day as it crosses my radar, crediting all who have put it on-line. Items will be archived on this site for posterity.)
Last week's rainfall forecast for #Florence provided a basis for NWS warning messages and statements. Unfortunately, the flooding in some areas will continue for days. We can't control the weather but we continue to work hard to tell you what the weather may do.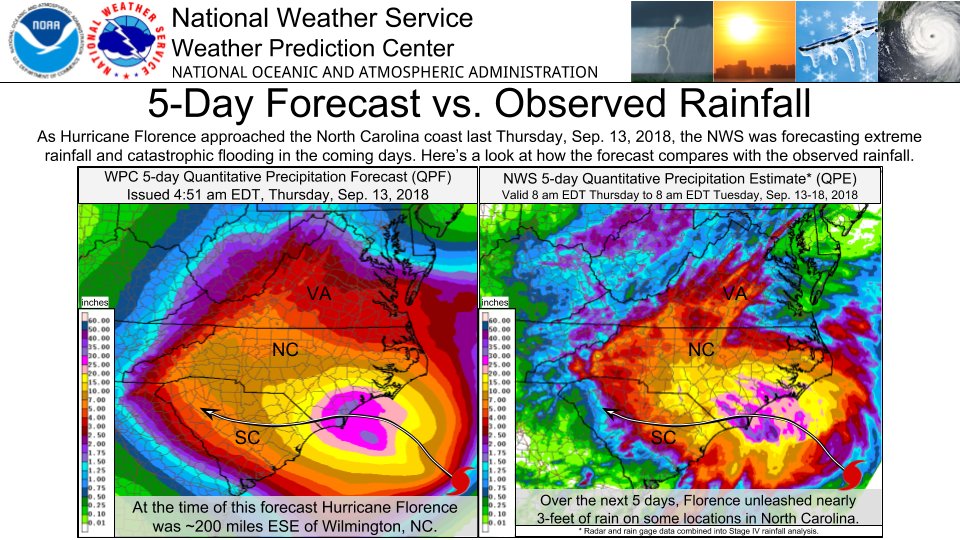 94 degree high for the ATL today. Average is 81! pic.twitter.com/UVl6QGUx9R

— Glenn Burns (@GlennBurnsWSB) September 19, 2018
We toured #Lumberton, NC today. With the #LumberRiver staying above major flood stage through the beginning of next week, there's no telling when a majority of people will be able to go home and begin the cleanup process. @weatherchannel continues live coverage after #Florence. pic.twitter.com/UWYRqbfQYX

— Justin Michaels (@JMichaelsNews) September 19, 2018
The mid- to late-2010s have firmly squashed the "global warming stopped in 1998" meme that once ran wild. Especially if we get an El Niño this winter, 2019 has a very good shot of staying with the pack.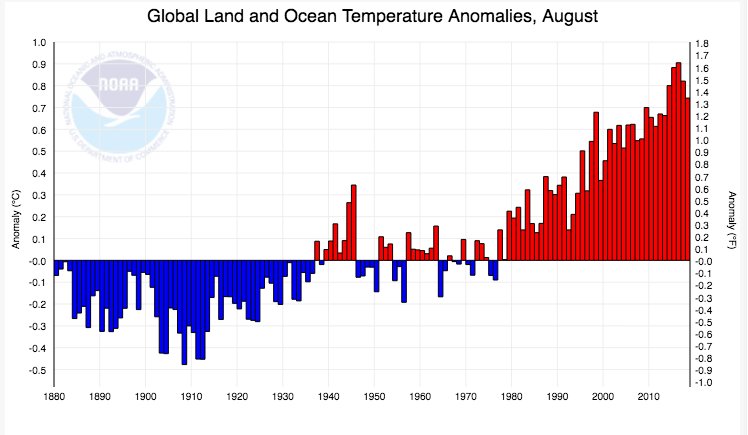 Instant fall?? Hemispheric pattern favors chilly air across the northern U.S. next 1-2 weeks. Signs of an early frost lurk for Minnesota around October 1st. The average first 32F temp at MSP Airport is October 10th. Yikes! #mnwx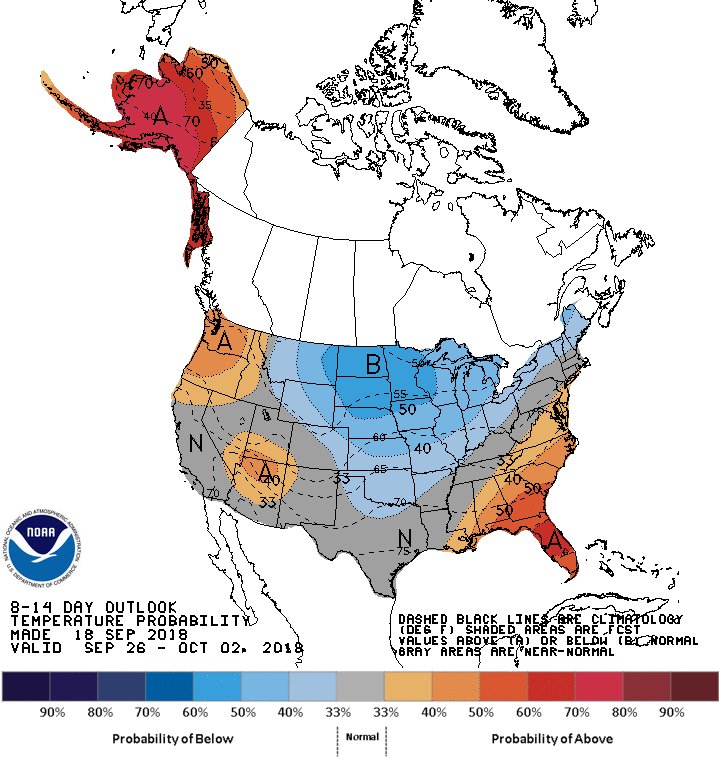 Dear Diary. I'm going to put the chart of today's maxes on this post just to show how hit it is for mid-late September across a good chunk of the country: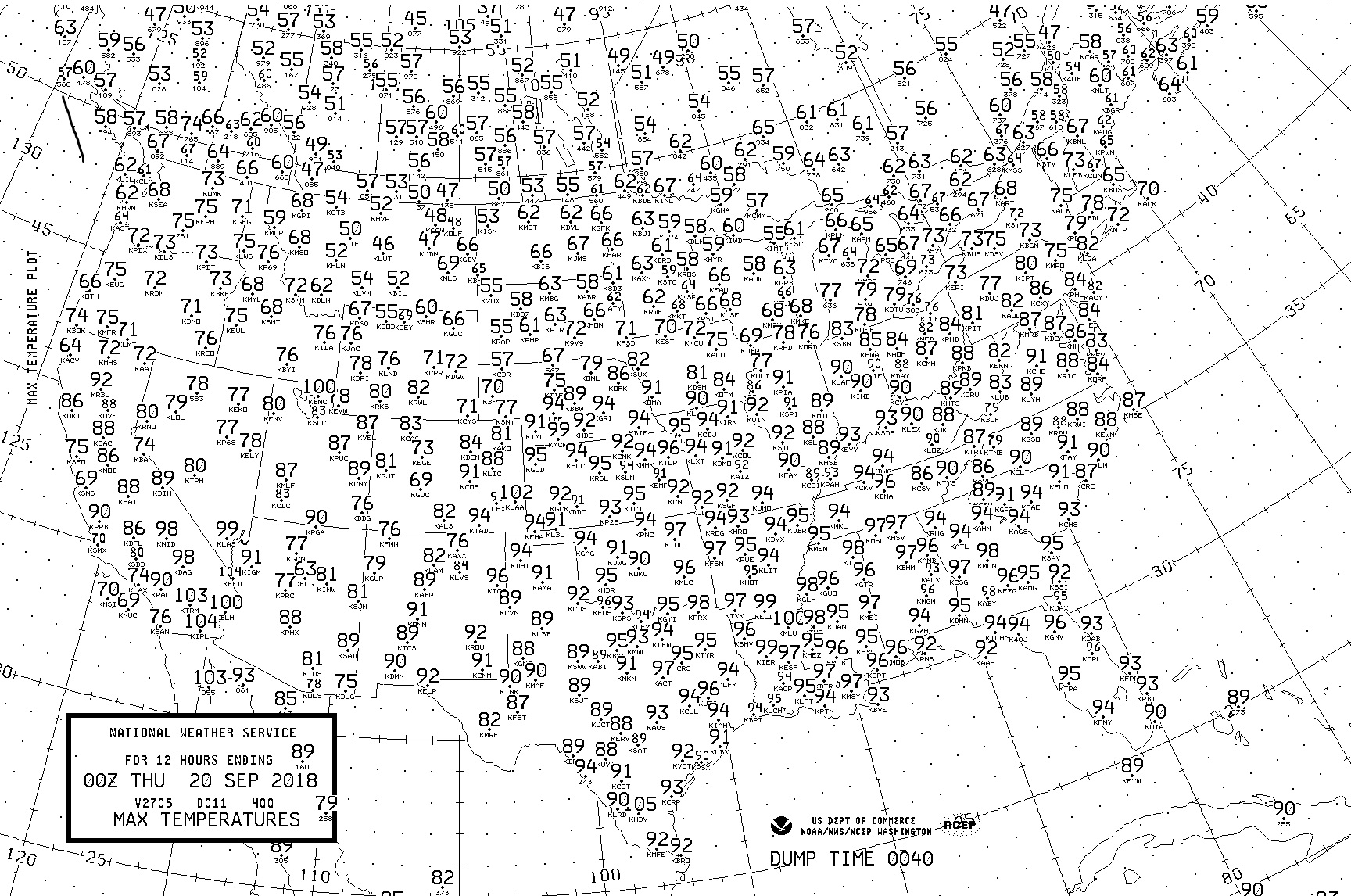 Everywhere south of Chicago Wednesday saw mid-summer like temps.
(If you like these posts and my work please contribute via the PayPal widget, which has recently been added to this site. Thanks in advance for any support.)
The Climate Guy