Thursday October 4th… Dear Diary. The main purpose of this ongoing post will be to track United States extreme or record temperatures related to climate change. Any reports I see of ETs will be listed below the main topic of the day. I'll refer to extreme or record temperatures as ETs (not extraterrestrials)😊.  Here is today's main climate change related topic:
Wild And Wet In The Eastern U.S. — Another Sign Of Climate Change
My topic for the day posts have been getting a little lengthy lately, so this one will be short and to the point. What we have seen in the United States this summer going into the fall, particularly in the East, is not normal.
Another case in the odd weather department is a severe weather outbreak that occurred in recent days across a fairly high latitude for October. Most early fall severe weather outbreaks occur across the southern U.S. northward through the central Plains. This one did not:
This would be an impressive tornado outbreak in the East for any time of year, but in October it's unheard of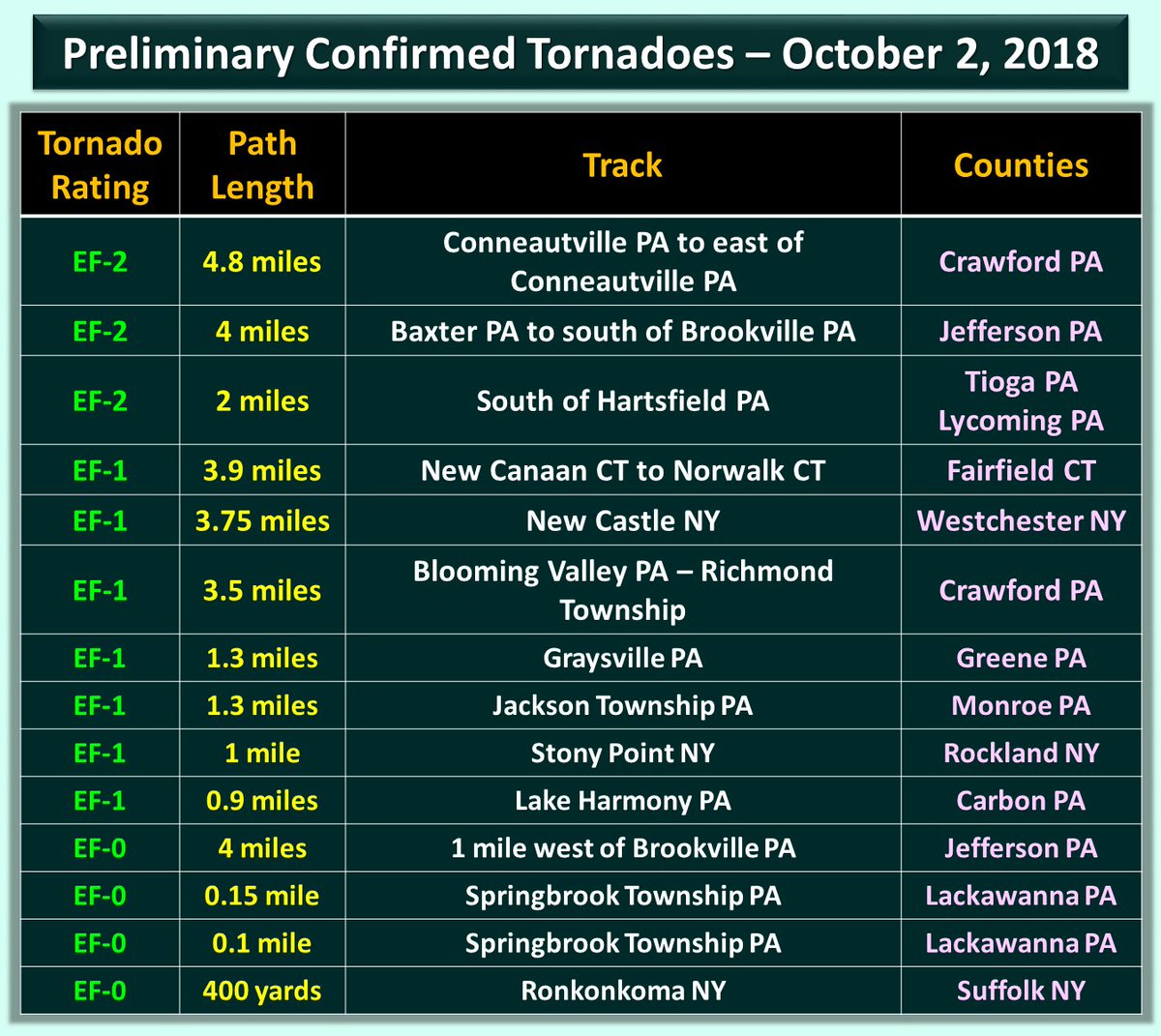 Map of confirmed tornadoes from Tuesday's event in the Northeast. 14 confirmed so far with surveys still ongoing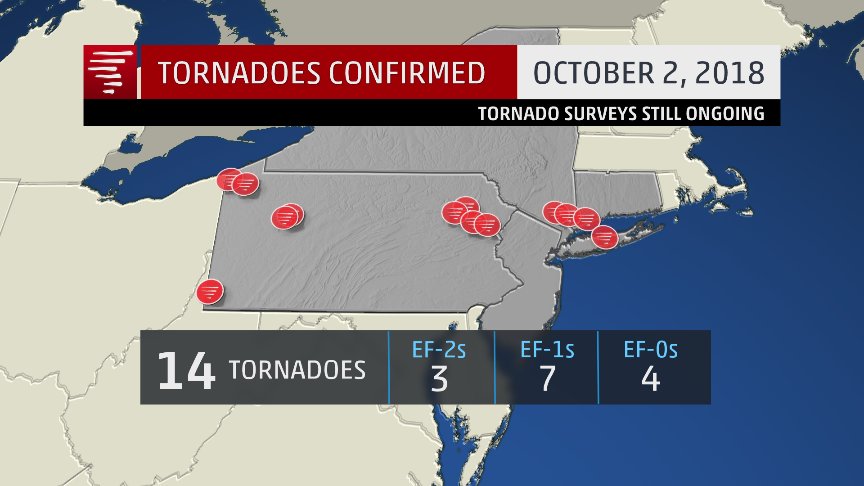 Let's briefly look at the 500 millibar pattern during the middle of the day on Tuesday when the severe weather outbreak occurred:
On the above Pivotal chart we see a subtle dip in the jet (or in met speak a short wave)  in Pennsylvania and New York, which was responsible for the outbreak. Notice that there was a huge summer-like ridge bisecting the southern part of the country responsible for both anomalous heat and moisture that interacted with the short wave. The heat was converted to energy for storms to work with in Pennsylvania, which would normally have chilly and more stable conditions in early October.  Again, we can chalk up another climate change related weather incident.
Now let's look at some new tallies for rainfall from a very wet year in the East: 
With roughly a quarter of 2018 still to come, a large percentage of Eastern US locations have already exceeded their average annual rainfall total. Two locations (Wilmington NC and Lumberton NC) have already broken their all time yearly rainfall record.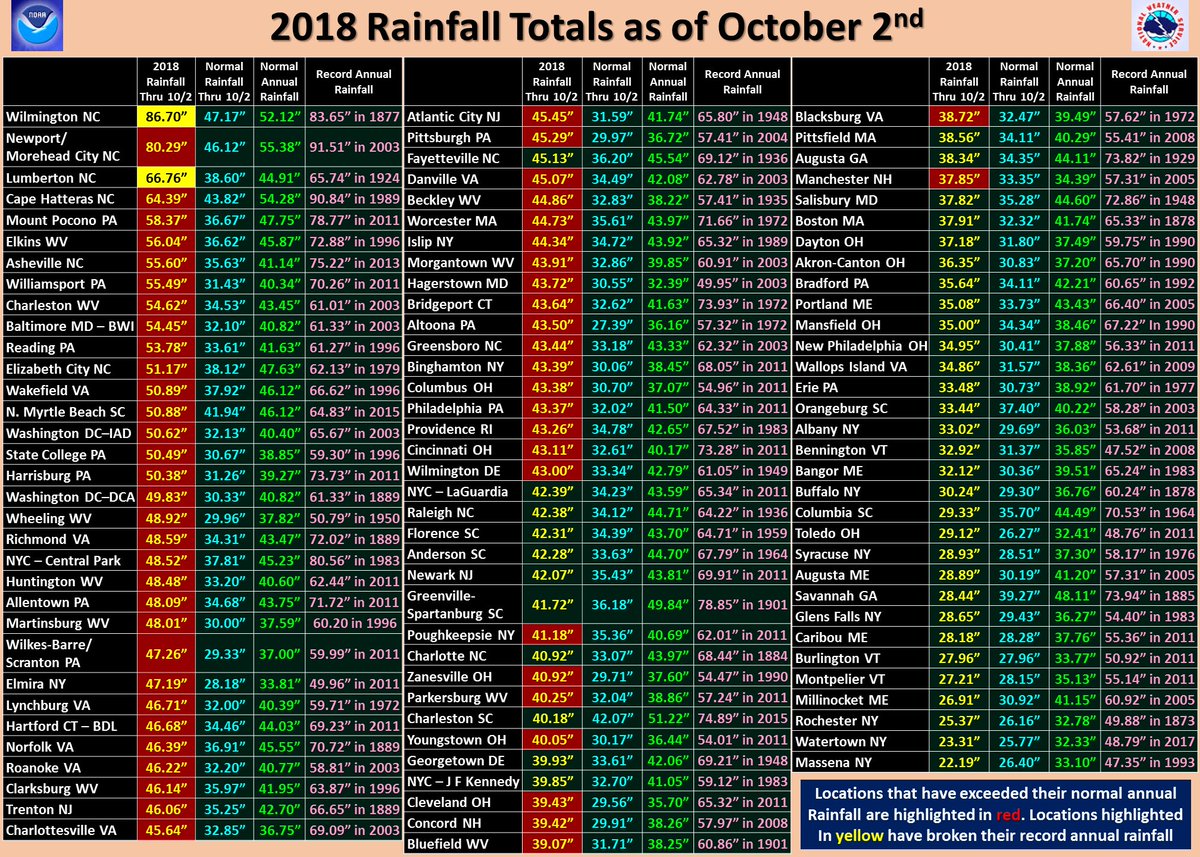 As we know heavier precipitation is another sign of climate change. That's my brief, short two points for the day.
……………………………………………………………………………………………………
Tomorrow we will see a lot more record heat across the South:
Fall will be in firm control across the northern Plains.
Here is some of today's weather and climate news:
September 2018 is the hottest month of September in Europe since the beginning of the readings according to @CopernicusECMWF(+ 1.68 °c/norm) ahead of 2011 and 2006. This is the 4th month of 2018 to be 1st in Europe with april, May and august!
On the globe, it's the 6th hottest.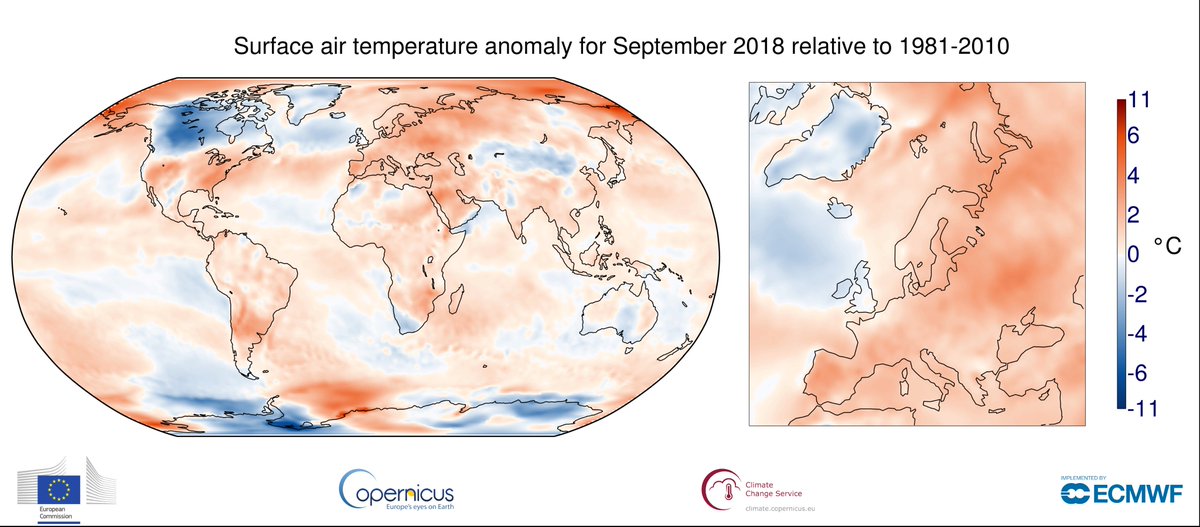 (As usual, this will be a fluid post in which more information gets added during the day as it crosses my radar, crediting all who have put it on-line. Items will be archived on this site for posterity.)
How much will sea levels rise by the end of the 21st Century? Here the most current broad-based, peer-reviewed scientific assessment, the 4th US National Assessment 2017. Worst case is 8 feet or 2.5 meters. Science has moved on since the last IPCC report! https://science2017.globalchange.gov/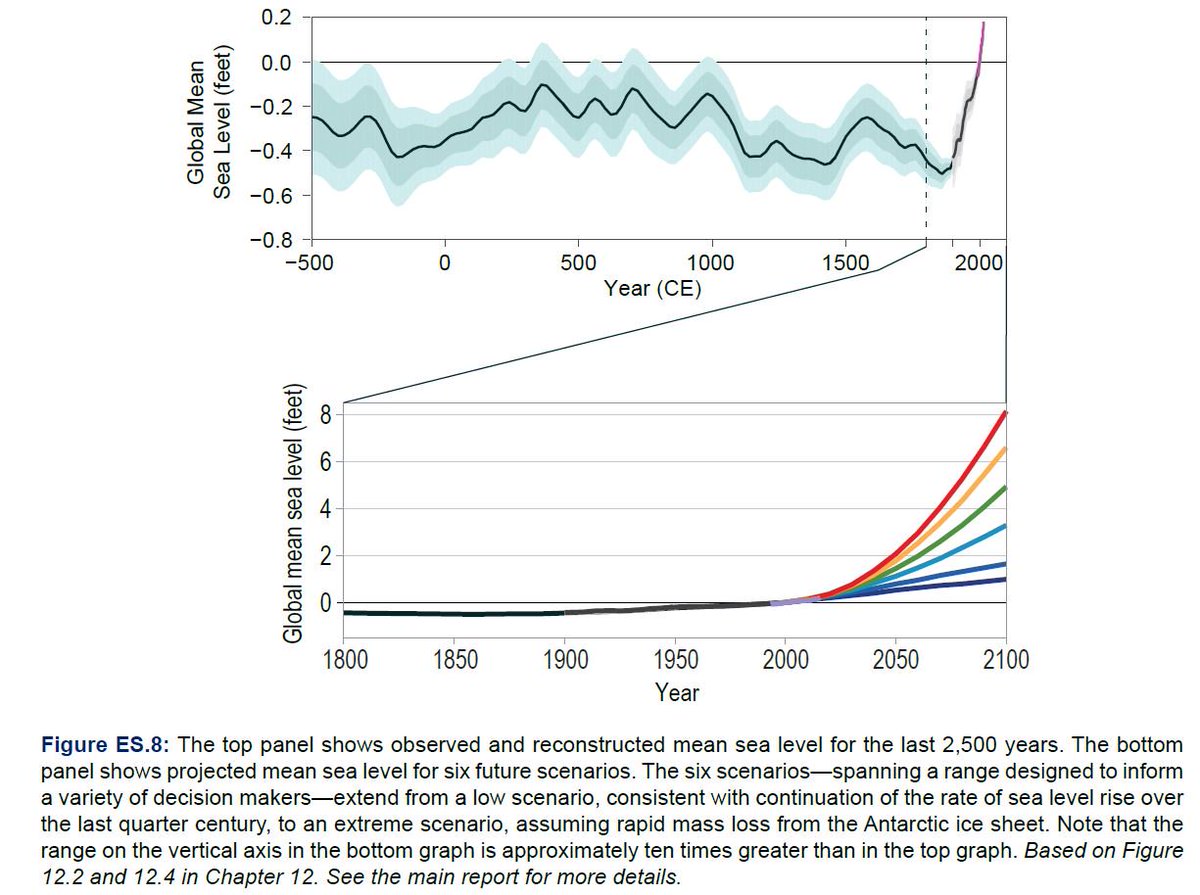 Le semestre avril-septembre est de très loin le plus chaud jamais observé en #Europe

avec une anomalie continentale de +1.79°C /moy 1981-2010, dépassant largement le précédent record (+1.06°C en 2016) avec une marge de 0.73°C ! #climat #climate
données : @CopernicusECMWF
🌡️ the April-september semester is by far the warmest ever observed in #Europe 🇪🇺 with a continental anomaly of + 1.79 °c/moy 1981-2010, far exceeding the previous record (+ 1.06 °c in 2016) with a margin of 0.73 °c! #climat #climate Data: @CopernicusECMWF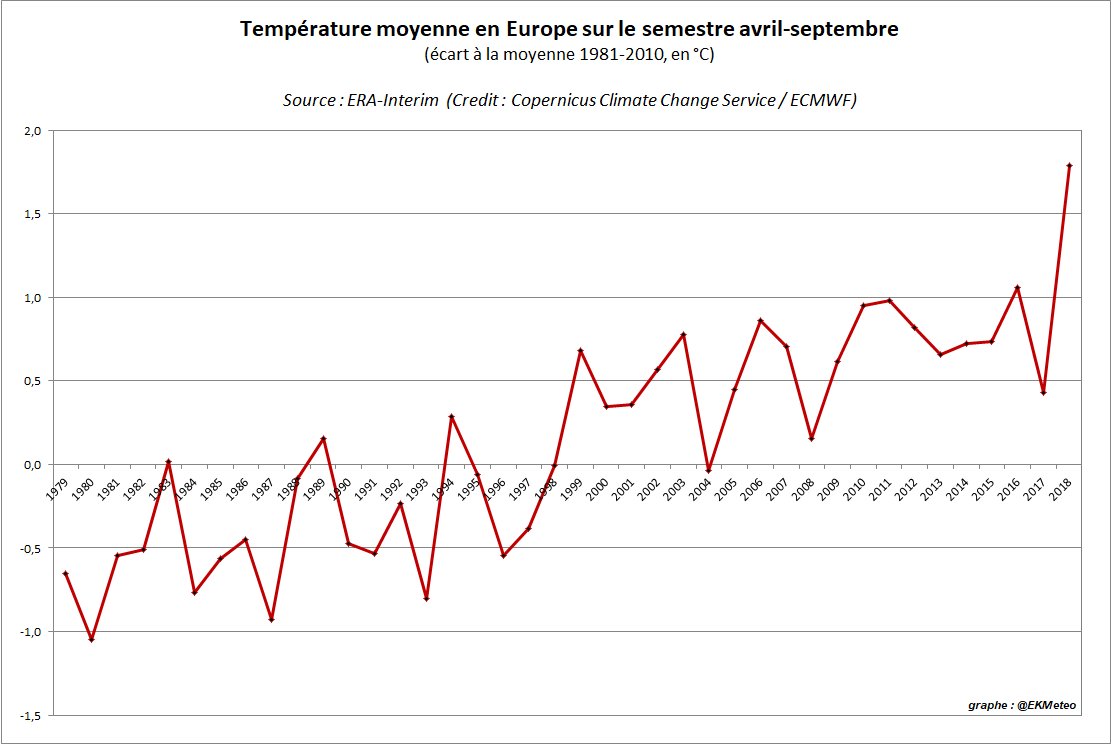 Here is one "ET" report from today…and it's from my hometown:
Today's high temperature of 91 in #Atlanta ties the daily record for October 4th, which was set in 1954. Today and yesterday have been the first two days to reach 90 in Atlanta in October since 1954. #gawx

We are still watching this too see what effects it will eventually have for the Gulf of Mexico:
A Central American Gyre (#CAG) has continued to sit and spin over Central America. Embedded within are multiple mesovorticies forming in response to active convection stretching incipient vorticity.

The system remains primarily a heavy rainfall producer in the short term. pic.twitter.com/L022X1R9oc

— Philippe Papin (@pppapin) October 4, 2018
(If you like these posts and my work please contribute via the PayPal widget, which has recently been added to this site. Thanks in advance for any support.)
The Climate Guy