Monday October 8th… Dear Diary. The main purpose of this ongoing post will be to track United States extreme or record temperatures related to climate change. Any reports I see of ETs will be listed below the main topic of the day. I'll refer to extreme or record temperatures as ETs (not extraterrestrials)😊.  Here is today's main climate change related topic:
Tracking Michael Day Two
Michael got organized and developed rapidly overnight and this morning, and is now a hurricane. The only question in my mind is whether or not we will see a major hurricane making landfall sometime Wednesday with maximum sustained winds of about 120 mph. All model guidance has been extremely consistent with every facet of Michael's forecast since I posted yesterday. What we will look at today are some climate change factors that I believe potentially will make Michael worse than otherwise for mid October.
#Michael still organizing, but has "that look" of a dangerous Caribbean→Gulf #hurricane pic.twitter.com/wKDxfJ7dpt

— Stu Ostro (@StuOstro) October 8, 2018
First, Michael will be ejecting from the western Caribbean into the eastern Gulf of Mexico and eventually through the southeastern U.S. into a very warm atmospheric envelope for this time of the year looking at 500 millibar anomalies: 
I've been really harping on that 594+ decameter ridge that developed in the Middle Atlantic area for well over a week on this site. Such a warm ridge would be strong even by July standards.
Second, as are already very prevalent across most of the globe's oceans, Michael has anomalously warm Gulf bathwater for fuel: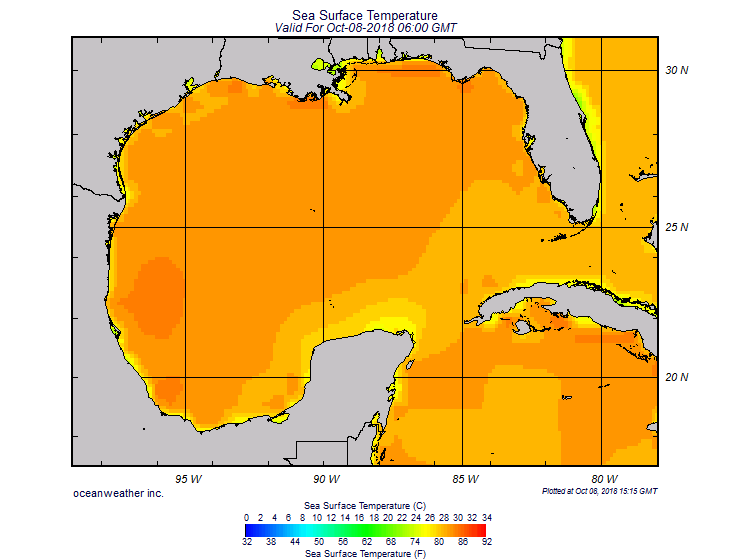 We saw a record warm September through early October across the South, so typical cold fronts for early fall did not penetrate the northern Gulf cooling waters down. In fact, as Michael gets close to the Florida Panhandle it will be encountering the warmest waters along its projected path, close to 86-88F looking at the above chart, well above any threshold to maintain a major hurricane.
A third climate change factor in association with Michael would be rapid development. Continue to watch for that. Should Michael's winds reach 120 mph by Tuesday it will have gone from being a Central American gyre to a major hurricane in only about 72 hours.
Thankfully, as fast as Michael is moving the system only has about 48 hours to strengthen, but this is a yin yang situation. Michael will be moving at better than a 15 mph clip through the Florida Panhandle, Georgia, and the Carolinas, so much like Opal from October 1995, which plastered Alabama and Georgia, the system could mow down just about every weak structure in its path with gusts to near hurricane force well inland in Thursday. A wide swath could be left without electricity as far north as North Carolina due to mangled power lines. Did I mention that warm atmospheric envelope to the northeast of Michael? The system will be feeding off that as it traverses the South. All models not too surprisingly keep Michael well in tact across Georgia and the Carolinas: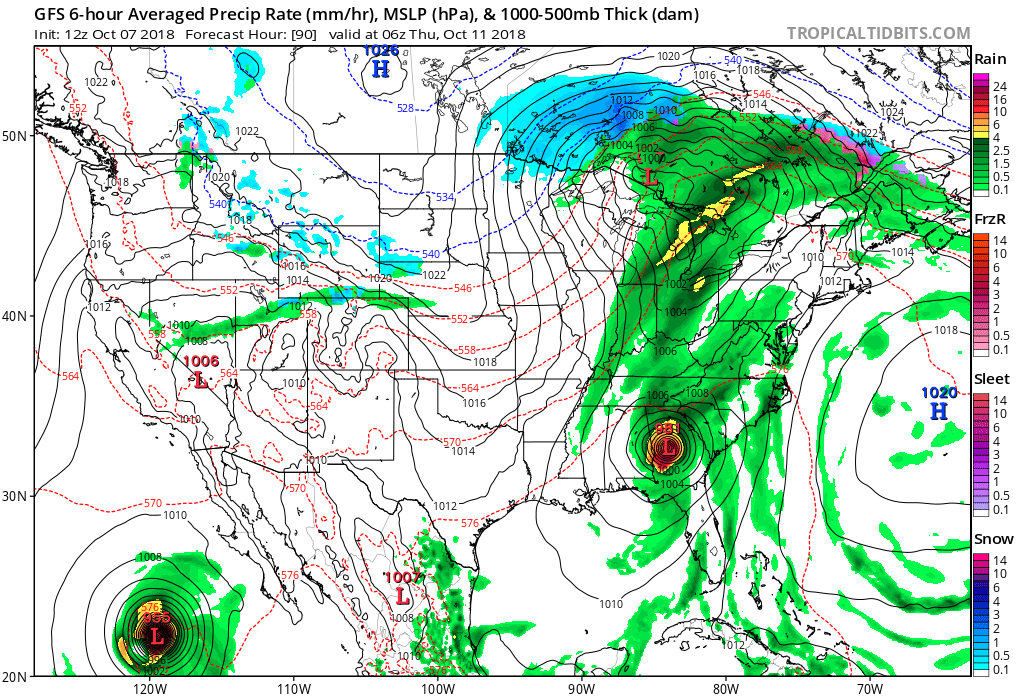 GFS 10 day forecast model. Continental U.S.10/8 12 pm EST. Michael a CAT 3 Hurricane in the Gulf coast moves NE through the SE coast & off MD. Hurricane Sergio a CAT 2 makes landfall on Baja Mexico, moves NE, through Oklahoma as a subtropical storm and dissipates pic.twitter.com/EYlmBeFwdO

— Scott Cook (@scook2214) October 8, 2018
Here is some weather history as quoted from Wikipedia on Opal: https://en.wikipedia.org/wiki/Hurricane_Opal
       In North Carolina, over 17 inches (430 mm) of rain fell. The rainfall included 9.89 inches (251 mm) in Robinson Creek and 8.95 inches (227 mm) in Highlands. The Robinson Creek rains spawned flash flooding.[34] Officials in the state had the citizens boil their water before drinking it because of possibility that floodwater may have entered purification plants.[35] A landslide triggered by Opal and damaged the Blue Ridge Parkway.[36] Opal triggered a debris flow in the Poplar Cove area of Macon County.[37] A flash flood from rainfall amounts typically ranged from four to six inches (152 mm) and closed roads and bridges were the result. The most serious flooding apparently occurred in Avery County where evacuations were required and tanks of propane were found floating in the Banner Elk River.[3
       Three deaths also occurred in the state. A man in Candler was killed when a falling tree destroyed his mobile home. Another man was killed near Marshall when a tree was blown onto him while he was helping cut other trees out of the roadway. 10 people were also injured by wind blown debris and from falling trees. Damage from high winds totaled up to $15 million.[39]
Here is a lot more information about fairly recent major hurricanes hitting the Florida Panhandle from Dr. Jeff Masters:
Let's just hope that in history Sherman's march will prove more deadly than that of Michael in the coming days. Here is a march of a different sort:
Massive evacuations continue in #PanamaCityBeach ahead of #michael pic.twitter.com/wEKGGAXsyK

— Jim Cantore (@JimCantore) October 8, 2018
(As usual, this will be a fluid post in which more information gets added during the day as it crosses my radar, crediting all who have put it on-line. Items will be archived on this site for posterity.) 
………………………………………………………………………………………………………
Here was some big climate news that dropped over the weekend:
1:53 AM – 8 Oct 2018
#ClimateChange: 🌍's leading scientists warn there are only 12 years left for global warming to be kept to a maximum of 1.5° C to limit the environmental catastrophe. Watch @WMO SG Petteri Taalas brief the press in Geneva today 👉 New @IPCC_CH report: https://t.co/P7areIPWRj pic.twitter.com/8HZgaYImT3

— UN Geneva (@UNGeneva) October 8, 2018
(If you like these posts and my work please contribute via the PayPal widget, which has recently been added to this site. Thanks in advance for any support.)
The Climate Guy