Sunday October 7th… Dear Diary. The main purpose of this ongoing post will be to track United States extreme or record temperatures related to climate change. Any reports I see of ETs will be listed below the main topic of the day. I'll refer to extreme or record temperatures as ETs (not extraterrestrials)😊.  Here is today's main climate change related topic:
Tracking Michael Day One
Proverbially those chickens are about to come home to roost, or in this case storms, that will produce "weird," wet weather for the United States. It now appears certain that T.D. #14 will become a storm moving unto the Gulf of Mexico. I'm worried that the system will tap exceptionally warm Gulf waters and heat from a summer-like atmosphere that has persisted over the eastern U.S. during September and early October to become a hurricane. Just how strong and exactly where Michael will make landfall are the big questions as of Sunday, but models have remained very persistent for a Florida Panhandle landfall sometime on Wednesday. There is precious little time for preparations.
The other wet shoe to drop today is flooding rains in the Plains. The highly amplified jet pattern that I have been harping on the last few posts has produced a stagnant front, which is highly conducive for flooding considering how much moisture and heat the system will have to work with. Already flash flood watches and warnings are being posted and issued by the NWS: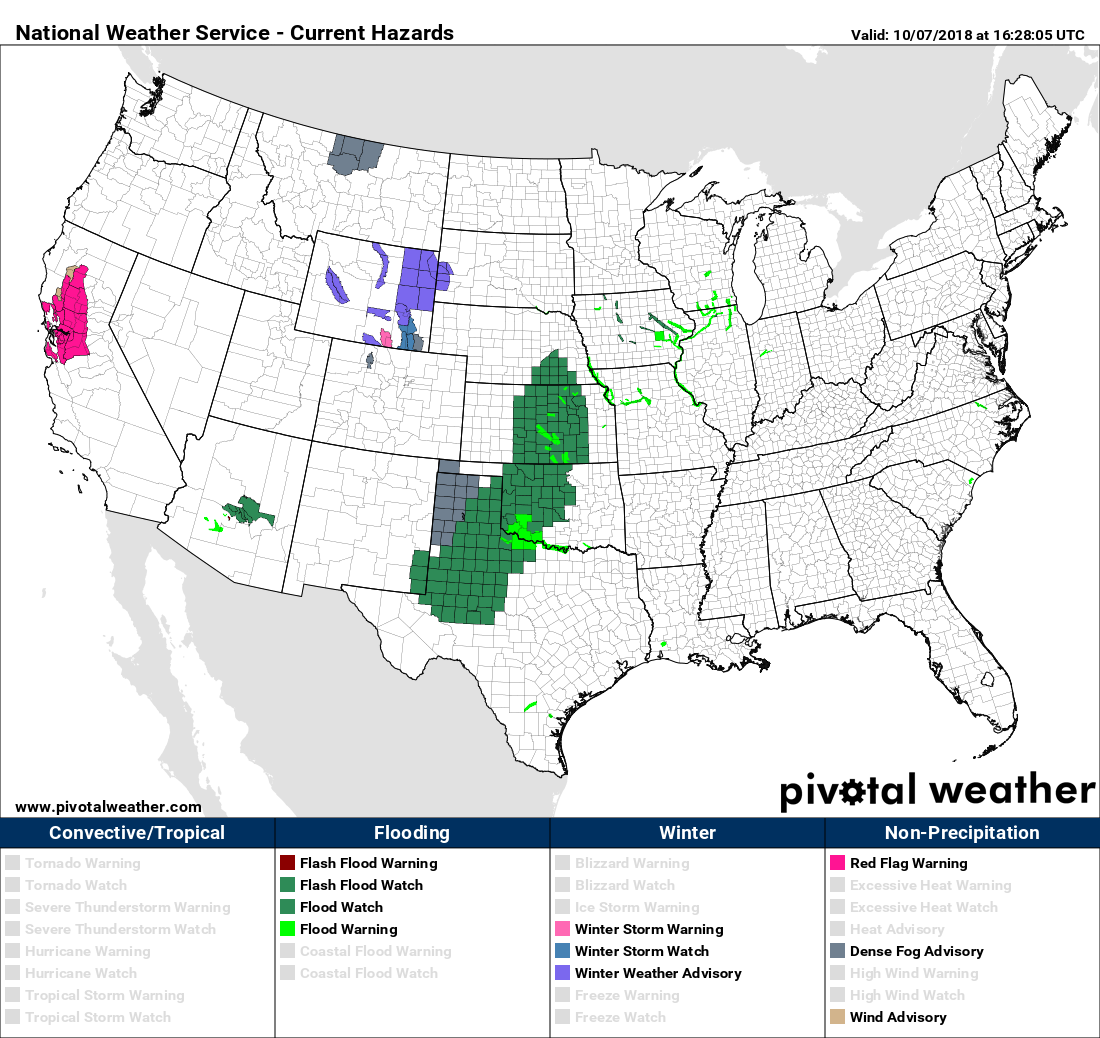 Traditionally for us mets October is supposed to be a quiet month, right? Not in October 2018:
https://guyonclimate.com/2018/10/04/extreme-temperature-diary-october-2-2018-topic-holy-amplified-weather-pattern-batman-october-will-be-very-weird-for-the-united-states/
Meteorologist Bill Karins has a point:
99 out of 100 weather tweets right now about a likely minor tropical storm event Northern Gulf Coast when much bigger risk to lives and property is the unfolding flood event in Plains.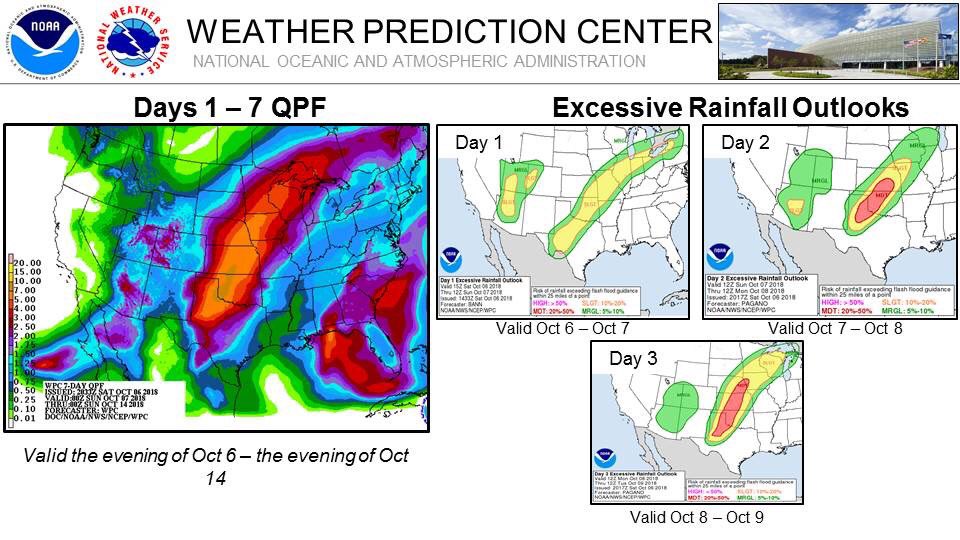 Over the next few days I will have my eyes peeled for flooding reports in the Plains.
     Now back to Michael. The GFS, which is notorious for over strengthening tropical systems, but in this case it might be right. What we see forecast here Wednesday is a hurricane bordering on CAT two/three strength hitting the Florida Panhandle:
FV3-GFS model 10 day forecast W. Atlantic 10/7 12 pm
A T.D.14 forms off the Yucatan, moves North over the Gulf of Mexico and makes landfall near the Alabama & Florida border as a CAT 3 hurricane & moves NE through the SE U.S. as a subtropical storm then moves off the NJ coast pic.twitter.com/SgQleNEmeg

— Scott Cook (@scook2214) October 7, 2018
Let's hope that A) wind shear and B) the relatively short time over the Gulf keeps Michael well below major hurricane status. Another of my concerns is in my neck of the world. Matthew will be a fairly quick mover much like Nate from last year. The system won't have much of a chance to wind down once it makes landfall. An extra warm, moist atmosphere that I will contend is partially due to carbon pollution will probably sustain Michael well inland. I'll let you know if my power flickers in Atlanta in a few days: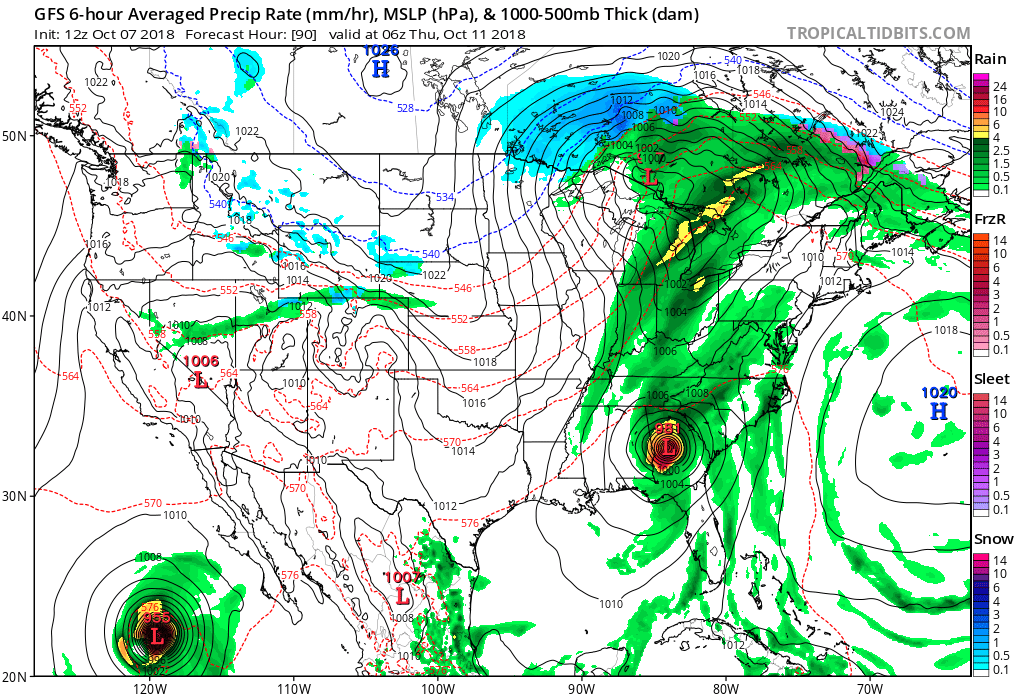 This time it might be Florida, Georgia's and even the hard hit Carolina's turn to see wind damage from Michael.
   Nate was not a particularly strong hurricane from last year, but did cause deaths and racked up nearly a three quarters of a billion dollars in damages as it moved northeast through Mississippi and Alabama:
    This time it might be Florida, Georgia's and even the hard hit Carolina's turn to see wind damage from Michael.
     I'll be posting more on both flooding and our brewing Michael as the day progresses.
…………………………………………………………………………………………..
Tomorrow there will be plenty of summer heat ahead of Michael:
(As usual, this will be a fluid post in which more information gets added during the day as it crosses my radar, crediting all who have put it on-line. Items will be archived on this site for posterity.)
Here is this afternoon's weather and climate news:
5PM NHC Advisory: Michael is now a tropical storm, but is expected to become a hurricane in the next 24-36 hours.  Probabilities of significant impacts along the Florida Panhandle and Big Bend are increasing.  Stay tuned for future updates at: https://www.nhc.noaa.gov/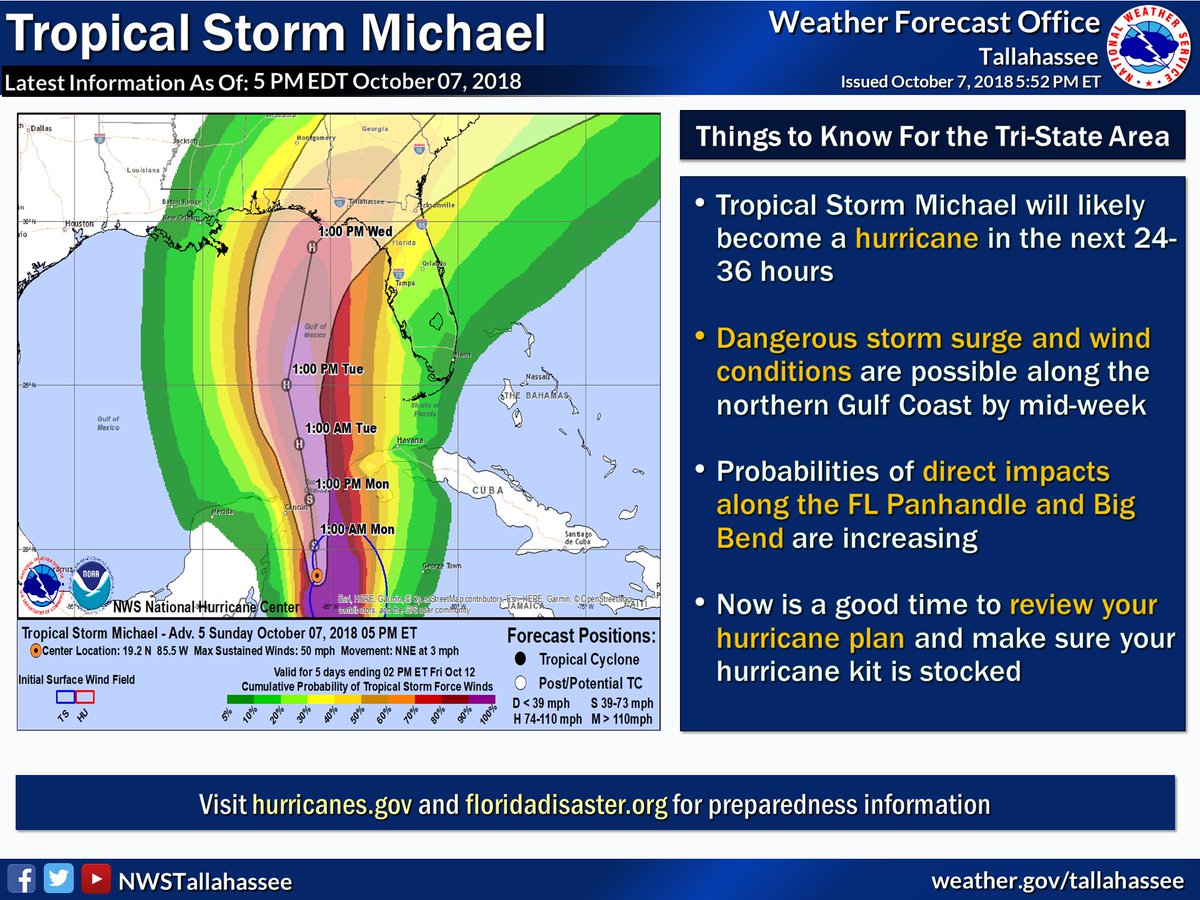 Tropical Storm #Michael has formed and is located about 225 miles (365 km) southwest of the western tip of Cuba. The storm is expected to continue to intensify and resume its northward motion later today. Here is the track from the latest update. #gawx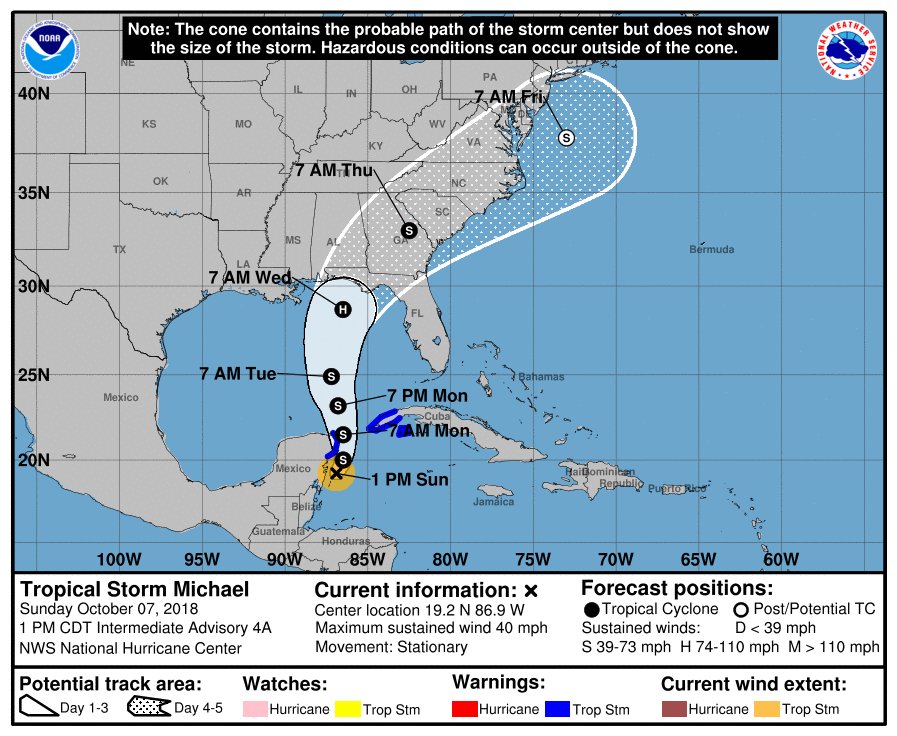 Newborn Tropical Storm #Michael is predicted to strike the northern Gulf Coast as a hurricane on Wednesday. Here's the latest thinking from Dr. Jeff Masters: https://bit.ly/2C1wCEb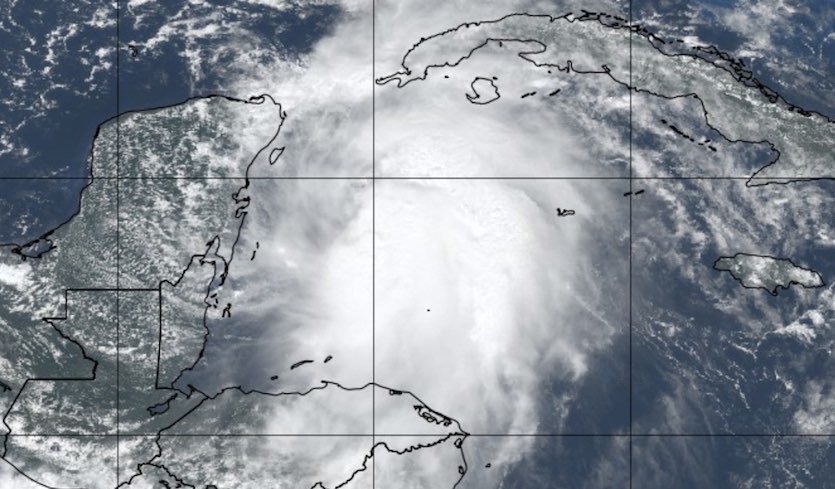 South #Florida: TS #Michael's influence on our weather will increase tonight through Tuesday+. Will get breezier, cloudier, & heavy rain could sneak over this far east. Coincidentally, the highest tides of the year are predicted to occur over next 4 days. #KingTides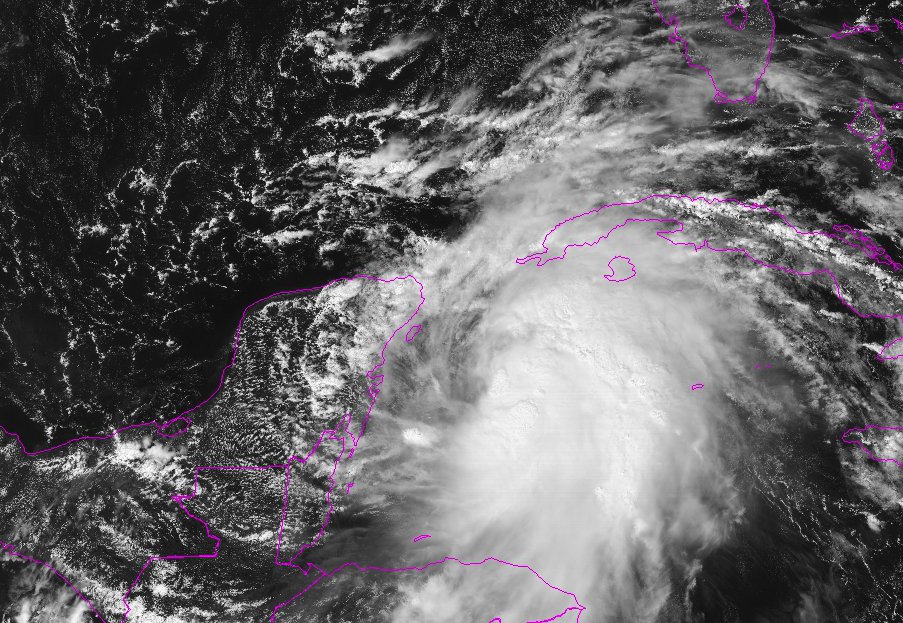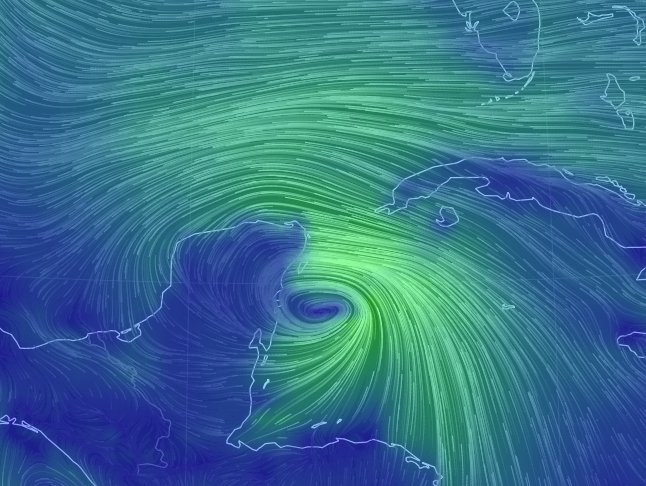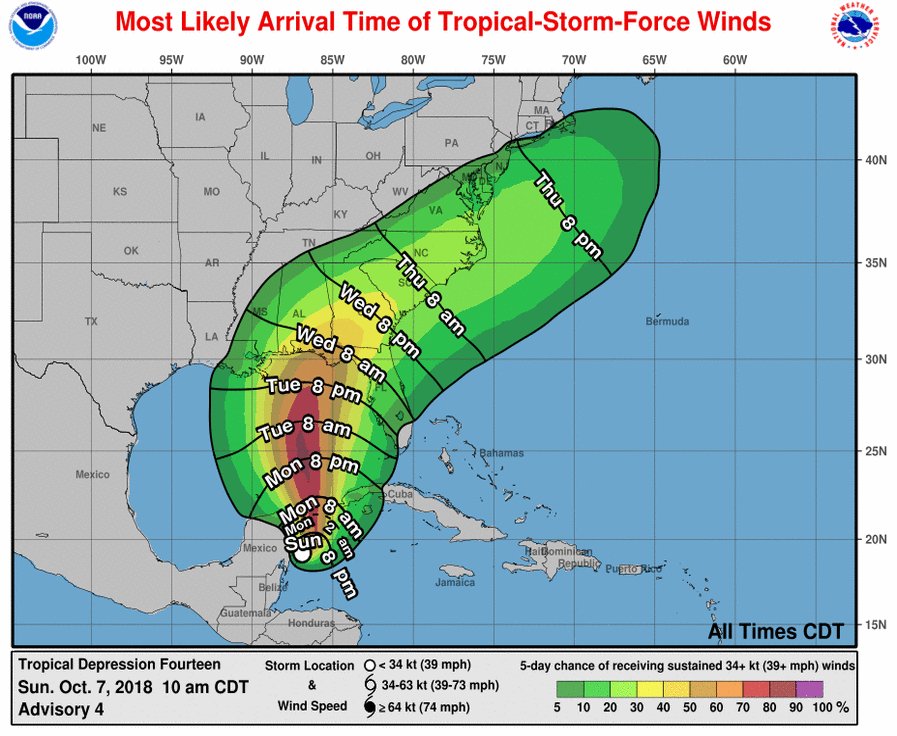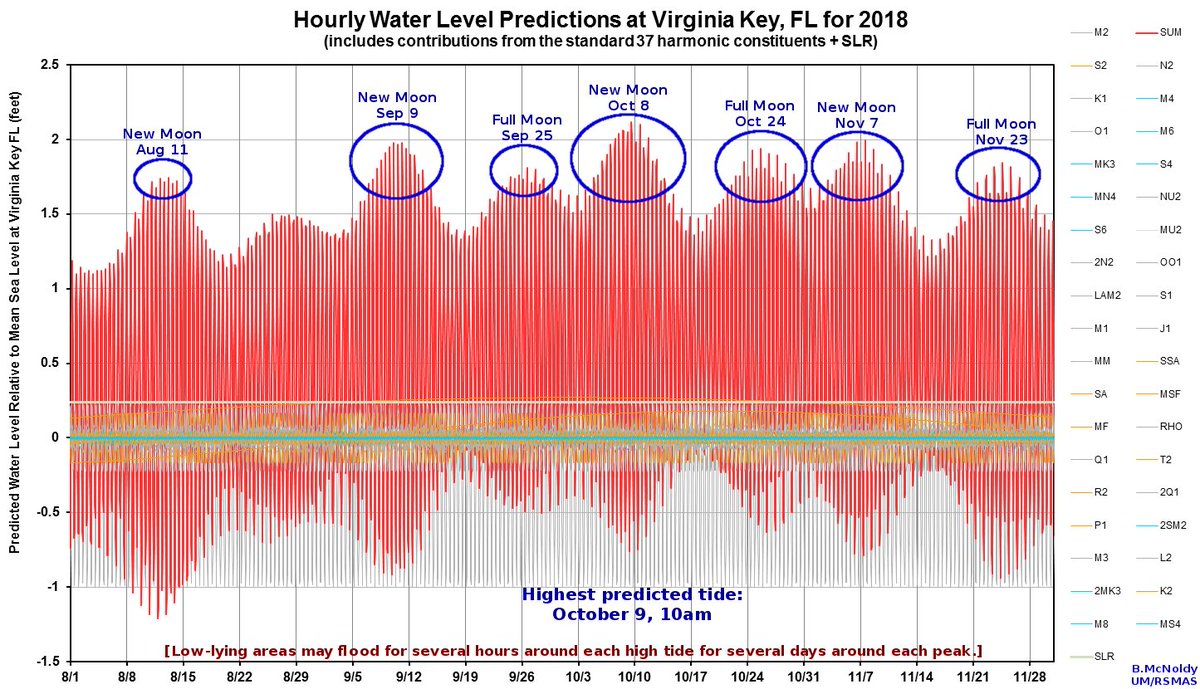 (If you like these posts and my work please contribute via the PayPal widget, which has recently been added to this site. Thanks in advance for any support.)
The Climate Guy