Friday October 12th… Dear Diary. The main purpose of this ongoing post will be to track United States extreme or record temperatures related to climate change. Any reports I see of ETs will be listed below the main topic of the day. I'll refer to extreme or record temperatures as ETs (not extraterrestrials)😊.  Here is today's main climate change related topic:
Good News…Fall Finally Arrives For The U.S.
In the wake of Michael I'm glad to report that typical fall weather has come to just about every corner of the U.S. as of this Friday. Instead of storm fueling heat and high humidity stretching from the Gulf Coast to Maine, a new regime of dry, cool air ushered in by a front sweeping Michael out to sea will be in place aiding recovery efforts, turning leaves, and matching the weather with the season for mid October. Summer is finally over in my home town, but look at that heat streak:
Break out the long sleeves and order your pumpkin spice drinks, because Autumn Temperatures have finally arrived! Temps this morning are about 15-20 degrees cooler than yesterday & Atlanta FINALLY ended it's record long drought of sub-60 temperature. #gawx #AtlantaClimateStats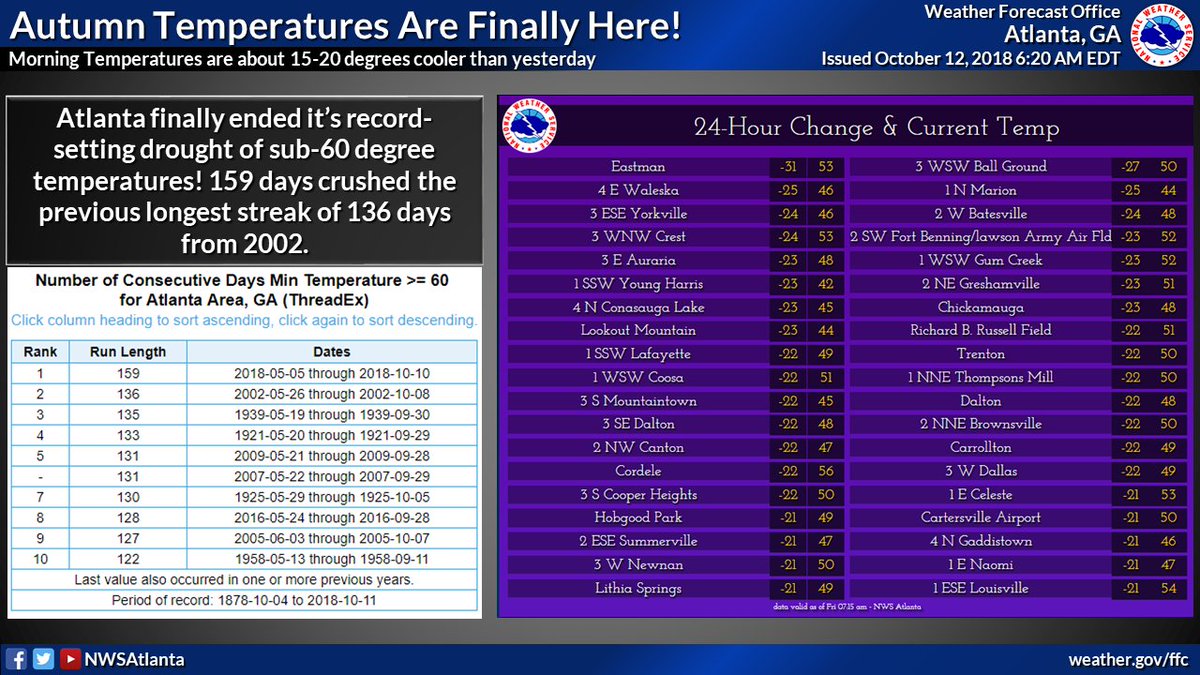 Front has made it all the way into central Florida and southern Gulf. Sure would have been helpful for fronts to have entered the Gulf sooner this year, to cool off the much warmer than average Gulf waters and lessen intensity of #Michael. Now the hurricane has left a cold wake.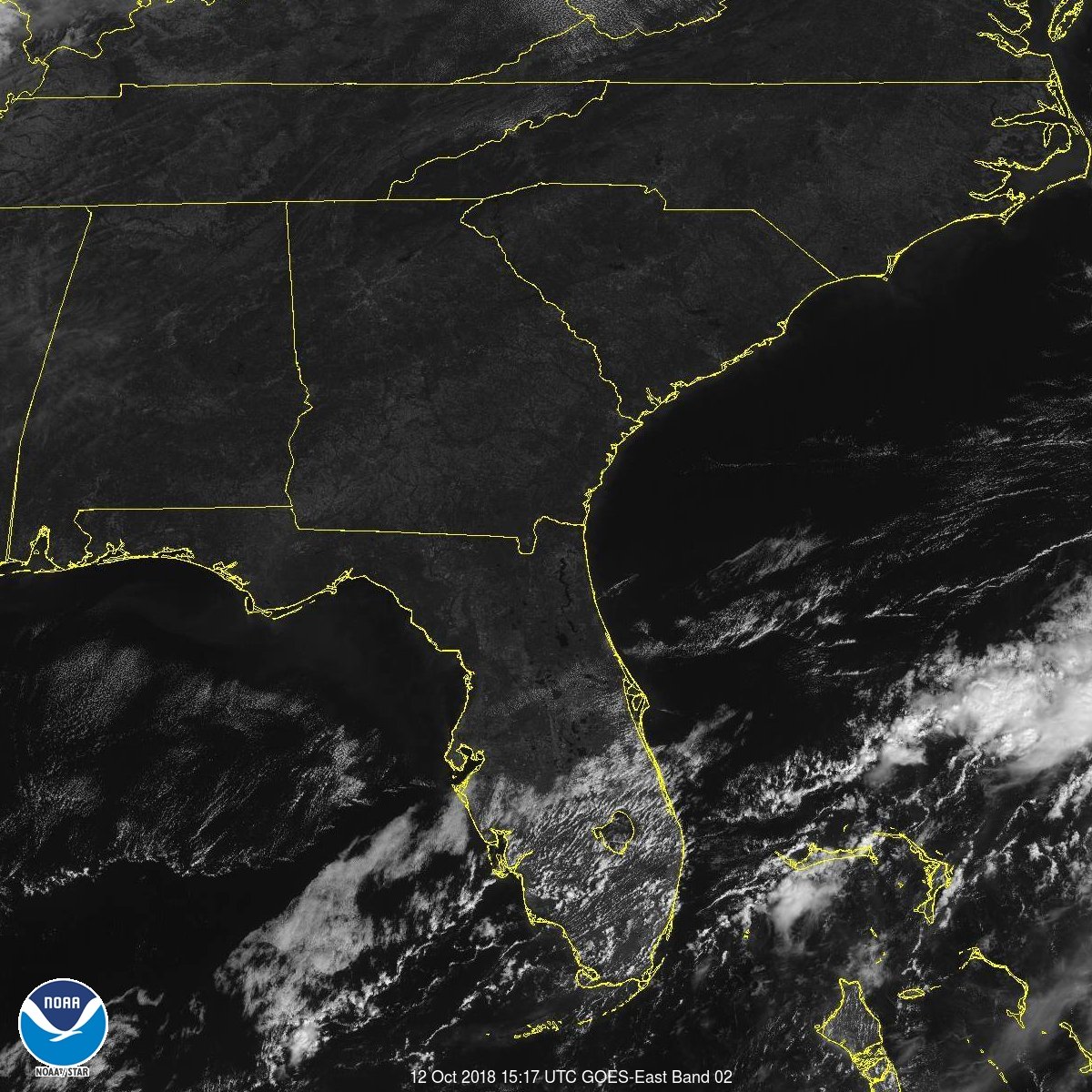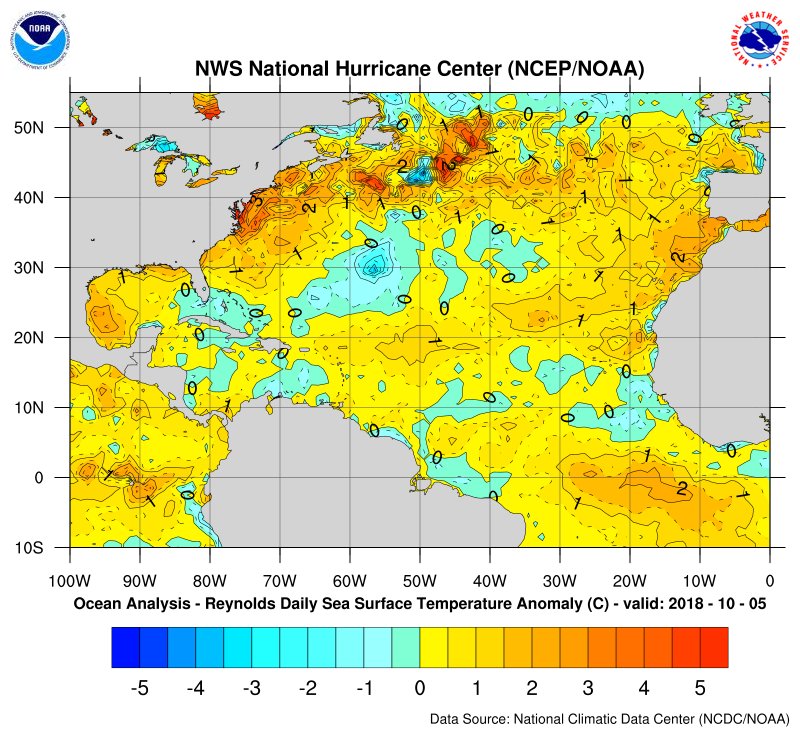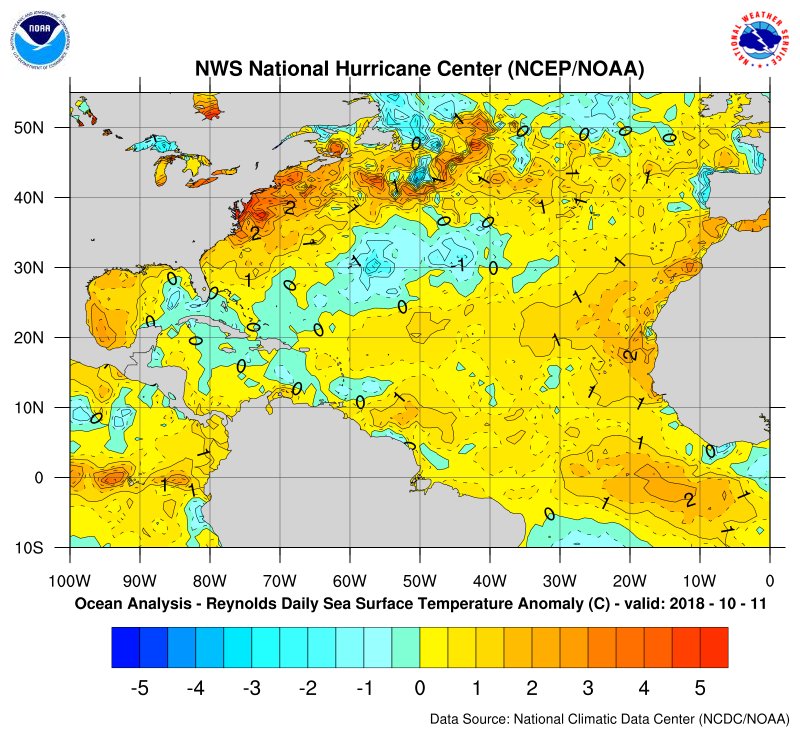 At least up through 2018 climate change warmth has been coming in spurts. Usually after a prolonged period of above average heat the jet stream will change, ushering in some relief; however, as most experienced across the U.S. this year, the warm seasons are getting longer. What fools many is the sense of "normality" during the diminishing periods of near average weather coming after extreme heat, and as was the case this October, a deadly carbon pollution fueled hurricane, Michael. Let's not let down our guard about climate change when the weather becomes tranquil and moderate.
Nature does sense that changes are happening, perhaps more so than the typical person on the street. I can't remember an October like this in Atlanta in which all species of trees remain green at least through 10/12/18. In any case, temperatures like these over the weekend should bring some color to most forests that remain green: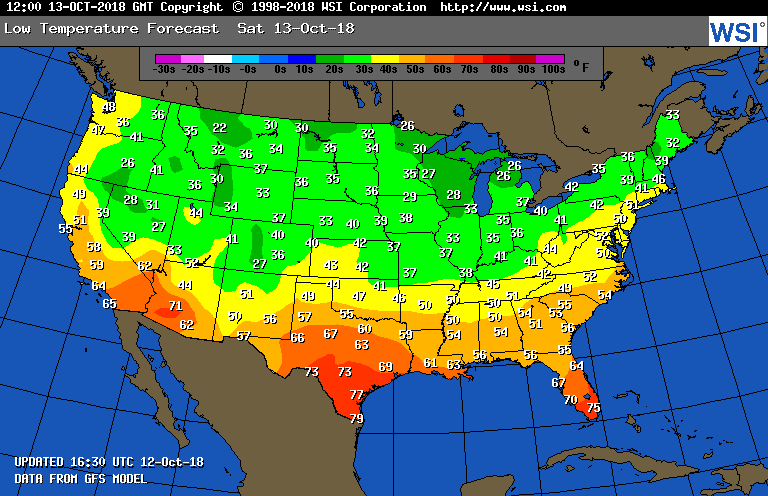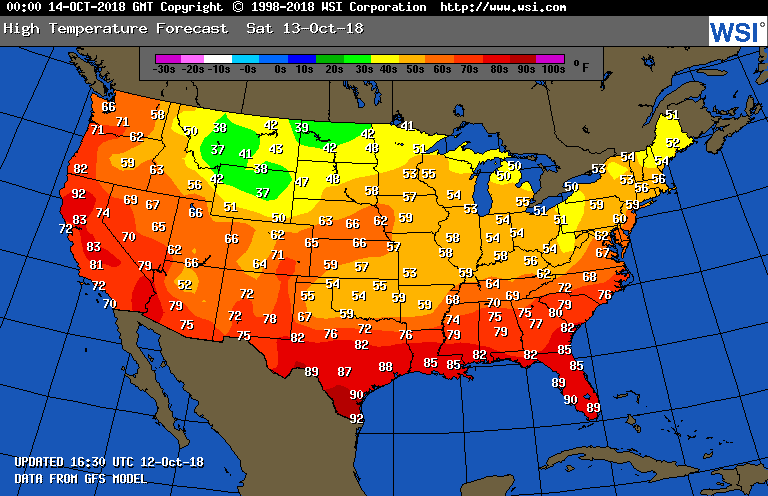 The above two temperature profile maps are very typical for mid October. 
It's actually refreshing to see models have snow in the forecast in the Colorado/western High Plains area, typically where one would expect some in mid October:
Ski resorts around Aspen Colorado will be tempted to open after this weekend. In any case, enjoy normal weather while it lasts. Yes, there will be a few soaking wet spots mainly from Texas into the southern Plains across the nation this weekend, but nothing too out of bounds climatologically. It's time for all weather forecasters and writers to take a breather from reporting on deadly weather mostly brought about by climate change.
I'll enjoy this weekend. Hope you will get outdoors and enjoy it too.😊
…………………………………………………………………………………………………….
And now here are more reports in association with Michael:
Unprecedented aspects of Hurricane Michael no longer beg the question of IF #ClimateChange is spiking storms. The question now is "How Much"? What is clear is Tropical water temps have warmed & a borderline Cat 4/5 landfalls in the FL Pandhandle in October! @CBSNews @ColumbiaCS pic.twitter.com/LNrG1u5DIN

— Jeff Berardelli (@WeatherProf) October 12, 2018
Discussion…Should places like this rebuild, not, or rebuild differently? Do we need more hurricane or climate-thinking in planning, zoning,  and construction?…..There will be future hurricanes of this magnitude. Not "if" but when…
The final advisory has been issued for #Michael. It is no longer a tropical cyclone #goodriddance pic.twitter.com/oFuO0IQYwQ

— Greg Diamond (@gdimeweather) October 12, 2018
Parts of Panama City, Mexico Beach and Port St. Joe are unrecognizable. People are getting lost walking down the streets they live on because there is so much devastation from #Hurricane #Michael. We have crews LIVE in the field with the latest conditions and recovery. pic.twitter.com/8Q6HR7XFYz

— The Weather Channel (@weatherchannel) October 12, 2018
(As usual, this will be a fluid post in which more information gets added during the day as it crosses my radar, crediting all who have put it on-line. Items will be archived on this site for posterity.) 
This is a must-see thread of before and after pictures from the coast of NW Florida from #Michael.  It is worse than you think

 https://twitter.com/weatherdak/status/1050567255732367361
Michael has merged with a frontal system and is now a strong extratropical storm moving quickly off the coast this morning. Notice how it now looks more like a winter-time nor'easter. Yesterday Michael dropped 5-10″ of rain with gusts of 50-75 mph across parts of the mid Atlantic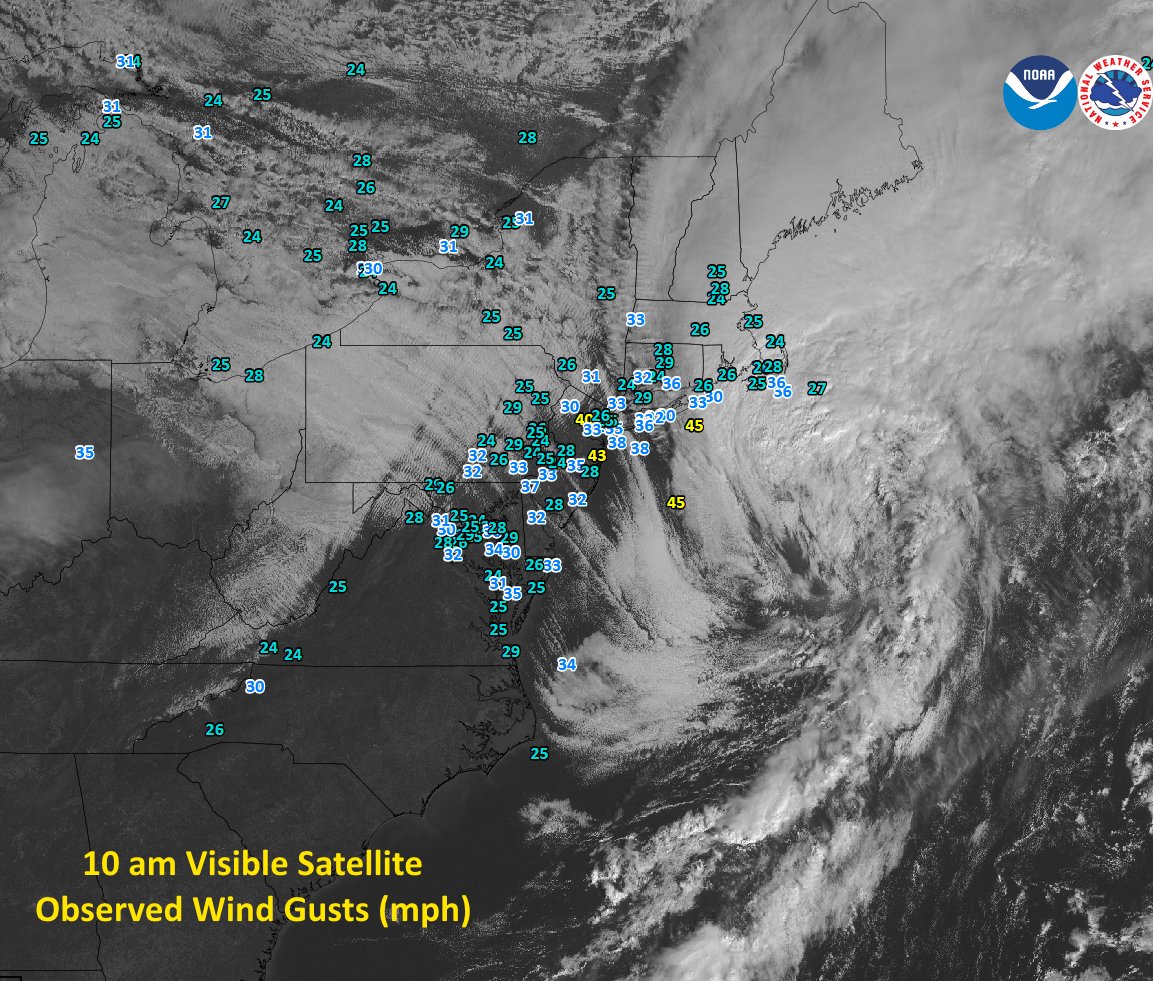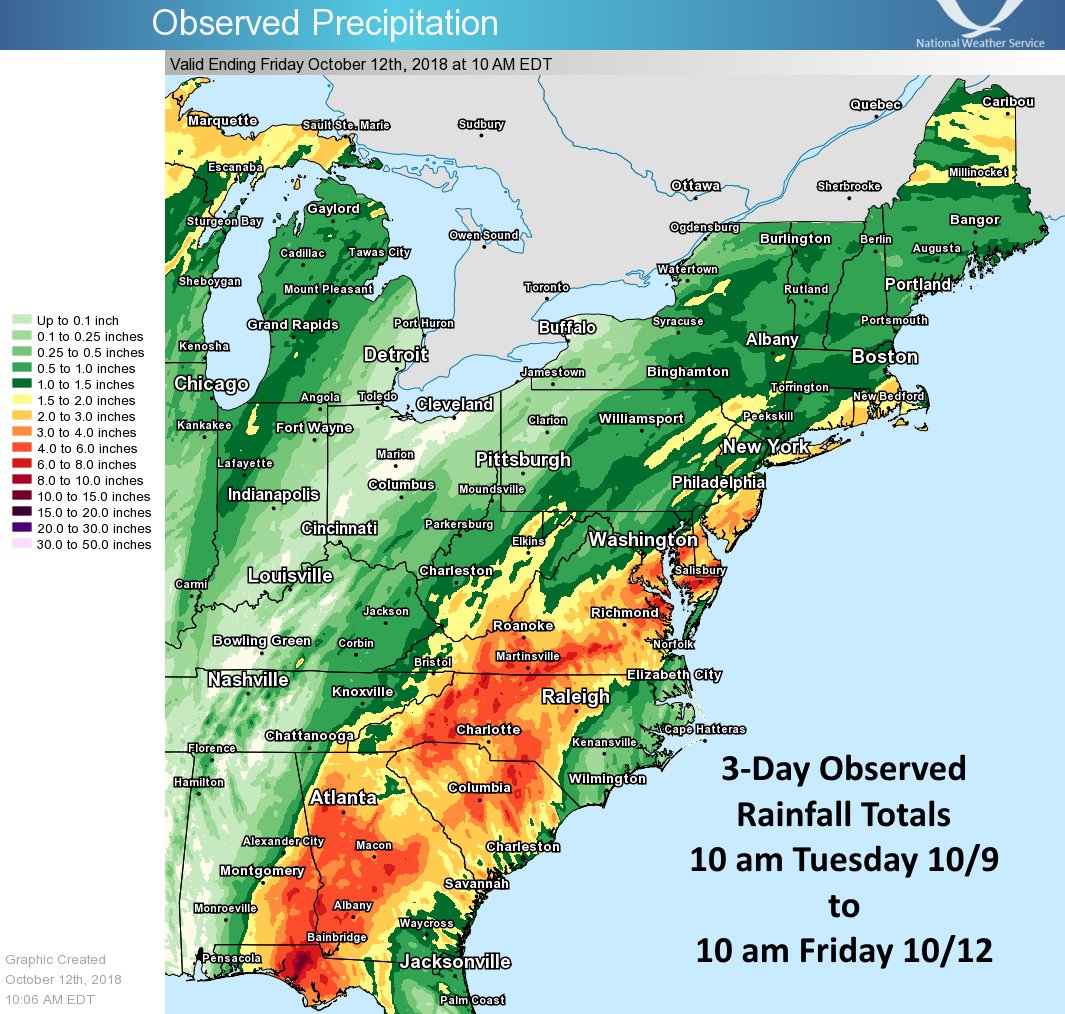 (If you like these posts and my work please contribute via the PayPal widget, which has recently been added to this site. Thanks in advance for any support.)
The Climate Guy