Monday December 10th… Dear Diary. The main purpose of this ongoing post will be to track United States extreme or record temperatures related to climate change. Any reports I see of ETs will be listed below the main topic of the day. I'll refer to extreme or record temperatures as ETs (not extraterrestrials)😊. 
Greenland Ice Melt Accelerates
Over this summer I covered fourteen climate tipping points extensively, which you can read here: https://guyonclimate.com/category/climate-tipping-factors/
One of these was the Greenland Ice Sheet. In fact, it was the first factor that I thought to cover, being one of the biggest canaries in the old proverbial climate coal mine. So how is this fairing? In light of new science from last week, unfortunately, not good at all. This from Inside Climate News:
Global warming is accelerating melting of Greenland's ice sheet, and that's increasing sea level rise. Coastal communities around the world will have to deal with the consequences.https://t.co/XKKXiG9x9E

— InsideClimate News (@insideclimate) December 10, 2018
Quoting most of the Inside Climate News Article (In brown type):
Melting on Greenland's ice sheet has gone into "overdrive," with meltwater runoff increasing 50 percent since the start of the industrial era and continuing to accelerate, new research shows. As more water runs off the ice sheet, it drives sea level rise, putting new pressure on coastal communities around the world.
Once the ice sheets get kicked into motion, they just keep going. This is a wake-up call that shows how fast Greenland is changing," said Rowan University climate researcher Luke Trusel, co-author of the new study published Wednesday in the scientific journal Nature. 
The scientists found that the trend of increasing surface melting across the ice sheet began in the mid-1800s as greenhouse gas emissions from the growth of industries were ramping up, and that it shot up over the past three decades. More meltwater is running off Greenland's ice sheet now than at any time in the last 350 years, and probably since long before that, going back 6,000 to 7,000 years, Trusel said. 
As a result, Greenland is also adding more to sea level than at any time over the past three and a half centuries, he said.
The findings support previous estimates that melting ice from all sources will raise sea level between 8 and 12 inches more by 2050, but what happens after that will still partly depend on future greenhouse gas emissions and other factors, said co-author Sarah Das, who studies ice and ancient climates at the Woods Hole Oceanographic Institution. 
The researchers used ice cores—long tubes of ice drilled out of the ice sheet that capture a history of ice thickness and melting year to year—from several locations across the ice sheet. Combined with satellite measurements and climate model output, the ice cores help establish one of the most accurate estimates of how the ice sheet responds to the warming caused by greenhouse gases. 
Satellites "are good at telling you when it's melting and when it's frozen," Das said. The intensity of that melting can be calculated with ice cores by measuring the thickness of the seasonal ice layers. By combining the data, the scientists can accurately measure melting and runoff across the entire ice sheet. 
"Right now, that runoff component is the greatest contributor to sea level rise," Das said. 
"We think there's a tipping point around 1.5 Celsius of [global] warming to 2 degrees Celsius of warming that would commit the ice sheet to melting for centuries or millennia, based on paleoclimate records," Trusel said. The average global temperature is expected to start hitting that benchmark between 2030 and 2052, according to a recent IPCC report, and the Arctic is warming at twice the average global rate.
Is Greenland Headed for a Tipping Point?
There are several factors that affect how fast the region reaches that point, said co-author Xavier Fettweiss, a climate scientist at the University of Liege Climate Lab in Belgium. 
Since about 2000, weather patterns that bring warm air to Greenland have become more common, said Fettweiss, who has done related research on the patterns, known as blocking highs. 
The increased melting is a "combination of a global warming signal and a change in the atmospheric circulation over Greenland," he said. If the warm weather pattern continues to become more common, it could amplify the surface melting and runoff documented in the current study even more, potentially even doubling the reported estimates, he said. 
University of Lincoln (UK) climate scientist Edward Hanna said the research shows the ice sheet is so sensitive to warming temperatures that sea level rise estimates may need to be revised upward again. 
"We can't rule out that the IPCC (Intergovernmental Panel on Climate Change) sea level rise scenarios are too conservative," said Hanna, who was not directly involved in the study. "Greenland is a bit like a sleeping giant that is awakening. Who knows how it will respond to a couple of more degrees of warming? It could lose a lot of mass very quickly," he said.
Another article from Sunday on Greenland posted a chart that mirrors Dr. Michael Mann's hockey stick graph, which is not too much of a surprise given global temperature rise, but scary looking, nonetheless:
https://arstechnica.com/science/2018/12/no-equal-to-recent-greenland-melt-in-centuries-long-ice-core/
Sure enough, the science behind this chart that I presented in August has not changed. It appears that the tipping point for Greenland ice is at or below +1.5C above preindustrial conditions: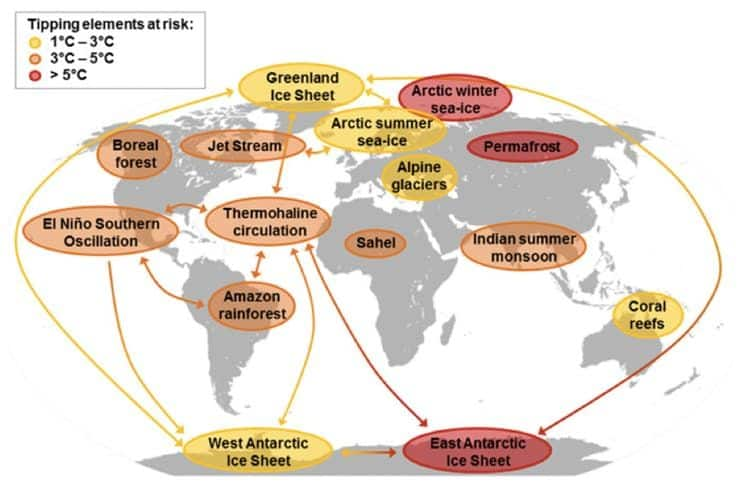 Global map by Will Steffen of potential tipping cascades. The individual tipping elements are color- coded according to estimated thresholds in global average surface temperature (tipping points) (12, 34). Arrows show the potential interactions among the tipping elements based on expert elicitation that could generate cascades. Note that, although the risk for tipping (loss of) the East Antarctic Ice Sheet is proposed at >5 °C, some marine-based sectors in East Antarctica may be vulnerable at lower temperatures.) From: http://www.pnas.org/content/early/2018/08/07/1810141115#ref-12
Sigh. I just have not been able to present much good news in the past week beyond the growth of green jobs. Will humanity be able to win the climate war? History hasn't been written yet, but I'm beginning to develop a siege mentality.
..………………………………………….
Here is more weather and climate news from Monday:
Well this is cool: Amazon gives you $5 off the new climate/weather book for young people by my friend @climateguyw https://t.co/UGplhUsbZA

— Nick Walker (@wxdude) December 10, 2018
"Now we are seeing it happen again and again, year after year,"

"The climate will continue to warm and will continue to surprise us. No one alive today will ever see a stable climate system again. This is going to be changing for the rest of our lives." https://t.co/bF6dNPz4O5

— Paul Dawson on Climate Change (@PaulEDawson) December 10, 2018
More than a thousand demonstrators from the @sunrisemvmt are now sitting in at the offices of the Dem congressional leadership demanding action on a #GreenNewDeal. These young people will spend the next seven decades living in an overheated world–they have the moral high ground. pic.twitter.com/JN2EGgte6T

— Bill McKibben (@billmckibben) December 10, 2018
VERIFICATION TIME

How did the @weatherchannel forecast work out? 1st image from Friday AM, the 2nd is what actually occurred

The great
– NC mountains

The good
– NC west of I-85

The okay
– Upstate SC

The bad
– The Virginias
– Kentucky
– Tennessee pic.twitter.com/bD22YdsCZH

— Greg Diamond (@gdimeweather) December 10, 2018
Boone, NC approaching 29" on the ground. #diego pic.twitter.com/U7VYxnJVnD

— Jim Cantore (@JimCantore) December 10, 2018
"The Extinction Rebellion climate protest group has expanded to 35 countries and is building towards a week of international civil disobedience in April, according to organisers, who are using UN climate talks in Poland this week to widen its network." https://t.co/i4apddGuOZ

— Scott Cook (@scook2214) December 10, 2018
This is the moment protestors disrupted the U.S. pro-fossil fuel event at #COP24, breaking out in laughter right after the Trump administration's moderator said "fossil fuels will continue to play a role" in the world pic.twitter.com/ByMHuINGge

— Brian L Kahn (@blkahn) December 10, 2018
#COP24: Tackle #ClimateChange or face financial crash, say world's biggest investors

"UN summit urged to end all coal burning & introduce substantial taxes on emissions"https://t.co/AdXGuZMGwN#ExtinctionRebellion #ClimateAction #EnergyTransition #RenewableEnergy

— Prof Peter Strachan (@ProfStrachan) December 10, 2018
"Right to end life on Earth: Can corporations that spread climate change denialism be held liable?" by @MatthewRozsa for @Salon: https://t.co/IoR89WF5EQ

— Michael E. Mann (@MichaelEMann) December 10, 2018
(As usual, this will be a fluid post in which more information gets added during the day as it crosses my radar, crediting all who have put it on-line. Items will be archived on this site for posterity.)
(If you like these posts and my work please contribute via the PayPal widget, which has recently been added to this site. Thanks in advance for any support.) 
The Climate Guy