Monday December 31st… Dear Diary. The main purpose of this ongoing post will be to track United States extreme or record temperatures related to climate change. Any reports I see of ETs will be listed below the main topic of the day. I'll refer to extreme or record temperatures as ETs (not extraterrestrials)😊. 
Reasons To Be Optimistic Going Into 2019
No question. We are still losing the Climate War at the end of 2018 given the October Climate Assessment and luke warm commitments coming out of COP24 from Poland  (The United Nations Framework Convention On Climate Change). My country experienced three rough body blows…Florence, Michael, and the Camp Fire, which devastated Paradise, California, not to mention heavy duty flooding in spots in the Middle Atlantic. Yet, at the end of this tumultuous year I'm seeing a few bright spots that should make us not  give up, and not to give into despair.
Yesterday my jaw dropped since NBC's Meet The Press devoted an entire hour to climate change and its political ramifications:
Happy New Year! Climate Change in the Mainstream Media today! Hey, Fox News are you going to double down on denial– or are you going to get on board, and help the US lead the world? Your viewers could make the difference. Make a great New Year's Resolution. pic.twitter.com/KltvGgNqhn

— Bill Nye (@BillNye) December 30, 2018
I get a sense that the U.S. public is ready to embrace climate truths, casting off denial after looking at Chuck Todd's Meet The Press show on NBC. Admittedly though, NBC is the most liberal U.S. network, and would logically be the first to devote a whole show to climate change. One of my biggest hobbies is following politics since I became intrigued during the 1973/74 Watergate Hearings. After forty five years I can tell which way the political winds are starting to blow across the United States.
The rise and election of Trump was both a racist and economic reaction to Obama and what he failed to accomplish for poor whites that felt left behind from the coal country of Appalachia through much of the Old South and Midwest. Now those Whites are beginning to recognize that green jobs in renewables and the revamping of the transportation industry offer a way out of economic depravity. What's more, truth via better education usually is embraced by each subsequent generation no matter how poor individuals are. The truth of the climate problem is being denied less and less in most quarters.
 I can't help but be optimistic looking at how fast youth are embarrassing the Green Nee Deal and other measures. Politically, a dam is about to burst, which should push the United States back to the Paris Accords in 2019 and 2020. Overseas we see the rise of the Extinction Rebellion, which should greatly steer society to adapt and mitigate climate change. As a great side effect I'm also hoping that most racism will be swept aside as a new green revolution starts to lift all out of poverty, instilling further cooperation and acceptance among various diverse groups across the United States.
Sunrise is making history and we're just getting started. Check out some of our favorite moments from 2018, then get hype for the new year and chip in monthly to help us make it happen (we'll send you a sticker to say thanks) https://t.co/uWtrv1RObV pic.twitter.com/MhdU6061jw

— Sunrise Movement 🌅 (@sunrisemvmt) December 27, 2018
Dr. Peter Strachan out of Scotland let me know that the following article was written summarizing great moves that just my neck of the world, the Southeastern U.S., alone was doing during 2018 : https://cleanenergy.org/blog/clean-energy-wins-of-2018/
Here are a few quoted highlights. Please read this in its entirety, which will make you feel good going into 2019:
The appetite for solar is growing dramatically in the Southeast, with increased demand, installations, and commitments. 
Solar installations in Florida land the Sunshine State in second place for solar installed through the third quarter across the board! Florida also surpassed two gigawatts of solar, a respectable milestone. What's more, Florida's Public Service Commission approved solar leasing, which SACE and its Florida supporters helped pave the way for by successfully passing Amendment 4 in the 2016 elections. This means Floridians have one more way to go solar now! 
It's not just the Sunshine State that's eager to go solar; Georgia Power recently issued a Request for Proposal (RFP) for 540 megawatts of renewables, and a solar rebate program in North Carolina was oversubscribed in just two weeks after its launch in July. In South Carolina, SACE and other allies negotiated with Duke Energy Carolinas to (temporarily) reinstate their solar net metering program, saving countless solar jobs in the process.
Cities, and even entire states, across the U.S. are committing to 100% clean energy.
Nearly 50 U.S. cities and two states — Hawaii and California — committed to 100 percent clean energy goals in 2018. In total, more than 100 cities across the U.S. have now committed to working toward 100 percent renewable energy!
Utilities are committing to reducing carbon emissions, too. 
Xcel Energy, based in Minneapolis, became the first major utility in the U.S. to commit to 100 percent clean energy this year! The utility, which has 3.6 million customers in eight states — Colorado, Michigan, Minnesota, New Mexico, North Dakota, South Dakota, Texas, and Wisconsin — plans to be 80 percent carbon-free by 2030 and 100 percent carbon-free by 2050. Here in the Southeast, Atlanta-based Southern Company — one of the largest utilities in the U.S. — announced earlier this year that the company plans to be "low to no-carbon" by 2050.
The first U.S. airport that plans to run on 100% solar energy.
The Chattanooga Metropolitan Airport in Tennessee announced recently that it is about to become the first airport in the U.S. to run on 100 percent solar energy — and other airports are interested in following suit. Representatives from nearly 50 airports around the world have reached out to learn more about the solar project, according to the airport's vice president of planning and development. Georgia's Hartsfield–Jackson Atlanta International Airport is also actively researching the possibility of implementing a "micro-grid" approach, combining solar and battery storage to help power the airport overnight and during cloudy days.
The list goes on and on.
Quoting another nice like article I would encourage all to read summarizes what we should expect in 2019: https://www.forbes.com/sites/jamesellsmoor/2018/12/30/2018-a-tipping-point-for-climate-change/#2a61ab006b8f
2019: Looking Ahead
The solid scientific evidence, new innovations and growing awareness that emerged in 2018 should give some promising signs for the coming year. Sustainable technologies are no longer simply an acceptable form of energy production, they are quickly becoming the preferred method for energy generation.
For an overview of new developments in sustainable technologies to keep an eye on in 2019, check out 6 Renewable Energy Trends To Watch In 2019.
James Ellsmoor writes about energy, sustainability and entrepreneurship. With experience working in the public, private & NGO sectors, James focuses on building innovation and improving sustainability in remote, rural and island regions. He is Director of Solar Head of S…
I hope everyone will have a safe and happy Nee Year. I look forward to both processing and disseminating National Center for Environmental Information data, and presenting various related climate change articles to all on this Extreme Temperature Diary blog moving through 2019. As depicted by the following cartoon the road ahead will be hard, but we will get through this.😃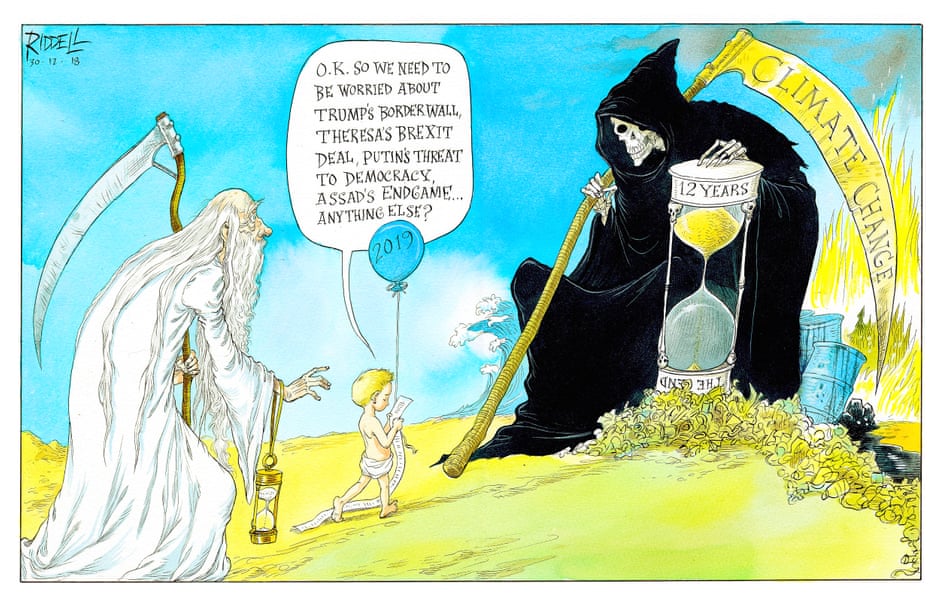 ………………………………………………….
Here is some more climate and weather news from Monday:
Here's a wrap-up of WU's top weather and climate stories of 2018, hand-picked by Dr. Jeff Masters. Happy New Year to all! https://t.co/TAwDWbYg5U pic.twitter.com/YyCRICgeF7

— Weather Underground (@wunderground) December 31, 2018
As the year draws to a close it is perhaps worth reflecting on the sobering October IPCC @IPCC_CH report on #ClimateChange. Helpfully Zach Boren @zdboren from @UE outlines 13 things we should know about #1o5C. Thanks again Zach!#ExtinctionRebellionhttps://t.co/96BdjzgVsn pic.twitter.com/G1V3udOFOR

— Prof Peter Strachan (@ProfStrachan) December 31, 2018
The current rate in acidity change is about 50 times faster than any known historical change, making it difficult for marine life to adapt https://t.co/F4ueesWaTx via @wxshift

— Climate Central (@ClimateCentral) December 31, 2018
I am a former president of the American Meteorological Society (@ametsoc) (AMS). The largest weather-climate conference in the U.S is vital for information exchange, new science findings, AMS operations and so forth. We fall further behind…sigh https://t.co/V5xMY5HAD0

— Marshall Shepherd (@DrShepherd2013) December 29, 2018
& it'll be the story of 2019, 2020, 2021 ….. The Story of 2018 Was Climate Change says @DLeonhardt https://t.co/i6JedHzIZN via @nytimes @ybbkaren @expectsuccess @Elviraafterthot @ellievan65 @BY1959 @Ellasperson @PaulHBeckwith @climateguyw @wxshift @ChaelMontgomery pic.twitter.com/h1iT1dgbwi

— Allan Margolin (@AllanMargolin) December 31, 2018
Here is my first indication of "ETs" going into 2019:
#Cold New Year's Day morning in the northern Plains, northern Rockies? Yep. But, NWS is not forecasting any daily record lows (bar is "low" in January). On the flip side, they're forecasting about three dozen daily record warm low temps in the East. pic.twitter.com/JraHCCuSXV

— Jonathan Erdman (@wxjerdman) December 31, 2018
2019 will be the year of the climate reporter: let's hope so. But this would require mainstream media fact check lies and false data on climate and the oil and gas sector https://t.co/3gYHdCf7Pc

— Annie Bérubé (@AnnieABerube) December 28, 2018
(As usual, this will be a fluid post in which more information gets added during the day as it crosses my radar, crediting all who have  put it on-line. Items will be archived on this site for posterity.)
(If you like these posts and my work please contribute via the PayPal widget, which has recently been added to this site. Thanks in advance for any support.) 
The Climate Guy