Less Intense Prolonged Cold
Wednesday January 30th… Dear Diary. The main purpose of this ongoing post will be to track United States extreme or record temperatures related to climate change. Any reports I see of ETs will be listed below the main topic of the day. I'll refer to extreme or record temperatures as ETs (not extraterrestrials).😉
Plenty of extreme cold temperature records will be set with the current cold outbreak, but over the past few decades as a new article from Climate Central that I am posting indicates, record warm events are far exceeding those of record chill as carbon pollution continues to warm the planet.
The current cold spell in the Midwest will undergo a remarkable, perhaps historic thaw the next few days as indicated by reliable met models. Here is what we see today on this Tropical Tidbits panel today on Wednesday:
Arctic high pressure has set up camp over Iowa. Thickness levels of 492 decameters or less, as indicated by the dashed blue lines, cover an area from North Dakota to Upstate New York and southward through the Great Lakes are in association with widespread temperatures below 0F. Tightly packed isobars (lines of equal pressure) can be seen throughout the Great Lakes, which is a sign of strong, gusty winds producing wind chill readings as low as -50F.
Now take a look at what we see by Sunday:
Thickness levels are above 540 decameters south of the Canadian border, which indicates that the atmosphere will be too warm for snow. Why near a warm front showers are forecast in Michigan where it's currently well below zero. It's no wonder that I'm starting to see messages such as these:
Just last year we saw a very chilly April 2018 across the Continental United States followed by the warmest May in recorded history-an exceptionally remarkable turnaround: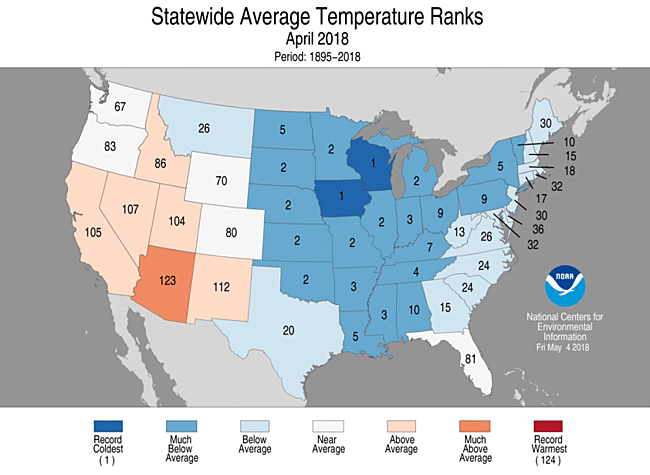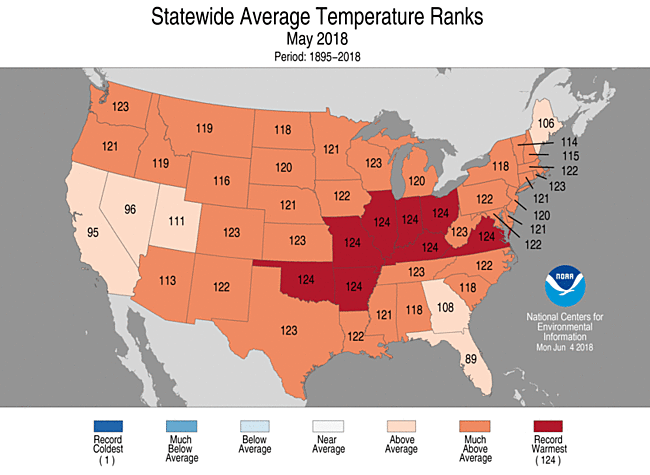 I contend that wild temperature fluctuations are also part of climate change. Also, as long as the polar vortex is in tact across both the Northern Hemisphere and Southern Hemisphere we will occasionally see cold weather patterns, but more infrequently and for shorter durations.
Now here is a repost of Climate Central's new article, which uses my statistics indicating that intense cold is becoming more rare:
https://www.climatecentral.org/gallery/graphics/less-extreme-cold
Less Extreme Cold
Published: January 30th, 2019
By Climate Central
With a polar outbreak plunging down through the Great Lakes, some cities may be dropping to their coldest temperatures in decades. But how do this week's extremes compare to the long-term trend? As our greenhouse gas emissions continue to drive climate change, cold extremes are trending warmer across the country.
In the last half-century, 96 percent of our 244 locations have recorded a rise of at least 1°F in their yearly coldest temperature, while only 2 percent have seen a decrease of at least 1°F. The average trend across these cities is a 6°F rise, and 33 cities in 20 states have recorded an increase of 10°F or more. The top five warming trends include Boise, Idaho; Las Vegas, Nevada; Albany, New York; Butte, Montana, and Minneapolis, Minnesota.
We can also track the imprint of climate change by comparing the ratio of record highs to record lows. In a stable climate, we would still experience extreme cold and extreme heat, but those extremes would balance out over time. However, with human-caused climate change, record highs are clearly outpacing record lows. In the 2010s alone, there have been twice as many record highs as record lows — the largest imbalance since record-keeping began a century ago. This is not a seasonal trend; all 12 months have had more record highs than lows in the 2010s. And according to a 2016 study, the ratio of record highs to lows could increase to 15:1 with 3°C (5.4°F) of U.S. mean temperature warming — a threshold we may reach unless we rapidly reduce greenhouse gas emissions.
Less extreme cold may be a relief, but winter warming can make other seasons less tolerable. By feeding into the shoulder seasons of spring and fall, shorter winters can mean longer allergy seasons, more costly cooling degree days in the summer, and extended seasons for ticks and mosquitoes. Those pests wouldn't survive this week's chill, but such extreme chills won't be coming very often.
Methodology: Annual minimum temperature trends from 1970 to 2018 were calculated using data from the Applied Climate Information System. Displayed trend lines are based on a mathematical linear regression. Meteorologist Guy Walton maintains a comprehensive records database, analyzing monthly, annual, and decadal records trends based on NCEI data. Records data are through the end of 2018.
Posted in Impacts, Climate, Extremes, Weather, United States
………………………………………………………………………………………………
Here is more climate and weather news from Wednesday:
And here are some extremely cold records from today:
(As usual, this will be a fluid post in which more information gets added during the day as it crosses my radar, crediting all who have put it on-line. Items will be archived on this site for posterity.)
(If you like these posts and my work please contribute via the PayPal widget, which has recently been added to this site. Thanks in advance for any support.)
The Climate Guy